banyan is centered around drummer stephen perkins. things have changed since that first experiment w/recording the first album. for one, a second album, called "anytime at all" was realeased in 1999 (like the first one, also on cyberoctave) and is made of 13 songs and jams made seperately w/different lineups, all orbiting the flaming sun of perk's drumming. watt does bass for four of the album's tunes. watt wrote "lovin' them pounds," plus helped write "la sirena" and "sputnik" and also appeared on the nels cline tune, "new old hat." a much different album than the first one but still chock full of the perk. much respect.

banyan likes to play live and sometimes even does small tours. this is the usual lineup for a local so cal area gig:
perk - drums

nels cline- guitar

watt - bass

memphis willie - trumpet

norton wisdom - painting


when nels is unavailable:
woody aplanalp - guitar

when you go to a banyan gig now, you'll hear improvised jamming as well a recurring themes plus actual tunes! all this interpreted through the paintbrush of norton wisdom who, in real time, works away at his giant "canvas" as he accompanys the other cats in the blow-out. everyone on stage has their ears directed at the perk as he yanks the band through it's maneuvers. each gig grows its own way, never the same way twice. it's for that reason watt really digs flying w/this team.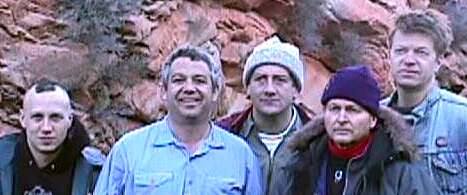 zion canyon, ut - 2001
stephen perkins, watt, memphis willie,
norton wisdom and nels cline
photo by kirsha kaechele
(left to right)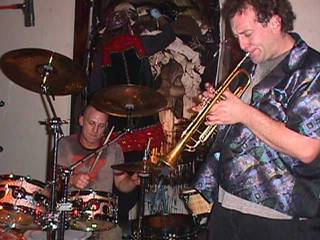 san pedro, ca - 2001
at sacred grounds
stephen perkins, norton wisdom and memphis willie
(left to right)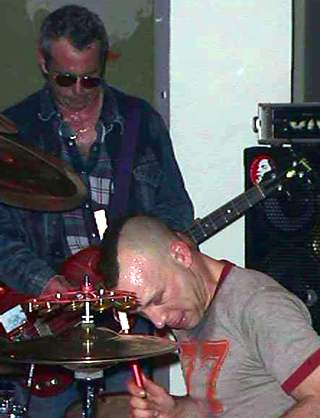 san pedro, ca - 2001
at sacred grounds
watt and stephen perkins
(left to right)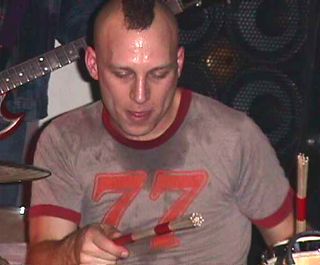 san pedro, ca - 2001
at sacred grounds
stephen perkins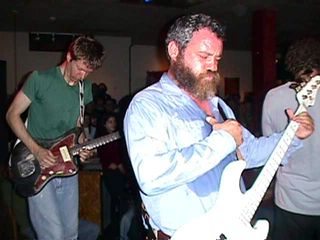 san pedro, ca - 1999
at sacred grounds
nels cline and watt
(left to right)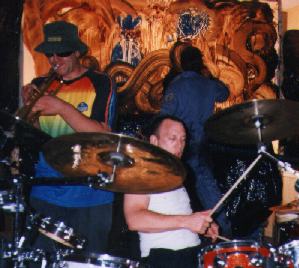 san pedro, ca - 1999
at la conga
memphis willie, stephen perkins and norton wisdom
(left to right)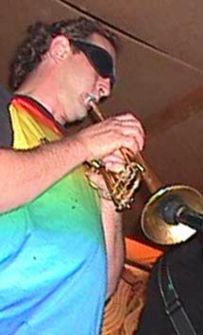 highland park, ca - 1999
at mr. t's bowl
memphis willie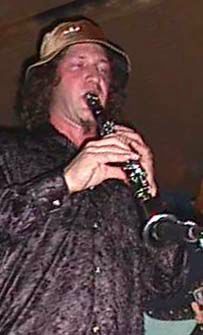 highland park, ca - 1999
at mr. t's bowl
dave aron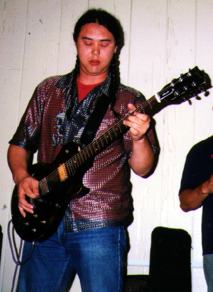 san pedro, ca - 1999
at la conga
woody aplanalp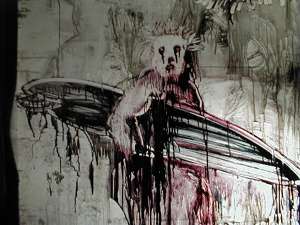 malibu, ca - 2000
"surferweb"
by norton wisdom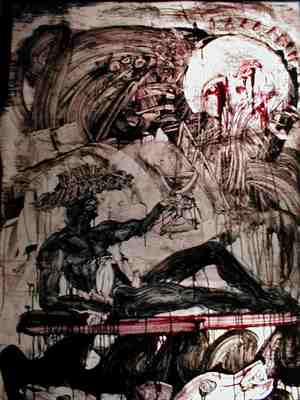 malibu, ca - 2000
"foulkslayingman"
by norton wisdom
tiffany joy rogers' thoughts during a banyan gig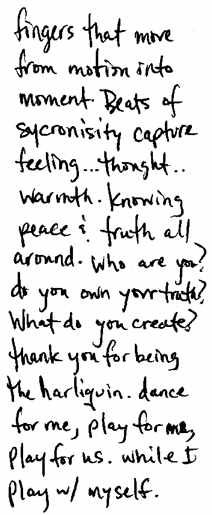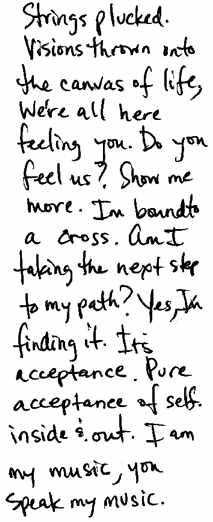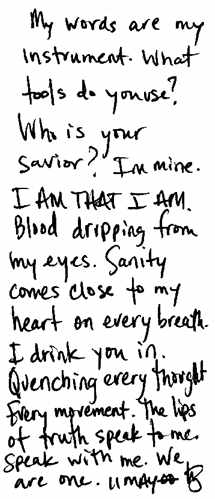 perk was on drums, nels on guitar,
watt on bass and norton on painting
at arcadia on the pier in santa monica, ca
may 11, 2000







bob lee banyan review!
BANYAN- live at several venues 1/97 - 3/97. I've seen Banyan three times now, each time with a fundamentally different lineup. The only two people to make it to all three gigs were the rhythm section: Mike Watt (former Minutemen/ fIREHOSE/ Dos bassist) and Stephen Perkins (ex-Jane's Addiction, current (?) Porno for Pyros drummer). Guitarist Nels Cline made it to two of them; other hangers-out have included Thurston Moore, Joe Baiza, Money Mark, and Kevin Haskins. Since they make everything up as they go, anyone can participate, and presumably there are no arguments about "That's not how we did it at rehearsal." The most valuable guests, to my observation, have been Moore; percussionist Gustavo Aguilar, who inspired several "Holy shit!" looks on stage when he suddenly put down his sticks and began chanting at one point; and the DJ they had at Sacred Grounds. Less fortunate, at least for us in the audience, was the female singer they brought to Spaceland, indeed a vision of loveliness but not much, if any, of a voice. It's not likely they'll ever produce a definitive work, since the "band" seems to be trying to re-define itself each time they play. It's also hard for me to come to a real conclusion; are they good? Yeah. Real good? I'm confused enough to say most definitely, "Probably." Most of these members' other projects have done more for me, but Banyan is a great idea, if it isn't yet a great band. It may ultimately prove to be most valuable to the members. To paraphrase Mike Watt, working in their "song" bands is like sitting alone writing, while Banyan is like conversation. And it's not easy to spiel for half an hour without using a single cliche. I sometimes wish they'd stick with a groove longer, rather than mutate everything at the precise point it becomes familiar. But the shows have all been fascinating to watch, and they've all had moments of greatness.
the beginnings of banyan

banyan, you know, like the tree w/the crazy limbs that grow down from the limbs and become new trunks/roots?! banyan started as a concept that festered in the head of david turin. he suggested that some folks should get together and have "the rite of spring" by igor stravinsky going through their headphones while focusing on communicating w/each other on a musical plane using their machines. he approached stephen perkins to assemble a crew. perk asked me (watt). I volunteered nels cline. turin wanted to record it w/the dust brothers and they thought of keyboard money mark nashita. so on july 8, 1995 we did it. we went on over to the dust house in sliver lake, slapped on the 'phones, and threw it down like this:
perk - drums

nels - guitar

watt - bass

$ mark - keyboard


we wailed for three hours. getting into those grooves, led by the nose w/igor's sewing machines. it was intense, the pad became a shvitz, I was sweating like a stuck pig. turin, doing the commando, choosing the sections of "the rite..." that would make us dance, dance the mad dance of frenzy, hypnotic, other-worldly-trying-and-trying-to insane machine operators that we were, in fact, becoming, coming and comin.
then it was done and I went back to pedro.
since the recording, we've done two gigs (this is as of 21 nov 96). we get a feel going and then try to just wrangle it out. the second one was really good in my view. I generally loath jams and what they can digress to but the collection of these personalities really kept this shit lit! damn, these guys pumped like motherfuckers, 'specially perkins on that night! standing between $ mark and nels, I was feeling them playing space shuttle ping-pong w/my brain bouncing off my very cable called strings. they were the shit, something else. we plan to do more soon. I'll keep you posted.
these days, the perk is editing it down at his pad in the val w/superboy-editboy bill malina on the knobs right beside him and david turin across the way kitty-korner doin' a chop-chop on the long-wail we grew that day in silverlake. perk said something about the dust brothers mixing it when he's done w/the chop-chop. in any event, a cd worth is coming out april 22nd, 1997 on cyberoctave. that's right, a banyan cd out this spring. damn.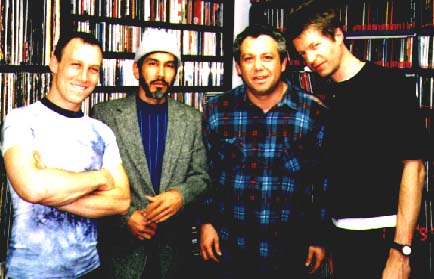 irvine, ca - 1997
(from left) stephen perkins, keyboard $ mark, watt, nels cline
just before a live on-air performance on kuci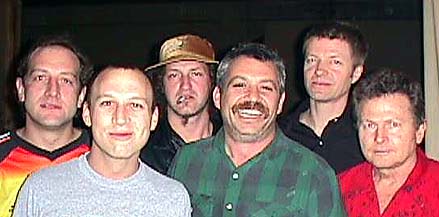 highland park, ca - 1999
at mr. t's bowl, back where the lanes are
memphis willie, stephen perkins, dave aron,
watt, nels cline and norton wisdom
(left to right)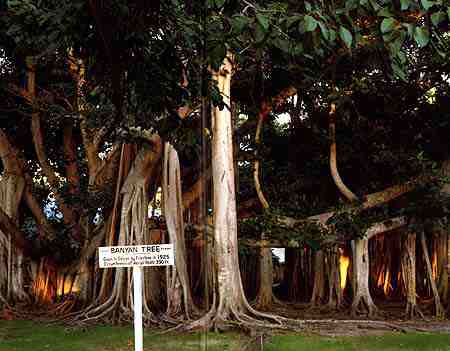 shot of banyan tree at edison's house
---
---