jimbo calls me in pedro from his pad. he tells me there's room on a record honoring james brown turning sixty-five (or is it seventy?). it's called "super bad @ 65: a tribute to james brown" out on zero hour. nels and carla are on it (as scarnella), so is frank black, chris whitley and don fleming, among others.

and all this was from jimbo's doing!

I chomped at the bit and took to the tug, called jimbo back and got me an idea for a band called broke dick dog. the name is from an expression miles davis used to use. if you were dressed nice he would say you were "clean as a broke dick dog." I always wanted to call a band that. now I have. damn.

I asked stephen perkins and keyboard money mark nashita to bite in w/me. I decided to do "shhhhhhhhh! (for a little while)" off of james' "I've got the feelin'" album (1968). it's one of those tunes he had hug the label to fill out his platters w/him on the organ, doing it up. that shit laid me low, I'm lovin' it. now we got a chance to wail on it, left coast style. I'd produce it.

$ mark gave me word of an all tube pad in orange county so on january 28, 1998 we headed down to the distillery in costa mesa, ca. great pad! mike mchugh ran the place and did the engineering. we got ready and it was GEE OHH!

stephen perkins - drums

$ mark - organs and theramin

watt - moon bass, dinger percussion and some spiel


well this studio is in an o.c. industrial park and it's got one big room w/a high ceiling. perk's drums sound as big as the bing will boom. $ mark finds a theremin in the pad and we do an overdub of that, him using a sheet of paper w/a line drawn on it so he can find the right distance to produce the right note. this is the first time ever I recorded w/the moon bass. I overdubbed some dinger percussion - one of those devices that has a wooden bead on the end of a thin strip of metal wobbling and banging on another thicker metal piece. gives that warble sounds. perk didn't need any dubbing, he was all there the first time. $ mark did almost the whole session w/licorice in his mouth. he had to drive all the way from cherry valley to do so he deserved it. we had a blast cutting this tune, believe me. big time fun.

I came back on february 18, 1998 and again w/mike mchugh, mixed it and sent it off to jimbo. he then whipped it all up w/the other tunes, pinned a charles miller painting of the man himself on it and slapped the baby out. smokin'.





some shots taken before the session: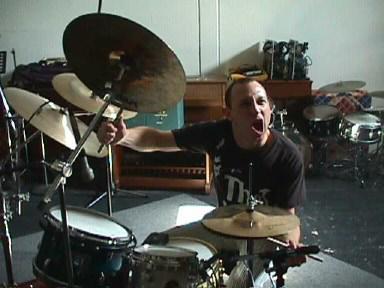 stephen perkins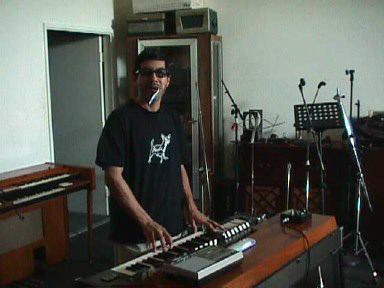 keyboard money mark nashita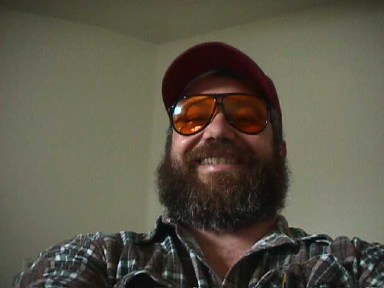 watt

---
---
this page created 12 aug 98