the rock for choice people put in a request for me to help the sisters with a song referring to christmas. absolutely could not refuse, so I got together the folks I had been playing w/at the time, the crew of the flying saucer (nels cline, michael preussner, vince meghrouni and myself) and went and did my own arrangement of that old xmas standard but renamed it "the little drummer boys", using boys instead of just boy cuz there was two drummers w/the crew of the flying saucer, see?
nels - guitar

michael - drums

vince - drums

watt - bass, spiel

bobby seifert engineered this at alpha in burbank, ca on september 10, 1995. it was a funny session, things kept switching between having to choose between two studios and I got mixed up and ended up late and spaced! it turned out to be trippy for the band too cuz it ended up taking something like 32 takes to cut this! damn. it was fun though and I dug playing w/these cats. turns out this was the only recording session that the crew of the flying saucer ever did by themselves. they did do one other session but two guys from pedro helped w/that. they did over seventy gigs during the summer and fall of '95 w/me and nels wrote tour diaries for both of them, the "clam blow" and "shinebox" tours. read them (by clicking on the appropriate tour), they're a trip! good guys, all of these crew of the flying saucer, I wish them fare thee well down the road and up around the bend.
this release was put out on columbia records.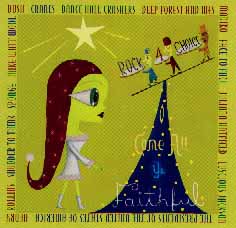 ---
---
this page created 3 dec 96