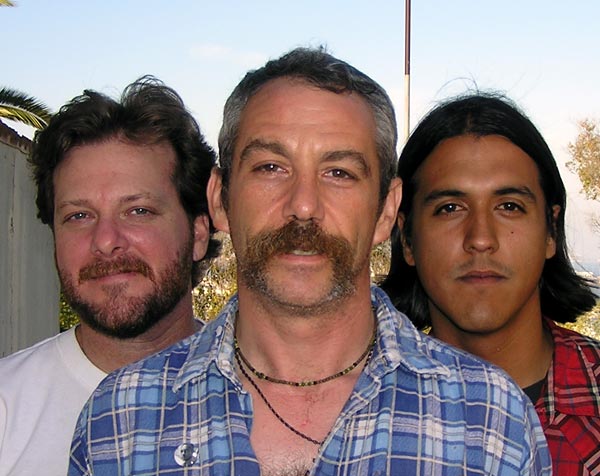 pete mazich, mike watt and raul morales
(left to right)



yet another opera for watt, "the secondman's middle stand" was released august 24, 2004 on columbia/red ink. it's one piece split into three sections of three songs each dealing w/ that illness that almost took me at the beginning of 2000 and left an intense/profound impression on both my body and mind. it loosely parallels dante's "il commedia" in ways - I loved that epic as a teenager and re-read soon after surviving that hellride the sickness laid on me. ("in the hand of dante" by nick tosches had a profound influence as well). this is the bass-organ-drums trio project I've been talking about. to help me out, I had madonnabe pete mazich on organ/singing and wegospeedro/jom & terry show/madonnabe jerry trebotic on drums as the secondmen. both these cats are from and live in pedro so I had an all-pedro band to help me tell my tale of hurtin', healin', pluckin' and pedalin'. to help spread the word about this new release and also to carry on the sally forth! tradition I treasure so dearly since embarking on that in the early 80s w/my fellow minutemen d. boon and george hurley (this'll be my fiftythird tour), I'm setting out in the boat for yet another go around of the u.s. and canada - "el mar cura todo" tour 2004. we'll be playing the piece in its entirety (about fiftythree minutes) plus we've worked up some encore stuff too if you want to hear more of us.

it's unfortunate that me and pete won't have jer w/us this tour cuz his letter for the docks is imminent (both him and pete are longshoremen besides musical machinery operators) and he's gotta stay in pedro and be ready to act on it the moment it comes to his pad. fortunately though, we have another pedro cat to drum it up for us and his name is raul morales. he's twenty years younger than me yet is part of small vibrant scene here in town they call "porch core" over on fourth street and he has a few tours under his belt w/bands from that. recently, he's been playing w/ the leeches and killer dreamer plus he was a former drummer for five year plan which are all associated w/that "collective" there. me and pete wholeheartedly welcome "rawl" (the nickname he goes by) as part of the team we have to work the towns. though he's the young man aboard, he probably has plenty he can teach us as well as learn. that's a righteous thing.

oh, here's something regarding the new piece I posted to the mike watt list recently:


people,

I've been doing interviews and now I'm trying to explain something when they want to talk about this new record. sure, it's got literal lyrical references to that illness that almost took me but when I hear it and do it w/my guys, it does have an allegorical aspect to it - it's kind of like more about this punk rocker just coming into middle-age and that sickness stuff was the "catalyst" or whatever that got me thinking about things. like "...engine room" wasn't just about the minutemen, or the navy or my pop or whatever - it was about watt and what's in his head when he wrote it, remembering back and looking at himself in the moment. well, the sickness shook me up and 'pert-near killed me, yes. but you don't plant things in dirt just to grow more dirt, right? it's a riff on what makes me me in these days I find myself in. it's supposed to be open-ended enough too (in some weird way) where you can figure whatever you want out of it. that's ok too.

you know, I almost was killed by pneumonia when I was twentytwo (the week darby killed himself and john lennon was shot to death) and I never wanted to write even a song, let alone a whole piece about that. more than twenty years later, this time I do. life's a trip that way - you're on a journey w/strange roads about that can take you to unexpected places and you can get to thinking about that sometimes...

on bass, watt



you can help watt w/getting the word out about this tour! there's a link next to each date that takes you to a tour flyer (in pdf format) made expressly for that show it's next to. you can download it (save it to your hard disk or a floppy) and print it on some 8 1/2 x 11 inch paper cuz that's what it's made for. you can then make copies of that and place them wherever you think folks might be into getting some wowzer thuds w/the boom broom and a three-way wrangle from watt and the secondmen. thanks in advance for letting folks know the boat's pulling into their town. much appreciation from watt to you for giving a hand here if you're so inclined, I'm giving you my full gratitude.

"el mar cura todo" tour 2004
thu, sep 16 - the last day saloon - 120 5th st., santa rosa, ca - (707) 545-5876 - flyer (pdf format)

fri, sep 17 - bottom of the hill - 1233 17th st., san francisco, ca - (415) 621-4455

sat, sep 18 - the blue lamp - 1400 alhambra bl., sacramento, ca - (916) 455-3400

sun, sep 19 - berbati's pan - 231 s.w. ankeny, portland, or - (503) 248-4579

mon, sep 20 - media club - 695 cambie st., vancouver, bc, canada - (604) 608-2871

tue, sep 21 - crocodile cafe - 2200 2nd av., seattle, wa - (206) 448-2114

wed, sep 22 - b-side - 230 w. riverside, spokane, wa - (509) 624-7638

thu, sep 23 - neurolux - 111 n. 11th st., boise, id - (208) 343-0886

fri, sep 24 - egos - 668 s. state st., salt lake city, ut - (801) 521-5255

sat, sep 25 - bluebird theatre - 3317 e. colfax av., denver, co - (303) 322-2308

sun, sep 26 - knickerbocker's - 901 o st., lincoln, ne - (402) 476-6865

mon, sep 27 - grand emporium - 3832 main, kansas city, mo - (816) 531-7557

tue, sep 28 - mojo's - 1013 park av., columbia, mo - (573) 875-0583

wed, sep 29 - blueberry hill - 6504 delmar, st. louis, mo - (314) 727-0880

thu, sep 30 - gabe's oasis - 330 e. washington, iowa city, ia - (319) 354-4788

fri, oct 1 - 7th street entry - 701 1st av. n., minneapolis, mn - (612) 338-8388

sat, oct 2 - high noon saloon - 701 e. washington av., madison, wi - (608) 268-1122

sun, oct 3 - shank hall - 1434 n. farwell av., milwaukee, wi - (414) 276-7288

tue, oct 5 - the patio - 6308 n. guilford av., indianapolis, in - (317) 253-0799

wed, oct 6 - high dive - 51 main st., champaign, il - (217) 356-2337

thu, oct 7 - double door - 1572 n. milwaukee, chicago, il - (773) 489-3160

fri, oct 8 - grog shop - 2785 euclid heights bl., cleveland heights, oh - (216) 321-5588

sat, oct 9 - oberlin college student union - 173 w. lorain st., oberlin, oh - (216) 775-8106

sun, oct 10 - the legendary horseshoe tavern - 370 queen st. west, toronto, on, canada - (416) 598-4226

mon, oct 11 - mile end cultural centre - 5390 st. laurent bl., montreal, pq, canada - (514) 495-4448

tue, oct 12 - club metronome - 188 main st., burlington, vt - (802) 865-4563

wed, oct 13 - valentine's - 17 new scotland av., albany, ny - (518) 432-6572

fri, oct 15 - 123 pleasant street - 123 pleasant st., morgantown, wv - (304) 292-0800

sat, oct 16 - the dame - 156 w. main st., lexington, ky - (859) 226-9204

sun, oct 17 - the pilot light - 106 e. jackson av., knoxville, tn - (865) 524-8188

mon, oct 18 - the end - 2219 elliston pl., nashville, tn - (615) 321-4457

tue, oct 19 - 20th century theatre - 3025 madison rd., cincinnati, oh - (513) 731-8000

wed, oct 20 - alvin's - 5756 cass av., detroit, mi - (313) 831-4577

thu, oct 21 - 31st street pub - 3101 penn av., pittsburgh, pa - (412) 391-8334

fri, oct 22 - black cat - 1811 14th st., washington, dc - (202) 667-4527

sat, oct 23 - south paw - 125 5th av., brookyln, ny - (718) 230-0236

sun, oct 24 - maxwell's - 1039 washington st., hoboken, nj - (201) 798-0406

mon, oct 25 - iron horse music hall - 20 center st., northampton, ma - (413) 584-0610

tue, oct 26 - the call - 15 elbow st., proividence, ri - (401) 751-2255

wed, oct 27 - t.t. the bear's - 10 brookline st., cambridge, ma - (617) 492-0082

thu, oct 28 - the mercury lounge - 217 e. houston st., new york, ny - (212) 260-4700

fri, oct 29 - the khyber - 56 s. 2nd st., philadelphia, pa - (215) 238-5888

sat, oct 30 - ottobar - 2549 n. howard st., baltimore, md - (410-662-0069

sun, oct 31 - local 506 - 506 w. franklin st., chapel hill, nc - (919) 942-5506

mon, nov 1 - the e.a.r.l. - 488 flat shoals av., atlanta, ga - (404) 522-3950

tue, nov 2 - cumberland's - 301 king st., charleston, sc - (843) 577-9469

wed, nov 3 - market street pub - 120 sw 1st av., gainesville, fl - (352) 377-2927

thu, nov 4 - orpheum - 1902 republica de cuba, tampa, fl - (941) 504-0283

fri, nov 5 - jack rabbit's - 1528 hendricks av., jacksonville, fl - (904) 398-7496

sat, nov 6 - the beta bar - 809 railroad av., tallahassee, fl - (850) 425-2697

sun, nov 7 - the nick - 2514 10th avenue south, birmingham, al - (205) 252-3831

mon, nov 8 - satori coffee house - 5460 old shell rd., mobile, al - (251) 344-4575

tue, nov 9 - the parish @ house of blues - 225 decatur, new orleans, la - (504) 529-2624

wed, nov 10 - rudyard's pub - 2010 waugh dr., houston, tx - (713) 521-0521

thu, nov 11 - stubb's - 801 red river, austin, tx - (512) 480-8341

fri, nov 12 - gypsy tea room - 2548 elm st., dallas, tx - (214) 744-9779

sat, nov 13 - vino's - 923 w. 7th st., little rock, ar - (501) 954-7851

sun, nov 14 - vzd's - 4200 n. western av., oklahoma city, ok - (405) 524-4203

mon, nov 15 - the nat - 604 s. georgia, amarillo, tx - (806) 236-6482

tue, nov 16 - jake's - 5250 50th st., lubbock, tx - (806) 441-9121

wed, nov 17 - launchpad - 618 central av. sw, albuquerque, nm - (505) 764-8887

thu, nov 18 - the t lounge - 1218 texas av., el paso, tx - (915) 533-8227

fri, nov 19 - plush - 340 e. 6th st., tucson, az - (520) 798-1298

sat, nov 20 - big fish pub - 1954 e. university, tempe, az - (480) 966-5010

fri, dec 10 - the echo - 1822 sunset bl., echo park, ca - (323) 661-7930

sat, dec 11 - the casbah - 2501 kettner bl., san diego, ca - (619) 232-4355



as of november 8, 2004
---
---