the germs were a great band. I thought they were the most original of all the bands of the old days. pat would laugh, who cares I dug them and I dug getting to do a song for this record. the germs had an effect on certain parts of pedro (like right where I was living) and this is one bit of proof. another big germs listener is j mascis and after a call to him in massachusetts, he said yes to share the burden on delivering the good time. we even got to do the song I picked, "what we do is secret" and didn't get bumped - whoa! no shit, many thanks to bill bartell for making this happen.
j and me wailed this one a couple years ago and it's just now coming out. like orson wells said: "no wine before it's time". I remember j doing the amp knobs when I did the bass solo - he went for the knurled trip. here's how it happened w/who and what:

j - drums, guitar

watt - bass, spiel


warton tiers engineered this at fun city in new york city. nice mench, I worked w/him before w/steve shelley (as a recording only band called lucky sperms) in about '87 on the "walking the cow" /"tomorrow never knows-glass onion" 7"on steve's own smells like records label. oh yeah, the credits say j did vocals but he didn't - it was me (watt) over dubbing spiel upon spiel.
this release is out on grass records - 72 madison avenue, 8th fl, nyc, ny 10157 usa (a unit of bmg entertainment).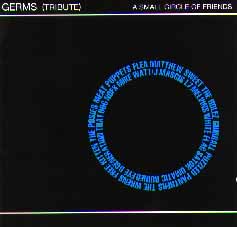 here's the press release/liner notes for this album written by bill bartell that has some great infos about the band and the times they lived in w/interviews w/some of the actual members. check it out.
The Germs Tribute

A Small Circle Of Friends
Tribute albums have become passe. After all, there are only so many artists worthy of them, and even fewer capable of doing the original songs any sort of artistic justice. However, this project, four years in the making, is a different sort. Rather than finding a bunch of hip or cutting edge artists to jump onto a bandwagon they may know nothing about, in hopes of promoting the bands more than the project, the participants in this tribute HAD TO MEAN IT.

The Germs were an L.A. phenomenon for the most part, but for non-locals, tenacity paid off, and discovering the band's early singles and eventual lp was an art form almost forgotten; in the early days of punk rock, indie releases simply couldn't be found; anyone who went to the trouble of getting the "first L.A. punk record," by a band with the unappealing moniker of "The Germs," could not help but beaffected. Shock conditioning is hard to shake.

Which is why it isn't surprising to see bands today who give a musical or even public nod to this band's influence on their success. Though it may not be evident on the surface, the spirit and attitude of the Germs, from the days when being a "punk" was definitely not acceptable (and often just plain DANGEROUS!), has had a profound influence on todays readily accepted alternative music. Even today, cloned versions of singer Darby Crashs image can be spotted at shows, being sported by kids who not only missed the band, but werent even born when it fell apart and Darby left us at the age of 22. Musicians like Flea, Mike Watt and the Meat Puppets have carried the Germs torch throughout their careers; Hole and Janes Addiction performed and recorded Germs songs long before this tribute lp was visualized.

So this tribute is from people who mean it; hopefully it will bring back fond recollections to those of you who were also part of that very short circuit. And maybe it will help the uninitiated discover where many of their current interests come from, causing them to go to the source and join the DCC. Germs burns optional.

Information for the following history of the Germs was compiled from interviews conducted with Pat Smear, Don Bolles and Belinda Carlisle specifically for this project. Lorna Doom was not available for comment at the time of this writing. Any errors are purely due to time fading recollections.

GOLDEN BOYS

Darby Crash was born Jan Paul Beahm in Los Angeles in 1958, the last of four children. His mother Faith and her long time companion Harold Beahm had recently split, but he retained the last name Beahm for the time being. Darbys real father, William Beorkland, and Faith were not interested in marrying, thus he only knew his son (who would come to be called by his middle name of Paul), as an infant.

Raised by his stepfather, Bob Baker, whom his mother married in 1964, Paul kept the name Beahm throughout his life. Bob Bakers death in 1971 sent Darby on a mission to find his real father at age 13, only to discover that he too had passed away. His older brother Bobby had also died of a heroin overdose while Darby was still very young.

Pat Smear and Darby met through a speed dealer they both patronized when Pat was in seventh grade, with Darby a year ahead in eighth.

PAT: I was into rock and roll, New York Dolls, Stooges, the Ziggy Stardust album, and Alice Coopers Schools Out. Darby was only into oldies and fifties rock and roll. He hung with the low riders, and the low riders only like oldies but goodies.

In spite of their musical differences, Pat and Darby became fast friends, getting into trouble and basically being mildly delinquent, until Pat ran away from home at 13 to live in a Jesus commune for almost a year.

When he returned, Pat found a surprisingly different Darby.

PAT: When he thought Bowie and hard rock was crap, he said it was all screaming and noise! When I came back, he was into Bowie, he said he liked the lyrics. We liked the Tubes, and Van Der Graaf Generator, and Queen II was a big favorite of ours.

LEXICON DEVIL(S)

Pat and Darby were both fortunate enough to be admitted to an experimental program, the Innovative Program School, a satellite school located on the campus of University High in Santa Monica. Designed for students who didnt fit in to the regular curriculum, the student body included many outcasts and miscreants who would soon form part of the original L.A. punk scene. The regular campus included students like future Black Flag bassist Kira Roessler and Michelle Bell, who would eventually front Vagina Dentata, a post-Germs band which featured Pat on guitar. Uni High alumni from the past included such luminaries as Kim Gordon, Kim Fowley and Frank Sinatra Jr.

LETS PRETEND

It was around this time, just prior to being excommunicated from I.P.S., that they formed their first, albeit imaginary band. Dubbed Sophistifuck & the Revlon Spam Queens, it was a fantasy band, with no instruments, or intentions of ever playing. Schoolmates Dinky and Michelle Baer (who was seen as Darbys girlfriend in the Decline... film) rounded out the group.

Glam rock and the youthful ineptitude of The Runaways fueled their enthusiasm for the rock and roll Hollywood nightlife, and Pat and Darby discovered punk rock through English music newspapers at the Licorice Pizza record store, located across from the Whisky a Go Go. The parking lot of the Rainbow, a block away, was another hangout, where future Germs drummer Cliff Hanger was the quaalude dealer, and soon-to-be Germs confidant and hairstylist Malissa was the hip DJ. Two adventurous girls from The Valley, yet to take on the names Lorna and Dottie, were also Rainbow regulars, though some odd twist of fate kept them from meeting Darby and Pat until sometime later.

PAT: We thought The Ramones were a revival of the Seventies torn jean, long hair hippies because of their look. Our real inspiration was The Runaways, because we thought, if they can do it, ANYONE can!
By 1977, punk rock had filtered into the waning glam and glitter rock scene, giving fans used to dressing outrageously a new look. People who missed bands like Silverhead and Gary Glitter, or the happening scene of Rodney Bingenheimers English Disco, now claimed punk for their own. The Runaways, now Joan Jetts vehicle, became tougher sounding, and The Damned came to L.A., impressing curious onlookers, and breeding a handful of original L.A. scenesters. But just prior to all of this, one of the original glam bands had a major impact on the history of the Germs.

TEENAGE CLONE(S)

PAT: Queen was staying at the Beverly Hilton, and we were hanging around the pool, watching Freddie Mercury on his balcony. We met these two girls from the Valley, total twins, with matching poodle haircuts and those square, tan Datsun cars. We snuck into the room below Freddies and Darby tried to climb the balcony to get into his room, but couldnt. They gave us a ride home, we didnt exchange numbers or anything, we thought wed never see them again.

Those twins were Belinda Carlisle and her friend Lorna.

BELINDA: Lorna and I met in art class at Newberry Park High in Thousand Oaks. Id have to say she was responsible for introducing me to a lot of music that I wasnt aware of, like Iggy and the Stooges, New York Dolls, and Roxy Music, all that kind of thing. We had a musical bond. We started going to clubs around 16 or 17. We were total freaks in school. I went from being a cheerleader, fitting in, to being a total freak. We'd smoke colored Shermans at school, and make up really wild stories about partying with Ted Nugent, really gross, unbelievable things! We knew a guy from a record store who introduced us to punk, and we got really curious and excited about that scene. But at the same time, we loved Queen. I was totally in love with Freddie and she was in love with Brian May. We'd find out what flights they were coming in on, and be at the airport with gifts, flowers, the whole bit! So anyway, once we found out where they were staying, the Beverly Hilton, and thats how we met Bobby, or Darby, and Pat. They were like the weirdest guys wed ever met, they were great!

MEDIA BLITZ

After this seemingly innocuous meeting, Pat and Darby began posting flyers around town, looking to form a band with two untalented girls.

PAT: We put one up at Licorice Pizza, and some time later, it was a while, they called us up and said are you those Queen guys?, and thats when we started hanging out and formed the band.

FORMING

BELINDA: Thats when they put together the Germs. I think my name was Dottie Danger, I was the drummer. I never actually played, but I was the drummer, and then I got sick with mononucleosis, and had to go home and live with my parents. I got really sick, which is basically why I didnt do it.

PAT: Belinda wanted to be responsible when she quit, she didnt fuck us over, she brought in her friend Becky to replace her.

Becky, soon to be christened Donna Rhia, was definitely not a drummer at the time, but had the merits of being a friend of both Belinda and Lorna, who was now known as Lorna Doom.

BELINDA: I basically helped make flyers, and was the prop person on the side of the stage, handing over the salad dressing and peanut butter, all of that. As a solid band, but with only one guitar between them, Donna fabricated a tragic story of having terminal leukemia, and convinced her grandmother to buy her a drumset and a bass amp for Lorna, to help pursue her lifelong dream of being the next John Bonham.

PAT: Lorna bought a vintage SG bass for $100, the salesperson misread the price tag. I remember when we came up with the name of the band, the girls were disappointed, they thought we were more creative. It was supposed to be the germ of an idea, so you know we were there at the start.

PERFORMED LIVE*

While the newly equipped Germs festered in Pats West L.A. garage, other punk bands began popping up around town, promoting shows at the Orpheum Theater, a 99-seat hall that became known as the Punk Palace. One of the first shows featured the newly formed, drummerless Weirdos, and four Mexican kids from San Diego, the legendary kiddie punk band The Zeros. Also on the bill was the first-ever Germs performance.

PAT: We made noise. Darby stuck the mic in a jar of peanut butter. It was a dare, we had no songs or anything! Lorna wore her pants inside out, and Darby covered himself in red licorice...we made noise for five minutes until they threw us off.

BELINDA: I remember people being absolutely appalled, it was the greatest thing!

The Germs tradition had begun. The second gig was a two song set at the prestigious Roxy in Hollywood, filming for Cheech and Chongs movie Up in Smoke. Prop girl Belinda provided the peanut butter, and the Germs provided the mayhem. Though they didn't make the film, one song, Sex Boy, in a barely listenable cassette recording, was eventually immortalized as the b-side of the bands first single. The third show, one of Kim Fowleys New Wave Nights at the Whisky a Go Go, was recorded and released years later as the Germicide lp. Belinda introduced the band, Becky played the same beat, while Darby threw pounds of sugar on the audience as Lorna slid up and down on one string of her bass on songs she had yet to learn. Darbys notorious lack of interest in singing on mic was already established, and it was not long until the band became a regular at the legendary Masque. It was there the group became more of a viable outfit.

BELINDA: You could always count on a big drama at a Germs show, Darby was outrageous! We used to go to wild parties where people would pass out and end up made into a human salad, covered in dressing and lettuce! Then the Go-Gos formed and we kind of drifted apart. I was really disturbed by the heroin that was going on, I kind of distanced myself from that crowd.

STRANGE NOTES

The band soon attracted the attention of another friend, Chris Ashford, who worked at a local record store. Founding his What? Records, Chris released their first single, which is arguably the most premature record by any band since The Shaggs lp Philosophy of the World. Totally unpretentious, and barely recorded in Pats garage, it was well- received critically, and hit the airwaves via the always ahead of his time DJ Rodney Bingenheimers radio show. The ultra lo-fi production values (incredibly emulated on this lp by the first verse of NOFXs contribution) and even lower quality live tape on the flipside caused almost as much of a stir as Darbys (then still calling himself Bobby Pyn) lyrics, which he included on a lyric sheet.

PAT: We did it in my garage with my parents reel to reel, one mic for all the instruments and one for the vocals. The echo was just a button that was on by accident.

THE OTHER NEWEST ONE(S)

With the first local punk single out, the band decided to get more serious. Donna left by mutual agreement, still hanging out with the band, joining Belinda as part of what would soon become the formidable Germs Contingent. A revolving door of drummers began, including another Rainbow parking lot veteran, Cliff Hanger.

PAT: Cliff was a real drummer, he pushed our playing abilities. I could pick out a Queen or Yes song on guitar, but I really couldnt write a two chord song. After Cliffs departure, Don Bonebrake, then drumming for The Eyes (which featured future Belinda bandmate Charlotte Caffey on bass), filled in as a session drummer for the next recordings for Chris Ashfords label. The tracks were not issued until years later, on What? Records compilations, and Slashs (MIA) CD. In spite of encouraging crowd response to live shows, Don could not be convinced to leave The Eyes, and remained with that band until joining X.

Nicky Beat, a member of The Weirdos, was then tapped as a temporary Germ. He played live gigs, and participated in two separate Germs sessions. The first was another aborted What? release that was never completed for reasons lost to time. But the second, the first release from newly founded Slash Records, was a powerful three song seven-inch, which showcased the bands new found playing ability, as well as Darbys lyrical prowess. Darby had recently dropped his former band name of Bobby Pyn, and the cover featured shock value Nazi imagery for effect.

CIRCLE ONE

Also reflecting the mock-Nazi image of punk rock propagated by Sid Vicious, was the wearing of favorite bands names or logos as armbands. The Germs had developed a loyal following, and the haunting Germs blue circle began to be seen early in the bands career.

PAT: I dont know what it meant, he had some little speech at the time, but I cant recall. I always thought the blue circle was like his blue eyes, but I might be wrong.Darby himself was adamant about the symbol, even prompting interviewers to ask him about the meaning of the armband, and themore permanent show of allegiance, the Germs Burn. In an early issue of the then fledgling Flipside fanzine, Darby told theinterviewer, You havent asked me about burns and circles. Youve gotta have them right here (points to inside of left wrist)..over 200 people have them, even in San Francisco. You can only get one from someone who already has one. It all has todo with circles. The Germs Burn, inflicted with a lightedcigarette, was the ultimate act of dedication to the band, and became notorious amongst the diehard followers of the group.

Nicky Beat continued to play with the band, and No God, from the Slash e.p., also ended up on the one-sided Yes L.A. compilation on Dangerhouse Records. With material out on three different labels, the Germs were simultaneously the most notorious and visible band on the L.A. scene.

NO GOD

Meanwhile, hundreds of miles away, in the desert city of Phoenix, Arizona, a young musician named Jimmy Giorsetti, a.k.a. Don Bolles, was busy making music in that citys embryonic underground. Always intrigued by unusual music, from Faust to Yoko Ono, Don was a perfect candidate for what punk offered for those who would lend an ear.

DON: I was the singer in a top 40 band who used to play high schools. Id change the lyrics to songs like You Make Me Feel Like Dancin to You make me feel like MANSON!! I was also playing bass and singing in the only two punk bands in Phoenix. In 1978, I first started playing drums with a band called The Exterminators (with Rob Ritter, later of Gun Club and 45 Grave). I heard the Forming single, but the flipside is what got me to want to be in the Germs. I got Pat and Darbys number, and called and said Im your new drummer, and they said Yeah, right. Months later I came out to L.A. and told them I was there to be their drummer, and Pat said Hey, youre that guy! And all of a sudden I was hot property because drummers were scarce, and nobody had even seen me play! When I auditioned, I was really nervous, because I saw them play with Nicky, who was good, and I played this really weird way, not like a real drummer.

PAT: Don set up his drums, and couldnt play at all! We all looked at each other, and thought You came all the way from Phoenix for this? So Nicky took a few minutes and taught him this Weirdos song Life of Crime, and in five minutes he was great!

OUR WAY

With Don behind the kit, his remarkably powerful and unique drumming pushed the band to even further musical limits. His first recordings, on the Tooth and Nail compilation album, were impressive, but the real item was the (GI) lp, a first for Slash Records.

The album was a masterpiece of youthful anger, cryptic introspective lyrics, and brilliant playing by both Pat and Don. Joan Jetts minimalist production and Darbys snarled lyrics garnered an L.A. Times review calling it the most important album to come out of Los Angeles since The Doors L.A. Woman.

PAT: We wanted a big name on it as a producer. Darby was set on Mark Lindsay of Paul Revere and the Raiders for some reason, but he was too expensive. We thought who is our most famous friend? and we came up with Joan. The album isnt really called (GI). If you look at the Tooth and Nail and Cruisin lps, we changed the name of the band to GERMS(GI). Slash just separated the lettering so it looks like (GI), it really doesnt have a title. On the strength of the lp, the band began to draw more and more people to their infrequent live gigs. A tighter band had emerged from the recording sessions, but the frequent punk riots now had more variables due to the number of fans in the crowd. The reactionary medias portrayal of often feigned acts of punk violence had attracted a new generation of punks, many of whom missed the point entirely. Becoming more involved in drugs, Darby still rarely found the microphone except for his famous Get MeA Beer line,and his heroin habit even caused him to leave the stage to shoot up on at least one occasion, though probably for the effect rather than out of need. Once asked if he was a junkie, he laughed back, I couldnt afford it!

Germs crowds and riots were so frequent and so damaging (one Redondo Beach club had the walls actually knocked down after the manager pulled the plug on the band) that the group could literally not play in the area. When Penelope Spheeris wanted to film the band and the similarly troubled Black Flag for her film The Decline of Western Civilization, a private invite only gig was arranged on January 3rd, 1980, at Cherrywood Rehearsal Studios in Hollywood. The bands signature song Manimal appeared in the film and on the lp, while their fall apart show closer Shutdown appears only in the movie. Though the film did not have the opportunity to capture the Germs current drawing ability and genuine chaos that would generally result, it did give insight to Darbys personality (though he himself subtly altered it for the film), as well as a brief glimpse at the live furor of the band. And another film opportunity had also arisen, which proved to be the bands finest, and last recorded work together.

AMERICAN LEATHER

Somewhat eccentric and legendary producer Jack Nitzsche had seen the (GI) album cover (whose off center and much imitated design was thought up by Don), and liked it enough to contact Slash about the band. He was assembling a soundtrack for a new film, entitled Cruising, starring Al Pacino. A dark murder mystery, set in the taboo world of the gay leather S/M underground (whose image Darby had recently adopted), the film was less than great, but the Germs excelled.

PAT: When we played the songs, Jack said they were too short, so we played them twice through to make them long enough. It seemed stupid to make them five minutes long, but we didnt have a choice. They ended up using like a minute of one song anyway.

Lions Share, Darbys second recorded evidence of his interest in great cats, was briefly featured in the film (during the video booth murder scene, which also features some highly illegal hardcore penetration shots visible only in single frame slow motion on video), and outshone all the other material on the Lorimar Records issued soundtrack. The other five tracks, including Lornas only known composition Now I Hear the Laughter, were lost in corporate red tape until Slashs 1993 (MIA) compilation.

CAUGHT IN MY EYE

Darby himself had long since become an icon on the L.A. scene. His loyal following included numerous girls, many of whom were seen as his girlfriend when out on the town, and even in the Decline.. film. But a more private side of Darbys life was a secret he kept to himself for what were apparently image reasons. His obsession with Bowie, who also flirted with the bisexual image in public but never admitted to anything, may well have had a role in Darby keeping his sex life particulars to himself. But he did have close relationships with a number of people who figured into the Germs contingent, as well as his lyrics. The Other Newest One and Caught in My Eye contain cryptic references to well-known Hollywood punk Donnie Rose, whom he also name checked in the (GI) version of Shutdown. Donnie, from the city of Riverside, had come to Los Angeles to join the punk scene at the age of 14, along with his friend Gary, who eventually ended up living with Lorna Doom. In an interview with the first punk poet (and archivist), Drew Blood (also a close friend of Donnie and Darby) in 1991, Donnie summed up his relationship with Darby as: We loved each other a lot, I just couldnt give him what he needed...its personal.

Rob Henley, soon to become the focus of Darbys close attention, and innocent nemesis of the band, was also mentioned during the live performance in The Decline...

LAND OF TREASON

In an unexpected move, while the band was at its playing and crowd drawing peak, Darby undermined the group in the worst possible way: he fired Don. His replacement: the unskilled Rob Henley.

DON: My worst experience in the Germs was finding out how shocked and furious Darby was when he saw me playing in Vox Pop (Dons side project in which he played guitar and sang) wearing a dress...that was thebeginning of the end for me in the band. I could never figurethat out, a Bowie fan being offended by me in a dress. He never talked to me about it, I was just out, and Robbie was just in I guess.

PAT: Don was the perfect drummer for us. With everyone else, even Nicky, who was good, it felt weird because of the songs, and with Don, it felt normal, well, because it was Don. Darby wanted Robbie in the band, it wasnt really Don or anything he did, it was Robbie, and Darby thought well, I cant get rid of Pat, or Lorna, so Robbies going to play drums. He couldnt play at all, which was a slight problem, after having Don!

THE SLAVE

The Germs contingent immediately rebelled, with hand made buttons appearing saying Dump Henley, and Don Forever, Henley Never, as soon as the word spread. But Darby was adamant, and could not be convinced otherwise. Around this time, a woman named Amber had fallen for Darbys mesmerizing presence, and had become his regular companion, and would-be manager.

PAT: She was like his sugar-mamma, buying him things.

Amber managed to pay for Darby to go with her to England right after Dons exit, and left Pat and Lorna to teach Rob the Germs set, and fill Dons massive shoes.

PAT: He said Robbies a Germ now, it doesnt matter, teach him to play, and went off to England. Lorna and I got calls from England from him, insisting that we practice with him while he was away. We tried once, and it was impossible. I showed him a basic beat, and he couldnt even do that, so Lorna and I said forget it, and thats around when she called me and said I quit.

NOT ALL RIGHT

The Darby Crash that returned from England that summer was a different person to say the least. For reasons that are still a mystery, while in England, Darby had become obsessed with Adam and the Ants. Though The Ants were at that time a very hip, underground band handled by notorious Sex Pistols manager Malcolm McLaren, Darbys quite avant-garde adoption of Adams Indian cum pirate image was met with puzzled looks. He arrived with a huge, thin mohawk haircut, and a BOY of London bondage outfit, replete with blue feathers trailing behind him wherever he went, with Amber in tow. Oddly enough, this image was immediately imitated by devout followers, many of whom had never heard the Ants then only lp, Dirk Wears White Socks, and had no idea that Darby himself was a follower in the look.

GOING DOWN

With the Germs gone, Darby persevered, putting together The Darby Crash Band. With Amber managing, and his new friend Bosco on bass, Pat was persuaded to fill in until a permanent guitar player could be found. With only two new songs, Beyond Hurt/Beyond Help, and Out of Time, the bands first gig was a headlining show at the infamous Starwood club in Hollywood.

PAT: We had rehearsed with some drummer, and at soundcheck for the show, Darby kicked him out of the band! He was awful, but to kick him out at soundcheck was crazy! Lucky Lehrer from the Circle Jerks filled in with no rehearsals at all. He was pretty good, he knew most of the Germs songs, it was weird.

The general reaction from the sold out crowd was mildly enthusiastic. Bosco was an excellent funk style bassist, but lacked the primitive foundation Lorna had provided, and Dons absence was a gaping wound in the bands sound.

PAT: It was like the Germs, but with worse players; us in t- shirts, and this total freak in bondage clothes and a mohawk, singing. It was such a horrible experience for me I dont even want to think about it.

The Darby Crash Band found another, anonymous drummer, played a handful of L.A. and San Francisco gigs to lukewarm responses, and quietly disbanded. Shortly thereafter, Darby decided a Germs reunion gig was necessary, to put punk in perspective for the fifth and sixth generation punks, who had recently taken over the explosively expanding punk scene. Or at least thats the rumor he circulated.

PAT: He told me he wanted to do it to get money to buy drugs to kill himself with. Hed said that so many times in the past, I just said, Oh, right and didnt think about it any more.

Don had wasted no time in forming 45 Grave, a band that was selling out clubs like The Starwood and The Whisky with their horror-rock approach. Always busy, he also continued to play with the chaotic Vox Pop, who released one single, Just Like Your Mom, and a 12 e.p. featuring a nude Don on the cover. But his unpleasant exit did not hamper Dons respect for The Germs.

DON: When Darby asked me, it was easy. I liked Darby, and said of course to the reunion. I liked the band and thought he was a genius, like some crazed LSD guru.

SHUTDOWN

December 3rd, 1980, a rainy night in Hollywood. The Starwood was totally oversold, with the elite Germs Contingent seated comfortably in the balcony, and the floor packed with hundreds of wide-eyed young punks who had never before seen the band. X, Darbys favorite band, were scheduled to play as an unannounced special guest, but failed to materialize (hence Darbys scathing reference to X guitarist Billy Zoom during Strange Notes, as heard on the What We Do is Secret e.p.). The band played a furious set, with Darby singing on mic more than ever thought possible. Lorna and Don went into an impromptu version of Queens Another One Bites the Dust, recalling the band that helped form the group what seemed like an eternity ago. At one point Darby chastised the crowd of new punks: We did this show so you new people could see what it was like when we were around. Youre not going to see it again. No one in the audience knew how true that statement was.

BEYOND HURT/BEYOND HELP

December 6, 1980. Darby and a newer member of his female entourage, Casey Cola, had spent his money from the Germs reunion on alcohol and heroin. Darby had been staying at one of the many punk rock crash pads in Hollywood, and invited Casey to join him in the converted garage to do the drugs. Acting out a scenario Donnie Rose states Darby had conveyed to him several times in the past, Darby gave Casey some heroin, then scrawled a note to Bosco, bequeathing some of his personal belongings to him. He then, without any genuineindication as to why, injected a lethal amount of heroin into himself, spread himself out on the floor in the shape of a cross, and died of an overdose.

CATS CLAUSE

A day later, as the local news reported erroneously that local punk rock singer Darby Crash has died of an overdose of sleeping pills, John Lennon was assassinated, overriding any mythmaking media coverage of Darbys passing. But his death, and the symbolic passing of the original Hollywood punk scene, meant as much, if not more, to the Germs contingent. Lennon the musician, the rebel, the icon, was light years away from Darby Crash the PUNK, but Darby was a lot closer to home for those who had experienced the Germs aura in person.

HALL OF MIRRORS

The end of the Germs closed a chapter in many peoples lives, and opened new ones as well. Many of the original punks left the scene thereafter, while it was still a small, enigmatic sore spot on the music industrys backside. Lorna left for New York with Gary, who played in Joan Jetts band. Pat became a recluse for a year, surfacing briefly as an addition to Dons 45 Grave, then Nina Hagens band, and the Adolescents, among others. He continued to make intriguing solo albums until, some time after meeting Courtney Love and recording The Holez track with her, she introduced him to her husband, which resulted in Pat becoming a member of Kurt Cobains band. And he finally made music with Belinda, guesting on her Real lp. Don has continued making music as a member of numerous bands, most notably Celebrity Skin. Nicky Beat was in The Cramps, and now works for Pearl Jam. And Belinda is, of course, Belinda. Becky, Cliff, Robbie and other members of the Germs family went their separate ways. But no one from the band, or associated with their circle of friends, can look at their own reflections, and not see how they were touched by what the Germs represented during their brief existence. What the band would have become had it continued is open to speculation. Their brief spark may have been all they were capable of, though no one can tell. But that their influence is growing, not waning, 15 years later, is certain. The fact that uninformed promoters offer the band large sums for reunion tours, or that Madonna flirted with the rights to Alison Anders script about Darbys life are only small indications of their subtle presence in todays world.

PAT: I cant believe anyones even interested anymore. I havent been bothered by it for years myself, but sometimes these famous guitarists will come up and tell me Im the reason they started playing guitar...I never even owned a guitar the whole time I was in the band, I bought my first guitar for the reunion gig.

DON: Besides the fact that it ruined my life, I enjoyed it all the way down, into eight years of heroin addiction. But there arent many people who get to live through what I was involved with, the whole abyss of chaos that was the Germs scene...it was a good experience, the whole thing.

BELINDA: Id forgotten how great Pat is, not just as a player, but as a person. He is a total artist, a very whimsical person..(recording with him) is one of the last things Id expect after all this time, but hes great. Its weird how things come full circle.

Weird indeed.

WHAT WE DO IS SECRET

1995, and the 15th anniversary of Darbys death. Rewriting and updating this piece (originally written in 1992 for a European release), it is amazing to look at music today, and look back at the humble origins of a genre that now fills arenas.

But there is something lost, a time before mass communication of styles and sounds made rebellion easily accessible; a time where true bravery and insight was required to be an individual, to create something new in the music field. That secret was something the Germs embraced, and something that will forever remain a mystery to those who missed out on the real thing. In spite of Germs fans in small towns in Europe proudly displaying their Germs burns to a horrified Pat in 1995, it was one of those things; you had to be there. But if you werent, this album might give you an idea, a look into that center of destruction that was L.A. punk rock, that was Darby Crash, that was the Germs. Enjoy these bands interpretations; then go to the source.
Bill Bartell
Los Angeles
December 6, 1995




Research assistance: Pat Smear, Belinda Carlisle, Don Bolles, Jena Cardwell, Drew Blood, Donnie Rose, Faith Baker, Regi Mentle, and Lori Weiner. All paragraph headings from song titles by Darby Crash (though their use as such is not indicative of the songs meaning). Dedicated to the memory of Darby Crash 1958- 1980. And to Donnie Rose and Drew Blood.
1 NOFX Forming - Forming was recorded.
2 FREE KITTEN Sex Boy - Recorded at Snacktime Studios.
3 MELVINS Lexicon Devil - Recorded by Billy Anderson and GGGarth.
4 THE HOLEZ Circle One - Recorded by Brian Foxworthy, Produced by
The Holez and Bill Bartell.
5 D GENERATION No God - Produced by D Generation.
6 MIKE WATT & J MASCIS What We Do Is Secret- Recorded by J and Mike.
7 RUINED EYE Land Of Treason - Recorded by Rick Parker, Mike
Bosley and Danny Erick.
8 THE POSIES Richie Daggers Crime - Recorded by The Posies
and Craig Montgomery.
9 O-MATIC Strange Notes - Recorded by Tony Lewis.
10 WHITE FLAG Manimal - Recorded by Steve Robertson and Darrell Ashley.
11 THAT DOG We Must Bleed - Recorded by That Dog and Rick Parker.
12 FLEA Media Blitz - Recorded by Flea, Mixed with Rick Parker.
13 SATOR The Other Newest One - Recorded by Sator, Engineered
by Nille Perned.
14 THE WRENS Lets Pretend - Recorded by Tony Lewis.
15 MATTHEW SWEET Dragon Lady - Recorded by Brian Kehew.
16 GUMBALL Caught In My Eye - Recorded by Gumball.
17 MEAT PUPPETS Not All Right - Recorded by Cris Kirkwood.
18 PUZZLED PANTHERS Now I Hear The Laughter -Recorded by Mario
C., re-mix engineer:Brian Foxworthy, Mixed by Dave, EFH, Maurice, Lee
Ranaldo, Pat Fear. Produced by Mike Watt of San Pedro.
19 L7 Lions Share - Recorded by Rick Parker and L7.
20 MONKEYWRENCH Shutdown- Recorded by Conrad Uno.


Eric Erlandson, Courtney Love, Patty Schemel, The Posies, Thurston Moore, Kim Gordon, Sean Ysuelt, J., That Dog courtesy Geffen Records; Melvins courtesy Atlantic Recording Corporation; Flea, Dave Navarro courtesy Warner Bros. Records Inc.; NOFX courtesy Epitaph; L7 courtesy Slash Records; Mike D courtesy of Capitol Records; J Mascis courtesy Blanco Y Negro/Warner Music UK Limited; Mark Arm, Steve Turner courtesy Reprise Records; Pat Smear courtesy Roswell Records; Meat Puppets courtesy London Records; Matthew Sweet courtesy of Zoo Entertainment.

Special thanks to Mark Kates, John Silva, Beth Ann B. & Michael M., Q Prime, Garvey, EFH, Pat Smear, Jena Cardwell, Munster Records, Don Bolles, La Secta, Kyuss, Camille, Bob, Alan, Jeff, Jack, Shannon & Grass gang, Jones, Rick Parker and Mike Bosley at The Sandbox, G-Son Studios, Tamra Davis, San Pedro, Dave Travis/Pinhead Studios, Hovercraft.....David Landry, Dave Markey, Nicole Panter, Rodney Bingenheimer, Brendan Mullen, Jenny Lenz, Brian Kehew, Inigo, Daisy B, Al Flipside, Gary Leonard, Steve Robertson/SRO Studios, DLX, Fred Davis, Kim Feuerstein, Drew Blood, X, and Terry W. Ketcham/WSP.

Executive Producer: Bill Bartell for Gasatanka Records Project Coordinator: Garvey Rich Design: David Landry Jr/Lazy Chicken Design, and Bill Bartell Mastered by Howie Weinberg at Masterdisk NYC Back tray photo by Bill Bartell/Fleetwood 1980 (last show) Back of booklet photos: Lorna, Darby by Al Flipside, Pat by Tony, Don by Michael Yampolski. Disc art by Rahn Adams from original image by Ronn Spencer Publicist: Uncle Garvey Publicity, NYC All songs written by Crash/Smear except 1, 4, & 16, written by Crash and 18, written by Crash/Doom. All songs published by Crash Course Music (adm. by Bug Music Group) (BMI) except 1 & 2, published by Peer International Corp. (BMI) and 19, published by Management III (BMI).





---
---





this page created 3 dec 96