out now on clenchedwrench

-> hear it here on spotify <-

here's the europe tour they did for it in 2013!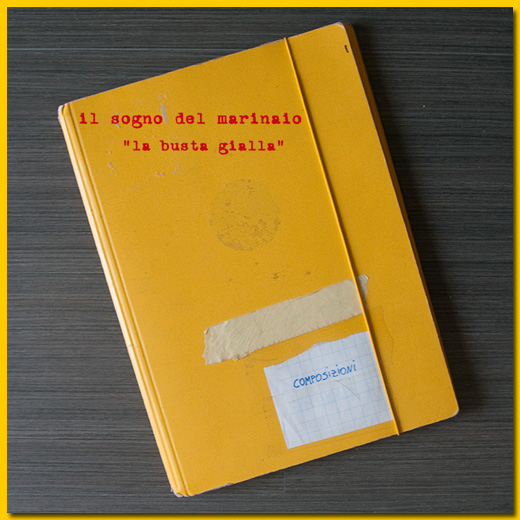 about the band in the words of each of the three members...


from guitarist stefano pilia:

I met Mike Watt for the first time in 2005. He was touring italy with Raul Morales and Paul Roessler. i got very nice time in tour with them ...my role was to be "the road manager" - actually not a real good one since i was often missing the right direction. I was really amazed by Mike curiosity and admiring the big respect and attention he was giving to everyone and everything he was meeting along the trip... a real gentleman i thought ..and a great Dante Alighieri connoiseur! I immediatly felt a strong sense of familiarity even if i did not know very much of him out of his music. i thought further than my admiration maybe there was some italian blood in common to explain my feeling but then i understood that more than everything else the reason was more into what music and playing means for us... a way to liberate the mind beyond any other categories.

From that italian time we kept in contact sharing moments of our lifes: photos, music, ideas, and all of our best wishes and respect has crossed the ocean in between...sealing a little by little... and so il Sogno del Marinaio did but now is not anymore just the two of us..now we are a trio!

My friend Andrea Belfi is joining us with his great drumming. A musician I really admire for his talent and his great musicality. We both growed with punk and rock and all the electroacustic sound world. In these years we often played togheter in many projects sharing and working on music and soundwork on the fringes of research and experimentation.

I feel very honoured to play with Mike and Andrea and very proud for il Sogno del Marinaio....big Respect to them.


from drummer andrea belfi:

My name's Andrea. I've been playing drums since 1995. I started playing with hardcore/punk bands, then I moved to rock, electroacoustic music and so on. I've been playing with a rock'n'roll band called Rosolina Mar for seven years, and I've been playing as a soloist for almost 5 years.

I met Stefano in Florence, when we played together a bed box spring with bows in front of a hundred people, in a 40 centigrades hot room. I've seen Mike playing a few times, once together with a few other people and once with a few other thousands people. I'm honoured to play with a such skilled and experienced musician as Mike is, and with Stefano with his amazing guitar and bass sounds besides me again.

I'm ready to have fun, to play, to learn, to tavel, to talk, to create, to drink, to eat, to r'n'r, to take pictures, to listen to music, to sail for new routes, to record, to drive with, to etc. etc. etc. together with Il Sogno del Marinaio fellows!


from bassist mike watt:

I was born in portsmouth, virginia in 1957. my pop was a sailor in the u.s. navy. at ten I moved to san pedro, california and a few years later got into music through my best friend d. boon - his mother put me on bass. me and d. boon started the minutemen in 1980 were part of los angeles punk scene until he was killed in a van wreck in 1985. I continued to work my bass w/fIREHOSE up to 1994 and then went on to work on many solo projects and collaborations - I currently front two active trios, the secondmen and missingmen. I've also helped out as a sideman w/porno for pyros, j mascis + the fog and most recently iggy + the stooges - all on bass, which I continue to learn on. I believe everyone has something to teach me and therefore try to keep myself in challenging situations to further inspire that endeavor and my expression through music. more can info can be found at the website I maintain, mike watt's hoot page.

il sogno del marinaio ("the sailor's dream" in italian) is the name I picked for this collaboration w/musicians stefano pilia and andrea belfi and why did I pick it? first off, it's in italian and this important cuz it's the first time I collaborate w/artists from that land and also in their land (by the way, my ma's people come from italy). I am the son of a sailor and so you now know a little about both my parents! my first time playing in italy was in 1983 and I've done lots of gigs since but never like this, collaborating w/her native sons. I am intrigued by the works of both stefano and andrea and am quite interested in sailing their seas of music and how they merge w/mine. I think I learn more about myself this way, that is my dream - and to do the best I can for them. I feel for me it's a voyage back home in a trippy sense, a sailor's dream of discovery through connections that baffle linear thinking... that is part of the magical ocean of music I dearly believe in.




about the album "la busta gialla" in the words of each of the three members...


from guitarist stefano pilia:

LA BUSTA GIALLA is our first il sogno del marinaio record studio experience we recorded it in three days in the middle of our first tour in italy. Everyone of us brought some ideas to be worked on all togheter and we basically wrote and arranged all the materials in a very short period of time the results is a record which has a very large spectrum of musical solutions and elements in which every track talks about his own world.

Seeing the way how our different musical personalities and attitude reflect one into the other and combine togheter touching different musical worlds has been a strong surprise and a super stimulating experience.


from drummer andrea belfi:

Il Sogno del Marinaio "La Busta Gialla" has been created in a two weeks journey throught the italian landscape: four days of reharsing, six shows, two days of recordings.

Each song tells a story,the whole album has a narrative quality that is clearly perceivable from the very beginning.

"Zoom" is an eight-minutes-long trip, that explores many different paths. Cinema pour L'Oreille I would say.

"Partisan Song" is dedicated to a bronze monument representing two partisans standing proud in the center of a big intesection in Bologna.

"The Tiger Princess" is a sort of fairy tale in which all instruments play many different patterns, each one different from the previous one.

"Funanori Jig" sounds like a long trip by boat from the Mediterranean sea to the Carribeans.

"Il Guardiano Del Faro" is the story of a shipwreck.

"Joyfuzz" is an imaginative portrait a real person using the image of an electric guitar effect pedal.

"Messed-Up Machine" is a sort of broken engine, that turns on and off, and at the end, after a few tries, finally works.

In "Punkinhed Ahoy!" the New Orleans funk beat is mixed with a traditional italian longshoreman choir from Genoa. A positive ending for the great first "Il Sogno del Marinaio" experience!


from bassist mike watt:

this album was part of the whole experience that brought all three of us (stefano, andrea and myself) together. I was invited to join them in playing six gigs in italy during the late fall of 2009. it was an invite out of the blue and truly exciting. of course we needed material to do for these shows and I thought if we were going to come together to do that then why not also record the stuff for an album? made sense to me and I'm so glad stefano and andrea were also into it. each of us brought tunes and we worked them out first w/prac in a real old pad in a little town near bologna called palesio and then at the gigs themselves before going into a studio called la sauna in the northern italian town of varano borghi where the cats there were absolutely righteous. it was one of my favorite times recording ever, such a good time.

the album for me represents us coming from different places and joining together to make a sound singular to the dynamic between us. we had no prior experience playing w/each other at all before the prac and the gigs so it's an accurate document of us three interacting for the first time through music and I think we did it in such a way that all three of our individual personas come through and at the same time make for ourselves an identity of a band. this was our goal we agreed at the end even though we never discussed it beforehand in words cuz I think we wanted the process to develop naturally and not foul it w/too much premeditation and expectations on where it "should" go... we in a sense "played the hand that was dealt" and gave it our best shot. the process was most interesting, the musical minds of stefano and andrea as well as their spirits as brothers very much inspired me! I am most big time grateful to them.

(a diary of this first tour we did together can be found here)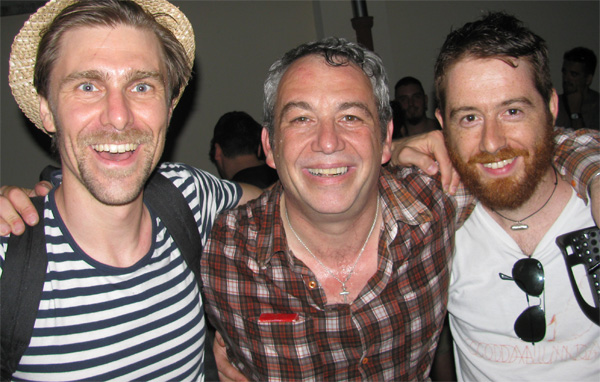 andrea belfi - mike watt - stefano pilia



il sogno del marinaio

"la busta gialla"

1) zoom (belfi) 8:12
andrea belfi: drums, voice,
harmonica, keyboard
stefano pilia: guitar
mike watt: bass

2) partisan song (pilia) 3:19
jacopo andreini: alto sax
andrea belfi: drums
andrea caprara: tenor sax
giuliano "giuss" cobelli: trumpet
stefano pilia: guitar
mike watt: bass

3) the tiger princess (pilia/watt) 5:00
andrea belfi: drums
stefano pilia: guitar
mike watt: bass, spiel

4) funanori jig (watt) 5:52
andrea belfi: drums, percussion
stefano pilia: guitar
mike watt: bass

5) il guardiano del faro (dook/watt) 5:01
andrea belfi: drums, background voice
manuel giannini: voice
stefano pilia: guitar, field recordings
gianluca turrini: ship noises
mike watt: bass

6) joyfuzz (belfi) 2:59
jacopo andreini: alto sax
andrea belfi: drums, voice,
glockenspiel, piano
andrea caprara: tenor sax
stefano pilia: guitar
mike watt: bass

7) messed-up machine (watt) 7:05
andrea belfi: drums
massimo carozzi: synthesizer
stefano pilia: guitar
claudio rocchetti: electronics
mike watt: bass

8) punkinhed ahoy! (watt) 3:33
andrea belfi: drums, choir
stefano pilia: guitar
mike watt: bass

produced by il sogno del marinaio

recorded 30 november - 2 december, 2009
mixed 21 - 23 march 2010
at la sauna studio
in varano borghi (va) italy
by gianluca turrini and andrea cajelli

mastered by john golden

front cover photo by andrea belfi
origami boats photo on inside
by riccardo stara
back cover photo by camera
w/auto-timer

publishing:
1 & 6: belfi (siae)
2: pilia (siae)
3: pilia (siae) & tHUNDERsPIELS (bmi)
administered by bug music
4, 7 & 8: tHUNDERsPIELS (bmi)
administered by bug music
5: sam sans clams (prs)
& tHUNDERsPIELS (bmi)
administered by bug music



what do people have to say about this album?

uncle ray

bob stires

apessimistisneverdisappointed.com

mxdwn.com

rockol.it

pitchfork

there stands the glass

roctober

dots and dashes

acousticmusic.com

jam plus media

dusted magazine

paraphilia magazine

watt interview for impose






(300 dpi version of the above band shot here)

---
---