mike watt and the crew of the flying saucer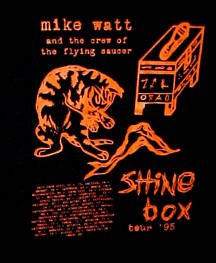 "shinebox" tour '95
october 11 - 21, 1995



10/11 MANSFIELD, MA Mo' 6

What a weird day yesterday was. Providence seems like a weird place. Its architectural contrasts & tiny streets are interesting.

The show was, shall we say, a bit sparsely attended. 6 Finger didn't pull in many folks, & neither did Mike Watt in the vastness that is Lupo's. Swish sounded better 'cause of a better mix. Their stuff's like a lot of stuff going on now. Lori is cool, Murph a bit untextural. The guitarist, Joe, is a little slippery w/the legato G.I.T. wang bar phrasing, but their songs have a distinct mood quotient & sincerity. Alarming news: That Dog have canceled tonight's gig in Boston (Swish will play)--what up? I'm a bit worried...

Back @ Lupo's, 6 Finger played a rowdy set, almost unhinged.J. w/his recording vest on (tape recorder in a plastic vest) going ape shit. Rick slammed. Sat w/Stephanie & noticed that they sold one shirt + two pins. Not too astounding...

Watt was bummed about the pad--too big. Said, "Let's get set up & get out of here!" But onstage he was smiling, which egged me on. I went a bit nuts, trying to make up for energy drain on the audience's part. On "Intense Song..." Watt stretched out the solo vamp forever, getting me to wind out a long, long solo that climaxed w/me breaking a string (high E). Watt blasted into "Forever.." before I'd plugged in the jag--apologized later. He actually didn't notice. Encored w/"Piss Bottle" & a really cool "Joe McCarthy's Ghost" w/Vince going crazy @ the mic. Very fun & inspiring. James said he thought it was his favorite set he'd seen. 'Tude factor.

They bum-rushed us out. I grabbed about 8 bottles of Heineken & took a Marianne Faithfull poster off a wall unnoticed. Bailed to the Mo' 6. I was in a really good mood--happy about the dark resurrection of Mike Watt, my part in this psycho caravan. But an argument had erupted between Vince & Watt that had gotten ugly--bad ugly. I did my laundry 'til 3 A.M. upstairs. Ran into Vince post-anger-walk in the hall & his anger toward Michael (for mentioning his "over-playing" on "Intense Song" to Watt), & @ the world in general, scared me.

Now Vince claims that he's written Michael off forever, that he treated him like a brother only to be sold out. He was pounding his chest @ one point, poking me to make points. When I told him that I couldn't take on the amount of anger he was dishing out, he said he was sick of me & the rest of us--to just forget it. I hit the elevator to the 5th floor saying, "That's fucked, Vince,." I felt shaken. What a joy? Was he drunk? A bit? He seemed so stony in his resolve, almost not himself, scary.

Today Michael & I endeavor to hook up w/James in Boston. Please, God, no more dramas (ha!). Spent two hrs + w/Stephanie last night @ the merch table--my sanity. She inspires me a lot. She has magic, beauty, pure heart. Learned a lot about her & her family. This is where I stay alive, away from the shit, yet fully immersed. Thank God for tender humanity.

-----------

That Dog have canceled in NYC. I wonder if they're history--tour canceled. What a shame--tour canceled. What a shame. I hope they're all healthy.

Michael's off to get juice & call James. I'm sitting in the bay of an "instant oil change" place getting my 3,000 mile change. Lots of mileage left on this trip. I hope Vince does not nut out. What a wacky place this is...

-----------

I'm sitting in a booth @ Paradise, a very wild looking club, kind of classy & off-beat. James just walked in. We couldn't hook up.

Vince apologized to me. We talked about the band, emotions, paranoia (or the appearance of it). He's got a lot to work out--not just w/Michael, but also w/Watt. He's dour @ this point. Nothing much I can do now.

That Dog called off their tour Total fighting, a split perhaps. What a shame. I feel deflated. Such is life.

Made a bunch of phone calls. Talked to D.D.'s voice mail, Richie West, Greg, Susan's voice mail. The series is dwindling to nadaville--no attendance. Greg sounded really good. Had a great, long chat. I feel really good about that. Richie was cool, too. The series is a strain. It needs me. Nothing I can do. Except have some dinner w/James, Michael, Steve?

Talked to Wendy, too. That little muffin. Can't wait to see her.




10/13 PHILADELPHIA, the Trocadero

Friday the 13th. Lots has happened--of course, it's 'cause we're here in New York that I've lapsed in my record-keeping. The Boston gig (Paradise) was really strange. After my last entry, James took me over to In Your Ear Records, about 4 doors away from where I met Bob & the famous Conrad, a delightful fellow, friend of Byron's. He was on the phone w/Chaz from the old Systematic, an indie distributor that I used to buy from @ Rhino. They were jiving heavily on the phone--it really took me back. Conrad's about to get married. My message to Chaz: "Vomit Launch '85!"

Conrad bought/took in trade 4 Trio CD's & I copped a Scissor Girls 7", Joan Jett video compilation. II, & a copy of the Motor Boys Motor LP for Watt, which I'll give him after tour. Michael cam in & copped some Duke (natch) & Clark Terry.

Steve & I got Thai food to go next door (also bought some for Stephanie, whose food looks shitty--she was so happy). Then things got a bit dark.

For one thing, attendance was sparse. Swish played, sounded good & full. A very lovable bunch. Especially Lori & Murph. Ran into Tim--Boston/ Cambridge student, Trio fan, old New Music Monday fan. The weirdness came after 6 Finger's set. James was in a good mood, had a bunch of friends there, including Rich from the old Human Sexual Response. Their set was pretty raging. Rick, afterwards, was all tripped out 'cause his drums had been sliding away. He gets really psyched, intense! Then I overheard the security guys saying they wanted to beat them up 'cause of their "fucking Nazi shirts"--"asshole Nazis". Apparently one guy got really belligerent w/ Rick, threatening him. J. stepped in (he's 6'5" after all) & defused it, but it lasted.

Watt got wind of it. besides the fact that it was his worst-drawing Boston gig possibly ever, he was pissed off about these goons. 3 times during the set he said that he's proud to play w/them , the they're not Nazis, that they're just sending up aspects of our times, & "Fuck anyone who doesn't like it!" It was great. But 6 Finger had booked out of there pronto, later apologizing for missing our set.

Stephanie was in the coat room.

We bailed out pronto--a classic Watt bailout, replete w/me running to my car, backing up illegally, car cold--the usual insanity. Michael & I crashed as soon as we got in. Thought I'd stay up & call D.D. (she was @ the movies) but I fell asleep.

We left for NYC @ 10 A.M., me driving, Michael doing expert navigation. Wanted to hit the East Village (Adult Crash, to apologize to Carolyn for not having put her name on a package of 45's--bought her flowers, too). We made it. Me in my car driving the streets of New York City. The concept still trips me out! I held my own!

Made it to Irving Plaza early. Dealt w/parking (always a costly endeavor). Watt arrived belidge, nervous, wigging out. Tongue-lashed a crew member for telling him he might get towed where he was. Inside, we learned that Columbia hadn't bought any schmo tix, so Watt's "personal guests" were 98% Sony guys. Mood was dark. Got Danielle & Wendy in (the boss took care of Wendy + 2 of Vince's friends--we were going to buy their tix but he put them on a separate list, saying, "Welcome to Irving Plaza," very ceremoniously. Later he was being a total dick to kids standing in the wrong place in the lobby where Stephanie was. More later, gotta eat...

----------------------------------

Danielle showed up--great to see her. Joe & Albert Bouchard (& Albert's son, Jake). Introduced Danielle around. Before the show, Michael & I went to Larry Condon's & John Huffy's pad (where I often stay) & had a nice visit & some red wine.I hadn't eaten much so I got a bit squiffy. Also bogarted their phone. Called D.D., Fred Patterson, left messages w/Susan Howenstein, Charlie & Pumpkin. (I'm in D.C. now & it's pouring) Grabbed a slice & walked to Irving Plaza. Now back to our story:

Swish opened to a sparse crowd but the sound was great. 6 Finger had a slightly bigger crowd. I was in the lobby for most of their set w/Danielle & Stephanie, watching psycho Watt fans ask Stephanie questions about Watt shirts. "Mike Watt will sell t-shirts from the stage after his set." (nightly response) & then not listen to the answers (another nightly response).

Had some wine w/Chris (sound person) during Swish's set. She's a peach (she'll be in L.A. for Combustible Edison's tour @ the Viper Room 11/6). By the time we hit, the place was pretty full--a good thing.

A total psycho fan in front of me (turned out by his demo tape he threw to me to be named Sky Dog...hippie). Kept yelling @ the top of his lungs "Mike Watt! Rock it! Sock it! Rock me, fucker! Yeah, Yeah! Rock to the top, don't stop!",etc. The best one was "Do you know you guys have the best job in the world? Don't fuck it up!" Watt just loved that one.

There were some real sweet young girls up front. At the beginning of the set, Watt's mic cable was all fucked up. crapping out. He grabbed my cable. "Where's Nels' mic?!" they shouted. They helped me.

----------------------

Just unloaded gear in the D.C. drench. Back to New York.

----------------------

The Bouchards sat in on "The Red & the Black". Apparently I was to play w/Joe, Albert was to play guitar (3 guitars!) but he played Vince's drums. They kind of got lost, but the vibe was real cool. Joe loved my rig--which made me reflect back on Mascis asking me in Northampton when I was going to get more amps ("How can you hear that, man?"). Anyway, as the set progressed, it got hotter (better). Greta crowd. A bunch of young guys kept yelling my name--weird. Sky Dog yelled & yelled & slapped high 5's thru the whole set. I felt great, hopping like a fool (as usual, but maybe even worse than usual). Encores w/"Piss Bottle", "My Secret Garden" w/J. going nuts & Chris doing her echo megamix thing on his voice. Did "Joe McCarthy's Ghost", Vince leaping around like a bear getting jolts of shock treatment, like a psycho-punk, hip-hop Mike Muir (or something)!

At the 1st encore break, I found out that Wendy had indeed arrived & was backstage w/James. She had spotted Stephanie (who was looking for a woman bearing her description), & James had spotted them spotting each other & got her backstage w/him. Everyone had been primed for her appearance (I am, after all, her accidental national sales rep.). When it was all over, I was drenched, as usual, & happy. A successful night, good playing, good crowd, good folks. Evan Dando came in the front door @ one point w/some babe, looking wasted as usual, but he recognized me, said hello, then I never saw him again. No guest vocal from Evan... Signed a lot of tix & stuff. introduced Wendy to Lori (Swish), & everybody. Craig from Shudder to Think was there! I love him (even though I don't even know him). He's a good friend of Wendy's. He was going to a free jazz jam @ the Knit, invited me, but it was no go. I was going to drink. Susan H. had walked up mid-set, said hello & to meet her around the corner @ Bar 119. This was my destination.

Loaded out gear. It took forever. Wendy & Stephanie really hit it off. Two sweeties. Finally made it into the bar (stenched). Hung w/Susan, her friend Jill, Wend & her friends Aron & Joey (Aron turned out to be the guy from Spin on Line who wants my tour diaries) Danielle, James, &, nearby, Swish & Co. Other 6 Fingers went to their hotel. Stephanie & Chris showed up. Then Vince w/his friends Stephanie & Eileen--two very sweet gals. I had some Bushmills & Park Slope Ale. Wendy was so sweet to me I started to cry, prompting her to ask me what made me the way I am. Couldn't answer. Was she concerned? She calls me "the man w/many issues"! She loves me in some way that is sisterly & sweet. I got more emotional as the night went on. Even though I was drinking quite a bit, I didn't feel it until everyone (almost everyone, anyway) went back into the club to check out the drag club action. Then I stood there feeling alone & depressed,& drunk. It was a shitty scene. Went back to the bar where Michael, Danielle & James were. Michael had arrived after his vision quest to visit Paula, a bartender @ the Paramount Hotel. Got into a great chat w/Lori & James after Wendy left [break: in D.C. putting on nail polish w/Chris & Stephanie]

[nope-->postponed a few minutes for soundcheck]

Michael & I ended up going to Danielle's & sleeping on the floor of her one-room apartment. It was nice--3 hours of sleep until I had to move my car @ 8 A.M. Then she & I got bagels & juice. She made good coffee. I gave her a Geraldine Fibbers tape & the box of Avengers cards (she was blown, waiting for a quiet moment alone to look @ & fully appreciate them--a real fan!). I felt good for some strange reason. I had to be awake anyway to take Danielle to work, & I had a breakfast w/Wendy planned. Michael, Danielle & I ate our little bagel lumps & coffee on the floor, alternating shower runs. I just love New York...

Traffic to 9th & 14th was mildly heinous, but even in my odd mode, I was cool driving. [Carla & the rest of the beloved Geraldine Fibbers are here, so it's time out!!!!!!]




10/15 CHARLOTTESVILLE, VA @ TRAX

Well, now the sagas continue..too much activity, so much amazement.

Dropped Danielle off @ where she works @ a stock footage & video archive in the meat-packing district. Right near the cooler. "Don't make me kill anyone," she said as a humorous warning to not dally w/any womenfolk (I guess Wendy's attentiveness must have worried her). She seems generally stressed, but I think she'll be okay. Called Wendy & woke her up.We agreed to meet @ Limbo, right near Adult Crash, for coffee & such. Michael & I cruised over early & had coffee until she arrived, wearing an airbrush-art T w/"Wendy" swirling above a vintage Chevy (or something). Michael bailed out to but a drum head & explore while Wendy & I hung & waited for Chris & Stephanie to call RE: shopping. They never did call (got up late) 'til 12:30, so Wendy & I hung @ her pad, she showing me pix 'n' such & smoking her infernal Rothman's cigarettes.

We went to her ex-boyfriend Mott's to get her adorable canine, Olive (joint custody) to take her for a walk. Stephanie called & we were all to meet @ Prince & Wooster, an arbitrary spot chosen by Michael, if possible. Wendy & I cruised, snacked, waited. Michael showed up right on time. We loitered waiting for 6 Finger folk, but had to bail--Michael & I to Philadelphia & Wendy to work. Apparently we missed them by ten minutes. Bid Wendy adieu. Michael drove/navigated us out of town. As usual, I got all misty as we hit the New Jersey Turnpike, & watched NYC fade away. I just hate leaving New York.

I zoned out in the car, chair back, listening to Michael's new Nino Rota comp. Very wistful & happy. Virtually no traffic (one accident). Arrived in Philly an hour early. Found Arch Street w/no trouble--amazing luck w/this sort of thing. Michael's instincts are pretty spot on. Bought a bunch of .011 strings & tried to make calls @ the corner while Michael cruised elsewhere.

A craggy voice behind me bellowed: "Aye, Lad! Climb aboard the scurvy vessel!" or something to that effect. It was Watt, w/Steve & Vince, in high spirits. I climbed in & we went around the corner into the alley where 3 girl Watt fans seemed to have been waiting for hours. Watt was hilarious. We were @ the Trocadero, nation's oldest opera house.

Unloaded & checked. Got thru a minor Vince/Watt flare-up about soundcheck feedback trauma, monitor positioning, etc. Vince was very tweaky, as he continues to be. A delicate balance being barely maintained. Still a frost between Vince & Michael, too. Met Gary, Jo, et al, from the Troc. Good folks. A band called Ken was going to open. 3 girls in big dresses w/colored hair & a guy on drums. Primitive indie crank.

6 Finger got lost & missed their soundcheck. They were pretty wrecked, especially Stephanie, who had gotten really drunk in NYC (& called all her friends in Austin, apparently). She gave me a Polaroid of a painting of an egg whisk in a New York gallery window. Great!

Steve, Michael & I went walking to to eat & ran into a little guitar shop w/weird Teisco-esque stock. What struck me besides the beautifully wacky guitars (turn out to be handmade by the owner Chris DiPinto) was that they had Wendy's color Xerox boy-with-strap pic in the window & they carried Built-by-Wendy straps. A nice fellow named Jim let us in & we chatted. Another Wendy fan! Got back to the venue too late to hear Ken. Ran into Chris Lausch from Delaware, a Watt fan/friend & all-around swell human (see Dewey Beach gig, last tour diary). He had a gift for me: an egg whisk. Told him I'd use it on the rest of the tour, which I will. Now I've got four!

Got upstairs in time t named Steve who worked in a local record store asked me to autograph a copy of my first record, Angelica!! I asked him what he thought of my rock alterego and it seemed fine to him. Gave him a C.D. and stood ou

Sparse crowd for 6 Finger. The apathy factor fueled a kind of rage-infested set that saw the middle section of "Man Behind the Glasses" drawn out to new lengths. At one point J. & John were offstage, still wailing but invisible. J. did some amazing screaming & moaning. The audience hated them.

Our set was weird. Monitors for Watt were off-kilter for the 1st half. Tired from my NYC ecstasy, I felt like an old man dragging a sorry-ass carcass thru a high-speed world. It was a total uphill struggle. Friday night, but little audience or audience energy. Chris L. said it was good. I felt like I sucked.

Another rushed exit, into the alley, then wait. The guy from Mule (a Watt fave band) was there w/his girlfriend & their 2 dogs. I think he hated my whole vibe 'cause he wouldn't even look @ me after the set. He seems very manly in a grease-monkey white-trash mode. Intense face, blond steel. Some very sweet kids also hung. The most memorable thing was looking out in the crowd & spotting an old L.A. buddy, Rick Gershon, who worked in publicity @ A & M. A sterling fellow, he just happened to be in Philly on biz w/his new company, Warner Bros. He seems very happy now. The last time I saw him he was miserable @ his job. Now he's doing great. It was wonderful to see him--a delightful surprise.

Booked w/Chris L. in tow to Mo' 6. Watt lost the trail @ a roadblock & we ended up looping it all the way into New Jersey & back! Chris, in order to follow, had to make some kamikaze moves. Now he knows what it feels like to try to caravan w/Watt.

Th Mo' had screwed up the reservations, but Watt prevailed. His imitation of the manager had us in pain. Chris stayed w/Michael & me. Called D.D. & had a great talk of lasting value. A great call to my love...

Come morning it was raining like hell. By the time we were ready to leave, the entire quadrant was w/out power. Even the phone finally went down. Michael & I hit the road w/Chris in tow thru some of the heaviest drench I've encountered. Stopped eventually to try to get some toys to throw @ 6 Finger during their last set. Mild success--little figurines of soldiers, dinosaurs, some toy instruments, & little water-filled pendants (w/little hearts inside) shaped like telephones, rollerblades, dinosaurs.

Got to D.C. w/no trouble. rain had stopped. What a nightmare D.C. is! Hadn't been there since I was a kid. It was a disgrace. Walked around looking for more toys but w/no success. The whole place was making me irritable. Went to the Black Cat to load in &, of course, by that time it was pouring buckets. Everyone was soaked. But nothing could dampen (ouch) my enthusiasm--the poignance & mayhem of a last 6 Finger Satellite set & the arrival of the beloved Geraldine Fibbers.

6 Finger arrived soaking wet. They got caught walking from a museum in the sudden downpour. But they were all happy--except Chris, who was unnaturally cold & shivering. A bug? Stephanie arrived late from (natch) a thrift store where she had bought more parachute pants (she loves them--I'd forgotten all about that phase...). I had a date for nail polishing w/Chris & I had to do mine. Michael's old pal Patrick showed up to catch soundcheck & have dinner. They bailed as the Fibbers arrived. Carla sat down w/me & we ended up hanging & talking for over an hour--topics from guitar tone & strings to polka dot underwear & the song "Lilybelle"--my favorite. I had to change strings, etc. A great time. The beloved Fibbers & soundperson Gloria are so nice. And Carla just rules.

Other than w/us, soundchecks were endless. Carla ironed her blouse & nibbled @ food (giving me nibs since she said I looked hungry). Michael brought me dinner. Then the night began...

A fantastic night. The Fibbers, though a bit ragged, sounded beautiful. Carla is amazing! The band has its own sound--a group sound. Behind me, Steve, Vince & Chris L. stood nodding in constant approval & astonishment. Chris just kept grinning & shaking his head (I'd told him in Dewey Beach to pick up their CD & he did). Steve was totally impressed. Carla announced their last song, "Lilybelle", & dedicated it to me--God...the song already turns me into quivering jello. I was moved & humbled, needless to say. Shit...

6 Finger went apeshit. J. was more confrontational than ever, walking into the crowd, kissing a guy on the mouth, taking a dollar out of a guy's mouth w/his mouth, frowning, groaning, grinding. Vince & I threw scads of tiny toys @ them. They wore their pendants, destroyed the toy instruments (as I suspected they might). J. picked up his amp & smashed it, the tubes flaring out, the chassis falling out. Demolition. Someone got it all on videotape. A fitting last set!

Watt hates these late sets. We set up fast, we hit. The monitors were awful. Maybe that's 'cause sometimes Watt gets us going while the sound guys are still scrambling. It was so loud onstage that I couldn't hear anything but roar as tonality. The blaring house speakers were louder than my amp onstage. But we tore into it. Good crowd, thought it was another gawker bunch, barely a head bobbing. I went for it, energized by the previous sets. Carla sang back-up on "Against the 70's" & lead on "...Pedro" (a flubbed entrance, her voice so low & smoky). Could see Chris L. @ the edge of the stage in front of Watt, nodding in approval. Encores were "Piss Bottle". our last "Secret Garden" w/J.--in which Rick came out dressed only in his 6 Finger arm band & streaked across the stage! The we ended w/ "Joe McCarthy's Ghost", Vince hurling himself around, off the monitors...good one, Watt smiling.

My ears were trashed. I was so out of tune on "Chinese Fire Drill" it was criminal. But it was a great night. The audience was really into it, even though they just watched. Magic Moment: Julie Kim, my great friend Carole's sister, showed up. She rules! Didn't really get to hang much though. Too much mayhem.

Tender farewells to 6 Finger folk. I'll really miss James (got #'s, etc.) & of course, Stephanie, who made me freak dinosaur figurine out of the toys by melting human arms & a torso onto a stegosaurus. It was beautiful. She also gave me her blue nail polish. I'll be seeing her in Austin, Chris in L.A. Had a Bushmills & beer. Watt emerged & we bailed. He didn't even wait for me to get in my car. Then the annoying chase began. We lost Watt @ a turnoff. Since we didn't know which Mo' 6 we were destined for, we got stuck driving until 4 A.M. on parkways & freeways. Michael figured out Watt's path. It just took forever to negotiate the roadways & turnoffs. He was beyond furious. We got to the Mo' 6, Laurel, & there was the van. Got in bed & collapsed.

Watt woke up & marked up a Mo' 6 book for the rest of the trip for me. Apparently, I hadn't latched the door & it came all the way open in the night (freezing Watt, who always takes the floor). & giving him reason to speculate on our potential murders whilst asleep, etc. I was contrite, mortified, etc., then Watt laid into Michael for not checking the door or something. Another grumpy morning flare-up. Michael's crisped, chafed.

A beautiful drive thru Virginia. No more rain, just sun & beautiful green, clearest air. We're @ Trax. Watt's an hour late. We just got a message that his apartment was broken into--no major theft. A camera, some ransacking. Shhh...Where is he? He's never late. This is going to be a rough, long night. The beloved Fibbers will be here. My refuge? I'm praying that everyone's okay, praying for this night.

--------------------------

Stephen Reed: He rules. He's the man of the year. He saves us all. He's really come on on this tour. He's our cheerleader, psychologist, roadie, sound designer, expediter, & he's a delightful man. "WELL ALRIGHT!"

Here's Watt... They went to some Masonic site or Civil War site or something.

Indeed Watt's apt. was broken into. Cops said they were pros, took off the window. But they didn't get much. Ransacked the place, though. Watt says he's being philosophical about it. He's lucky he didn't see the place torn up. That's so upsetting...

This pad is okay. Nice people.

The Fibbers are here & they rule. Another great chat w/Carla. I'm going to be her guitar roadie, work on some string sets that might work for her. Then I can hang w/her, too. We have rapport.

Watt's got the sitting in thing set up already: we're all sitting around w/tape recorders, me learning "Side Mouse Advice"--Michael & Carla, too.

I taught Daniel "Walking the Cow". Jesse's going to do spin cycle on "Tuff Gnarl". We're all kind of excited & on edge. Watt's a trip...Steve's saying, "Play great tonight. He'll sound great, be all happy, & then he'll get off my back." Hilarious. It's getting complicated onstage & it's going to be some fun! Gloria, the Fibbers' soundperson, is really cool. I'm happy.




10/16 (Mon.) @ the Boathouse, NORFOLK, VA

Sitting w/a music fan named Jay, a sincere & intelligent young black man. Must reflect upon last night:

A sparse crowd, but a wonderful night. The Fibbers' set was inspiring, beginning w/"Lilybelle" & ending w/"Get Thee Gone", it was practically flawless. The sparse crowd loved them--it's a good match-up (as opposed to the 6 Finger polarization effect). Carla's new string set on her Hagstrom seemed to work, & she liked the feel. Jesse on violin has the whole band (well, almost) in a dither w/her Nico-esque cheekbones, black hair, & light gray-blue eyes. A real beauty (& a flirt). Onstage her presence is darkly alluring. Daniel's kind of affably goofy, Bill strong & super full, loud, clear, confident. Kevin's an arm-waving basher. They rock, they have dynamics, they have songs, they have their own sound.

After their set I was sort of staying away to let them go thru their winddown/breakdown procedure. When I finally went in, Carla was alone on a couch, beckoning me to sit. She doesn't break down gear 'cause she gets to drained--her hands were trembling, lipstick smashed all around her lips, cigarette in hand. We just kind of veg-ed. She wanted my impression of the set--a silly question.

Watt was dying to get the set over with (low energy sparseness factor). I thought, "To hell with it. I'm going to play hard."--& we all did. Carla came up & sang on "...70's" & "...Pedro", doing her puppet dance. I had pedal trauma during "...Pedro"-- a possible short in a connecting chord to my overdrive--& smashed them w/my fist until things went back on.

Carla giggled above my head, Watt bellowed, "Pedal Dachau!"

Thank God the stuff went back on. ..Jesse played on "Tuff Gnarl". drawing closer & closer to me across the stage--rather unnerving! I couldn't hear a note she was playing, but her amp was right @ Michael's head, blasting him. I broke a string during this section & just flailed & smashed--a good feeling. Encored w/"Piss Bottle" & "My Secret Garden" (my return to singing--a total letdown after J.'s version) + "Joe McCarthy's Ghost". Carla told Vince that his leaping & yelling was a time travel to those golden punk shows--a great compliment from the leader of what I think has become Vince's favorite band.

Watt was happy as hell w/our version of "Joe McCarthy"--he head-butted me into the couch! Vince, doing his please-everyone thing, agreed to share a pitcher w/some guys, but since it takes him about a week to break down & pack up, I was appointed emissary. When equip. load-out began, I was still talking. Michael rode me on not moving & I got all pissed off--I help other bands load in & out for chrissakes! I regretted it later. Sometimes I'm a jerk, but there's a cluelessness (bitterness?) that surfaces w/him @ times that's just not w/the program.

Lost my room key. Got one from the office (no Mo' 6! Budget!). Lame! Fell asleep instantly before calling D.D.--fuck.

Hung around Charlottesville @ a furniture store/espresso bar (!) owned & run by some great folks Vince met @ the show. Deb, Jeffrey, Matt (he's a drummer, works @ a bagel place). Really great people, relaxing hang. Bought a cool wall clock w/coffee cups on it & a coffee mug w/a beautiful girl angel playing a harp.

Drive on 64 was beautiful, smooth, fast. Another boss day, weatherwise. Hello's to Suzanne, Terry, James, Nick & Bill from Pier Platters is here. The Sonic Youth crew: Gods!

Weird night. We hit promptly @ 8 after a nice micro hang w/Thurston & Steve. Thurston came into Watt's room w/me & Michael. I gave him my Polar Goldie Cats cassette & he thumbed my Sept. French Vogue. He's into Shalom Harlow (used her Face for the latest Ecstatic Peace! advert.).

Our set was fast--Watt pushing thru things. He had Jay, the young guy, come out & sing on "The Red & the Black". Great except he stepped on my wah-wah as he came onstage & no matter how hard I stomped, I couldn't get it to go off. I sounded like shit until I figured out what was up (chord stuck in between the pedal & the base, I guess--it was dark). The lights were so bright, I couldn't see the audience @ all. Watt & I wore Geraldine Fibbers shirts (Watt wearing my shirt that Knansie gave me backwards so that the name of the band was visible. Watt wore the ltd. ed. girl's T that Carla gave me last night over a black 6 Finger T. Watt told me to go Mick Ronson & skip the undershirt, but I couldn't/wouldn't bare my midriff--no way. Since we wanted the Fibbers to play tonight & they were somehow denied, we were in solidarity/love sending a message.). Except for my pedal Dachau moment, things went pretty well. Since there were only 2 bands, we got an hour. We played our regular set minus "Chinese Firedrill" & kept it brisk. A smart vaudevillian, this Mike Watt. No encores.

Somehow I managed to bruise & cut up the wrist/palm of my right hand. pretty severely. No idea how. As I came off stage, Thurston said, "Nels, you're the king!" ?!?!?

S.Y. had a tepid crowd. It was a great set list: started w/"Kotton Krown", into "White Kross", "Tom Violence", "Starfield Road", "Bull in the Heather", "Brother James", "Skunk", "Washing Machine", "Junkie's Promise", "Saucer-Like" (Lee sending it out to the Crew of the Flying Saucer), "Because", "Diamond Sea" (dedicated to Mike Watt & "the rest of the boys")...encores of "Unwind", "Mote", ?---but somehow it had little impact. The end of "Mote" had an amazing noise jam w/Lee & Thurston--GREAT sounds, no hyperbole. Afterwards, Lee was drug, Thurston tired, Kim--out the door, Steve, well, Steve...affable, energetic & sincere.

We bailed to the Mo' 6 after saying adieu to Bill & Suzanne (Suzanne, Goddess of Light, Radiant Beacon, etc., etc.). Copped some merch, too.

BITCHIN' NEWS: Called D.D. She's coming to Atlanta to see us & visit her friend Casper, who just moved there (see Ann Arbor date). ZOW! Flying in Sat. She hangs w/Casper then comes to hear us & the beloved Geraldine Fibbers (D.D. loves them, too, & Carla digs D.D.)!!!!!!!!!!!!!!!!!!

SHITTY NEWS: Bill had to close Pier Platters (Hoboken) 3 weeks ago. His legendary passion/life/dream is gone. Now he's S.Y. merch man. He's a fantastic soul. He deserves the world. Love & praise to Bill!

Going to bed now. HELL RIDE to South Carolina tomorrow. My car needs a tune-up, but it's still in the fight. The beloved Fibbers will be there, so I feel driven (as it were).

----------------------------

I LOVE SONIC YOUTH. They're not really "exciting" or "intense" these days. They're music itself. Fuck all of you no-attention-span kids. Learn to listen. Open your ears, your pores, your legs. Be brave. Get a clue. This isn't MTV. This isn't Better Than Ezra. It's better than just about anything. Lick my whisk.

----------------------------

If I felt anymore, I would burst. No one/Everyone should be this full. Ganglia in flames, dreams like shrapnel, a life hurling thru space, in love with dirt and desire, longing for the touch of a shaking hand (nails chewed) stained with the stench of work and sleep. The only light the reflection of sparks in a web of tears. Why do I cry so easily?

-----------------------------

Tonight Lee Ranaldo told me--in front of Watt & everybody--that every time he hears me he's blown away, that I'm like the best guy out there, that I've been hiding all this time, that Watt should never lose me...Oh God, oh shit, oh fuck, oh wretched dead rose petal stigmata hole!

-----------------------------

After our set tonight, a girl yelled @ me "Hey, guitar boy!" (you know I loved that) "Where'd you get that shirt? How come the Geraldine Fibbers didn't play tonight? I love them! Aren't they touring w/you?" (The girl's informed!) Later she was @ the merch counter where I was chatting w/Bill. Her name is Emily. She gave me a note to give to Carla (which I will not read).

Another person, a young guy, gave me a letter to give to Spike Jonze. Good luck...

Kim wore a light blue, sleeveless, knee-length dress w/ tight-fitting boots, She, w/her bleached hair, bone structure, boss arms, was looking very Nadja Auermann-esque (a fave of hers), minus the ridiculously long inseam, of course! Rage on, Goddess!

Maurice called me "sweetcakes" when he greeted me! He's so precious I want to take him on the road w/my trio just to keep me giddy.

Stephanie called me "Peaches" in New York. I must not cry. I must not freak out. I'm an older. world-wise man...total bullshit.

Wendy: "How did you end up like this?"

James: "Stay the wonderful person you are."

Me: "Crossing the line, losing the time."




10/17 CHARLESTON, SC, dressing room @ THE MUSIC FARM

The late afternoon/early evening ritual: Half-setup my gear (drum stuff & sound guy interference), find a corner, a table, a stool, & change strings, clean the Watt Jazzmaster. I'm changing strings every night to avoid breakage + I'm killing them w/my stench exude. This poor guitar. It's going to have no finish by the time I'm done w/it. My keys have been banging into it & peppering the back w/ tiny dents. The back of the guitar's lost tons of finish. The top of the body is scratched & gouged by my whisk & spring antics. Pick scratches everywhere. A funny ritual: clean the instrument meticulously every night, then drench & ruin it!

Just made the 7-hour drive w/Michael from Norfolk. Great weather, horrendous drivers. South on 95, it was an amazing display of idiotic driving I thought only Californians could muster. The place is really nice.

MORE ANECDOTES FROM LAST NIGHT:

Steve S. came up for tag-team drumming On "Tuff Gnarl" & played the tom pattern way slow. So it was Stereo-Ivesian-Drum-Flam Confusion. A scintilla of soilage.A serious-looking young guy w/black hair in sort of a Caesar cut told me as I lugged my road case to the van, "Sonic Youth should have opened for you guys! You rock, man!"

---------------------

The Fibbers are here. I think we all missed the (well, not Michael). Bill (the bassist) amazes me. He loads in, sets up Carla's stuff, his own (a laborious process of finding overwhelming frequencies & notching them out on his 2 EQ systems so he can blast & be a big hollowbody instrumentalist), then he sets up the merch table--lots of T's & their Sympathy for the Record Industry 7" & 10". The guy just kicks ass. He's a solid, dedicated man. Gloria really kicks ass, too. Then there's Patrick, sort of the roadie version of Maurice (the S.Y. nanny & assistant), energetic & amusing. Jesse & Vince are shooting baskets (they have a hoop in the middle of the floor)--he must be palpitating furiously! Jesse just showed me the Wet 'n' Wild dark blue she's applied. She seems proud of her new nails (see the Polar Goldie Cats' "My New Blue Nails"),. Reminds me that I must call Knansie about Thurston, their gig, etc. I gave Thurston a finished-version Goldie Cats cassette last night. He says Jimmy's into the project. Maybe I can get Carla on the phone, too. It turns out we were @ the same Pan Club show the 1st time we saw the Goldie Cats & quite independently had the same overwhelmed reaction to them & to Knansie's stage presence that night--a kind of awed love & wonder, The same night! Carla was practically jumping up & down in Charlottesville when we discovered this odd mutual epiphany. Must call. Must eat...




10/18 JACKSONVILLE BEACH, FL @ Einstein a Go Go

Vince & I went out to a seafood place & gorged, It was great, but a bit much. Hoofed it back to the club where a sparse smattering of humanity was beginning to gather. Had a Palmetto (local ale) & chatted w/Bill & Daniel. Bill's from Buffalo, so we chatted about that, L.A., Sean De Lear & Glue, etc. I really like this man. I want to play w/him sometime.

The Fibbers' set was good, but too loud. A couple of good ol' boys were winking & leering @ Carla. "You have to STOP!" she said. Steve thought she might need help, so Vince, Steve, & I closed in near them just in case (I'm such a threat), but they soon lost interest & bailed. Last song was "Lilybelle" & I misted over as usual. ..

Our set started rough. I think I have a short in the Jazzmaster--must remember not to smash it w/my fist anymore. Watt's monitor's & mic holder were fucked up. He'd been smoking a cigar ("garing it") & as such took the tempo up a notch. Pretty funny... "Intense Song" was truncated a bit (Watt told me later he just didn't think it was going anywhere. I think it was the nicotine talking, but I really didn't care.). Carla sang on "'70's" & "Pedro" again, doing her little dance.

Set heated up a notch @ the end. Carla & Jesse sat in on "Tuff Gnarl"--this time I could hear Jesse--& broke a 'B' string @ precisely the same moment as in Charlottesville! Weird! The Jesse effect? Encored w/"Piss Bottle Man", "My Secret Garden", "Joe McCarthy's Ghost" & "Powerful Hankerin'" during which he slammed the bass w/impressive brutality. Thought my performance on "Maggot Brain" sucked (even though I was roundly complimented, which sometimes just makes me feel worse)--I tried everything in the book, to no avail. I felt like throwing the jag into the wall. Fell into a funk as I sat, soaked, @ the side of the stage, accidentally drinking Jesse's water.

As the Fibbers loaded out--they're impressively machine-like w/their load-ins & load-outs--I talked w/Carla about the gig, Watt's mood swinging (she thinks he's a bit fearsome & over-the-top), my feeling lucky, working hard, etc. She told me to be sure to keep up my own music, which she truly loves (!). I assured her that after taking as long as it took me to muster the courage to do my own band that I would never stop. She knew just how that felt. She's trying to figure out how I can find ecstatic happiness so painful. It's 'cause I'm fucked up! I pressed my head into the fuzzy collar of her white jacket for a moment, went into the upstairs dressing room to be alone & sulk.

Finally came out & sat w/Michael in my car. Waiting for Watt for what turned out to be well over an hour---'til 3 A.M. Steve & Vince were standing by the van "garing it", & Steve was so funny--singing Daltrey, puffing his cigar--it had us in tears.

Watt had been jawing w/The Boss, a nice young guy w/a love for punk rock going way back named Kevin, & Roger, an older fellow sporting a fIREHOSE T. Watt came out all happy & energized. Never forget that he loves the South. As I slumped into the steering wheel of my car, Watt threw tortilla chips in @ my head: "Don't fall asleep!" He didn't know that I just felt like a shit--hated both by old Watt fans & me. But Watt cracked me up. Roger @ one point said that on his visit to California he hadn't seen many pretty girls. "NELS?!!" Watt bellowed. "They're everywhere," I said. "Nels is our philosopher," Watt said.

Went to Mo' 6 where I took a decadently long shower. There was excellent water pressure & I'm starting to feel the burn after 23 gigs in a row--hopping, smashing, self-soiling.

Michael & I drove 5 hours into Jacksonville Beach, FL, amidst the now-expected array of meth-truckers, Lincoln Town cars, pickups all going @ least 75 mph (gotta love that). The people here @ Einstein A-Go-Go are great, famous for the spread they provide: chips, salsa galore, black bean salad, raw veggies, bagels, fruit, muffins--& that's just when we got here!

"The Old Man" (dad of Tammy? husband of woman running the record store?) is allegedly making his vaunted fried chicken dinner. "They'll feed us 'til we burst! It's awesome!" Steve keeps enthusing. I guess the Fibbers will arrive & we'll all dine. Cool! There's no alcohol here--a plus. A good spirit prevails.

I've got to find a laundromat soon...

Every night Watt says, "'S'a lotta hype about me. Just here to show you I'm still the same old Watt [sometimes "dickhead"]." At the end of the set, he says, "Thanks for comin', checkin' me out. I'm starting over for the 3rd time..Hope we blew yer minds [sometimes "fuckin' minds"]." Then, @ the very end, "Start your own band!"

Ever since Norfolk, where Thurston apparently (bullshitting) told Watt that he has to introduce me as "Ecstatic Peace recording artist, Nels Cline!" Now he does it every night after "Intense Song..."

Pretty funny guys, these old buds.

Carla hasn't forgotten about that song for Marianne Faithfull that I asked her to sing on. She wants it to be right, to be special. I didn't even think she'd remember it...

The Fibbers are here & I SMELL FRIED CHICKEN!




10/19 TAMPA The Rubb

Last night: We had the fried chicken + mashed spuds, gravy, red beans, rice & cornbread!!! The best!

A rough night for the Geraldine Fibbers (the BELOVED Geraldine Fibbers). The thin crowd was apathetic. After much backstage discussion about the set list, Gloria had said, "A couple of nights ago was good--and Nels liked it, too!" "Yeah," I said, "a gut-wrencher." Watt teased me about going into sycophantic mode (it was Gloria's suggestion!) & I got all tweaked & fled, Carla saying, "No! Don't leave!"

Then they did a totally different set list anyway, adding "dusted" to the set (Jesse plays guitar on it!) between a few (minor) probs & audience apathy. It was a struggle for them. Carla dedicated "All these songs to the Great Nels Cline!" She was fucking w/me! I turned to Gloria, totally embarrassed, "She's fucking with my head!" "Dusted" was a mess. I guess they hadn't done it in a while, I totally dug seeing Carla, sans guitar, wailing. But the band was pretty miserable afterwards.

Watt was in a big hurry to get going. Much equip. scrambling, confusion, confusion, cramped conditions, & we were on. Low ceiling, loud monitors, a shrill onstage sound, cramped, dark. But cool. The crowd seemed into it, a few Watt diehards right in front, taking pics, gassing, lots of young kids, cute & hanging out. We blazed thru the night. During "Political Song..." I tranced out & thought I'd hit my head on the ceiling, hopping & knocking myself out. Watt broke a string on "Pedro" & we stopped, waited. Carla sang on "70's", "Pedro", & "Tuff Gnarl" w/Jesse, who blazed. Carla crouched down behind me on "Tuff Gnarl" to stay out of my way. I thought for sure I'd smash into her, but it was all okay.

Encored w/only one song--"Piss Bottle Man"--w/Kevin from the Fibbers singing my falsetto part, & wonderfully (blasting in the monitors). Watt's temporarily out of shirts, so we adjourned, talked outside w/some nice Watt fans: Dan & Tim. Dan had driven from Georgia, having heard about the gig on the Internet.

Carla & company had invited Michael & me to their Days Inn by the beach. We got out room key from Steve (St. Steve, the best guy). I did a drive-thru liquor run, purchasing a Johnny Walker Black 1/2 pint from people whose eyes were too close together & who were shit-faced, @ "The Ritz".

Went to the Days Inn for a pleasant eve avec les Fibbers. They're a great bunch. Carla was moody, smoking on the balcony. Talked a lot w/Gloria. We talked about marriage & the road. She's married w/a 4-year-old, on the road for months. She shouldn't drink--has a kidney prob--but loves to. I got minorly squiffy while we played everyone the Makers of Smooth Musk, Vol. 2 comp. that Byron gave me. A smash! Patrick was great--assistant roadie, band psychologist, confidante. Daniel must have been tired or buzzed. We bailed back to the Mo'--another blatantly successful navigation job by Michael. Asleep before 3 A.M.

Up @ 9:30, a nice drive to Tampa in the midst of more meth-truckers, bluehairs, & bikers dressed like cartoons. Stopped @ a most heinous truckstop & bought a "trucker girls" wallet, a leather heart key fob, some sexist Florida postcards--all an adequate reflection of my jaundiced view of my new environs.

After a trip to the local massive music store where Dominic sold me strings (a massive Watt fan & bass player as well), we found "The Rubb" in the rebuilt 7th Ave. zone. Boy, a lot of money has been poured into this place, & we're the big 1st show. Pray, pray, pray--

The Fibbers have just finished their 2-hour soundcheck (!!!!). Gloria's got to shorten this process. Dinner here w/Carla, Watt --Watt cracking wise about the soundcheck time. Steve appearing periodically to say, "Half hour @ the most." Guinness pitchers, Watt saying, "I need sharp soldiers! Drink afterwards!" To Vince, no doubt. Carla & Co. are tired. They are so precious. I want to help them wake up. I'm an idiot.

Lots of cement, wacky lights, a big-ass bar. Pray for surf! Everyone's trying really hard. May it all pay off.

Bought a heart-shaped "Desperately Seeking Susan" pin for Watt across the street, + a heart for D.D. (silver, simple & beautiful). Also some STP stickers for me. Then Watt said, "that's Stone Temple Pilots! They appropriated that!" Talk about ruining a moment...What'll I do w/them now!? This was part of my childhood. Coolness. Like the Menace & Bardahl stickers. Dave Crosby in the Byrds w/an STP sticker on his Guild hollowbody.The band that opened up for Sonic Youth on the "Goo" tour.

-------------------------

Carla hasn't had a drink in almost 9 years. She's asking for non-alcoholic beer that's not O'Doul's, or whatever. Imported. She's been thru so much. Walks a fine line. She's a jewel, shining thru everything, in spite of what she thinks or says.

Last night Watt, Carla, & I were hanging post-chicken & Watt was talking about the road: "Preussner thought it was a vacation! But Nels, he's great," & looking @ me, "You don't think there's anything owed to you!" "I'm just grateful for the rewards," I said. "He's like D. Boon, " Watt says. Carla said: "I was made for it. It's like part of me." She's so tough yet fragile. She deserves everything a musical life has to offer when it's successful--except stupid bullshit. But she sees thru all that. Shine on, Carla. You'll never know what you mean to me.

-------------------

Daniel has serious tendinitis. He has a sling w/its own ice pack he has to wear after he plays. Severe "tennis elbow". A total drag! Bill suffers from tinnitus. Plugs help. Jesse's on salary, a "sort of" Fibber & quitting after their tour (Christmas). What a situation. She's their 4th fiddler...but the rest--Kevin, Bill, Carla, Daniel--are a functional core, fighting for their music, kicking it on the road, struggling. I salute them, I adore them.




10/20 ORLANDO, FLA

Jiffy Lube After smelling trani oil for a couple of days, Michael discovered a loose seal in the rear power train. Trani oil blowing on the muffler, spraying the back window/door of my car w/gunk. So we're somewhere out in the sticks @ beloved Jiffy Lube, trying to make soundcheck by 4. Last night was a trip. The club had a glitzy vibe, lots of groovy decor, cement. big industrial pipes--all spanking new. A massive local crew constantly helped w/gear, scrupulous monitor attention, waitresses bringing too much beer. The Fibbers had a decent sized crowd. Their sound was generally good, but Carla's voice could have been louder. Band mix was good (after 2 hours of soundcheck, it oughta be!). Carla was vexed by a distorting monitor. She was moody after having a violent nightmare disrupt her sleep (she's dark & by turns delightfully playful, girlish). The Fibbers sounded big & crowd response was positive--even cheering the shattering climaxes on "Get Thee Gone". The droning smash of "Outside of Town"--devastating. After their set, the band seemed happy. Carla slumped in the near-dark dressing room & smoked.

Our set was well-attended it seemed. Some whistling feedback, but a decent sound (for a cement slab). Vince, it turns out, has a pulled muscle under his left arm & into his upper back + he almost sprained his ankle last night. He's hurting, but marched bravely on & did not have all that Guinness. Michael's taking no prisoners on "The Red & the Black", forging ahead @ break-neck speed. Wailin'! Watt cut "Intense Song..." short (sort of), telling me to build up sooner, to watch him. Carla sang on "Pedro", "70s", "Tuff Gnarl". Encores of "Piss Bottle..." w/Kevin in a later falsetto reappearance. I did "My Secret Garden", Watt telling me to get "right on the mic!" OK. "Joe McCarthy's Ghost" w/Watt & me like George & John, yelling. Watt clearly gets off on this tune. Then the solo "Powerful Hankerin". Slamming. A great reaction. A guy on crutches wearing a polo shirt was really into it. Old Watt fans in attendance were really supportive.

Nice kids, Amanda & Tim, hung w/Michael. Watt was cruising around smiling. Apparently after a local set by local band Joe Popp (who kept saying "Mike Watt is God!" & played a confident 80's melodic punkoid type of bluster), Watt stayed around dancing.--must've gotten some bourbon! For some reason, I had a black Bush & a beer & got really blotto. Started to reel.

Steve was outside the club giving Jesse a neck & upper-body massage. Got a kiss for his efforts, I hear! Bill & I had a great spontaneous hug. I went weepy or hyper, I swear. But adrift.

So Michael & I (Michael once again got the room key from Steve) bailed. When I got to the room, I got under the bedspread to stay warm (the A.C. was cranked & I was typically dank, post-set) & fell asleep fully dressed. Michael said I was "acting funny", but I think I was just a high guy. Woke up @ 5:30 A.M. & got in bed for real 'til 9:30. Not hung over (never get hangovers), got a Mo' 6 room for D.D. & me in Atlanta-Marietta. Went back to thoroughbred music & bought an Ampeg Jet 12 amp for $250.00 from a cool guy named John (who was @ the gig & plays Jazzmasters exclusively). Swapped CDs--he's in a band called Lie. Really nice fellow. Lie opened for fIREHOSE once. He's originally from Pedro!

Now it's Orlando. Had a latte & fruit & I feel human. Car, be well!

It's off to the Sapphire Supper Club.

------------------

Whoa! This place is kind of a yup bar.

The people seem nice. It's small, small stage. The cool thing is that T.J. Kirk are playing & I know (& have played with) John & Scott (guitar & drums). They're really good players, good guys. Scott Amendola: he totally rules on drums. I just saw him about 6 weeks ago. He played a set with Vinny's (Golia) Quintet in Berkeley (duo w/Philip Greenlief) then ended up playing w/the band--a septet! John played guitar on my friend Joel Harrison's 3+3=7 project in Berkeley--3 guitars, 3 percussionists. This is T.J. Kirk's last gig on their tour. What a way to end a tour: finish in Florida, drive back to San Francisco! Ridiculous!

They're leaving after their set & driving straight back! I think Charlie Hunter's in the group, too. A total chopster scene...now I finally hear them.

Tim & Amanda (from last night & Jacksonville Beach) are here. I comped them, risking wrath. They're so sweet & adorable. "We only do this for Watt & Sonic Youth," they assured me. Now I'm cooling my heels in a corner. T.J. Kirk & the beloved Geraldine Fibbers have gone their separate ways to eat. Nothing happens for a while. Where's the audience?

-----------------

Bought some totally unnecessary stuff @ a nearby record store: Harry Pussy dbl. 7", Chavez 5 trk, + old Comsat Angels Sleep No More LP (mine's thrashed).
---
---


last tour spiel


more tour spiel


loop back to mike watt's hoot page
this page created 25 may 00