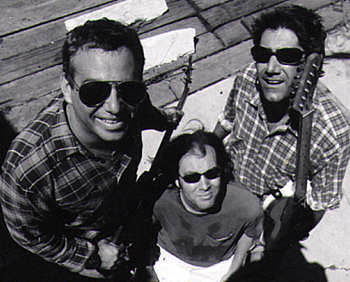 mike watt , jerry trebotic and tom watson
(left to right)

time to get back to some watt-oriented trio playing. it was excellent and quite an opportunity to play w/mr. j mascis and mr. george berz since last oct and I both learned and experienced much but now it's time to kick out some thuds from my perspective. hence the name, "time to cat and not mouse." now, I believe it's very healthy and a necessary duty to mouse from time to time but other moments call for some straight up cattin'. w/me this fall will be pair of pliers alumnus. mr. tom watson on guitar and madonnabes stick man, mr. jerry trebotic who'll both make up "the jom & terry show" and wear the stage names jom tatson and terry t rebotic heroically. we're doing some trippy choices different from the last tours I've previously done. it's all a warm-up to get my finger playing stuff back after all that pick action w/the fog this last year. should be a hoot. I look forward to bringing this three-way watt wrestlin' weirdage your way soon.

you can help watt here w/getting the word out about these gigs! there's a link next to each date that takes you to a tour flyer made expressly for that show. it's in a .gif graphic format and after clicking the link, you download it (save it to your hard disk or a floppy) and print it on some 8 1/2 x 11 inch paper. make copies of that and place them wherever you think folks might be into getting some wowzer thuds w/the bottom broom and a three-way wrangle w/the jom & terry show - just letting folks now the boat's pulling into their town. a big thanks from watt to you here for giving a hand if you're so inclined. thank you (oh, the background on these are transparent so if you print directly from netscape, it'll show up w/gray where the white should be).

here's a pollstar aritcle on the tour and gig listings.
"time to cat and not mouse" tour 2001
wed, sep 12 - old ironsides, 1901 10th st., sacramento, ca - (916) 443-9751 - tour flyer

thu, sep 13 - wow hall, 291 w. 8th av., eugene, or - (541) 687-2746

fri, sep 14 - dante's, 3rd and burnside, portland, or - (503) 228-6630

sat, sep 15 - crocodile cafe, 2200 2nd av., seattle, wa - (206) 448-2114

sun, sep 16 - the starfish room, 1055 homer st., vancouver, bc, canada - (604) 682-4171

mon, sep 17 - mootsy's, 406 w. sprague, spokane, wa - (509) 838-1570

tue, sep 18 - the blue herron, 140 w. pine st., missoula, mt - (406) 543-2525

wed, sep 19 - neurolux, 111 n. 11th st., boise, id - (208) 343-0886

thu, sep 20 - liquid joe's, 1250 e. 3300 s, salt lake city, ut - (801) 467-5637

fri, sep 21 - starlight, 167 n. college av., fort collins, co - (970) 484-4974

sat, sep 22 - bluebird theatre, 3317 e. colfax av., denver, co - (303) 322-2308

mon, sep 24 - sokol underground, 2234 s. 13th st., omaha, ne - (402) 346-9802

tue, sep 25 - the bottleneck, 737 new hampshire, lawrence, ks - (785) 842-5483

wed, sep 26 - blueberry hill, 6504 delmar, st. louis, mo - (314) 727-0880

thu, sep 27 - the annex, 1206 regent st., madison, wi - (608) 256-7750

fri, sep 28 - 7th street entry, 701 1st av. n, minneapolis, mn - (612) 338-8407

sat, sep 29 - 7th street entry, 701 1st av. n, minneapolis, mn - (612) 338-8407

sun, sep 30 - double door, 1573 n. milwaukee, chicago, il - (773) 489-3160

mon, oct 1 - bluebird nightclub, 216 n. walnut, bloomington, in - (812) 336-3984

tue, oct 2 - lynagh's musiclub, 388 woodland av., lexington, ky - (606) 255-6614

wed, oct 3 - the end, 2219 elliston pl., nashville, tn - (615) 292-8642

thu, oct 4 - top cat's, 2820 vine st., cincinnati, oh - (513) 281-2005

fri, oct 5 - little brother's, 1100 n. high st., columbus, oh - (614) 421-2032

sat, oct 6 - shelter at st. andrew's, 431 e. congress, detroit, mi - (313) 961-8137

sun, oct 7 - grog shop, 1765 coventry rd., cleveland, oh - (216) 321-5588

mon, oct 8 - 31st street pub, 3101 penn av., pittsburgh, pa - (412) 391-8334

tue, oct 9 - the khyber, 56 s. 2nd st., philadelphia, pa - (215) 238-5888

wed, oct 10 - the mercury lounge, 217 e. houston st., new york, ny - (212) 260-4700

thu, oct 11 - maxwell's, 1039 washington st., hoboken, nj - (201) 798-0406

fri, oct 12 - t.t. the bear's, 10 brookline st., cambridge, ma - (617) 492-0082

sat, oct 13 - the met cafe, 130 union st., providence, ri - (401) 861-2142

sun, oct 14 - valentine's, 17 new scotland av., albany, ny - (518) 432-6572

mon, oct 15 - fletcher's, 701 s. bond st., baltimore, md - (410) 558-1889

tue, oct 16 - black cat, 1831 14th st. nw, washington, dc - (202) 667-4490

wed, oct 17 - starr hill music hall, 709 w. main st., charlottesville, va - (804) 977-0017

thu, oct 18 - cat's craddle, 300 e. main, carrboro, nc - (919) 967-9053

fri, oct 19 - the e.a.r.l., 488 flat shoals rd., atlanta, ga - (404) 522-3950

sat, oct 20 - 40 watt club, 285 w. washington st., athens, ga - (706) 549-7871

sun, oct 21 - jack rabbit's, 1528 hendricks av., jacksonville, fl - (904) 398-7496

mon, oct 22 - sapphire supper club, 54 n. orange av., orlando, fl - (407) 246-1599

tue, oct 23 - the state theatre, 687 central av., st. petersburg, fl - (941) 895-3045

wed, oct 24 - club downunder, florida state univ., oglesby union, tallahassee, fl - (850) 644-6710

thu, oct 25 - the nick, 2514 10th av. s, birmingham, al - (205) 252-3831

fri, oct 26 - splash, 16 s. conception st., mobile, al - (334) 438-2651

sat, oct 27 - shim sham, 615 toulouse, new orleans, la - (504) 565-5400

sun, oct 28 - engine room, 1515 pease st., houston, tx - (713) 654-7846

mon, oct 29 - stubb's bar-b-q, 801 red river, austin, tx - (512) 480-0203

tue, oct 30 - trees, 2709 elm st., dallas, tx - (214) 748-5009

wed, oct 31 - vzd, 4200 n. western av., oklahoma city, ok - (405) 524-4203

fri, nov 2 - launchpad, 618 central av. sw, albuquerque, nm - (505) 764-8887

sat, nov 3 - nita's hideaway, 1816 e. rio salado pkwy., tempe, az - (480) 966-7715

mon, nov 5 - bottom of the hill, 1233 17th st., san francisco, ca - (415) 621-4455




as of 3 oct 01
---
---