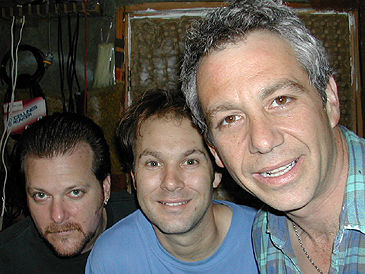 pete mazich, jerry trebotic and mike watt
(left to right)

spring is here and so is another watt tour. this time, I'm playing songs from my next album, "the secondman's middle stand" which will be released in the fall. it's the story of the sickness that almost took me two years back and left an intense impression on my body and mind. it loosely parallels dante's "the divine comedy" in ways. this is the bass-organ-drums trio project I've been talking about. to help me out, I've got madonnabe pete mazich on organ and wegospeedro/jom & terry show/madonnabe jerry trebotic on drums as the secondmen. both these cats live in pedro so I've got an all-pedro band to help me tell my tale of hurtin', healin', pluckin' and pedalin'. that's a trip and I dig it. unfortunately for this tour, pete's work won't give him more than five weeks off so after the detroit gig, brother tom watson will join me and jer to finish the rest of the tour as the jom & terry show. gotta do what'll get it done - you know what they say: just have to roll w/them punches (kickin' all the way, like kato). this tour's name comes from some spiel ulysses tells the pilgrim (dante) in the inferno part of the commedia where he's describing his final voyage. it struck me as a trip how something that seems so firmly in the hand (like a bass or an oar) can somehow transcend one to loftier heights. quite the mindblow.

you can help watt here w/getting the word out about these gigs! there's a link next to each date that takes you to a tour flyer (the link is mysteriously labeled "tour flyer") made expressly for that show. it's in a .gif graphic format and clicking that link takes you to it. you can download it (save it to your hard disk or a floppy) and print it on some 8 1/2 x 11 inch paper cuz that's what is was made for (at 72 dpi). you can then make copies of that and place them wherever you think folks might be into getting some wowzer thuds w/the boom broom and a three-way wrangle from watt - first w/the secondmen and then later w/the jom & terry show. thanks in advance for letting folks know the boat's pulling into their town. much appreciation from watt to you for giving a hand here if you're so inclined, I give you my full gratitude.

here's a pollstar aritcle on the tour and their listing of the gigs.


read the tour diary!

"our oars became wings" tour 2002
mon, april 15 - nita's hideaway, 1816 e. rio salado pkwy., tempe, az - (602) 967-9531 - tour flyer

tue, april 16 - the launchpad, 618 central av. sw, albuquerque nm - (505) 764-8887

wed, april 17 - the paramount, 331 sandoval, santa fe, nm - (505) 982-8999

thu, april 18 - the blue light, 1806 buddy holly av., lubbock, tx - (806) 762-1185

fri, april 19 - vzd, 4200 n. western av., oklahoma city, ok - (405) 524-4203

sat, april 20 - the fry street fair, fry st., denton, tx - (214) 893-4622

sun, april 21 - la zona rosa, 612 w. fourth st., austin, tx - (512) 472-9075

mon, april 22 - rudyard's pub, 2010 waugh dr., houston, tx - (713) 529-3984

tue, april 23 - shim sham, 615 toulouse st., new orleans, la - (504) 565-5400

wed, april 24 - monsoon's, 210 dauphin st., mobile, al - (251) 433-3500

thu, april 25 - the cow haus, 809 railroad, tallahasse, fl - (850) 425-2697

fri, april 26 - the orpheum, 1902 republica de cuba, tampa, fl - (941) 504-0283

sat, april 27 - jack rabbit's, 1528 hendricks av., jacksonville, fl - (904) 398-7496

sun, april 28 - cumberland's, 26 cumberland st., charleston, sc - (843) 577-9469

mon, april 29 - the new brookland tavern, 122 state st., columbia, sc - (803) 791-4413

tue, april 30 - the e.a.r.l., 488 flat shoals rd., atlanta, ga - (404) 522-3950

wed, may 1 - the 40 watt club, 285 west washington st., athens, ga - (706) 549-7871

thu, may 2 - the end, 2219 elliston pl., nashville, tn - (615) 292-8642

fri, may 3 - blue cat's, 125 e. jackson av., knoxville, tn - (865) 544-3300

sat, may 4 - king's, 424 s. mcdowell st., raleigh, nc - (919) 831-1005

sun, may 5 - poe's pub, 2706 e. main st., richmond, va - (804) 648-2120

mon, may 6 - the black cat, 1831 14th st. nw, washington dc - (202) 667-4490

tue, may 7 - the ottobar, 2549 n. howard st., baltimore, md - (410) 662-0069

wed, may 8 - the khyber, 56 s. 2nd st., philadelphia, pa - (215) 238-5888

thu, may 9 - the saint, 601 main st., asbury park, nj - (732) 775-9144

fri, may 10 - the northsix, 66 n. 6th st., brooklyn, ny - (646) 208-9186

sat, may 11 - maxwell's, 1039 washington st., hoboken, nj - (201) 798-0406

sun, may 12 - the mercury lounge, 217 e. houston st., nyc, ny - (212) 260-4700

mon, may 13 - the met cafe, 130 union st., providence, ri - (401) 861-2142

tue, may 14 - valentine's, 17 new scotland av., albany, ny - (518) 432-6572

wed, may 15 - t.t. the bear's, 10 brookline st., cambridge, ma - (617) 492-0082

thu, may 16 - petit campus, 57 prince arthur, montreal, pq, canada - (514) 844-1019

fri, may 17 - the legendary horseshoe tavern, 370 queen st. w, toronto, on, canada - (416) 598-4226

sat, may 18 - the shelter, 431 e. congress, detroit, mi - (313) 961-8137

sun, may 19 - the intersection, 1520 wealthy st. se, grand rapids, mi - (616) 495-0977 0519

mon, may 20 - the grog shop, 1765 coventry rd., cleveland heights, oh - (216) 321-5588

tue, may 21 - the 31st street pub, 3101 penn av., pittsburgh, pa - (412) 391-88334

wed, may 22 - 123 pleasant street, 123 pleasant st., morgantown, wv - (304) 292-0800

thu, may 23 - little brother's, 1100 n. high st., columbus, oh - (614) 421-2032

fri, may 24 - top cat's, 2820 vine st., cincinnati, oh - (513) 281-2005

sat, may 25 - the double door, 1572 n. milwaukee, chicago, il - (773) 489-3160

sun, may 26 - the annex, 1206 regent st., madison, wi - (608) 256-7750

mon, may 27 - shank hall, 1434 n. farwell av., milwaukee, wi - (414) 276-7288

tue, may 28 - the norshor theatre, 211 e. superior st., duluth, mn - (218) 727-7585

wed, may 29 - the turf club, 1601 university av., st. paul, mn - (612) 647-0486

thu, may 30 - the 7th street entry, 701 first av. n, minneapolis, mn - (612) 338-8388

fri, may 31 - knickerbocker's, 901 o st., lincoln, ne - (402) 476-6865

sat, june 1 - the bottleneck, 737 new hampshire, lawrence, ks - (785) 842-5483

sun, june 2 - the bluebird theater, 3317 e. colfax av., denver, co - (303) 322-2308

mon, june 3 - the aggie theatre, 204 s. college av., ft. collins, co - (970) 482-8300

tue, june 4 - liquid joe's, 1250 e. 3300 s, salt lake city, ut - (801) 467-5637

wed, june 5 - neurolux, 111 n. 11th st., boise, id - (208) 343-0886

fri, june 7 - richard's on richards, 1036 richards st., vancouver, bc, canada - (604) 687-6794

sat, june 8 - the crocodile cafe, 2200 2nd av., seattle, wa - (206) 448-2114

sun, june 9 - dante's, 3rd and burnside, portland, or - (503) 226-6630

mon, june 10 - wow hall, 291 w. 8th av., eugene, or - (541) 687-2746

tue, june 11 - the brick works, 191 e. 2nd st., chico, ca - (530) 898-9898

wed, june 12 - old ironsides, 1901 10th st., sacramento, ca - (916) 443-9751

thu, june 13 - slim's, 333 11th st., san francisco, ca - (415) 255-0333

fri, june 14 - the slo brewing company, 1119 garden st., san luis obispo, ca - (805) 543-1843

sat, june 15 - the living room, 430 s. fairview, goleta, ca - (805) 692-8550

fri, june 21 - the troubador, 9081 santa monica bl., w. hollywood, ca - (310) 276-1158

sat, june 22 - the casbah, 2501 kettner bl., san diego, ca - (619) 232-4355





as of 15 apr 02
---
---