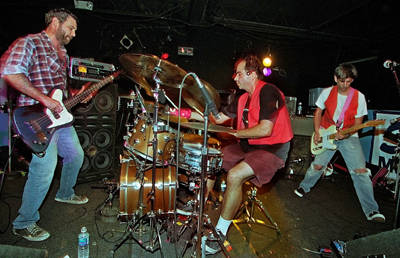 photo by raul rubiera

watt - thud staff, spiel
vince meghrouni - drums
tom watson - guitar
(from left to right)


steve kaul - the man outside the van



folks,

this was an intense year for watt so far. you can read about it on my hoot page here but let me gave you a short summary: in january, I was bed-stricken w/an raging illness that almost cut the whole gig short - an infection roared through my perineum and almost killed me. emergency surgery and then months healing from it saved my life. this tour is to celebrate my still having the chance to man the van w/a bass in my hand. also, to be free of that piss bag that was hooked up to me and able pedal my bike each day. very grateful to let you have the opportunity to see me wrestle that thud staff, hope to see you if you can make it to one of these gigs. finally, much respect to tom watson and vince meghrouni for joining me as the pair of pliers, their spirit has been essential.

also, j asked me to help him w/some bass for his first power trio tour in a few years. it's a tour for his new j mascis and the fog album (where he played everything) coming out soon. trouble is, his tour starts right near the end of mine but not near enough so I'm gonna have to trim off some gigs w/ the pliers and make them up in the spring. much respect to tom and vince for the support here. you folks too. me and the pliers will be back for another tour in march/april, 2001 where we re-do the gigs that got scissored here plus the rest of the country and our candanian neighbors too.


yours in bass, watt




you can help watt
by spreading flyers designed
to let people know about this
upcoming tour




"enough w/the piss bag" tour 2000



mon, sep 11 - bottom of the hill, 1233 17th st., san francisco, ca - (415) 621-4455

wed, sep 13 - berbatis pan, 231 sw ankeny, portland, or - (503) 248-4579

thu, sep 14 - crocodile cafe, 2200 2nd av., seattle, wa - (206) 448-2114

fri, sep 15 - starfish room, 1055 homer st., vancouver, bc - (604) 682-4171

sat, sep 16 - capitol theatre, 206 e. 5th av., olympia, wa - (360) 754-5378

sun, sep 17 - w.o.w. hall, 291 w. 8th av., eugene, or - (541) 687-2746

tue, sep 19 - neurolux, 111 n. 11th st., boise, id - (208) 343-0886

wed, sep 20 - liquid joes, 1250 e. 3300 south, salt lake city, ut - (801) 467-5637

thu, sep 21 - bluebird theatre, 3317 e. colfax av., denver, co - (303) 322-2308

fri, sep 22 - cunningham's, 15 w. 23rd st., kearney, ne - (305) 236-9737

sat, sep 23 - the bottleneck, 737 new hampshire, lawrence, ks - (785) 842-5483

sun, sep 24 - ranch bowl, 1606 s. 72nd st., omaha, ne - (402) 393-8345

mon, sep 25 - 7th street entry, 7th st. and first ave, minneapolis, mn - (612) 338-8388

tue, sep 26 - gabe's oasis, 330 e. washington, iowa city, ia - (319) 354-4788

wed, sep 27 - o'cayz corral, 504 e. wilson st., madison, wi - (608) 256-1348

thu, sep 28 - double door, 1573 n. milwaukee, chicago, il - (773) 489-3160

fri, sep 29 - shank hall, 1434 n. farwell av., milwaukee, wi - (414) 276-7288

sat, sep 30 - shelter at st. andrew's, 431 e. congress, detroit, mi - (313) 961-8137

sun, oct 1 - grog shop, 1765 coventry rd., cleveland heights, oh - (216) 321-5588

mon, oct 2 - top cat's, 2820 vine st., cincinnati, oh - (513) 281-2005

tue, oct 3 - little brother's, 1100 n. high st., columbus, oh - (614) 421-2032

wed, oct 4 - 31st street pub, 3101 penn av., pittsburgh, pa - (412) 391-8833

thu, oct 5 - upstage, 22 s. 3rd st., philadelphia, pa - (215) 629-4825

fri, oct 6 - maxwell's, 1039 washington st., hoboken, nj - (201) 798-0406

sat, oct 7 - tt the bear's, 10 brookline st., cambridge, ma - (617) 492-0082

sun, oct 8 - higher ground, 1 main st., winooski, vt - (802) 654-8888

mon, oct 9 - jailhouse rock, 30 mt. royal west, montreal, pq - (514) 844-9696

tue, oct 10 - the legendary horseshoe tavern, 370 queens st. west, toronto, on - (416) 598-4226

wed, oct 11 - the embassy, 732 dundas, london, on - (519) 434-6604

thu, oct 12 - the tralf, 622 main st., buffalo, ny - (716) 851-8725

fri, oct 13 - valentine's, 17 new scotland av., albany, ny - (518) 432-6572

sat, oct 14 - mercury lounge, 217 e. houston st., new york, ny - (212) 260-4700

sun, oct 15 - mercury lounge, 217 e. houston st., new york, ny - (212) 260-4700

mon, oct 16 - black cat, 1831 14th st. nw, washington, dc - (202) 667-4490

tue, oct 17 - kings, 424 s. mcdowell st., raleigh, nc - (919) 831-1005

wed, oct 18 - the warehouse, 213 e. bay st., charleston, sc - (843) 720-7772

thu, oct 19 - echo lounge, 551 flat shoals av., atlanta, ga - (404) 681-3600

fri, oct 20 - jack rabbit's, 1528 hendricks av., jacksonville, fl - (904) 398-7496

sat, oct 21 - sapphire supper club, 54 n. orange av., orlando, fl - (407) 246-1599


as of 27 aug 00
---
---
this page created 8 aug 00