listen to the watt from pedro show!



hey, you can hear the watt from pedro show via the good folks at sightworks. for 56k and higher connects. right now featuring 180-plus shows since his return to the airwaves (via the net) on may 19, 2001 - live from the wild kingdom and assisted by brother matt (who also throws some spunnery on the brother matt's spin cycle segment almost half-way through the show).

to dig on all this, just go to http://twfps.com and get connected to the latest show there as well as an archive of all past shows.


now also available as a podcast!

first boot itunes (get it from here for free (mac or pc)


then go to the "podcasts" section in the lefthand "source" sidebar


next click on "podcast directory"


now enter "mike watt" in the "search all podcasts" window and hit return


clicking on the circle w/an arrow in it right next to "the watt from pedro show" will bring up the nine latest shows

OR


click here (the watt from pedro show on itunes!) if you got itunes already installed on your 'puter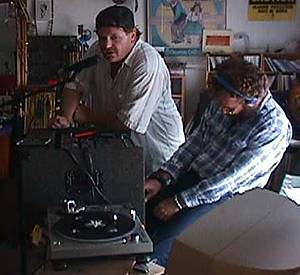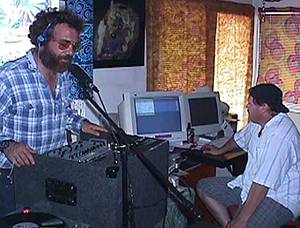 shots of "the watt from pedro show" return - may 19, 2001
brother matt (w/hat) and watt (w/flannel)
---







endless thank yous to the very happening crew at sightworks for all their help!








---
---
this page created 20 may 01