first page of interview: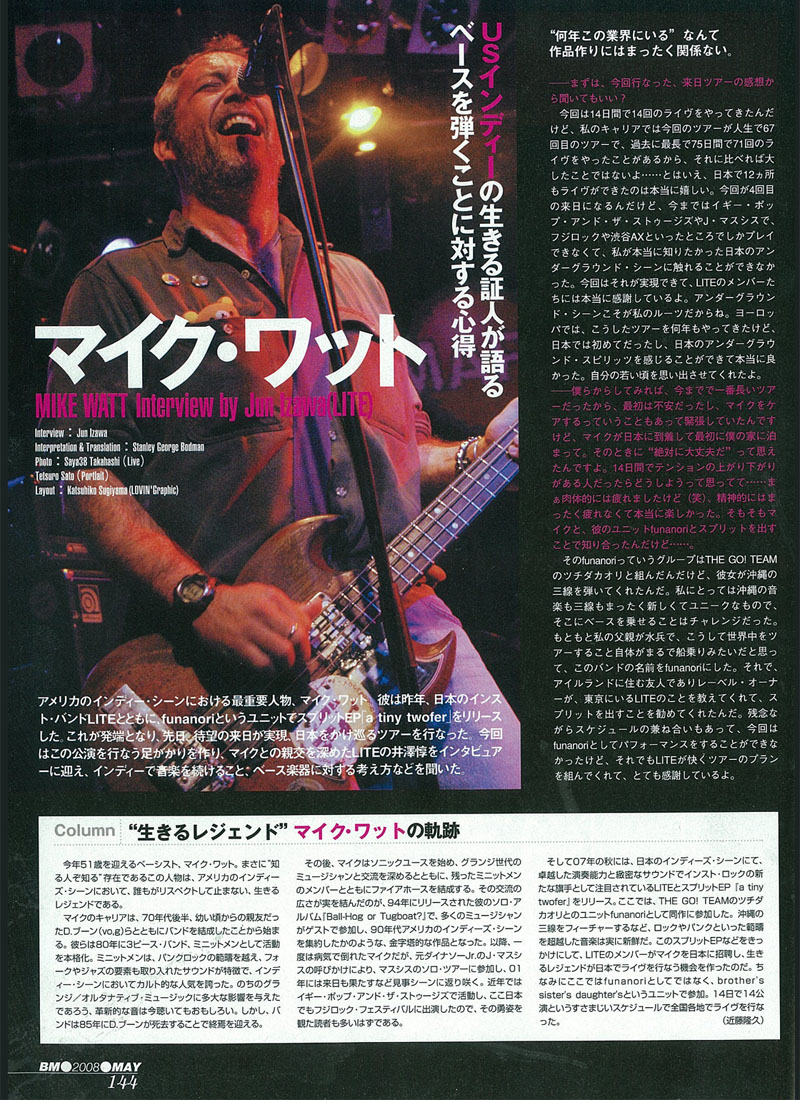 english translation by sakura okada:


Tell me about your Japan tour?


Mike: I've done 14 gigs in 14 days this time, in my music carrier, this tour would be the 67th tour. My longest was 71 gigs in 75 days, so this tour was not that a big deal. I am just glad that I did this tour in 12 different places in Japan. This is my 4th visit to Japan as I've been here with Iggy Pop and The Stooges and J Mascis + The Fog but only played at major places like Fuji Rock Festival, AX-shibuya, so couldn't have a chance to check underground scene which I've been always interested in. I mean I could see the scene with this tour, so I really thank to LITE guys. You know, my roots is always in underground scene.I've done this kind of tour in Europe for years, but this was the first time in Japan, so I could feel the underground spirit directly and I love that. That spirit reminds me of my youth.


Jun: For us it was the longest tour, so we were anxious for being on tour with Mike and caring him made us very nervous because he was our hero of all time.

But after his arrival, he stayed at my place, and I believed this was going to be great! I always meet very "artistic type" people with ups and downs during the tour, but he wasn't. Of course I got really tired physically, but not mentally, so that was really fun!

Actually, I first got to know him with releasing a split single with funanori which is Mike's another project...


Mike: That funanori project has been started with Kaori Tsuchida who was also a member of The Go! TEAM. She played this Okinawa instrument called 'sansin' that sound was very unique and flesh to me. It was a good challenge to play bass on the sound of it. My father was a navy, so I thought touring all over the world was like being as a navy, so I named this project "funanori (translatable as navy)".

One of my friends who lives in Ireland and owns a label told me about LITE based in Tokyo, and he suggested releasing a split single with them. Unfortunately, I couldn't have a chance to play as funanori this time, but I really appreciate LITE guys being so kind to organize this tour.

---
---