yeah, just now and maybe you're reading about us flying away from so cal due east... we come to bring my third opera "hyphenated-man" - we being me w/my missingmen who are tom watson on guitar and raul morales on drums. this is the sixth time we're bringing it, can you believe that shit? anyway, we wanted to reach places we ain't done it yet so that's what we're hoping for. I gotta say we're doing the piece really together and I don't that way usually w/my stuff, keep away from the badge-buff but if you wanted to ask me what makes this tour different on our end, well I'd say we got it really fucking living w/in us, this piece - I ain't saying there's zero chance of some clams but... actually, I wanna tell everyone how much respect I got for tom and raul really realizing, making it come together w/me. what beautiful cats, their work w/the heart - inspires me every fucking time we do this, crimony! w/us are uz jsme doma from the czech republic via a connect from this tour's boss macario.
-> read the tour diary <-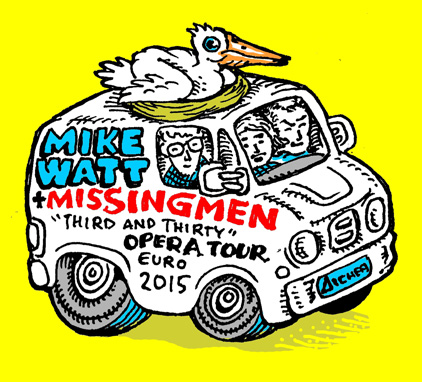 mike watt + the missingmen

"3rd + 30 opera tour" 2015


friday, may 1 in utrecht, netherlands at dB's

saturday, may 2 in london, england at the brixton windmill

sunday, may 3 in amsterdam, netherlands at OCCII

monday, may 4 in enschede, netherlands at the loch

wednesday, may 6 in hamburg, germany at stubnitz

friday, may 8 in aalborg, denmark at 1000fryd

thursday, may 14 in turku, finland at klubi

friday, may 15 in tampere, finland at klubi

saturday, may 16 in helsinki, finland at bar loose

thursday, may 21 in krakow, poland at piekny pies

friday, may 22 in budapest, hungary at s8 pince

monday, may 25 in prague, czech republic at palac akropolis

tuesday, may 26 in vienna, austria at chelsea

wednesday, may 27 in wels, austria at alter schl8hoff

thursday, may 28 in usti nad labem, czech republic at narodni dum

friday, may 29 in policka, czech republic at the rockoupani festival

sunday, may 31 in oldenburg, germany at mts lp's & cd's

wednesday, june 3 in antwerp, belgium at het bos

thurday, june 4 in aachen, germany at the musikbunker

friday, june 5 in brussels, belgium at magasin 4

---

click here for mike watt bio stuff

click here for 300 dpi promotional picture for tour
photo credit: mike watt (I used auto-timer!)

click here for 300 dpi other promotional picture for tour
taken by vernon zaborowski that tom watson likes

click here for some of what's being written about watt and "hyphenated-man"

---
---