dos (spanish for two, as in uno, dos, tres...) is kira (from twisted roots, sexsick and black flag) on bass/singing and watt on bass. that's it - just two basses and her voice. sometimes watt's voice too but not much. we've been together since the fall of 1985, this is my longest running band. I really dig playing w/dos. it started as an experiment w/making what's commonly believed a backup instrument up front and paired off w/a twin, using pingpong-like arrangements to create a special space which is pretty much close to the deck but not smothered by competition. what we try to do is develop converstations between our two basses and create a landscape of lowend dynamic. in dos there is no hiding. this is both the challenge and the reward.

by the way, for the curious: kira and watt used to be married but haven't been now for quite a while (since 1994). however, we are both still married to this band and are working on a fourth album now. we have written a bio to help folks learn about us.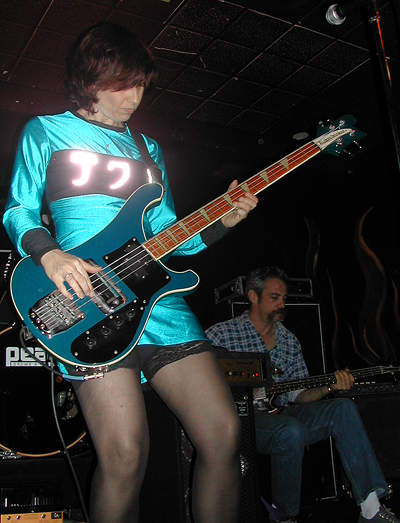 dos - long beach, ca - 2002
(left to right) kira & watt
at dipiazza's



some "live" dos
date: september 23rd, 1997
venue: sacred grounds coffee house
location: san pedro, ca

http://www.archive.org/audio/etree-details-db.php?id=8615

---
our latest full-length work came out in june of 1996 on kill rock stars and was called "justamente tres" and the seventeen songs on it covered an intense period in both of our lives.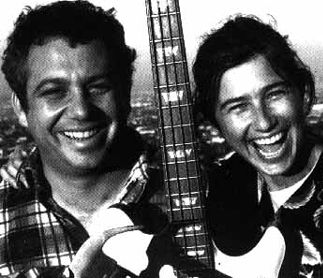 dos - san pedro, ca - 1996
(left to right) watt & kira

this full length cd is out now on

kill rock stars
120 ne state av., #418
olympia, wa 98501 usa
email: krs@killrockstars.com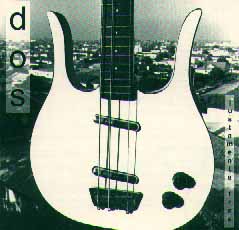 dos - "justamente tres"
kill rock stars (KRS-256)

download an mp3 of " willow weep for me" from this record!
---
we've put out two other records on new alliance records (now a part of sst records), a first album just called "dos" (1986) and an e.p. called "numero dos" (1989). there's also a cd that contains both titles called "uno con dos". call greg using the toll free phone line to special order these from sst.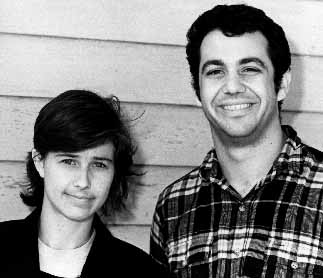 dos - venice, ca - 1986
(left to right) kira & watt
outside of radio tokyo, recording our first album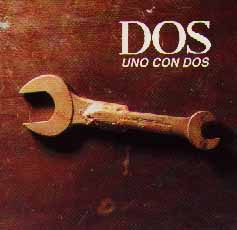 dos "uno con dos"
new alliance records (nar cd 061)
---
dos appeared on a split 7" single in 1997 doing one side backing a cat doing some wild spiel. it was called "the revolution of everyday life" and it was a co-op project from different coasts come together in a wound sound bound w/some nouns but mainly verbs by the pound. a call to action.
here's the particulars:

a side: dos/w denis mahoney


doing "the revolution of everyday life", part one


b-side: black pig liberation front


doing "the revolution of everyday life", part two






pop rocket records - p.o. box 174, mystic, ct 06355 usa


press release from the ring tarigh:

"the revolution of everyday life": parts 1&2

this split-single based on text assemblage by denis mahoney... rhizomed with a radical sense of play into patterns turning out unending tapestries of desire from the likes of di prima, artaud, bey...their intense passion to exist and create a culture of resistance." the black pig liberation front has also been performed live in multimedia format in nyc (forthcoming live release dec. 96 on pop rocket records) and new london, connecticut's hygienic fest by the black pig liberation front. the poem itself has been posterized (painting by adam cook - a special edition of the poster in smaller scale w/ different paint by cook is included in the single release) and released through the literary renaissance, louisville, ky. the dos cover photograph is by leah singer.

the music for part 1 was created by dos (mike watt and kira on thunderbroom and bass) over a thundercrib-remixed mahoney rendition originally recorded at the u.s.e. lab during the summer '96.

part 2 music was recorded live at the greenman collective, mystic, ct by the black pig liberation front, mahoney vocal further manipulation at u.s.e. lab, mattmacc on dat.

--- d. torrs






---







dos bio - january, 2003 (written by both mike watt and kira)


the beginnings of dos (pronounced like the word "dose" but it's actually the spanish word for "two") go back to the fall of 1985, while the minutemen were still actually a group. it was to be watt's first ever side project. black flag had earlier that year (in may) been on tour and had the minutemen open up for about a week. kira was black flag's bassist at the time and was asked by mike watt (minutemen bassist) if she would be interested in jamming in a two-bass-only situation. they had also played together once before this tour in an one-off project called "minuteflag" where both black flag and the minutemen recorded some pieces togheter as one big seven member band one evening while black flag was working on "loose nut" and it was later released on sst records. in around october, kira and watt started to do improvised jams with each other, some of which they recorded to a four-track. then d. boon died on december 22, 1985. watt was devastated. in kira's words: "dos was initially formed after d. boon died. it was important to keep mike playing in my eyes so we started jamming two bass stuff and forming songs from the jams we had done. we liked the idea of having no other intruments in the band because we both see the bass as a lead instrument as much as any other instrument and why have drums or guitar get in our way?" a few months later, kira and black flag parted ways and she moved to new haven, connecticut where watt would send her tapes of songs he wrote and she would do the same with him. this trading of four-track tapes through the mail led to kira coming to california to record the first dos record at radio tokyo in september, 1986 with owner ethan james at the controls. it was released later that year on watt's own label, new alliance records (which he started in 1980 with d. boon). many of the songs on this record went on to be used with some modification in firehose and other watt projects. this would be true for much dos material that watt would first write for kira and the band. the first dos live gig was in the september of 1986 at raji's in hollywood, ca opening for greg ginn's band gone, the same week they recorded the first album. 1989 saw the release of "numero dos," again on new alliance records and again with ehtan james. this was a six song 12" e.p. later, both the first record ("dos") and "numero dos" would be combined to make one cd, "uno con dos" (nar cd 061). lots of dos gigs at this time consisted of kira flying out to meet watt while he was on tour with firehose and open for them during a stretch of four or five dates. there was even a small dos-only tour of holland and belgium. a 7" single for thurston moore's ecstatic peace label in 1991 ("the bob lawton ep") was followed by their most current release in 1994, for the third time with ethan james but at his hollywood version of radio tokyo, "justamente tres," a seventeen song cd on kill rock stars (krs-256). right now, they are working on a new full-length cd to be released some time this year.

dos songs have come from jams, from lyrics given to them, are covers of great female vocalists they admire, the songs come from other bands they have played in, are written together, are written with one writing both bass lines, just about any way a song can come about, they have. they think of dos as very punk rock, as there are no other bands anything like it. also because they pay no heed to genres or fads, and don't care if people can't get the weirdness of their thing. dos plays from two to twenty gigs a year depending on schedules and whether people are asking them to play. the christmas benefit for the toberman house in san pedro at sacred grounds has become a yearly tradition.


dos members' musical backgrounds:

kira (born in 1961, new haven, connecticut, us) started on piano at age six. she switched to bass at fourteen playing six to ten hours a day in order to be able to play in bands sooner. she chose bass because her borther paul needed a bass player for his prog-rock band arc squared. by the time she was ready (a year later) the band no longer existed, but bass was in her heart forever. the decision to play right-handed (she is left-handed) she now considers a mistake. when she started she thought that all the hard stuff was in the fretting... it wasn't until she played with a drummer that she realized that plucking was the hard part. she still believes that the bass made so much sense to her because she is left-handed and on piano the bass lines were always the ones she appreciated (being played with the left hand of course). her first bands were in the early hollywood punk scene in the 70s. at one time she ran the practice rooms at the masque in exchange for practice time for her bands. she was in waxx (with her brother paul), the visitors (with spaz attack singing), the mommymen (geza x's band), the monsters (w/ the weirdos' nicky beat), sexsick (her own band with michelle bell), twisted roots (her brother paul roessler's band) and finally black flag, where she recorded seven records (three studio, two live, and two instrumental) and toured very extensively with them for two years, from 1983 to 1985 (at the same time she was working on and earned a bachelor's degree at ucla). the only other band in the list to record was twisted roots which recorded a single. when she moved to connecticut (after ucla) her nephews were quite young and she worried that they would forget all about her. she started to record bedtime stories and jam music w/two basses overdubbed onto the stories. she sent them these tapes and they listened to them when they went to sleep for years. the stories would grow more sophisticated as the boys grew older. the final story tape was a collection of edgar allen poe stories. some of these two bass songs from the bedtime story collection would end up as dos songs. when she returned to california where she began working full time - first with computer programming and currently with movie/televison dialog and foley editing, music for her became a fervent hobby. dos has been her main band over these many years. she did record an album with a los angeles band called approximation in the fall of 2000 to help a guitar player friend who didn't have a bass player at the time.

mike watt (born in 1957, portsmouth, virigina, usa) started playing music with d. boon at age 13, copying songs off of ccr, the who, t-rex and blue oyster cult records in the bedroom with both of them on guitar. d. boon's mother margie thought watt should play bass but it took a couple of years for watt to realize that the bass wasn't a guitar with just the four lower strings but actually a guitar-like instrument that had bigger versions of those four lower strings tuned an octave down. they would hash out ideas of what they thought were versions of the above mentioned bands' songs along with d. boon's brother, joe on drums. it was difficult for watt to discern what exactly the bass was doing on most records. except for people like john entwistle and jack bruce, it was very difficult for him to hear what the bass was doing. there was this amazing local guitarist named roy mendez-lopez who helped both d. boon and watt immensely, showing them lots of things and inspiring them to develop a musical philosophy they would adhere to for the rest of their lives. he was very instrumental in their musical evolution. at fifteen, watt got his first "real" bass (as opposed to a guitar with only four strings strung on it), one made by kay that looked like a gibson eb-3. d. boon and him soon were in a hometown band (they lived in san pedro, ca - located in the harbor of los angeles) called the bright orange band during the summer between ninth and tenth grades. this band copied songs from records and never wrote any of their own. neither did the next one they joined at nineteen, drummer marc weiswasser's band startstruck. inspired by seeing punk gigs in hollywood, d. boon and watt started the reactionaries with drummer george hurley and singer martin tamburovich in 1978. this was the first band they actually started writing songs for. their first gig was opening for black flag at the teen post in san pedro in early 1979. by the fall of that year however, d. boon broke the band up but soon him and watt started the minutemen in january of 1980. a month later, after writing the first songs for the band, they enlisted frank tonche on drums. after two gigs, tonche left and they recruited george hurley for drums - he'd just quit hollywood new wave band, hey taxi! after playing with them since the reactionaries. with just three weeks of practice, the minutemen recorded their first record, a 7" ep called "paranoid time" for sst records in july of 1980. they started playing as many gigs as they could, with black flag and with others anywhere within the punk scene which was changing to hardcore with the influx of younger people from the suburbs. they started to tour nationally too and recorded many records for sst, "the punch line," "what makes a man start fires," "buzz or howl under the influence of heat," "double nickels on the dime," "project: mersh" and "three-way tie (for last)." the minutemen came to an abrupt end when d. boon died. during that time, watt had switched between using a pick and using his fingers about half-way though. he wrote many songs for the minutemen, around two-thirds of it and about half of the lyrics. this period is the probably the most influential of all in regards to his bass playing and song writing, it's where he actually put ideas into practice and made them work with his essential friend and partner, d. boon. with d. boon gone, watt went into a heavy depression. kira left for her first job at yale. his friends in sonic youth got him to record again, a project called ciccone youth (interpreting madonna music) and their own album, "evol." still, there was much sadness for watt - this is where dos helped enormously. sending tapes to kira, watt began writing songs again. in the late spring of 1986, a young man from ohio named edward crawford found watt's number in the phone book and came to california shortly after calling him. watt started firehose with him and brought back on board george hurley. lots of the songs on the first album, "ragin' full-on" that watt wrote were actually dos songs he wrote for kira with lyrics added. later that winter, dos recorded their first record. firehose began playing and touring where the minutemen left off (kira flying out to do four or five gigs each tour in a different region of the u.s.), recording two more records for sst, "if'n" and "fromohio" before signing with columbia records in 1991 to make "flyin' the flannel." they toured at least twice and year, mostly three and recorded two more records "live totem pole ep" and "mr. machinery operator" before disbanding in january of 1994. during that time, kira and watt married in 1987 and dos recorded "numero dos" for new alliance records (by then bought by greg ginn and made part of sst records) in 1989. they made "the bob lawton ep" (actually a 7" single with two songs) for thurston moore's ecstatic peace label in 1992 and divorced the same year firehose ended. however, dos continued despite the personal separation and recorded "justamente tres" for kill rock stars during this time. dos gigs became fewer and fewer though with watt embarking on a solo career after releasing "ball-hog or tugboat" in 1995 for columbia that contained almost fifty people helping watt out to form a band for each song on it. he did a tour with ed vedder and dave grohl as band members and then did two tours with his mike watt and the crew of the flying saucer band, which had nels cline, vince meghrouni and michael preussner. he then went to help out porno for pyros for a couple of tours and recorded two songs for their "good gods urge" album. watt started the madonnabes, a band that interpreted madonna music to keep him in practice since he had no active band since firehose. in 1997, he recorded his tribute to the minutemen, "contemplating the engine room," which he called a "punk rock opera" for columbia with nels cline and steve hodges. he toured that album for fourteen months with his band, the black gang which included in different versions, cline, hodges, joe baiza and bob lee. he then made a band called in 1999 called mike watt and the pair of pliers with tom watson and vince meghrouni and toured with them while helping out locally with stephen perkins' project banyan. he recorded two records with perkins as banyan, entirely on the first album and just w/just four of the songs on the second one. li'l pit was a band watt created with thalia ferreira to explore playing on the acoustic upright bass. the band featured perkins also along w/leo chelyapov on violin and realeased a single on kill rock stars in 1998. george hurley joined watt, petra haden and perkins for the track "sidemousin' the bong" on the "hempilation 2" benefit compilation in 1999. watt then became very ill and almost died from an infection of the perenium in early 2000. he survived and went on to help j masics with his band the fog and did three tours with him in the u.s., canada, japan, australia and europe. watt then started a band with madonnabe drummer jerry trebotic and pair of plier tom watson called the jom and terry show and toured the u.s. and canada with them. he's been in five bands that play material from the first two stooges records, including one actually involving ron and scott asheton of the stooges. in 2002, watt started the secondmen with trebotic on drums and madonnabe pete mazich on organ and toured with them that spring. this is the band watt is recording his next record, "the secondman's middle stand" with in the winter of 2003. his next tour (his 50th) is with them the following spring. as for dos, work has started on their fourth record, using a studio watt has created with pro tools and a mac in his apartment called thunderpants.





thursday, june 24, 2004 - winnipeg, mb, canada

it's 3:30 in the morning when my sister melinda comes to bring me to the airport - I didn't konk a wink on purpose cuz my plan was to do that on the plane so I wouldn't windbag kira to death. trippy how even after all these tours I've done, I stress like a lunatic over them, especially right before bailing on them. such is the case again and so I busy myself big time to get my mind distracted on that instead of frettin' to death. a major cause to this bout of worry the last couple of weeks concerned my summer tour schedule. me and kira were asked back in february to do these canadian jazz festival gigs and of course we were very grateful about that and accepted immediately. then a month later I was told the stooges had a europe tour coming in the summer and I was stoked to no end to hear that. in the beginning of may, perry asked me to headline the solar powered stage for this year's lollapalooza and of course I was much honored to do that also. the thing about all this though was that all three of these things were going to come on me back to back, strung all together. I knew it was doable - especially if I managed it right but the retard parts in my head kept kvetching over the fuck-up potentials involved. since last year too, I had planned on going to dublin for bloomsday (the day james joyce's "ulysses" takes place: june 16, 1904) cuz it was the centenary and I don't know if I'll able to make the next one and since that book was such a mindblow on me as a younger man (I even wrote minutemen songs about it then) and still looms large in watt consciousness, I just had to go. three other stooges gigs came to be though - a week before that and one of them in dublin (the other two in glasgow, scotland and derby, england). what I'm trying to say here is watt was shipbound even more than usual and this had some weight on the mind to bear. you might not want to hear it but let me make it public record now that I've been housing fucking herpes bugs for twenty years (maybe too much information but I don't give a fuck - I hate them and want everyone to know that) and those motherfuckers only break out when I'm stressed. well, they were making a mess out of me the last couple of weeks. please don't get me wrong - all these events I consider righteous opportunities and I don't mean to sound like I'm complaining, just trying to describe my state of mind when this little tour started. I knew kira would be strong enough though to keep us afloat so it wasn't so much a feeling of hopelessness or being overwhelmed as it was just worry-warting it to death. the scotland-england-ireland stooges gigs went down great. the bloomsday trip was wild - I hoofed those same streets bloom and dedalus did - my irish friends anto and nez enlightened me to no end and I even saw art raymond pettibon did for the celebration at the royal hibernian academy. so those things went down w/out a hitch and turned out righteous. then the day before yesterday I got word that lollapalooza tour got scissored which made me so sad for perry cuz I know how hard he was working on all that - it broke my heart. that means just this little dos and then right after w/the stooges but does that calm my twittering whatever? fuck no, I'm a mess.

will power and even more, the momentum of being a minutemen, pushes me on despite al this and melinda gets me to lax just in time to see kira in line w/her bass for the baggage check in. we're flying first to denver and then up to winnipeg. I konk within moments of getting in my seat and buckling in on the plane but seeing how kira got assinged a place in the row behind me, she would've been spared of yammering on my part anyway. on the flight from denver to winnipeg, she wasn't lucky that way and had me sitting next to her but was still spared the verbal bath by me again konking immediately but I had to endure "snoring that made the plane shudder" (her words). sorry, k.

we're standing in line for passport check when I suddenly realize this is the first time I'm going to play in canada and I don't have a work permit - what the fuck?! I don't know why I didn't think of this before but it kind of freaks me out. luckily though, the immigration people say there's all kinds of folks coming to play this jazz festival and it's ok for us. hard to believe, hard to understand but I'm grateful - very much so - none the less. you come to be a guest in someone's land, you should understand the rules. I have to say the canadian neighbors have been very hospitable the twenty-something years I've come to play up here. that's what kind of scared me cuz I just want to do right for them and make it good. I always have my work permits when I do my own tours. cuz of all the busyness, I had kira work w/these festival people and she's not so familiar w/those things. she knows now though. we're both glad the border people were accommodating. same w/the minister's permit I needed but was held up at the consulate. they had a copy of my petition though and ok'd it there on the spot so if I hear how people think canada is fucked up w/how they are w/visitors, I got a different story for them.

this lady named wendy from the festival comes to pick us up. wow, it's gray and rainy - end of june, huh? windy too. we gotta wait a little bit cuz there's two more cats coming. only a little bit of time and they get in the vehicle w/us. one's kenny brown and the other's cedric burnside and they're from mississippi. not too cold there now (in fact, hot and sweaty) so cedrick doesn't even have a jacket - oh man, his first plan is to get one quick! both these guys are really nice and easy to talk to so we get on real good. I can dig that. they're part of that blues thing w/the fat possum records and all. it's neat hearing about where they've been and done. we get to the ho - one downtown called the fairmont that's got something going on like a convention cuz there's all these old folks everywhere - pretty trippy.

we get taken to the venue after a little bit, the west end cultural center which was an old portuguese church 'pert-near a hundred years old. kira's got a plastic bag she's been puking in and has to give it a few more on fill-ups on the way. she suffers from headaches that make her get like this though she's had success staving them off w/changes to her diet, like cutting out dairy and other stuff that she's discovered she's allergic to. I feel bad for her and try to take her mind off of it on our way to the venue. only one amp's there though so we wait 'till the other amp comes - I got a eden nemesis 4x10 combo and kira's using a fender bsr 400 through and eden d410 and they're both adequate, no prob. what's good for us too is this cat ben who's doing the sound and has it much together (he's a bass player too!). denny, a cat who regularly works at the cultural center here takes us to get chowed at some pad called the pyramid where we see cedric and kenny again. we chow these bbq meatballs, corn on the cob, salad, somosas, and rice. good stuff and it helps much w/her gut but less w/her head-pounds but talk w/these fellow players helps distract that misery. cedric is a younger man though not a kid but tells us music is what he wants to do. he's intrigued to hear about tours that take you out a long time - his longest has been only three weeks. both him and kenny have a great vibe about music and I dig hearing about it from them. sure wish me and kira weren't playing at the same time as them so we could check their show out. damn. we finish chowing, say bye and then get taken back to the venue by this pyramid pad's owner. turns out this is the guy who promoted an infamous winnipeg black flag show way back when kira was on bass for them. life is too much.

tonight's the first gig for my little gibson eb-3 bass w/its new pickup - a zbs/bartolini 440 one. the dressing room's downstairs and kira puts on an outfit while I lay down on a couch. kira says I was soon snoring. in fact, she said folks were coming down and were kind of worried, like was I going to ever get up or what? well, yes I do - this is usually the program on my own tours - konk in the boat at soundcheck and then let my guys have me pop right before showtime, straight out of sleepytown. I'm used to it. the way the lights are, I can't really see into the crowd at all when we start our set w/one she wrote years ago for her two nephews - music she made to go behind stories from books she would read and record to cassette tapes for them to konk by - "the rabbit and the porcupine," an instrumental. of all our songs, a little more than half are wordless w/kira singing the rest. she likes alternating both kinds when she makes up the set list though here we follow up w/another instrumental, "om om om," which is one I wrote for li'l pit (my standup bass band w/thalia). I'm kind of surprised to get through these and the next two, "little doll" (no, not the stooges one but kira's) and "funk one" w/out a clam cuz it's hard as hell for me to keep my focus. I have no idea why but it's way frustrating on me. I watch kira to try and keep a grip. it's probably funny as hell to watch dos cuz of the contrast. since I play lots way high up on the neck and also do a lot of notes, I'm sitting on top of my amp. kira, on the other hand, isn't and is quite animated - bouncing and hopping all over the place. she's quite entertaining and busts me up which helps take away for the scariness that threatens to overwhelm me - yeah, even after 'pert-near nineteen years together as a band! I blow some clams in selena's "no queda mas" but they're more "clams of omission" where I fuck up and leave out small parts rather than honking on some sour-ass notes so it's not as bad. I get it back together for "dream of san pedro" but stumble some (but not too bad) in bessie smith's "down in the dumps." the folks here are very nice to us and give big claps after each tune but our style is to jump right into the next one so it might seem a little confusing to them - maybe they're wondering if it's all one big song? calmness now for billie holdiay's "willow weep for me" but in my own "powerful hankerin'," I play the wrong voicings for the chords in the gentle middle part. again, not sour-ass but damn if I ain't feeling stupid as hell. I so much don't want to let kira down. some of these insturmentals kira wrote have only numbers for titles like the next one, "number seven" and besides that, there from the old days so it's hard for me to remember how they go. to help me, kira puts the first chord next to these ones that give me trouble but it's in light pencil and I can't read the "e maj" she's written. I whisper that over to her and she goes "more rules!?" she says that when I have a suggestion I bring up right in the middle of a gig! stupid watt. "angel face is the devil's daughter" comes next and I do ok there but in "number five," an instrumental that follows, I blow it big time - not only w/weak playing but skipping over a whole section. kira's on her toes though and adjusts accordingly, she's always impressed me w/being able to do that - no auto pilot w/her. thank you, k. man, I feel like a chump but I get through "make her me" and my "intense song for madonna to sing" (there's a version of this w/nels cline on my "ball-hog or tugboat" album) before a little slop in "till the blood ran" and some real screw ups w/some chord order in "song for poe." we do another billie song, "don't explain" and at least I end this first set on a good note. whew.

I really hate doing two sets, no matter what band I'm playing w/but that's the orders we got so I'm not going to moan. I meet a cat named kelly downstairs during our break and he takes my mind off the intense self-examination thing I got going in my head a little. thanks kelly. I let kira know how silly I feel for the clammage and she tells me not to get too down about it, that it's from lack of konk maybe. we begin w/"formal introduction" and follow that w/"only you will know" (another one I wrote for li'l pit) and I've got my sound dialed in a little better - seems things dulled up a little between sound check and folks coming in (no shit, captain acoustics). another take on "down in the dumps" and then into kira's "frantic" which has her leaping while "sidemouse advice" has her on her toes and playing right in front of me. she has such a happening stage presence - I love it. this tune and the next one, "heartbeat" I wrote both w/watt solos in mind and so yeah, they both got those. actually, I don't solo that much in dos - kira has many more than I do. we do "ping-pong" off each other a lot but it's not really a "one on rhythm, one on lead" kind of band and that's something we've both tried to keep it. her tune "joy" is one where she wrote both bass parts besides the words she sings and I have to say this is one I've never learned to play good enough, it's hard for me. I don't know why either. there's a gliss she has me do that I foul up 'pert-near every time. fuck. to show you it doesn't take me doing her songs to be lame, I screw up the end section to my own "winds of may" - whoops. she rides w/me though and makes it sound like what we end up doing is how it goes... that's showbiz! thank you kira. "number six," an old one of kira's, follows and my part's kind of blurry - there's no hiding in dos so that's not happening. aaarrrrgggghh. better w/take two of "angel face..." and then kira's latest numbered instrumental, "number nine." little clams from watt in "I worry, my son" and "imagine that" and then we finish "forever" from our first record. there's a part near the end where kira stops to let me improvise something but it stumbles about - I admit I'm a little embarrassed. maybe that's why kira runs off to drink some water right when we finish! she probably was thirsty but man, if there was a ever a time I needed her close it was right then. the crowd though are very nice to us and I'm grateful to these folks of winnipeg. there's some guys who want to talk about stooges and minutemen so I tell them what I can but I'm also kind of anxious to go hide! I know I shouldn't be so over-sensitive but it's something I've always had trouble w/and just can't seem to shake it. I want to say though that kira did really good, she was great.

this nice man terry and his son sean give us a ride back to the ho and I set myself on the deck pretty quick cuz damn if I ain't a worn-out sack of shit. it's seconds rather than minutes when konk yanks and grabs me.



friday, june 25, 2004 - winnipeg, mb, canada

pop at the crack and soak up good in the tub. I do feel better and am determined to play better as well for tonight. kira calls me at 7:30 am and we go outside to hoof - gray and rainy still. we're right downtown at main and portage and to get across the streets here, they got underground walkways. a trip down the stairs though reveals to us a whole gang of chow pads and shops - we eat up some breakfast and I pour down more coff to get me un-blurred. I'm not used to the weakness of what seems like a take on the english idea of what they squeeze from the bean here. we go back upstairs and hoof around downtown winnipeg.

not a huge downtown but some nice older stuff. there's a masonic lodge from a hundred years ago that's had a turn at trying to be taqueria but by the papers taped in the windows, notifying whoever that everything inside is to be removed and sold by the building's owner, whoops. I take shots all over w/the little minolta dimage camera and we hoof for a few hours, through the old chinatown and all about. I haven't walked around and talked w/kira in quite a long time so it's nice for me. she's quite an interesting lady and is never boring or caught up in small talk. she's a good listener too. we get back and I practice bass so I do better tonight - I also go over the stones version of the beatle's "I wanna be your man" and chart it out for ron - iggy wants the stooges to cover this. a simple tune but tricky for me cuz of the nuances and it takes me some discipline. I get a call and it's nicole from albuquerque - she has me and my band's konk at her pad when we play her town the last few tours. it so happens she's up here w/some friends to go to some gig north of town in clear lake but she missed our show last night cuz of border hold-ups and now they gotta bail which is lame for her cuz she really wanted to meet kira. gary, a friend of chris (the promoter), calls next and offers to take me and kira around to chow and see some sights. he takes us to eat india chow and it's quite a shovel: buffet trough style. I wish there was a pad in pedro that cooked india chow cuz man, is it good. they got it where kira's lives though and she knows much more about it. gary brings us down to this place called the fork and it's where the red river (the main one that flows through winnipeg) meets up w/the assiniboine one. there's a huge park and a nice walkway along the river that we hoof on. the drizzle has let up and the sun's even starting to break through. feels more like july is coming next week now. he brings us next to the promoter chris' office and I pick up the box of "spiels of a minuteman" books chapu sent me from montreal. I wish I had these last night so I could sling some but so it goes... gary takes us to this record store called "into the music" which has tons of good stuff and the boss there buys some. this is a book of lyrics I wrote for the minutemen plus a little diary of a black flag/minutemen tour we did in feb/mar of 1983. it's got all the art raymond pettibon did for our record covers back then plus some essays by joe carducci, richard meltzer and thurston moore too. even trippier is for every page of english, the facing page has a quebecois translation as well. across the street diagonally is the plug in art gallery, the venue for our gig tonight. we check it out - it's in an old building w/maltese crosses on it - former hospitalers maybe? gary doesn't know what I'm talking about - me and my arcana. he takes us to his pad and on the way he gets some pickerel (what we call walleye) and some jack (what we call northern pike) to q up for dinner. this reminds me of last week when I got the strangest package in the mail. I had just loaned the mission of burma guys a bass amp for a west coast tour they were doing and their bass cat, clint, sent me this from boston. imagine the heart attack I got when I opened up the box and found it had ice packs and sea weed w/two living maine lobsters in it! well, I didn't know they were alive 'till I grabbed one and it tried to crawl on me - whoa! I never had cooked one of these before but had a go at it. even though it tasted fresh, I was all weirded-out in a way cuz damn, I just boilled it alive! I was kind of too freaked out to cook and chow the second one so I called my friend nanny come and take it. she said it spooked her too to cook it up but did it cuz it'd probably die in our ocean (the lobsters in the pacific aren't the big clawed ones like back east). anyway, gary has us hang out in his backyard while he got things ready. I chimped diary but after an hour, I had to bolt back inside cuz I was chowed up big time by the mosquitos and bugs out there. new tastes for those cats, huh? he has a big book of gustave dore's drawings inspried by dante's "commedia" and we talk about that around the supper table while we chow the jack and pickerel, along w/a righteous salad (it had pine nuts!) and canadian asparagus and potatoes his wife cooked up. really, really good chow. the asparagus is different than the cali kind - longer stems and smaller tops. still, really good. gary gives me a cd of this early 80s punk band called personality crisis and we head over to the venue for soundcheck.

the weather's turned really good now - cali like - and that's happening. me and kira both have eden amps tonight - her, the traveler 400 and me, the worldtour 800 while we're both using a eden 410 cab each for speakers. the sound cat is named brendan and he gets the sound together. we're eq-up pretty tight cuz this is an art gallery and feels kind of prone to some boominess. kira was kind of casual last night but she's wearing some fancier outfits tonight. she's got one for each set (again, it's a two set gig and also like last night, there's no opening act). this cat has the "minuteflag" record for us to sign - a trippy ep us minutemen and black flag improvised together while they were recording "loose nut" one afternoon back in 1984. I sure wish the minutemen or even fIREHOSE would've played central/western canada (besides just vancouver) but 'till the secondmen did calgary and edmonton last october and about six or seven summers ago w/nels cline in winnipeg at this outdoor folks festival have been my only gigs out this way. there's just so many miles involved though if you figure the u.s. in too and that's why I haven't tried harder to get out here. I really do want to more and more though. it's so great me and kira were invited up to do this, truly.

we do pretty much the same two sets as last night except for a couple of switching around tunes in the second one and this time keeping the break between the two much shorter. again, like last night, the winnipeg peeps are very kind and kira plays/sings her brains out, she's amazing. different than last night though is my playing, I do much better and clam it up much less which makes me feel a lot better. I wish I could hop around w/kira while we play, maybe I should try that. it looks so fun! she has no fear and plays right in their faces. she then turns around and will play right in front of me, she's intense! damn, I get so afraid, I can barely look up and out to the crowd... what a scardy-cat. there's a really funny thing that happened the second time we played the selena tune: kira came up and said I played it too fast the first time but I couldn't exactly understand her so she started making like fake talking I used to remember seeing what talk show host johnny carson would do w/his guest a a commercial was coming on (someone once told me you just move your mouth like your saying "peas and carrots," over and over again and it looks like your making sentences and paragraphs w/distinct words!) and this busted everyone up. they were quite attentive too - kira said it was better than last night in one way cuz there was some idiot trying to make fun of her in the second set of that show. I was so caught up in my own indecipherable tower of clammage that I didn't even notice. he's lucky kira didn't take her bass off and run out there and sock him up. I dug last night's crowd though and dug this one too. the only lame thing about last night was watt! I'm so glad I did better tonight. I give kira a lot of the credit, she's a strong inspiration and great colleague. and what a generous audience to work the gig for tonight - these cats snapped up all but a couple of my books and lots of good words to us after - much respect to them. the gallery boss even gave me a trippy carlos zefiro book, "in balck and white" - grazie mille. kira wore a different outfit for each set - one was an old tuxedo shirt (a fancy one w/frills that's so oversized for her, it works as a dress) and the other this dress I got her years ago in florida that looks like something a charachter in a japanese anime thing would wear - it's even got japanese letters on it. kira has fun w/clothes.

gary says kenny and cedric are playing at the windsor hotel so we ask if we can see a couple of songs. we can't stay long cuz the flight to saskatoon is early tomorrow morning - we gotta check out at seven. we get into the pad and man, is cedric kicking it up on the drums - he's great! kenny too, a righteous slide player who's also got a neat finger picking technique where he doesn't use a pick. they are a great duo - no bass either! both me and kira are very impressed and lit up good by their music too. I wish we could've stayed for the whole thing but at least we got to see some and we got right next to the port side of the stage and let them know we were there.

we get back to the ho and again, I'm out like a switch got pulled: everything went black.



saturday, june 26, 2004 - saskatoon, sk, canada

a pop w/a call from kira - we gotta head out at seven am for the flight for saskatoon in neighboring saskatchewan (which along w/manitoba here and alberta to its west, make up the "prairie provinces" of canada). this is gonna be my first time up this way. there was a bill under my door for $11.40 (cnd) but I didn't use anything, hmm... I hate being a piss and moaner so I just kind of mention it at the desk when I'm checking it out and the lady takes it off, thank you. nobody's in the transpo room (the jazz festival had room 2002 set up for organizing rides) so we just take a taxi to the airport, maybe fifteen minutes away. we got a 737 and kira's in the row in front of me and the cat nextdoor is supersized and all over me... ugh, glad the flight's like eighty minutes. there's an hour time difference so it's 9:15 am when we land. a saskatoon jazz festival van is here to pick us up and this nice man takes us on the "scenic" route into town, along the south saskatchewan river. the weather is righteous - way bright and sunny, reminding me a little of cali but w/very clean air. these prairie towns are farming deals mainly so there's not a lot of factories and yet no valley bowls to hold tons of pesticide smog in like the san jacquine one back in my state. it's a trip, dropping down under the clouds when you come into these pads - flat as you can imagine, planar big time. it's interesting how the earth has all these different ways for us to make homes and livings in. what's kind of trippy too is talking to folks out in these parts which is so full of farming and finding out they don't realize california is so huge in agriculture as it is. all that hollywood imagery, I guess but you drive between l.a. and s.f. and you tell me what's going by the window: farms, massive.

anyway, here we are - early in town and they check us into a hundred year old town hotel called the senator, right downtown and close to the river. kira wants to see the town by foot so we hoof. it's great - I haven't spent this much time w/kira in years and I dig the hours we spend just rapping and checking things out. big wide streets but not a sprawling metropolis for sure. we cover 'pert-near the whole downtown. they got a farmer's market going w/all kinds of fresh stuff just grown, big rhubarbs, parsnips, cherries, wild honey, and even some habanero jelly. we stop at a drugstore to get something for these mosquito bites I got in winnipeg in gary's backyard cuz they are making me really really crazy. fuck! I know scratching only makes them worse so kira finds this stuff called "after bite" that's mostly ammonia and mink oil. I gotta get my discipline thing on and resist the clawin'... reminds me of being a boy in navy housing where we'd crawl through these sewer tunnels and I got the most intense athelete's feet going - had cracks in my feet looking like the canals on mars, just lined w/microscopic fungus and driving me fucking crazy - I'd rub a fucking lego brick on them fast enough to make them bleed w/relief only being during the frenzied scratching - right after would be horrible pain. we chow at vietnamese pad, we've seen a few of them on our trek and kira picks one called the ding dong cafe where I have some "vietnamese spicy soup." good chow. we tell the lady there about little saigon in orange county and she said she's heard of it. we go back to the ho and she rests while I chimp diary.

in the afternoon, we watch this latin band outside by the river called something energia (sorry I can't remember) playing salsas, sambas, merengas and mambos, wild. righteous weather and the town has come out to celebrate it. we go to the river and see a guy being towed by a speed boat and doing a water version of snow boarding but using the boat's wake to help him fly through the air. he wipes out a bunch of times - it looks hard. comes time for soundcheck and we're taken across the river to where the gig's at, a bar that serves mexican food called amigos. I have a chipotle salad which is really a sandwich (chicken salad) and a real salad w/it that has sundried tomato dressing. I've really been getting into sundried tomatoes - love them. even though my mother's people were italian, we never chowed these much and I'm a newcomer to them. kira has fajitas. she's taught herself spanish really well - she keeps sharp on it by listening to lakers en espanol on the radio, watching espanol soap operas and reading - she's got a book on this trip by octavio paz. she is an amazing lady. we soundcheck w/soundman sean - it's funny that they got us bass amp heads but marshall 4x12 speaker cabs - one each. one of the bass heads is a marshall one but like I said, a bass one. the other's an ampeg. they'll work - we'll use direct boxes too. I do an interview w/a young man named chris who asks me some intersting stuff. I meet the booker guy brant who said ed fROMOHIO just came through, playing guitar and trumpet w/southern culture on the skids. that's good to hear - edward told me that a few months ago, I knows he's been roadying for them a number of years.

outside the pad, I meet the festival boss, kevin. both him and chris in winnipeg are great cats for having me and kira aboard, truly. it's gig time and I see kira up on stage, waiting for me. damn, that was stupid of me - almost like I was making her feel abandoned or something, especially after windbagging for an hour w/that interview. this trip isn't about just watt - it's about dos. I feel like an idiot. she's in good spirits nevertheless and we start again w/"the rabbit and the porcupine" (funny, kira found chocolate hedgehogs that looked like porcupines in the chocolate shop next to the ho but held off cuz she got a chocolate puck-like chunk in another chocolate shop next to the vietnamese pad we chowed at). besides the fingerless gloves she likes to wear (she's got different kinds) kira's got a neat outfit w/a black thin sweater-type of top and shorts that looks like kullocks but she corrects me on that later. good thing they kind of are cuz this cat's taking pictures of her from on low, right up on her. I let this guy (his name was shane) use my little dimage cam to take shots too. he's funny. we do "make her me" next, one kira wrote using my sister melinda's lyrics. I fucked up the beginning by counting of four instead of three though I could've sworn it was three. false start - we get it on the second try. I'm squeaking on the frets a little - trying to get my nerve. a kira instrumental is next, "funk one." man, there's a harsh tone on the upper mids of these speakers... I wonder how it sounds out in the house? kira's "little doll" follows and it's her first song she's singing tonight. she's been singing all these songs great this tiny tour. next is where I made changes to the set this afternoon. kira has fun w/me regarding "the rules" - what she calls my opinions of where songs might sound good together in the set. anyway, we play my instrumental from our second record "numero dos"), "heartbeat" - it's one I later did a version of for my wrestling record "ball-hog or tugboat" w/richie west and tiffany anders (I wrote words for that version though). I get my nerve up and do ok, kira cheering me on when my solo comes on. then we slow it down a bit (for it's intro anyway) w/"om om om" - kira has a long run w/this one while I'm in little rhythmic loops. I discover I fucked up by pounding on the new zbs pickup too hard and smashed it down. what I got to do is put some heavy foam under it to absorb the blows I freak out and deliver at times. this happened the first night too and ben helped me out w/a little screwdriver cuz it was during soundcheck. here we're in the middle of a set so I can't have us stop so I switch to the old pickup setup and use mostly the bridge one. I'm kind of distracted but kira carries a lot of this tune even though it has no words. "down in the dumps" does and she' grabbing on the mic and be all assertvie - I love it and am so proud of her. I must look ridiculous in this fucking chair but I just want to play good for her and also have her be the tallest. next is actually the first song I wrote for "ball-hog or tugboat," one I wrote on request for some possible movie soundtrack, "sidemouse advice." I made a part for flea to play trumpet on and later I had kira do that part for our dos version. selena's "no me queda mas" calms things down - I play it at the right speed for once and ok, seems I'm maybe not as good as last night but better than the first one (weird trying to compare that shit anyway). a song I wrote for fIREHOSE's last album (using raymond pettibon lyrics) follows and damn if I play one of the chords I choked on the first night wrong again but just once. kira puts great energy into this tune, much stage antics which cracks me up to no end - I love it and we're getting a better spirit going in the set. I'm playing way back on the strings, 'pert-near right on the bridge almost to compensate for tone. this amp dinks out some when I push the bass so I gotta keep it kind of round still w/using the fat of my finger on the strings. I use my thumb too to thump the next ones, "angel face is the devil's daughter," a song randy stadola wrote for his band the zarkons which was called the alley cats for many years. calmness again w/one I wrote for verse nine of james joyce's "chamber music" poem - there was this compilation put together last year that was a musical interpretation of that. no joyce words here though (like I did on that version w/jim o'rourke and steve shelley) but great counterpoint from kira's bass. next are two wordless ones, the first is the latest numbered instrumental, "number nine," from the record we're working on now followed by "intense song for madonna" and then the soft ballad "don't explain" from billie holiday. I'm glad I got it together and focused instead of letting things get out of hand w/the rough spots at first. I bet if I did more gigs w/kira, I might be able to match her skills. then again... what I need to do now that we've stopped is fix that pickup so I ask sean for the right tool (I gotta carry these things w/me!) and luckily, he delivers. I ask him if we're ok w/the sound level on stage and he says, "you should see how much your audience needs." that's a trippy answer! I guess we'll keep it as it is.

before I can fix my bass, all these guys come up to my on the stage and want to get the last of my books so I sling 'em to them. very kind words from all of them, quite dear. I get my pickup squared away and kira tells me she's having trouble w/her pinky of the hand that frets the neck. she's a champ though and will soldier on - I have yet to see kira back off on a challenge she's been faced w/ever and that's always been so inspiring to me. we start the second set off w/"formal introduction," another of the batch of songs I turned from dos instrumentals into fIREHOSE tunes, using pettibon words - whoa, how many fIREHOSE ones came to be like that? a kira one, from our "justamente tres" album on kill rock stars follows that. next is our adaptation of tune written by her brother and michelle bell for twisted roots called "'till the blood ran." my sound's much better w/the new pickup back in action. we do "dream of san pedro" which later I wrote words for and changed it's title to "drove up from pedro" for my wrestling record ("ball-hog or tugboat"). kira has some great leaps and dramatics, playing this tune 'pert-near equalling for me in my chair as for the folks in the crowd! we slow things down w/"willow weep for me" and follow it w/another of her "numbered" instrumentals, "number five" which I finally get a handle on all the parts though it's still a stumblebum sort of a ride on my part. sorry, k. she sings/plays "joy" next, which has one of the harder parts she's written for me to pull off, there's a gliss I have to do that always been tough and it comes up at the end off each line in the chorus - aahh. after that's a tune from her "story tapes" days, a version of this appeared on the split seven inch called "the revolution of everyday life" where we played behind poet denis mooney reading from his spiel. no words the way play it now but yet again I mix up the chords in a couple of parts. I sort of redeem of myself w/kira's intense instrumental that's part of the batch we're recording for our next record,"frantic" (we just donated an mp3 of this for the talkbass.com benefit comp) and do my best take on one from "numero dos" called "I worry, my son," where kira wrote a tune using a guy named joe's words about his boy. two insturmentals after this, "number six" and "only you will know" and then the home stretch w/a ernest tubb tune patsy cline made famous, "imagin that" (released one one side w/"intense song for madonna" on the other as a seven inch on thurston moore's esctatic peace label called "the bob lawton ep" like ten years ago) and then the tinytour's last tune, "forever" - from our first record but like lots of dos, I used again by combining it w/one I wrote for the minutemen's "double nickels on the dime," called "one reporter's opinion" which I still play these days w/my rock trios as "forever/one reporter's opinion" (I know, clever title). the part where kira lays out to let me have at it is probably my best of the three I do here in canada, even getting a little of the stooges' "fun house" riff in anticipation of meeting up w/those cats in germany tomorrow. much niceness from the folks when we finish - we're invited to a few parties and stuff but it's late and kira's got her flight early in the morning tomorrow so we thank everyone and take our leave back across the river and to the senator. big hugs to kira from me for her playing so good on these dates. I couldn't be more proud or honored to share a stage, truly. all these years of dos and it's still a fun and challenging band to be in - no wonder it's the longest running one I've ever been in. buenos noches, compadre bonita.



sunday, june 27, 2004 - saskatoon, sk, canada

I pop at six and after a bit, ring kira up so we can go chow together one more time on this trip - it's back to so cal for her and berlin for me so I can start a euro stooges tour. the sun's up bright as where we live but during november and december cuz in summer, cuz now it's mostly in its "june gloom" phase, which brings a gray marine layer at sunrise. the older gentleman at the desk (kind of sourass, maybe groggy?) directs us to "olympia," a greek chow pad we passed on our walks and seemingly the only place open now downtown on a sunday morning. kira chows french toast and I get some eggs w/the kind of sausages you'd get in england (more like smaller hot dogs than our u.s. kind). we talk about our last three days and agree it was a great tinytour for us and voice big thanks again for chris frayer and kevin tobin for bring us up north to share what we have in dos. also, we talk about how nice and open the gig-goers all were too, much respect from us to everyone. a hoof back to the senator and then goodbye hugs - safe skies to you, k and thank you so so so much.







---

---