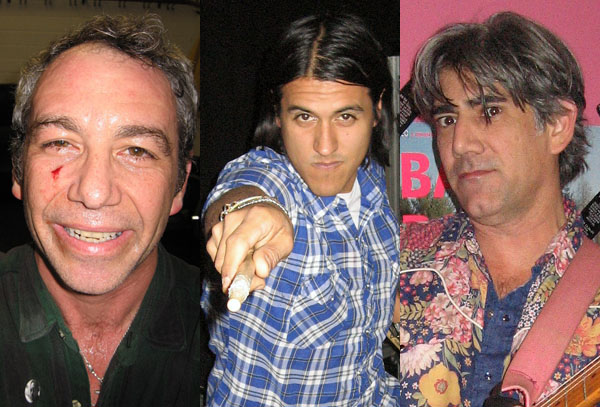 tom watson - guitar + some singing
raul morales - drums
mike watt - bass + spiel
(right to left, photos by watt in 2006)





tom watson bio by tom watson - august, 2006

my first guitar was a christmas gift when i was five years old. it was red and yellow plastic with a battery powered, suction-cup amplifier. i played along to beatles records and emulated the sounds they made on paperback writer and revolution. the guitar was always the sound i connected with, even more so with the who, creedence clearwater and jimi hendrix. by the 70's i had moved from new york city to the beach in L.A. and i got a real electric guitar and small practice amp. i unscrewed the amp speaker and put foil between the speaker and grill to try to get the distorted sound i was searching for. as i got more into music and turned on to the bands my older brother was listening to i had my first true influence from prog and glam rock. i was struck mostly by the guitar playing of roxy music's phil manzanera and king crimson's robert fripp. the flood gates opened and just about everything came in. the more obscure musics like kraut rock and psychedelic along with electronic and jazz seemed to have equal effects on me. as i continued to play i found inspiration in the guitar playing of television, captain beefheart and neil young before stumbling across wire, gang of four and the fall. later on, the more conceptually based avant-pop music of the red krayola and others had a big influence on me.

in high school i played in a few different contexts. one with keyboardist (and future slovenly member) tim plowman as a duet, doing free-form prog type instrumental music. i also teamed up with rob holzman (future saccharine trust/slovenly drummer) who played pots and pans before he had an actual drumset. finally, i helped organize a "real" band with local pro surfer denis jarvis singing, rob holzman on drums and marc vidal (soon to become earl liberty of saccharine trust and circle jerks) on bass to play cover songs and originals at parties at the beach.

at some point during 1978 i met up with steve anderson and scott ziegler, two guys from my high school who were trying to start a punk band and needed a bass player. i said i'd give it a shot. with my childhood friend bruce losson on drums we became toxic shock. steve sang and scott played guitar and we wrote all our own songs which was cool with me. we hooked up with other bands that were beginning to play around at that time in our suburban beach towns like the desendents, the disposals and red cross and played punk rock parties until we got our first big break; we got to open for the minutemen and saccharine trust at capones in san pedro, a real show. from that point we got tacked onto other gigs in that area like the star theater and in east L.A. at the vex and began to play with bands from outside the beach cities. we got our second break when we were asked to record a song for the compilataion "keats rides a harley" that the urinals were putting together. it put us next to some cool bands of that time like the human hands, meat puppets and the gun club and helped to put us into a certain community of music.

after high school i went to holland for one year to study electronic music at the university of utrecht. it was an academic program in composition and the production and recording of electro-acoustic music and has had a big effect on the music i made from that point on. while i was there i had the chance to work with the minimal music composer richard lerman, and recorded my first record in one of his ensembles entitled "travelon gamelon" that was released on folkways records in 1981.

after returning to los angeles in 1982 i picked up where i left off in toxic shock. though, at this point our music began to expand and we decided to push the ideas beyond the simplistic punk that toxic shock did. i was also getting ichy to play the guitar again and so in a kind of spontaneous transition we added tim plowman on organ and synth and scott and i started switching off on guitar and the music got far more ambitious. we changed our name to slovenly peter and played some wierd shows in hollywood and finally after adding rob holzman on drums we became slovenly. this line up would last for ten years and record eight records.

early on slovenly found some kinship with the minutemen and played to a more receptive audience opening for them. they had just started new alliance records and asked us to do a record for it. we did two ep's and an lp in 1984-5 and continued with the gigs around town, sometimes playing with black flag. the next year we made the transition to sst records and did four lp's over the course of five years, playing shows and touring occasionally through the end of the 80's. after a few years with slovenly in san francisco, i returned to L.A. and played around in various bands and improv groups until i reformed with scott and rob as overpass. we did one record for new alliance and one on smells like records, as well as one song on a minutemen compilation, and toured twice though the u.s..

through working in and around L.A. art galleries in the early 90's i was able to cross paths with one of my heros, the red krayola's mayo thompson. on the first night we met i had the gall to ask if he would produce the 2nd overpass record "manhattan (beach)". he agreed, and from there i began to record and perform in the newly regrouped version of the red krayola. this started in 1993 and has continued relatively consistently to the present. we have recorded about ten records together for drag city records and have toured together about that many times as well. the band has had several member variations including jim o'rourke, john mcentire, david grubbs, george hurley and albert oehlen, but i have remained a regular within it since my first involvement. at present it has become a major part of my musical output.*

in between red krayola records and tours i recorded a solo project entitled "country and watson". it was recorded and produced with jim o'rourke and mayo thompson and includes guest guitar by bob mothersbaugh. it was originally released in 2000 on leiterwagon records (germany), but has been made available domesticaly on theologian records.

in the beginning of 2000 i was asked by longtime friend and local bass legend mike watt to play in a group he wanted to tour with doing some favorite cover tunes and older originals of his as a sort of retrospective and homage to the music that had inspired us. this was called mike watt and the pair of pliers and included vince meghrouni on drums. we had a couple wailing tours but never officially recorded anything. a year or so later it was repeated with a change of tunes and a different drummer, jerry trebotic, called mike watt and the jom and terry show. this group toured extensibly but also never recorded. the missingmen with raul on drums will be the third colaboration between watt and i.

in 1999 i formed my own group, the best of all, with erik bluhm, sandy yang and heather cantrell. we started out playing my songs from the "country and watson" record and have since developed new group written tunes. we play local gigs in the L.A. area and we have recorded one full length cd of music but have yet to finalize it's release.

*the current line up of the red krayola is: mayo thompson, stephen prina, john mcentire, noel kuppersmith, charlie abel and myself, and sometimes includes david grubbs, allen ravenstine, sandy yang and elisa randazzo. in 2006 we have been performing shows in support of our latest release "introduction" on drag city records. our new ep "red gold" will come out this fall (2006), and we will be returning to japan for our fourth tour there this october.




raul morales bio by raul morales - august, 2006

Second try.... glad i saved it. Hope it works for ya.

Switched from the bass to the drums in 97' i think. Started the lifted with tony cook, and sean cole from f.y.p. in that same year. Played random parties, and some bay gigs, and some demos.. no further. The lifted never really broke up, but livin' and playin' with cole led me to take his place in f.y.p. The band pretty much ended when stoots left us, but after things calmed, todd wanted the band back, and nobody else but sean could fill the bass position, so that left me for the drums, and also to me joining my first touring band. Had done one tour when i was seventeen, playin' the bass, but that shit's way far back. During all this, the leeches had also started, even a little further back, so actually that's the first band i played drums for... whatever. It ties in with the leeches staring at the punk record store that todd opened in pedro, and that's what brought me that situation... of f.y.p. and leeches. Did about five or six tours with f.y.p. and one canadian nightmare tour. Recorded once in 99' which came to be a split with japans chaniwa, and a full length that just came out on recess just last month... better late than never. While touring with f.y.p. i was introduced to tons of different folks in bands, two of my favorites being the grumpies from starkville, mississippi, and civic minded five from vegas. I ended up playing in both for a short while. Did two u.s tours, one west coast tour, and a Canadian tour with the grumpies, and one west coaster with the civic minded five. During that time as well, we started the jag offs the all pedro band that was ours from the ground up. From that came, two national tour, one west coast tour, and a split 12' with the four letter words out also on recess. After jagoffs split, kevin from the words, and me wanted to start another band. So That's where killer dreamer comes in, Started at the end of 2002. Same three pedro dudes as the jags, but with kevin on guitar. That's taken us on a couple month tours, thru the states to brooklyn, all down the east coast, thru the south etc. you know, you helped start the circuit. With that band we've got a single called survival guns on kapow records, and also a full length on the same label. Workin' on a second full length that will most likely be put out by us on our own label. Fillin' in, and being in those bands is what led me to you, i remember you shakin' my hand hand and tellin' me good job bassey when i was sixteen. It seems you saw in me the ability and want to tour and try at playin' music, regardless. That was in the beginning of 04. Playing with you took me on the road for three months that same year with pete mazich on keyboard, and to europe for the first time the year after that with paul roessler from the screamers on keyboards. After gettin' back from europe with you, i yet again jump in to fill the position for another m.i.a. drummer. Started playin with drinkers purgatory, just as fill in, to do the shows they had already booked. About a third of a year passes, and they're still drummerless, so i start back up with em', i think around the time you heard us butchering rudimentary peni covers at 13th st. That so far, has led to just recording a hand full of songs for a split release with shark pants from tucson. It'll come out at the beginning of next year, here in the states on small pool records, and a punk label in japan. As it stands now, we're gonna go try and support it in japan for ten days sometime in feb of 07. At that time i'll also be playin' tunes with you and tom watson, gettin' ready to tour the states, and hopefully some canadian gigs, then coming home and doing a missingmen record.

I know, kind of a mess. Hope you can get something out of it. If it's not what your lookin' for let me know, if it is, cool. It just seemed easier for me to spit it out like that, like i was talkin to you... ya know. If a list is what you want, i can do that too, i'm sure it can be tough to make some sense of my run on, no sentence structure. Hope it's not nightmarish.




for mike watt bio please click here

from mike watt about the missingmen:

I put the missingmen together in the late summer of 2006 in order to help realize my third opera "hyphenated-man" and my choice of tom watson and raul morales was very deliberate: tom watson on guitar comes from my older days - he knew d boon and we put out the first records by slovenly which was a band he was in. since I was gonna use some parallels to my work from my minutemen days, I wanted someone aboard w/a link from those "older days," a cat who was there and was vital - someone who still is. I actually have toured w/tom in the late 90s/early 00s w/my bands mike watt + the pair of pliers and mike watt + the jom & terry show but those bands had no piece to focus on except for gigs and tours. raul morales is a pedro guy I met via vinny vegas at a gig at a pad on fourth street here in town near gaffey, a scene (I learned they called it "porch-core") that developed in my pedro town in the 90s I had no idea of cuz I was touring so much so I picked him for drums cuz he was a link to the "newer days" and dug how he played. like w/tom, I actually played w/raul before the missingmen - him helping me w/some mike watt + the secondmen (a band I put together in 2002 to help realize my second opera "the secondman's middle stand") tours where original drummerman jerry trebotic couldn't be a part. the first mike watt + the missingmen tour was the "parallel universes" a few months after getting together.

I chose the name "missingmen" for tom and raul cuz a couple of years earlier I was helping keith schieron and tim irwin w/their "we jam econo" doc on the minutemen and to prepare myself for the interviews, I started listening to minutemen music again which after d boon passing away was very difficult for me. I really started missing this kind of music and wanted somehow to do it again but make it relevant for me in the present day. that's where I got the idea for the "hyphenated-man" libretto - I would write lyrics dealing w/myself as middle-aged punk rocker which is something the minutemen never dealt w/really: middle-age. I figured this would keep things from being just a stroll down memory lane or some regurgitation kind of lame thing. tom and raul would help me w/the music I felt I was missing and by that I mean the forms and stuff - not the content. I didn't see them as replacements for d boon or georgie who are both irreplaceable. instead I wrote "hyphenated-man" w/both tom and raul in mind even though musically in some ways I was looking back at my days as a minutemen. another big difference was writing the whole piece on one of d boon's telecasters cuz in minutemen days I wrote very few tunes on guitar, I mainly composed on bass - it's still like that w/me. writing for the missingmen using guitar makes this proj pretty unique for me and tom watson should get much respect for interpreting my stumblebum guitar playing, he's amazing, truly.

we did five tours of "hyphenated-man" from 2010 to 2015 and even though tom and raul big time successfully realized the mission (record it and then play it for people), I didn't wanna stop playing w/them now that it was time to move on so I started writing new material for a brand new missingmen album of their own, stuff written for them to play and not focused on a piece like the original goal (to realize "hyphenated-man") of the band. in the meantime we've been doing revivals of tunes I wrote for the minutemen thirty-plus years ago... some we're never recorded or even played live by the minutemen but for it's interesting looking back on my journey through music how these early works of mine shaped my direction. it's also a good "palate cleanser" to get us ready for this next album I do w/the missingmen. I love playing w/tom and raul.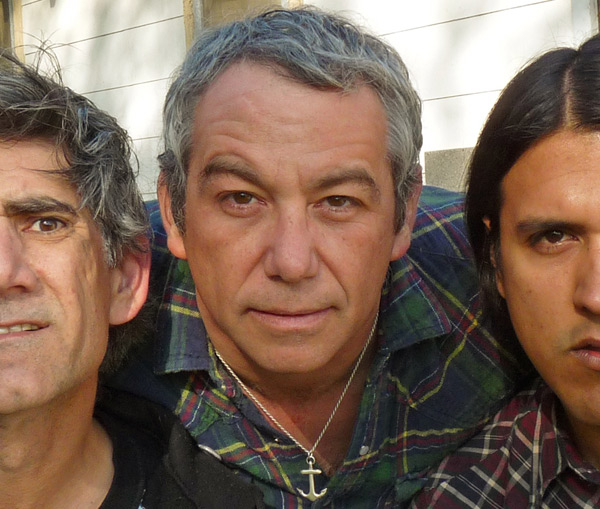 click here for hires version of this shot of mike watt + the missingmen
on march 16, 2009. photo by mike watt using autotimer

---
---