15 march 97
watt's getting his next record together, a punk rock opera taking place in the engine room of a ship. gonna record it march/april, looking at a august '97 release on columbia records and a tour to follow. as for who's riding along, essential brother nels cline (nels cline trio, the geraldine fibbers, bloc, etc.) will be on guitar and stephen hodges (tom waits, lotus eaters, james harmon band, etc.) will be on drums. it's back to the power troika for me. I think I will call this band purr, man. I'm calling the record 'contemplating the engine room'. it's got me real excited. kira even wrote a song for it called "bilge pump".



5 may 97
the recording has begun! tape started rolling on cinco de mayo w/bobby seifert manning the knobs at front page recorders in burbank, ca. biff vincent, the man running the pad has been essential - digging him heavily. let's watt sleep on the deck there cuz of the hell-rides to pedro being too long when the hour's getting late - what a brother. george tseng has been assisting. many, many thanks.
looks like the release date is now more like ocotober 7, 1997 so roll w/that flow - I am. both hodge and nels are kicking up dust so let watt tell you he's a lucky man. here's some shots from the first day of recording: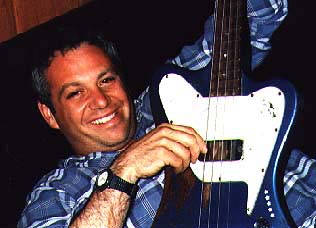 mike watt
just glad to be there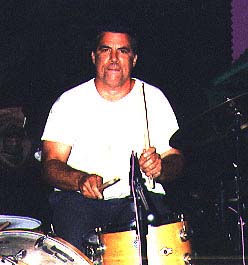 stephen hodges
stickman w/a beat in his hand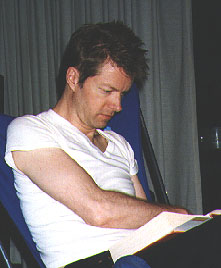 nels cline
boning up on this session's required reading:
"the sand pebbles" by richard mckenna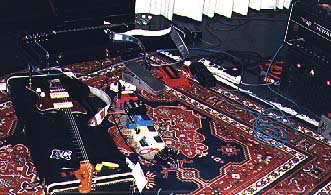 nels' "pedal dachau"
his arsenal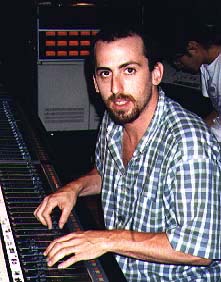 bobby seifert
the brother at the knobs. turned watt on to sage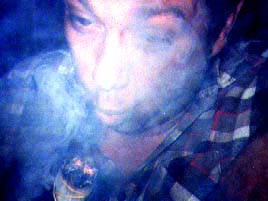 mike watt
stoking up a sage wand for purification
("breathe it down to your toes" bobby says)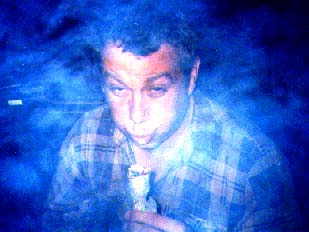 watt
stoking up even more sage!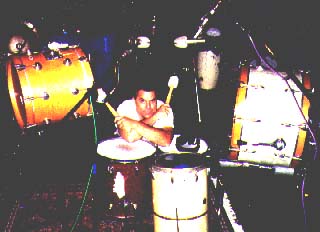 stephen hodges
his set-up for "no one says old man"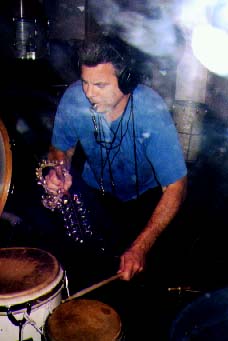 stephen hodges
doing an overdub for "liberty calls"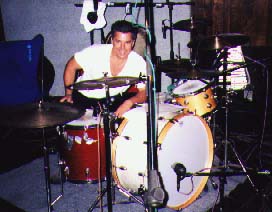 stephen hodges
getting ready to give it his best shot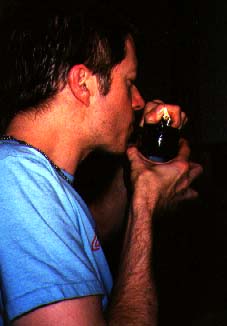 nels cline
getting ready to give it his best shot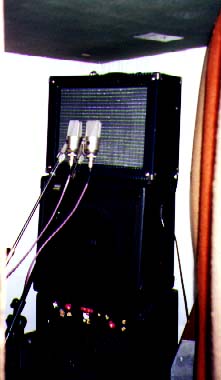 nels' little amp house
built by bobby to house nels' mighty sound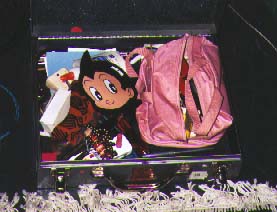 nels' accessory case
yet more props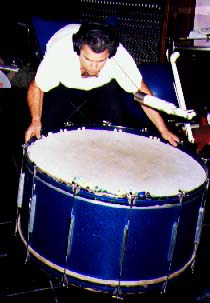 stephen hodges
making rain sounds w/kick drum and marbles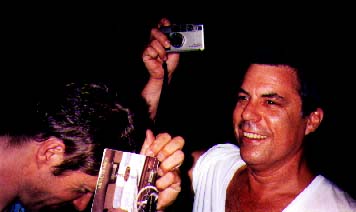 nels cline and stephen hodges (left to right)
note nels holding a cd of "double nickels on the dime"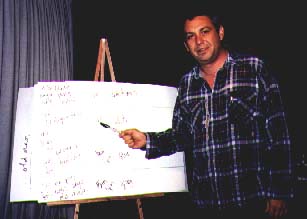 mike watt
at the storyboad easel. this kept the opera on track
(each song had a time of day and a color associated w/it)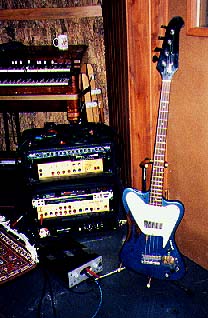 the bass, amp and direct box used by watt
'68 thunderbird, eden wt-800 (the one on the bottom) and an avalon d.i.
(the eden vt-40 on top wasn't used, the same for the organ)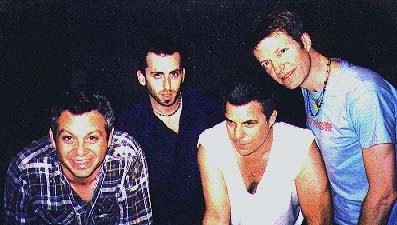 mike watt, bobby seifet, stephen hodges, nels cline
(left to right)
the engine room team



28 may 97
half-way done (all the tracking nailed) - now just spiel and mix. had to switch pads due to technology and shit. we're now at aire l.a. in glendale. both luis pacheco-lopez and ralph are assisting bobby and watt in this last, critical stage of the process. this town is right next to burbank so it's still a hell-ride for watt. well, maybe five miles shorter. gotta give big thanks to greg barrett there for kicking it up for watt to make a go and reach at it.
here's the tunage by title:


"in the engine room"

"red bluff"

"the bluejackets' manual"

"pedro bound!"

"the boilerman"

"black gang coffee"

"topsiders"

"no one says old man (to the old man)"

"fireman hurley"

"liberty calls!"

"in the bunk room / navy wife"

"breaking the choke hold"

"crossing the equator"

"wrapped around the screw"

"shore duty"




(by the way, the tune "bilge pump" is missing cuz kira wrote a song about a machine and in this punk rock opera there are only characters representing people not machines. the characters operate or "play" the machines besides also living aboard them. for that reason, "bilge pump" has now become a dos song and "in the bunk room / navy wife" has taken it's place)
click here for the complete lyrics to "contemplating the engine room"




22 july 97
I've changed my mind. I'm gonna call the band mike watt and the black gang crew in honor of engine room folk - the black gang is boat talk for engine room crew. purr, man will wait for another incarnation. although nels cline kicked up major dust doing the guitar while recording w/me and hodges, he will not be able to tour due to his commitments w/ the geraldine fibbers. taking his place will be righteous man joe baiza (mecolodiacs, universal congress of..., saccharine trust, etc.) on guitar. joe will join me and hodges on the "sticking the head out the hatch" tour '97 which takes place october 7 thru november 23, 1997.
---
---
this page created 15 mar 97