second time to get my third opera "hyphenated-man" (by the way, tina clarke just wrote an essay on the piece here) on over to europe w/my missingmen which is tom watson (on guitar) plus raul morales (on drums) and play it for folks who didn't get a chance before - actually it's a repeat visit w/the piece for only four of the towns on this tour. having already toured it in japan in 2010 and twice in the u.s. during 2011 (along w/canada) and 2012, this is our fifth time we sally forth to work this for people so you can imagine w/know our way around this piece more than we ever have but at the same time it feels real fresh cuz it's been a year and a half since we toured it and also looking forward to bringing it to lots of towns the missingmen have never been before, very happening and most exciting for us! this tour is kind of in two parts: we begin on the continent, it'll be our first voyage w/tourboss macario who has put us together w/both guess what and l'oeillere to make for what looks to be a wild-ass travelling circus. after we say au revoir to them and then cross the channel, we'll share the stage w/local cats in scotland and england for part two. ganbaro!

-> read the tour diary <-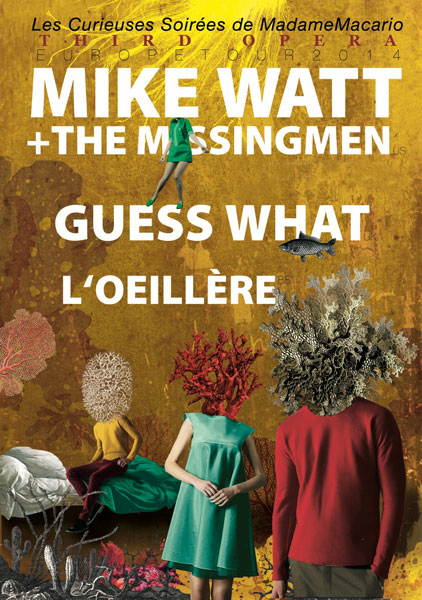 mike watt + the missingmen

"third opera europe tour 2014"


thursday, february 20 in paris, france at fgo barbara

friday, february 21 in roubaix, france at a.r.a.

saturday, february 22 in brugge, belgium at snuffel

sunday, february 23 in honfleur, france at le batolune

monday, february 24 in brest, france at cabaret vauban

tuesday, february 25 in lannion, france at le pixie

wednesday, february 26 in saint-nazaire, france at vip (mezzanine)

thursday, february 27 in tours, france at le temps machine

friday, february 28 in cholet, france at jardin de verre

saturday, march 1 in angouleme, france at la nef

sunday, march 2 in pau, france at localypso

monday, march 3 in san sebastian, spain at mogambo

tuesday, march 4 in la coruna, spain at casa tomada

wednesday, march 5 in pontevedra, spain at liceo mutante

thursday, march 6 in vila real, portugal at club de vila real

friday, march 7 in lisbon, portugal at zdb

saturday, march 8 in madrid, spain at moby dick

sunday, march 9 in tarragona, spain at el cau

monday, march 10 in barcelona, spain at upload barcelona

tuesday, march 11 in perpignan, france at l'ubu

wednesday, march 12 in toulouse, france at les pavillons sauvages

thursday, march 13 in marseille, france at u.percut

friday, march 14 in saint-etienne, france at la gueule noire

saturday, march 15 in bellecombe-en-bauge, france at salle des fetes

sunday, march 16 in luzern, switzerland at industriestrasse

monday, march 17 in bologna, italy at freakout club

tuesday, march 18 in rijeka, croatia at the beertija

wednesday, march 19 in fucecchio, italy at la limonaia

thursday, march 20 in milan, italy at leoncavallo

friday, march 21 in ljubljana, slovenia at menza pri koritu

saturday, march 22 in zagreb, croatia at klub mochvara

sunday, march 23 in belgrade, serbia at gun club

monday, march 24 in skopje, macedonia at mkc

tuesday, march 25 in sofia, bulgaria at maze

wednesday, march 26 in plovdiv, bulgaria at stage 51

thursday, march 27 in bucharest, romania at control

friday, march 28 in timisoara, romania at daos club

saturday, march 29 in cluj-napoca, romania at flying circus

sunday, march 30 in vienna, austria at arena

monday, march 31 in linz, austria at kapu

tuesday, april 1 in innsbruck, austria at pmk

wednesday, april 2 in winterthur, switzerland at kraftfeld

thursday, april 3 in lyon, france at la triperie

friday, april 4 in royere de vassiviere, france at l'atelier

saturday, april 5 in orleans, france at l'astrolabe

wednesday, april 9 in brighton, england at the green door store

thursday, april 10 in exeter, england at the cavern

friday, april 11 in bristol, england at the fleece

saturday, april 12 in leicester, england at the cookie jar

sunday, april 13 in manchester, england at the ruby lounge

monday, april 14 in edinburgh, scotland at sneaky pete's

tuesday, april 15 in glasgow, scotland at broadcast

wednesday, april 16 in leeds, england at the brudenell social club

thursday, april 17 in sheffield, england at the harley

friday, april 18 in southampton, england at the joiners

saturday, april 19 in london, england at the lexington

---

click here for mike watt bio stuff

click here for 300 dpi promotional picture for tour
photo credit: mike watt (I used auto-timer!)

click here for 300 dpi other promotional picture for tour
taken by vernon zaborowski that tom watson likes

click here for some of what's being written about watt and "hyphenated-man"

---
---