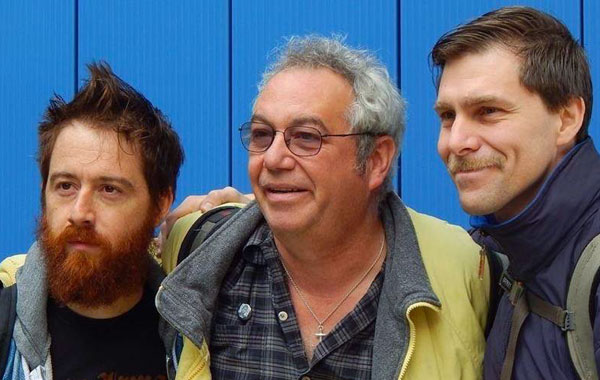 the story of il sogno del marinaio (which in italian means "the sailor's dream") began w/an idea from guitarman stefano pilia... in the fall of 2009 he had got an offer to play a festival in cesena (italy) and thought it might be interesting for him and his drummerman friend andrea belfi to bring aboard bassman mike watt and create a new trio for the gig. this led to a mini-tour which in turn resulted in them recording their debut album to bring aboard "la busta gialla" during three days in the middle of it. cuz of all the band members being parts of other bands and projs, the release of this album was put off 'til all three had free time which ended up being our euro tour 2013 which was the first full-on sally-forth for the band.

we learned from that experience that maybe it's good to get the record out kind right after you make it and of course tour it as the dust is clearing just after it drops. that's why we decided to record our second album "canto secondo" and then followed up after its release two weeks later w/a fiftyone gigs in fiftyone days u.s. tour. that was in the fall of 2014 and we had a good time (you can read the diary here) but damn if we ain't ever played this stuff in europe and hence the main reason for this tour: we'd like to play all the songs from "canto secondo" for folks in europe, especially cuz of the fact that two-thirds of the group are europeans!

booking this tour is ricky over at swamp so if any of you got any ideas for him redgarding il sogno del marinaio and this tour, please reach out to him here.


il sogno del marinaio

"canto secondo tour 2016"


wednesday, september 28 in utrecht, netherlands at dB's

thursday, september 29 in antwerp, belgium at het boss

friday, september 30 in charleroi, belgium at vecteur

saturday, october 1 in eeklo, belgium at n9

sunday, october 2 in sheffield, england at the lescar

monday, october 3 in worcester, england at the marrs bar

tuesday, october 4 in glasgow, scotland at mono

wednesday, october 5 in newcastle, england at the cluny

thursday, october 6 in southampton, england at the joiners

friday, october 7 in london, england at o2 academy 2 islington

saturday, october 8 in paris, france at espace b

sunday, october 9 in toulon, france at midi festival toulon

monday, october 10 in barcelona, spain at sidecar factory club

tuesday, october 11 in perpignan, france at el pati de l'ecole lavoisier

wednesday, october 12 in geneva, switzerland at l'usine

thursday, october 13 in winterthur, switzerland at kraftfeld

friday, october 14 in torino, italy at magazzino sul po

saturday, october 15 in bologna, italy at freakout club

sunday, october 16 in mestre, italy at spazio aereo

monday, october 17 in trieste, italy at tetris

tuesday, october 18 in rijeka, croatia at the beertija

wednesday, october 19 in zagreb, croatia at klub mochvara

thursday, october 20 in linz, austria at kapu

friday, october 21 in vienna, austria at fluc

saturday, october 22 in krakow, poland at alchemia

sunday, october 23 in prague, czech republic at klub famu

monday, october 24 in berlin, germany at monarch

tuesday, october 25 in leipzig, germany at cammerspiele

wednesday, october 26 in hamburg, germany at hafenklang

thursday, october 27 in münster, germany at gleis 22

friday, october 28 in cologne, germany at king georg

saturday, october 29 in rotterdam, netherlands at worm






click here for 300 dpi promotional picture for tour
photo credit: hiyori minato



click here for size a4 tour flyer - please print up and let everybody know!

---
---