from mike baggetta regarding this "aki tour 2023" by mssv:

"Boy am I happy to be getting back on the road with mssv real soon this fall! The more I get to make my music with Stephen Hodges and Mike Watt the more this band really feels like home to me where I can try anything. We have a brand new record coming out on BIG EGO Records, my friend Chris Schlarb's label, called 'Human Reaction' on Sept. 1 so we're hitting the trail starting Sept. 5 to bring the music out to you all for about 2 months time around the US and a couple spots in Canada even too, whoa!


If you came to one of our shows last year on the Haru 2022 tour you heard some of the new music from this upcoming record being worked out on the road every night. By the time we got back to Long Beach to make the record right after that tour the music was in a place that I could have never imagined it getting to when I was coming up with those ideas. The advantage of getting to do music with Hodge and Watt really shows in their dedication to making the songs better every night any way they can with me and I really am forever grateful to them for that, truly!

We'll be working out a new set of songs on this Aki Tour 2023 to be recorded right after we get back again, as well as playing the music from the 'Human Reaction' album and a few pieces from our first album 'Main Steam Stop Valve' too. And of course we'll have some surprises planned for you along the way. I think the new music we're working on shows a lot of interesting new ways of thinking about how music can be... writing song ideas in different ways for different people, thinking about rhythm and connection and words and music all aiding and abetting in the moment, trying to make music that can help... I'm happy to have this opportunity again and I can't wait to see you all out there on The Road!"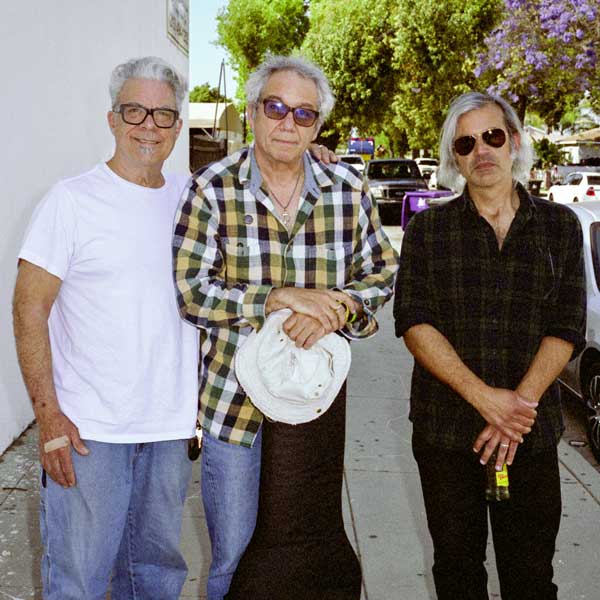 stephen hodges, mike watt + mike baggetta (left to right)
click here for 300dpi hires version of this may 2, 2022 photo by devin o'brien

"aki tour 2023"


tue, sep 5 at the sardine
1101 s pacific av
san pedro, ca

wed, sep 6 at narducci's
622 e 21st st
bakersfield, ca

thu, sep 7 at the golden bull
412 14th st
oakland, ca

fri, sep 8 at old ironsides
1901 10th st
sacramento, ca

sat, sep 9 at the sound lounge
225 se h st
grants pass, or

sun, sep 10 at turn! turn! turn!
8 ne killingsworth st
portland, or

mon, sep 11 at the royal room
5000 rainier av s
seattle, wa

tue, sep 12 at bruno's cavern
126 s redwood hwy (oregon 199)
cave junction, or

wed, sep 13 at winters tavern
843 w 19th st
pacifica, ca

thu, sep 14 at the raconteur room
5840 traffic wy
atascadero, ca

fri, sep 15 at the pour house
1903 s coast highway
oceanside, ca

sat, sep 16 at the wayfarer
843 w 19th st
costa mesa, ca

wed, sep 20 at the firehouse outpost
65430 winters rd
joshua tree, ca

thu, sep 21 at the griffin
511 fremont st
las vegas, nv

fri, sep 22 at the orpheum theater
15 w aspen av
flagstaff, az

sat, sep 23 at sister
407 central av nw
albuquerque, nm

sun, sep 24 at the golden light cantina
2906 sw 6th av
amarillo, tx

mon, sep 25 at three links
2704 elm st
dallas, tx

tue, sep 26 at 89th street
8911 n western
oklahoma city, ok

wed, sep 27 at the minibar
3810 broadway bl
kansas city, mo

thu, sep 28 at the reverb lounge
6121 military av
omaha, ne

fri, sep 29 at the raccoon motel
315 e 2nd st
davenport, ia

sat, sep 30 at the turf club
1601 university av w
saint paul, mn

sun, oct 1 at the high noon saloon
701 e washington av
madison, wi

mon, oct 2 at subterranean
2011 w north av
chicago, il

tue, oct 3 at the state street pub
243 n state av
indianapolis, in

wed, oct 4 at the spacebar
2590 n high st
columbus, oh

thu, oct 5 at small's
10339 conant
hamtramck, mi

fri, oct 6 at the spirit lodge
242 51st st
pittsburgh, pa

sat, oct 7 at the beachland tavern
15711 waterloo rd
cleveland, oh

sun, oct 8 at the horseshoe tavern
370 queen st w
toronto, canada

mon, oct 9 at bar le ritz pdb
179 jean talon ouest
montreal, canada

tue, oct 10 at mohawk place
47 e mohawk st
buffalo, ny

wed, oct 11 at angry mom records
115 the commons
ithaca, ny

thu, oct 12 at flywheel arts at...
fuckin tba
northampton, ma

fri, oct 13 at the middle east
472-480 massachusetts av
cambridge, ma

sat, oct 14 at solar myth
1131 s broad st
philadelphia, pa

sun, oct 15 at the mercury lounge
217 e houston st
new york city, ny

mon, oct 16 at the ottobar
2549 n howard st
baltimore, md

tue, oct 17 at the camel
1621 w broad st
richmond, va

wed, oct 18 at the grey eagle music hall
185 clingman av
asheville, nc

thu, oct 19 at the pilot light
106 e jackson av
knoxville, tn

fri, oct 20 at the new brookland tavern
122 state st w
west columbia, sc

sat, oct 21 at jack rabbits
1528 hendricks av
jacksonville, fl

sun, oct 22 at will's pub
1042 n mills av
orlando, fl

mon, oct 23 at the south florida registry of alternative music
2121 nw 139th st, bay #5
opa-locka, fl

tue, oct 24 at hooch & hive
1001 w cass st
tampa, fl

wed, oct 25 at the 926 bar & grill
926 w tharpe st
tallahassee, fl

thu, oct 26 at boggs social & supply
1310 white st sw
atlanta, ga

fri, oct 27 at the blue room at third man records
623 7th av s
nashville, tn

sat, oct 28 at voyager's rest at the crawdad hole
129 s main
water valley, ms

sun, oct 29 at saturn
200 41st st s
birmingham, al

mon, oct 30 at siberia
2227 st claude av
new orleans, la

tue, oct 31 at super happy fun land
3801 polk st
houston, tx

wed, nov 1 at saddle up
1309 rosewood av
austin, tx

thu, nov 2 at planet marfa
200 s abbot st
marfa, tx

fri, nov 3 at 191 toole
191 e toole
tucson, az

sat, nov 4 at zebulon
2478 fletcher dr
los angeles, ca


---
---