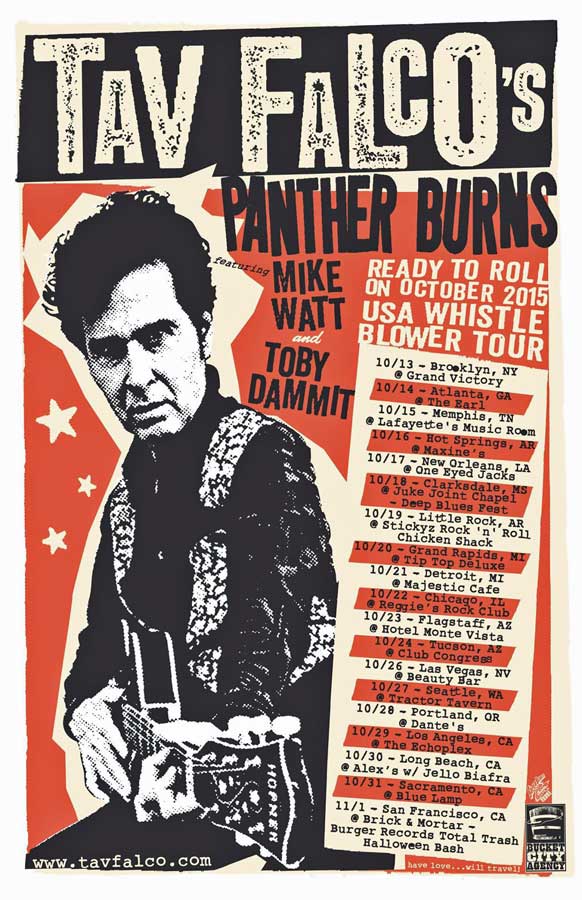 from the press release:

Equal parts primal, early rock'n'roll, deviant hill country blues & avant- garde art, Tav Falco's PANTHER BURNS are ramshackle, raw, and unholy - not just Music...but a state of mind. Tav Falco is one of the truly original and romantic forces in American music - the voice that America lost and found. He is tender and virile, flamboyant, witty and dangerous. Falco brings daggers back to the stage.

Known as the ditch-diggers in American music, our cabal is privileged to welcome MIKE WATT onstage on the WHISTLE BLOWER TOUR 2015. Having come under the spell of our new COMMAND PERFORMANCE album (Frenzi/Darla USA), Hi-Watt began to Tweet his impressions. Quickly we were discussing his participation on the US Tour, and beginning to forge a work in progress already hurled into the future.

First to jump aboard is TOBY DAMMIT whipping the skins - rhythm section partner of Mike Watt. Fresh off the boat from Rome, MARIO MONTEROSSO - producer of our new album, COMMAND PERFORMANCE - joins us on lead guitar while maestro FRANCESCO D'AGNOLO will be tickling the ivories.

The last steam engine train left on the track that don't do nothin' but run and blow. PANTHER BURNS are the ones who always hold out a hand to the enemy.



see the video for "he'll have to go"




tav falco's panther burns featuring mike watt & toby dammit

'whistle blower tour 2015'


tue, oct 13 in brooklyn, ny at the grand victory

wed, oct 14 in atlanta, ga at the earl

thu, oct 15 in memphis, tn at lafayette's music room

fri, oct 16 in hot springs, ar at maxine's

sat, oct 17 in new orleans, la at one eyed jacks

sun, oct 18 in clarksdale, ms at the juke joint chapel

mon, oct 19 in little rock, ar at sticky fingerz rock 'n' roll chicken shack

tue, oct 20 in grand rapids, mi at the tip top deluxe bar & grill

wed, oct 21 in detroit, mi at the majestic cafe

thu, oct 22 in chicago, il at reggie's rock club

fri, oct 23 in flagstaff, az at the hotel monte vista

sat, oct 24 in tucson, az at the club congress

mon, oct 26 in las vegas, nv at the beauty bar

tue, oct 27 in ballard, wa at the tractor tavern

wed, oct 28 in portland, or at dante's

thu, oct 29 in echo park, ca at the echoplex

fri, oct 30 in long beach, ca at alex's bar

sat, oct 31 in sacramento, ca at the blue lamp

sun, nov 1 in san francisco, ca at the brick & mortar music hall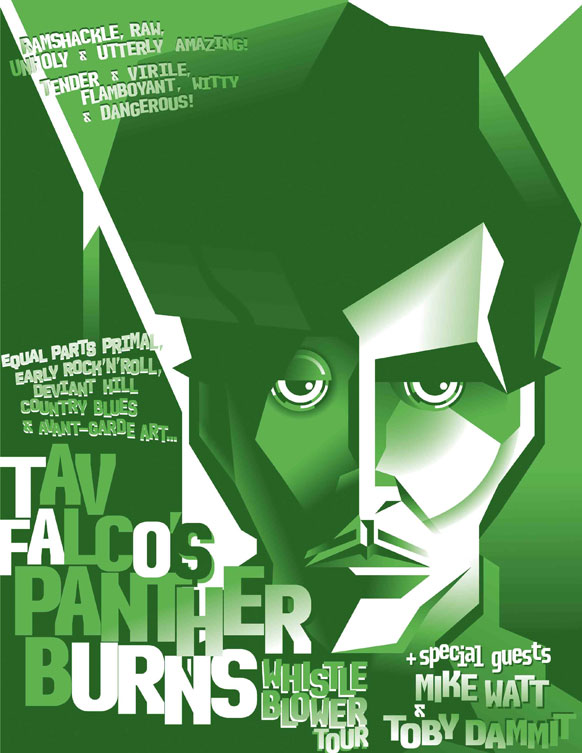 mike watt's tour diary


tuesday, october 13, 2015 - brooklyn, ny

saturday night I played w/my missingmen in quincy up which is in the california sierras like an hour and a half northwest of reno. this gig was booked months and months ago, way before mr tav falco was so kind to invite me on a u.s. tour w/the panther burns, a dream come true. understand tav falco has been a hero of mine since his "behind the magnolia curtain" album and I can't believe getting to do this, a total mindblow for me and I wanna do good for him. well, what I had to do was fly home sunday morning w/tom and raul and then a hour after getting to my pad in pedro have my buddy rudy take me back to the same 'port (lax) to fly to newark in new jersey so I could do one day of prac to ready us for the first gig of the tour the next day. crimony, what a juggle but damn if it didn't come together. 'pert-near didn't though cuz the airline up in reno (southwest airlines) had their 'puters go down. however, good shit prevailed and I made it to so cal. the nightmare news was we lost brother steve the night we did the quincy gig and damn if it was about ten pm saturday night when for an encore we were doing "big train" which I ain't done in a way long time but it was a request from a buddy eli who asked us to do this gig (a bicycle event for the company which makes bicycle helmets, giro) - the next day I got the news this is when brother steve got took from his. this hurt me hard. I got to serve 125 months w/him in the stooges and we became close, he was beautiful to me. I can't tell you how much time on tour we spent together, all of it incredible valuable to me and I will never forget him, always have him in my heart.

I can't write anymore about it, too sad for watt so to continue... my buddy rudy (we're both class of '76 from pedro high like d. boon and georgie) gets me at three pm and drops me off at lax to a united flight to newark which is new jersey but damn if that ain't the new york city area, right? now damn if I ain't wearing stuff I ain't before, like pointy leather shoes w/fucking heels, right? my buddy dirk (took the "double nickels on the dime" cover shot) let me wear them. tav asked for them, same w/the gianni uomo suit I got in long beach (east side of the harbor we share) last week. he also asked me to get a black shirt w/french cuffs - says he has cufflinks for me, whoa - never wore this kind of stuff before. did wear a thrift store kind-of pieces of stuff in the old days and then the last fIREHOSE tour w/a germs armband w/the butthole surfers. anyway, this stuff feels w/weird but anything for tav falco. I hope you understand how much I look up to this man and respect him big time, ever since hearing "behind the magnolia curtain" I've been way into him and cam to believe he had the true spirit of the movement I wanted to be part of. last spring w/my missingmen when we're in vienna (austria) on tour I got a message from him asking to do bass on a u.s. panther burns tour and it fucking blew my mind - like when I got to sit in front of ronnie and have him play "tv eye" when we were making music for that "velvet goldmine" movie or when ig called me about doing that first stooges reunited gig at coachella - total fucking mindblow I could scarcely believe. life is a trip, I gotta tell you... too intense for me to figure out so I just gotta give it all I got.

the united 737 took off at six and w/the three hours ahead difference it's two am when we land. I got some konk but... anyway, tav was kind enough to provide a car service to get me over to the prospect park part of brooklyn where a very kind man named jp is letting me and two other panther burns, the ones from italy, mario and francesco - both live in roma. now jp left me instructions only to the hatch so pert-near four am and hell if I'm gonna start opening hatches so I konk right there on the couch. very nice pad, very nice. so kind of jp. lots of his boy's art on the bulkheads, I konk deep and easy.

monday I pop at nine bells for our prac day. I meet mario and francesco, great cats - guitarman/music director and producer of tav falco's latest album"command performance" mario is fortythree and originally from sicilia, catania and francesco's all the way roman - he's keyboardman. they take me to a chowpad called "windsor cafe" where I only gotta hobble a few blocks and I chow a bacon/egg sandwich wich is good, I like. we gotta now take a train to manhattan and meet tav and drummerman larry (also known as toby dammit) in manhattan at sirius radio where tav's doing an interview w/meredith oates for the "road dog" show. first clam is mario leading us to the right train but going to coney island so I learn him and we get going right. then the train we need the way we gotta go is out of service so that slows up some... we end up thirtysix minutes late but we do make it in time to hear tav finish up the spiel (incredible way of putting things, this man has) and I bow deep to him, give larry a big hug. tav said a drummer was needed for this u.s. tour and asked for recommend and right out of my mouf via email was larry - I did last two years w/the stooges serving alongside him and he's the man for this job, truly.

the weather is just like my pedro town - righteous. the rest of the country gets a couple of weeks like this in the fall and the spring. actually, that's how I like to arrange my tours - pedro weather's everywhere even if it's for just a little bit. francesco needs keyboard stand. so we ain't far from "music row" or whatever it was called - where "manny's" was (a very regular stop for the minutemen) but damn if now fortyeight street full of nothing like that any more, everything musical closed. I know sam ash bought them out a long time ago but to move to thrityfourth street??!! man, are human's trendy. anyway, I said fuck it - I'll hobble and crimony, a workout big time for watt in these kutsu ('shoes' in jap) but I'm thinking here's one way of either breaking them or my ashi ('feet' in jap) - its a bunch of blocks when I realize I'm an idiota and forgot my digicamera at home... fuck, I can't be on tour w/out a camera so I stop at one of those fucking times square burnwards and get a cannon ixus one for way too much, cazzo! ah hell, what can I do? I pay for being so baka. I make my way to the sam ash pad and fuck if I ain't hurting a little but trying to not to show it.

we take trains back to brooklyn - I didn't bring my bass like a stunado so we gotta get it at jp's and everyone wants to chow so once in prospect park, I go there alone. I meet jp's boy and his buddy plus his ma and we have a good talk about lots of stuff including music, like "what can you recommend?" and what I tell them is to try to find the voice inside - just look at your thumb and see the unique part there, you're fucking born w/it! the hard part is getting it out, learning to collaborate w/others regarding that or take turns giving/taking directions OR maybe just man-alone... there's no one way and life is a journey in the making, a big part of it. these boys seem very smart and maybe they can make something of my stumblebum stutter slang-fuckedup talk. I think they're happening.

we take the train up to the williamsburg part of brooklyn and damn if getting up out the stairs from the subway ain't where I recorded my third opera "hyphenated-man" right here, studio g - crimony! life is sure trippy that way, huh? I don't know the name of the prac pad but jp procured it for us over on hope street and it's got what we need - the camera's battery ain't charged yet so I can't show you what it looks like but we just fit. there's one fan and that's good cuz we're in a basement w/out windows. it's scary now for watt, I wanna do good for this band, the best I can so we start doing the do, going through the tunes. tav runs a good prac - like ig, no time wasted and no filler, excellent focus. we go from five pm to one and a half in the morning. three bells when I make it back to jp's and I drink the big asahi beer I got on the way from the prac pad. damn if I ain't so tired that even though I know where the konk place is in the pad here, I go back to same couch I was on last night - oh yeah, trippy how I popped w/a blankie on me - I think jp draped on me, finding me sprawled only in chonies. I did not mean to be rude, I just grew up navy and don't give a fuck about that shit.

gig day and I popped at eleven bells, damn if I didn't need it. yeah, not so hungry - the music and the sitch has got me real excited and that's how I get. the weather's most happening again. the venue ain't too far from where we did prac, a pad called the grand victory and we get there after a stop at the prac pad to get the stuff the other guys in the band left there. five is when the venue opens and a nice man named andrew helps us w/everything, says the gig's "clean" - actually I say that cuz it's an old vaudeville word they had for no more tickets left: sold out. I go to a deli a couple blocks away to get a sandwich called "the italian" - why? I don't why... bullshit! it's got mortadella and provolone and vinegar, real good but me and mario/francesco have a good time laughing about why bologna is called mortadella and why it's pronounced so funny here.

the managerman sean is good people and so is soundman ken - I've worked w/him before at maxwell's in hoboken (now gone) and he's happy to be our sixth man tonight. they got an older fender cab w/two fifteens so I'm gonna use that w/my markbass "little mark tube" that I brought in the mansack - yeah, that w/seven pairs of chonies and a set of those dickies gray work pants/shirt is all I brought in there w/my shaving stuff. I meet jp finally, what a great cat. he is very kind to me, much respect - hell, he's already so much happening hospitality, crimony. we talk a bunch while larry sets up the kit he had made just for this tour, something to fit on the plane easier... eighteen inch kick! jp's filming this gig and the stuff before for a doc, tav's dance partner gina gets me to meet him in the head (no backstage here) to give me first a pair of norton (yeah, the motorcycle - he rides one) but damn they won't fit this shirt so he gives me a pair of his "bar" ones that do fit and they got a train motif. he also gives me a panther burns button, holy cow! jp then films the band doing an instrumental version of "sway" while tav and gina tango's - folks have already come in so it's our first public "performance" or whatever. I think I clammed some, goddamn me - I was so embarrassed. we get done and my old buddy steve shelley's here, been so long since I last seen him, big BIG hugs. same w/stooges roadboss eric and his wife christina, good GOOD people and I've missed them much too. whoa, lots of old friends - I gotta do my best for them, big time for tav.



opening up is a pottsville, pa band called gleason's drift and they kick it up, get the gig lit. these guys of course are part of the blind pigeon crew and I got much respect for their hustle. locals called d'nt that sure blow it out the hatch, whoa what a drummerman plus good singing and these bass that's a guitar that's a bass that's got eight or nine strings? it's a mindblow. happening to get to share the stage w/these cats. ok, now it's our turn... time to break the water...

I got all my cheat sheets on a stool next to me. oh, the bass I'm working is a new hofner china-made beatle bass I got for $270 and put flatwounds on it. I ain't played flatwounds since a teenager - wait a minute, last tour I did (the first cuz one) I did a session in leeds using flats on a pbass... anyway, it's new to me mostly. we got a panther burns banner behind us, whoa - to see that w/me up there... damn me for blowing fucking clams, damn me! I gotta play w/my glasses on to see the charts but damn, I'm sweating so heavy that I can barely see out them. i gotta tell you it's fucking total real o-mind (to borrow stooges slang) to be on a stage w/tav falco and being a part of his music w/him tonight, in this moment. thank god I got larry right there next to me - I'm behind tav's amp and stage left. we're doing all twentyfive tunes, it's over two hours 'til we're done - on a work night but even w/all the swelter and the chokes (my stool got used to hold waters and drinks, soaking my notes), I really can't believe I'm part of this, that I'm doing this - crimony! thank you thank you, everyone.

after I talk w/the gig-goers, they gave us much kindness. I talk w/my buddy jimbo for a while. the dj man paul has an incredible collection of old soul seven inches that's just beautiful and so is he. after I do an interview w/jp for the doc I go and talk w/dj man paul and damn if he wasn't there for the minutemen at danceteria w/the huskers and at the great gildersleeves w/black flag - he tells me he was a fifteen year old skinhead telling these cats to be still when they started yelling "amon duul" at us opening for black flag... I remember that gig also for one reason cuz allen ginsberg was there foaming on hank when they got done and he was like "thank you very much, sir, thank you" w/mr ginsberg going off w/stuff like "your writing, slathering body rippling and wet..." etc - it was surreal but it was good time. damn does the man paul know how to hook the most righteous jams and kick-outs w/the 60s soul power, fucking respect time! HUGE hugs for him.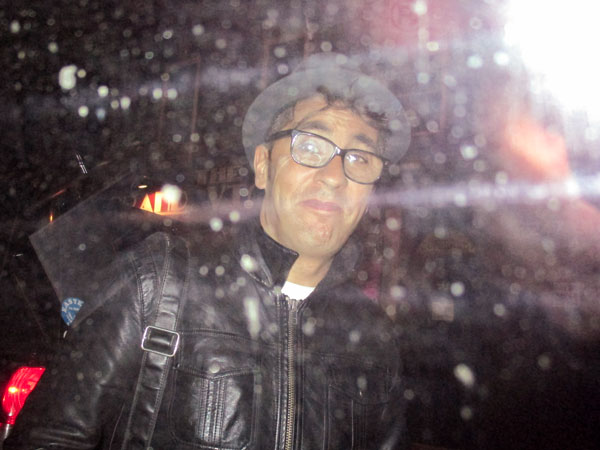 we close the pad cuz we ain't konking. what we're doing is waiting for some uber rides or whatever the fuck jive whatever will get us to laguardia airport in queens in time for our six am flight for atlanta. larry gets that whole kit in three cases - checks in two and still gets the little hardware carried on - must weigh twentyfive pounds or something but he did. same w/francesco and my mansack w/the shaving cream, crimony! I'm slow getting these pointy shoes off (it's fucking tough) and this person behind just shoves their stuff ahead like the rudest whatever and the excuse they was so fucking douche that I ain't even gonna chimp it here. my only reminder was "karma" and hell, everyone was weirded out (tsa people too) but it was so pathetic that this sourass will be the best reward/antidote when they finally brave enough to look themselves in the eye and try to feel good or even decent about what they just did. man, what a shame to see that example of how lame us humans can choose to be. it laughing time now or maybe better a lesson on how to never get.






wednesday, october 14, 2015

- atlanta, ga

it's a two hour flight and we land at eight but damn is this airport weird in the design department when it comes to heads in the baggage area - how far do you put them? and why are the carousels the way they are and I'm lost when separated from larry and then tav's gotta get gina on a plane home to detroit cuz of sickness that just came on her... we gotta take the shuttle to the 'tel but that's way the fuck out another hatch and then across the street... larry has a great idea to use a skycap to help us out and in one cart load he gets our shit out where it needs to be and stays w/us, making sure the shuttle comes. he's most cool and from new orleans, he knows zigaboo the meters drummerman! we get to the hampton inn (the right one, not the other one) around eleven but no rooms ready 'til like one pm so in the lounge we're at to pass time... when the room is ready, damn if I don't soak and apply much soap to the raw chaffed you know where I got cuz of how the fuck do I really know except it happened, whew. then I konk hard thankful of this room having a tub and not just a shaua for a hose down although that would've helped too cuz I'm hurting.

turns out tav's got a throat infection and he's gotta get medicine so when we rally at six, I mean seven - it's a mission to the k-roger pharmacy part to get him that and then on to the earl which is where we're playing tonight here in atlanta which is a pad I've played much, people treat real nice here always. it's eight and a half when we get in but we get to see some of the man who helped tav w/the medical stuff is peter who did lots of panther burns touring w/tav and is opening tonight's gig w/his wife blake as the twisty cats who are from savannah and involved w/dollhouse which is both a venue and a studio... damn if I ain't gonna be playing there next tour when I can, you know? count on it! next is a bassman named phillip's band omni which used to be called landline and they're really happening. chiming guitar w/great bass thumping from a musicmaster like I borrowed from kevin when I played the "free state festival" in lawrence this last summer - even had that little ledge above the e-string but phillip here got around that by thumping closer to the bridge - smart man... I figured it out further down the set, slow learner watt! drummerman had a good tight kick too.

whoa, larry's ma shirley's here, righteous! big BIG hugs. she brought me pumpkin bread, wow! respect! larry's brother bid's here too, first time I get to meet him - real good cat, solid. very honored to play for bother of them. will's here too, fellow bass brother and dear man - I konked at his pad last couple atlanta stops, 'pert-near a year ago I brought my fratelli in il sogno del marinaio and we had a good time.

speaking of italian guys, both of the ones in panther burns have ordered chow and we're supposed to go on soon - what?! I chowed an earl burger more than an hour ago which is still way too soon before playing but I don't understand these ethics, hmm... tav's sick and we gotta get him konked quick when we get done - he's even cut half the tunes off the list cuz he's feeling it bad. I try to force the issue by getting up on stage and just standing there but the svt the house here has provided... fuck, finally right before eleven they come on and we can't bring this gig. good vibe from the atlanta gig-goers still, a real good thing I'm grateful for. thank god we get this baby going, I don't want tav up here longer than he let rest help him up. we're having a good time soon enough, tav whups up a good spirit and the folks respond. the only think I don't dig is this big monitor shit between me and larry, it's just fucking lame I can't get right in there w/him and in in "in the garden of the medicis" I get lost, kind of - fuck. I should've thought of this earlier, I have only myself to blame. I gotta think more ahead. anyway, there's lots where I have a real good time - I can see larry's ma out there dancing, yeah! there's lots of grooving and moving - tav's music's real good w/that, real good. it really brings things out in me other stuff I've done maybe really ain't got to show - like a bunch of things watt's still gotta learn. damn if "whistle blower" for the finale ain't stronger than the backhand of karma though, crimony! I'll get it together...

gig over, larry's ma shirley gives me big hugs after his brother bid helps me off the stage, bass brother will also. I get the good word and much gladness from the atlanta gig-goers, HUGE respect to them. folks who let you try different stuff w/them w/their minds open is a very beautiful and generous thing. my old buddy jon kincaid talk about david thomas and the two unknown instructors album (here's one) I had great honor to be part of. one more hug for bass brother will, a last thanks to the good earl people and then I'm out and in the boat. last hugs w/larry's family shirley and bid, I talk some about cars w/him cuz that's what he's sells there in knoxville. two years younger than larry, he was a drummerman too, even went to the same school and stuff but instead of keepin' on w/drums after quitting college like larry, he gave up drums - ain't that a trip that maybe if they both kept being vols (staying at school drumming), they might've been in the same marching band together?! see, larry didn't know about bid (same w/bid about larry) 'til larry found his ma shirley a few years ago... I'm so happy for all of them, they're beautiful. big BIG love from watt for them!

back to the 'tel, I konk in same chamber as larry. we all got wet suit parts we gotta hang up everywhere - it's all we can do. I hose off and then konk pretty quick cuz I'm fucking beat. fuck, what is it, 'pert near two? damn.






thursday, october 15, 2015

- memphis, tn

pop a quarter after seven. we're supposed to pull anchor in a half hour so I get all my shit together and quick get down to the lobby to shovel some free slices of sausage link and shredded whatever-maybe-chees in scrambled eggs... I like a substantial breakfast and then a five or six pm chow - two meals a day is what watt usually does, it's good for his way. whoa... after eight now - what's up? I do a girly text on my leash to tav's:

"pull anchor?"

in a bit he comes and joins and thanks me for that cuz he says the medicine had him konked and that girly text I guess makes a sound on his leash when it comes and that got him popped. we pull anchor just before nine bells w/a sky full of righteous weather, mario at the wheel. we head towards memphis via birmingham on the I-20, ten bells we're in alabama and also across the eastern time zone into central and gain an hour so it's nine am now. that helps us, of course.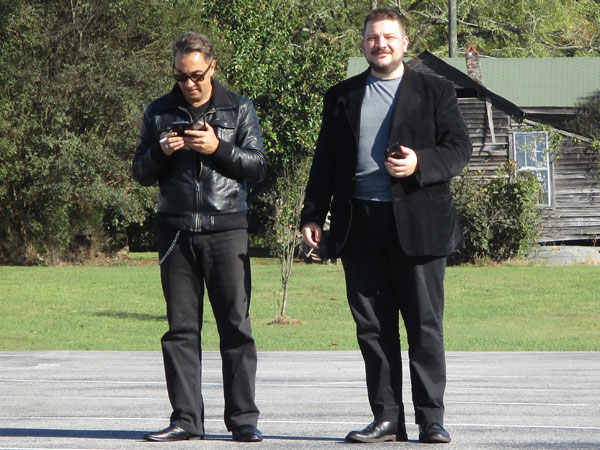 we bypass the hometown of sun ra - I tell tav about one time me and my best buddy raymond once saw him in nyc when there for his earliest art shows and damn if during a very righteous and trippy version of "somewhere over the rainbow" me and raymond all bourboned up ended up in a conga line w/mr ra, don't ask me how - it was fucking surreal but we had a real good time, a fucking happening memory that hugs me hard every time I recall it. at a eleven and a half we cross into mississippi and onto us-78, I-22's over and you can feel it. we get gas in fulton - trippy, this ford transit's got no gas cap - on purpose, designed that way! first time I seen that. I drove one of these last saturday/sunday up/back to/from quincy - kind of bumming on it seeing that this is what the replaced the econoline w/now that they scissored that (it's been a year and half now, fuck... after fiftythree fucking years) and well, whatever - that's how it goes.

over the border and into tennessee, we get into memphis twenty of two and tav shows us where he lived for fourteen years on cox street - I've learned lots about memphis from reading tav's book on this town and have been peppering him about all kinds of stuff regarding here. my only connection really before regarding this town (besides of course, working the room on the bass) was my dear friend doug rockett, a beautiful man who got took by diabetes way too young. of course there's west memphis - on the other side of the river in arkansas which ain't too far from earle which is where my pop's pop was from so there's a connect there too. trippy that tav's actually from arkansas also but southwest of little rock in a little town called gurdon - different part. trippy about geography and people, huh?

I got my shirt off cuz damn if this boat's got a thermometer that says outside is one hundred degrees fahrenheit - our italian brothers can't believe it. I myself think it's pretty unusual for middle of october but that's what it is. we switch ponies, my first time at the wheel but like I already chimped here in this diary, I rode one of these transits for the first time last week. this baby's got only three hundred miles and actually it handles better. still ain't an econoline though. fuck, I wish ford wouldn't quit making those... peckers. I get us first to a hardware store for some goop for guitarman mario's busted shoes - damn if we don't pass a pad now called "renaissance" but this was the antenna club in the old days and the first pad in memphis the minutemen ever played... damn, trippy going by here. I then get us to the 'tel we're konking at, a holiday inn express. we leave tav cuz of the sickness and him needing a shower, then head on over to where our gig is tonight, lafayette's music room - we get there about quarter of four and soundmen andrew and eric help us dock easy in the back and get set up.

mario goes and gets tav so we can head to wevl soon as we're done w/soundcheck (I get to use the house rig which is a markbass 2x10 combo on top of 1x15 which is way good enough). it's hard for us to find the radio station and damn if we end up not doing the spiel once we do find it but I do get to see the civil rights museum and the 'tel where doctor king was murdered, a wreath on the rail, breaks my heart and I can't help but cry to see it.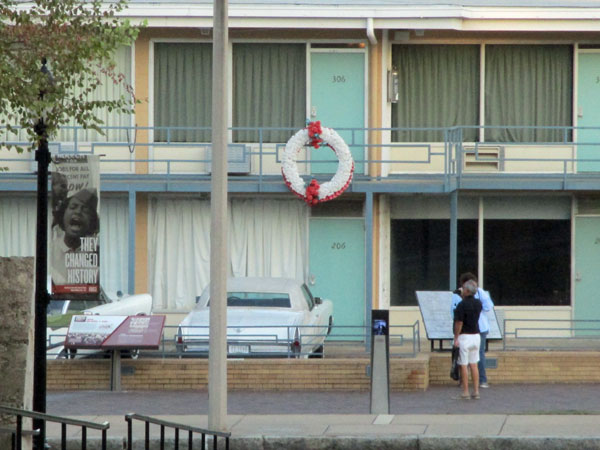 it takes me a while to catch up w/everyone anyway cuz of this fuckedup knee and these pointy shoes but mario get's the transit and retrieves me, saving me much hobble. tav has him go to near beale street to get some shoes but damn if that don't work out either. oh well, not wasted. actually it's mindblow for guitarman mario cuz he's big blues fan and damn if didn't go by the museum also (too bad we didn't have time to go "in" it). back to the venue, our italian brothers drop us off cuz they gotta change into their outfits - I'm glad I'm wearing mine all the time.

we got more than a hour 'til we go on so it's a little close but I'm pretty safe to chow, I get some fried catfish that's alright but a tryout tiny bit of the slaw tells me full of bac (teria) so I back off and into the gomi ('trash' in jap) that shit goes. there's a guy singing covers and playing guitar w/another guy, they're both on acoustic guitars and they're the only openers tonight cuz we're gonna do two sets. tav's still feeling that sickness so he konks on the bench, while me and larry talk soft. twenty on nine mario and francesco arrive and chow their burgers and fries in minutes (they had me order for them), we're ready to go. herman green calls to wish me luck, says he can't make it cuz he's tired but I tell him it's ok - he's eigthyfive now... I tell him I understand and love him much.

tav has a talk w/us about going on together, very much unlike last night and I agree. he says don't give any tunes away - I totally agree w/that too. we go down and start up the gig w/what turns out to be a very long number, it's trippy vibe but I'm keying on tav, keying on the band and keying on the gig-goers that are giving back everything I'm giving them. like I've chimped here before, I get good dance feel from tav falco's music, the bass parts for the grooves have great feel and I dig much. I know this first set's a little tough on tav but he does for me pretty good. he really rallies for the second set and there's a good time gig-goers dancing and not just headbobs. tav's on his back, kicking legs in the air and wailing on the guitar, I love it. gig ends happy though I know it was tough one. many kind gig-goers give me the good word, very very kind. I meet a couple who knew my dear friend doug rockett who passed away a few years ago. I loved doug. his friend chris I guess has moved away now... they give me a picture of both, beautiful... big feelings inside me get bigger, oh man. a young man I met last tour named dylan gigs me watt button styled after the watt throbblehead - whoa, that's a trip, very kind of him. lots of kindness and lots of laughing too, it's a good time. I meet the wevl station director lady judy who was supposed to interview us but her cat got very sick and she had to rush him to the hospital. so that's what happened, I big time understand. I thank soundmen eric and andrew much for everything.

we pack up and head for the 'tel but we stop first at the park view 'tel where a man named bill eggleston lives. he's playing piano when we get there and continues to while a couple of his friends talk to us. when he does, he comes to look through tav's upcoming photo book - tav sees him as a sensei. it's a good visit, he's most kind to me w/his eyes gentle.

two bells when we dock at the 'tel. man, larry can snore up like a champ but then he gets silent like after twenty minutes, incredible technique. I am big time impressed. actually I can w/the snores - are you kidding? I myself am one big snoring son of a bitch. I konk beat and sore but not as sore as I could've been w/this soak I did in the tub first.






friday, october 16, 2015

- hot springs, ar

pop at nine bells and soak in the tub. that feels good. I look in the shaving kit and yep, they must've shook down francesco who had my mansack at last flight and removed both my shaving cream and toothpaste, damn it. left the clippers though so at least I can take care of that shit, just can't play w/long nails. I head downstairs quick after getting done w/that and meet mario/francesco in the hall, we do asagohan ('breakfast' in jap) together and I offer tips or perspective or just fucking silly words regarding what might be helpful at gigs for this tour. it's all I'm gonna say about it. english ain't their first language and I don't wanna weigh them down w/anything. I'm glad to be here and that's good enough. I go and chimp diary after shoveling some free scrambled eggs w/a few thin sausage patties and a toasted rubber bagel. the got some little packs of hot sauce to try and bring a little flavor. the real cold cranberry juice is real good on me, real good down the throat.

larry goes to look for a shirt cuz his one now looks like old parchment. I chimp diary in the lobby 'til tav comes down and we (meaning me and mario/francesco) then take him downtown so he can have a meeting w/a label guy. larry calls and says that secondhand shop by tav's old pad on cox but it's closed so we go get him (damn, he's w/my old buddy jon wurster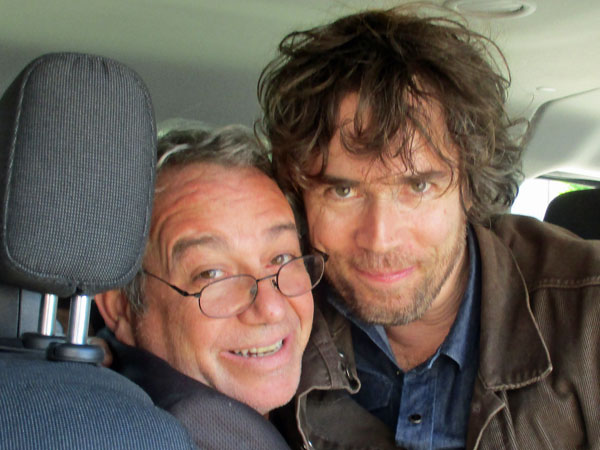 - forgot to say I saw him last night like a baka, love this man - what a trip he's here on vacation, big hugs!) and pass sun studio on the way along w/the scottish rite temple and a statue of nathan bedford forest on a horse - I remember reading about that guy in tav's book but of course I already knew some about him. w/larry now w/us, we get over to sam phillips recording service (same pad the cramps recorded "songs the lord taught us") where jud phillips and his assistantman adam help us get things together for a session tav's got planned for us in order to track two tunes.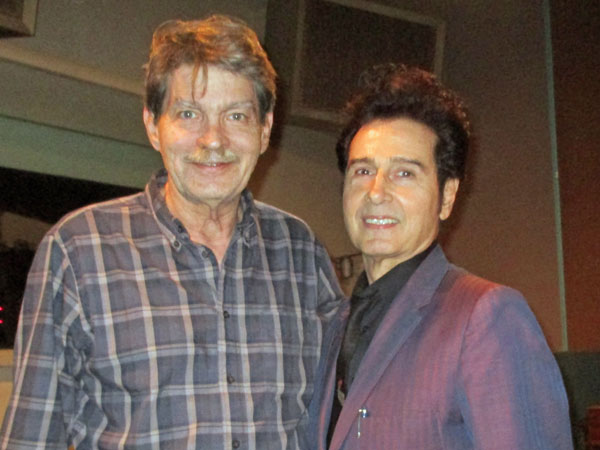 whoa, what an amazing pad this is, truly. the hammond organ here jud tells is where booker t composed the first ideas for "green onions" - francesco having a ball playing this baby. they got me going direct and larry's got his kit set up in the middle of the room. he earlier told me that this kit he had made is based on a set developed in 1948 by max roach - it's made by c and c in gladstone, missouri and got an eighteen inch kick, fourteen inch floor tom, twelve inch rack and fourteen inch snare. mario's gonna play through a fender silver face super reverb... tav arrives and asks us to do memphis minny's "me and my chauffer's blues" w/francesco on piano. we get it in three takes, I'm shaking like a fucking leaf... I can't believe I get to record w/tav falco, can't believe it but can't think about that so I can get the take. I think I was a butthead a little and took some tiny offense to larry said while we were getting to gather that it was getting rushed but I think maybe he was right and get behind that kick some but not too much - glad now he spoke up but jud comes in and helps w/some pointer to larry who takes it good - both men are who you want in the studio. adam does good too, had to chase down a headphone thing and did. we go for "whistle blower" and that takes two takes, we got it. very happening, my first two tracks ever cut w/tav falco. and damn if I didn't get to do it w/larry and our italian brothers in memphis at this studio... hell though, I wish I could've been more calm but everyone says the bass laid in the track ok - both jud and adam... it feels good for larry to say I was in there too, respect him much.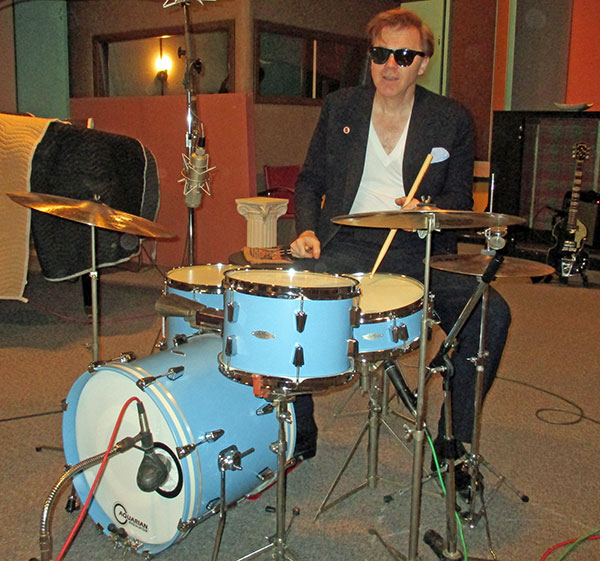 we gotta get across the river and into arkansas for our gig in hot springs where tav's ma lives now but he grew up in nearby gurdon. 'pert-near thirty miles west from memphis I see the turnoff for earle and think of my pop... we keep heading west. at little rock we get gas and I need fuel too so I chow a fried chicken breast here at the station plus something I've never tried, a deep fried half a corn on the cob! pretty lame so no more of those though the chicken's ok... I just know I won't get a chance to chow or it'll be too close to gig time. less than hour later mario finally lets go of the rudder and I take us through the woods to where we need to go which is first to tav's ma rita's place where I get to meet her but for a little while cuz it's already nine and a half. she's very nice to me though. tav takes her car and we take the genz-benz 1x12 box for the bass. soon enough he loses us but luckily it's a straight shot and I ain't got many moves to make.

we get through much stripmall brand-new, past the horse race track and into the old part of town to a pad called maxine's at ten bells - tav says it used to be a bordello. we get to park right out front, righteous - I drop anchor and we load out like that. a band from louisiana, from shreveport called ghost foot goes on as I go in after talking to two nice cats who're from the same town and made the three hour drive to be here, I thank them much for being most kind. I like ghost foot - those guys were right, they are good. the infamous jaguar shark is the name of the band these guys were in. this couple starts talking to me after I set up - that speakerbox we picked up from tav's ma's pad is breaking it's water w/me tonight... I wonder if I should've put it up on that chair? maybe it needs to be to coupled to the ground? anyway, these people are talking to me about stuff and I ask about this town before the gangster thing that tav told me about (this pad is on what they called "bathhouse row" where the olde-timey mob people had a neutral place to hang out - prolly why there's a horse track), the native people called the quapaw and that's where the name arkansas came from, the people from "down the river" and it was neutral land for them and their neighbors, so they all could enjoy the natural springs they got here, interesting. we can't go on for a while, there's some film festival in town and we gotta wait 'til that's done.

it's around midnight when we go on. the genz-benz speaker box sounds good and tight. I think the band's playing pretty happening - the bass player's still gotta get it together but he can work on that. I having a good time w/the panther burns music, trippy thinking about this pad and what's been here (the bosslady when it was a brothel named maxine wrote her autobiography), my mind starts to wander... then travis from thick syrup records joins me at a table but this guy who heckled the band is also here and wants to talk about, well, I don't know really what he wants to talk about... kind of trippy for me, I don't know what to say but I try - these other cats at the table - see, we're here at this table in maxine's and they wanna talk about the "american hardcore" movie and well, fuck - we got a 450 mile hellride tomorrow and it's coming on three bells... I wonder what got talked about maxine's way back? trippy, huh? parallel universes? the fucking flow, huh? thick syrup for sure, brother travis! he shows me a picture of nathan from the gossip - he's a great cat, respect. I hear he's back from portland, taking care of his pop, good man and oh yeah, happening label fast weapons.

fuck, we finally pull anchor and get down the road to the springs hotel... things w/these guys are a lot more slow motion than what I'm used to. the nice people at maxine's gave me a quart of beam though so I do get a few slugs to put me under for the couple of hours. oh yeah, larry was real smart to get mario to back the boat up against a tree in the back. "good thinking larry" I wanna tell him but he's snoring real quick. I'm out soon also.






saturday, october 17, 2015

- new orleans, la

pop at eight bells and we gotta roll cuz a 450 mile hellride's in front of us. I use the lame coff to put some caff in me, desparte times call for desperate men. not a lot of konk but I'm laughing much still, it's ok and damn if it ain't the first saturday of the tour. it's cooled off a bunch and there's clouds in the skies but no rain threatening on us and it's comfortable. there's divided road lots on us-270 east through lots of arkansas forest I've never seen before and that's happening while I'm hearing stories from both larry and tav, great tellers of good stuff and I dig it much. at pine bluff we take us-65 southeast. I tell the italian guys to look at the cotton that's been blown to the side of the road - their first time seeing it. we stop for gas not too far from the big muddy - I get a dung bag (slang for microwave crap burrito) and some cranberry juice (damn if larry ain't right about nothing in these gas station stores that's got any nutritional value but I need some filler to hold off empty gut w/no grass) we cross her once more just past lake chicot into mississippi, further onward (damn if we didn't pass near a town called that) on state road one.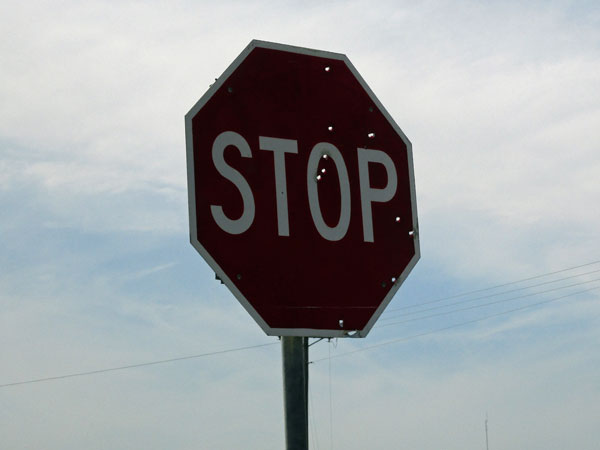 well, I guess cuz mario's started on the wheel that means he ain't gonna let it go. he does have to pull on over when tav alerts us to emergency dump he's gotta do ("does the pope shit in the woods?" for som reason I think out loud but damn if this ain't a premonition for later tonight...) and that's a success, so onward and further w/more vigor, into louisiana w/us. I chimp diary. we start seeing kudzu and spanish moss - most stuff to point out to our italian buddies, I don't have to tell them about the bayou further down I-55 we cross over and through. the suns out now but still no swelter, so nice it's hard to believe it could be how it usually is.

we get into new orleans five pm and in like ten or fifteen minutes (there's a wrong turn resulting in a loop) pull into the french quarter where one eye jacks (where we're playing tonight) is and the most righteous sitch for parking, YES - fucking orange cones saving us a place - FUCKING RIGHT ON! and damn if mario didn't wheel the whole ride here, at least seven hours in the wheel house, much respect. good navigatorio from francesco also. I meet the monitorman mike and he says I can use this beat ampeg a-115 combo amp they got w/1x15 and then I meet who I remember from last year w/my fratelli (last time I was here), soundman roy who's from texas, good man. also righteous is gigboss candice who's always been so kind to me - she's got the most happening soft cheese I've had all tour to chow w/chips and salsa. I give larry my buyout money to get whatever he likes and he brings me gumbo - but this ain't nothing like what he's made me and damn if I don't detect a bit of canned (ain't gonna mention the crap brand) soup under it. I used cayenne pepper he brought to help but...

we have a long soundcheck to go over stuff and then tav goes down the setlist to talk about stuff - good focus for us. we get done and I feel I'm close to the margins so get on the deck behind the curtain and konk on the deck. I really need it, I really do. I get popped by righteous 60s seven inchers getting played and realize the poster no opening act but instead somebody called dj suzy q and like in brooklyn w/the dj man paul back on tuesday night, what fucking happening stuff w/out cliche or jive... righteous, I'm inspired big time. we're gonna hit in a few minutes (10:45) when tav asks me to shave and gives me his razor and shaving cream - the head's right here (we're behind the stage) so that's easy and very kind of him to share his shaving stuff - I would be shaven but yeah, I'm missing the stuff the tsa took when francesco brought my mansack on board for the flight from queens to atlanta.

ok, watt's face fixed so time to hit it, I got a good feeling from the new orleans gig-goers and the band's jamming good. we got a song we play called "about marie laveau" that tav wrote w/doc lazlo and damn if he ain't here to do it w/us, very happening! dj suzy is up front, bringing great support and spirit. whoa, I'm feeling something strange... gotta tighten up myself up cuz damn if I ain't like the mule is kicking at the barn door... I focus much on tav and the panther burns, do my best. in my mind I plan for action in "memphis ramble" but we gotta get there first... tav starts calling out tunes. I think the band's playing real good, real good and I'm starting to feel better about my role but not better in the gut - there's gonna be an "accident" - thank god we get to the "...ramble" and I put the bass on the riser and bolt for the head - it must be like a three or four pound one-shot that blow out once that mule kicks the barn door open - crimony, I was fucking lucky! I get back out and rejoin the panther burns to finish up the tune and along w/that the set w/out further instance. crimony, life can bring you some tests, huh? I don't wanna let anybody down, wanna do good for them. I focus hard. so glad we do "whistle blower" cuz we didn't last night and I really dig that tune... name of the tour also, you know? respect to the new orleans gig-goers who want it brought to them, respect.

I explain to tav what happened w/the bail-out for the head and ain't that a trip that it was 'pert-near like us on the road here where he had something a little similar? damn, that's a trip! my old buddy rob cambre's here, actually met him years ago in baton rouge. he gives both me and then tav the good word - so glad I got to introduce them both cuz rob's been digging him and also saw alex chilton a bunch when he was living here (tav said alex came to live w/him here). rob's his own musical for w/his axesound, much respect and I'm very proud to know him. so glad he's here. I get to meet the dj tonight, suzy q - what a great flow and collection of tuneage she brought, really happening so great honor to meet, wow.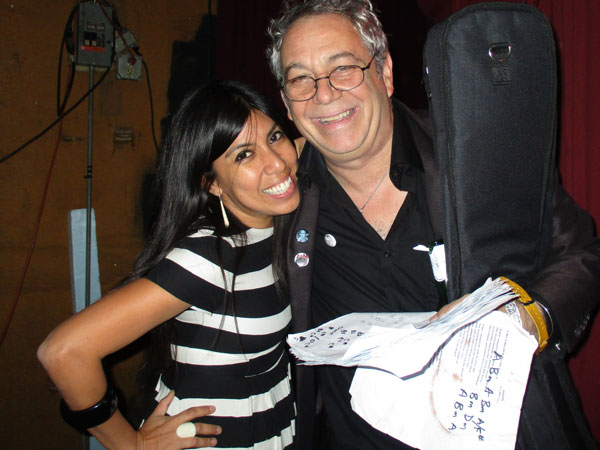 dj can be like bass I'm thinking, it's all you work it these couple of nights (brooklyn and here) this tour's been learning me. I meet a man who did time w/the navy and we have a good talk, I get to talk about my pop and me being a boy in navy housing. it's a good rap. soundman roy plays some dicks - yes, love the dicks, love gary floyd! a righteous way to do a farewell to a pad and I thank all the good people that's been so kind to us. a friend of my mobile buddy todd tells me I just missed him play this town - it was at his pad last year I heard jack bruce died, now that was very hard gig for me to, very hard.

we pull anchor and mario gets us to a "comfort inn" by the airport in saint rose at two bells. damn if there ain't the most heavily scented whatever in the chamber me and larry are in. I do a soak that's so hard that I konk, popping like two hours later all pruned-up like a baka... I get into dry konk mode feeling like such and idiot but not unexpected totally cuz I've ended up doing this a few times before - I am slow learner!






sunday, october 18, 2015

- clarksdale, ms

I pop at 'pert-near eleven bells, my body needed it. tav's worked it so we can bail at one - I get an email from sometimes stooges roadboss andrew flowed me this guardian piece on brother steve - man, am I missing him big time - don't mean to go on and on about it but... I chimp diary 'til we pull anchor at one.

mario at the rudder, north on I-55 and west of lake pontchartrain tav has us pull off at manchac (akers) to a chow pad called "mittendorf's" that's been here since the 30s and damn if this ain't the best thin-sliced fried catfish I have ever chowed, I shit thee not.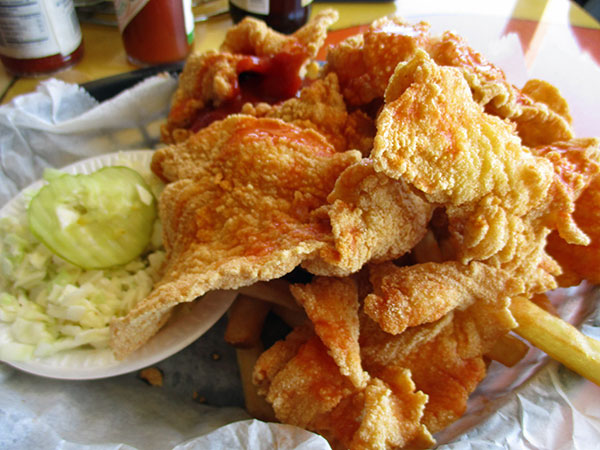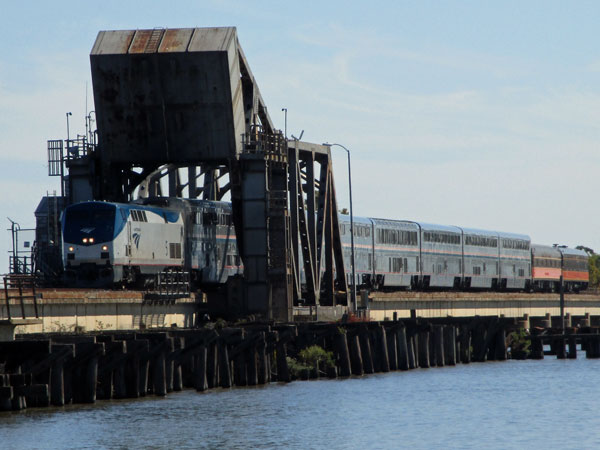 we chow on the deck, right on the water and watching the trains go by - there's an amtrak w/two brown and orange pullman cars on the end, whoa. I tell everyone about my pop being at sea on tour during the vietnam war when all their chow was dehydrated and how he jonesed big time for real food stuff, especially dairy. when me, my ma and my sisters would pick him up from the pier, the first thing he'd do when he'd get into the hatch of our pad in navy housing in pedro was to heard right for the fridge and down a half gallon of milk from there. then he'd cook up a like a dozen egg omelet. this one time, after all that I found him once in the living room watch tv w/a big bowl is his lap chowing what I thought was ice cream but closer realized it like three or four sticks of butter, a piece hanging from a corner of his mouth, whoa. our eyes met and he gave me the signal of like a little cloud of smoke fading, like in that "wizard of id" cartoon: poof. yep, I made myself gone. man, that was a jones that was stomping on him, huh? back north on I-55, we leave it for more north on us-49. we're headed for blues country. I chimp diary.

too much faith in the navigatorio by our italian men has gotten us on the freeway back to birmingham and that's where we don't wanna go s I get us turned back around and going where we need to go. just out of jackson, it's six and a half I get the wheel cuz mario's tired, good man to admit such, I have big respect for him doing that. once past yazoo city it's all divided one lane road on us-49 north now for ninetyeight miles - well, actually the road splits into a 49w and 49w so I roll the dice and pick east which is actually two miles more 'til they join up again just before we need to get to but is a lot straighter which my be better w/this long boy and no streetlights. it's about a hundred miles I do to get us to clarksdale but we can't locate the venue, I'm a cazzo! I did a map search via the internet that showed the venue located south of this crossroads sign (where us-49 and us-61 meet) so when I see the sign, I pull over at a gas station (two middle east guys there and a sister there), I get told directions that get us actually to the blues museum which is neat to see the old downtown it's in and around but not where we need to go so I head back down south... our italian guys' leash's can't get service so it's a guessing game though I'm thinking about that "plantation museum" sign we passed coming into town and damn if mario's leash gets a bead on commissary circle road and we're 'pert-near there... takes about three tries to get the road in this compound that will actually get us to the "juke joint chapel" (part of this shack up inn "complex" built on part of what used to the hopson plantation) where we're gonna work. we're all laughing at the sitch, no prob. it's a good time. we drop anchor at twenty of twenty of ten, ten minutes early after getting the good word from the gigboss chris as to where to boat's culo - right up on the hatch, ok. lots of folks to help us unload, I go upstairs and start chimping diary cuz I got none done today. I go get some gumbo - damn if it ain't really good - not as good as larry's (he spent four days making me some a couple of years ago up in los feliz) but really fucking good. I meet johnny lowe who makes cigarbox guitars and works them too - he shows me a dual-y that's got a guitar AND bass neck, the bass string w/its own pickup too, respect! tav brings me a little mirror and some shape tiny scissors, asks me to cut my nosehairs. I get that done. tav's looking out for me.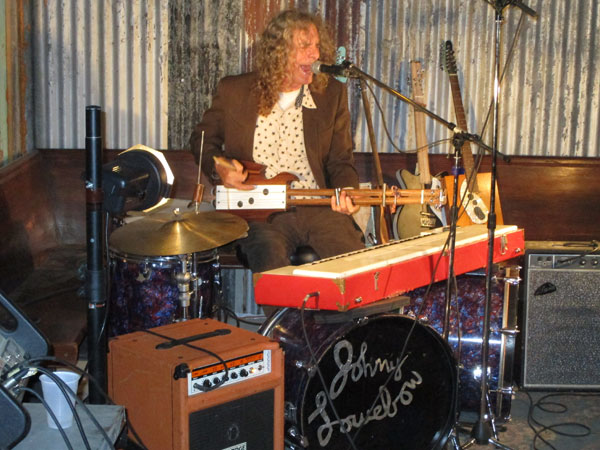 I go watch john "johny lowebow" lowe tear it up, whoa, this cat's got it - fully blown! we're on next on the "juke joint chapel" stage (joe was out in the back on the porch) and I get together a berringer (mazui) keyboard amp w/1x15 which will do. very nice soundman here I spaced on getting the name from, damn me. he's really cool people. the way things are, me and larry are pretty much in the back. I get francesco to use a small amp cuz of the limited way the p.a. is w/the monitors and we're ready to go. I kind of push things but stuff's running late - we're the last act of four day thing here, it's called the "deep blues festival" but damn, all the detail in this room, somebody spent some time here. we whup up the set and pretty early into it, tav's buddy dale joins us for "blind man" of tav's "behind the magnolia curtain" album. tav said it was gonna be some chaos! I tell you where I clammed: "drop your mask" - I couldn't hear the accents, damn me. I do good on the others though there's one or two clams here and there, aarrrrggghh if that don't make me wanna beat myself up hard about that but I gotta stay in the moment and not dwell. the gig-goers here in clarksdale are most kind and they're fun to play for. my bass solo in "jungle fever" is strange one, some twists on abstraction twisting up my notes in trying to channel all that heavy and thick feeling from a far away time from cats we all owe their spirit and pioneering way. it ain't willie dixon - crimony, I'm thinking willie dixon now but last night I was feeling kind twisted and spun - so glad larry was there for me and grooving hard to try keep me from tumbling music-wise. I try to keep it a one-off, not derivative but careening. we finish strong, finish w/the whistle blower, yeah.

the gig-goers are most kind to me, much good word shared my way. I meet joey who's work the glasses of moisture and he's a ceramics man, he gives me a piece of his, much respect! a pictureman named peter is very meticulous about taking our picture but I feel he got something, we got to use the panther burns banner tonight and damn if he didn't work that in for some. lots of kindness from gig-goers from all over - they come here to celebrate and crimony if the blues in lots that I do, lots. I gotta learn more about it still and prolly always should be in that process, in that way cuz I think it's riff on life itself and about feeling it. it's big time about feel about getting in there and not strangling it, not choking it - I realize that solo I didn't tonight was a flail... there was feelings but I need more feel to go w/that. I don't know if it makes sense what I'm chimping here but there's an introspection here now me I figure has to make sense somehow w/me even if I'm short on articulating it. I'm BIG time grateful for this night here.

we pull anchor and mario gets us to a 'tel from the same as last night but gladly w/less perfume odor flooding it. it's four fucking in the morning, oh man. another tub adventure too - this time I konk in it w/the fucking water running like a baka! luckily it was too long but damn are my fingers still sore from all the wringing out towels swabbing up the tiled deck there in the head. what a fucking workout. what a fucking baka I am - no more late konk soaks for me, done.






monday, october 19, 2015

- little rock, ar

pop at nine bells and that's cuz the cleaning lady's knocking on the door... tav though said we had one pm checkout - I think the staff was not enlighten to this. they knock two more times and in fact there's a phone call from the boss asking me what person gave permission for a one pm checkout and I tell him I'm only the bass player and he relents... what a bunch of shit. man, why didn't we stay where we played? that had neat little pads part of that compound, the old cotton plantation... fuck, I realize I might've donated the mouse there so I take to boat back over there w/larry and I find it - cazzo! it's neat seeing the place in the daylight and see all what's been done. larry guesses someone must've gotten some funding somewhere cuz there's some detail going on. we talk w/the guys who run it - larry lost his fiat pin and he's looking around for it. these guys are really nice and even invite me to come play here. we both thank them for their kindness and get back to the 'tel.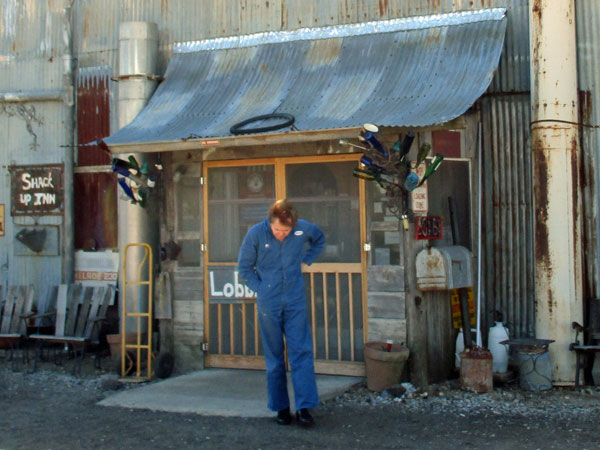 two bells we pull anchor from the 'tel and get fuel at a citgo for $1.95/gallon and I get two fried chicken breasts that were just cooked the cookerman said a halfhour ago. we gotta get tav's amp looked at in memphis so we head there north on us-61, the weather's a little windy but still real nice. we cross into tennessee a little after three. fortyfive minutes later we're at martin's music over on poplar where the search for tav's amp's prob begins. in the meantime all but tav (he's w/the amp) drive on over to the original sun studio to get some pictures.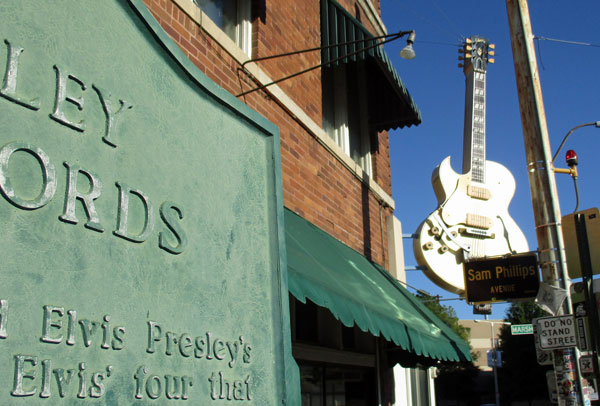 the italian cats are wild about this kind of stuff, really digging all these blues and olde-timey rock and roll things, in mississippi and here in memphis. we get back to the music store and damn if leaf blower guys making everything all noisy w/their work. I can't understand why they ain't leaf suckers and instead are blowers, these machines they use. ain't it the craziest thing that they do? damn, they are way loud. I feel sorry for the cats working them, truly... and just to blow shit around, crazy. I chimp diary out front on the grass w/my shoes/socks off.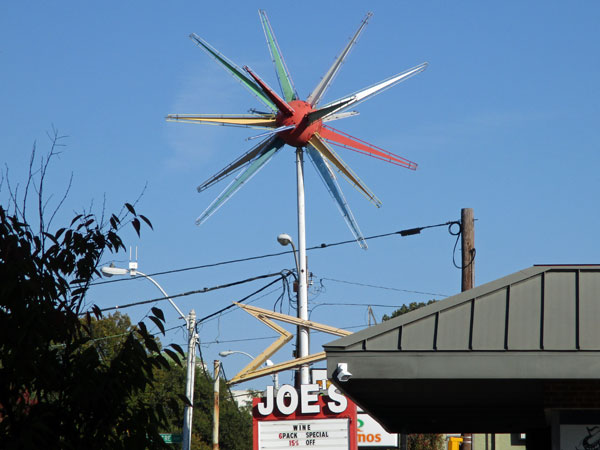 the tech men lyle and bobby have been going to town on tav's amp and guitar, much respect to them - like four hours straight. they found the amp had a loose transformer which would've been a major nightmare but there's also a prob w/the electronics part of tav's amazing german hofner guitar. they have to give up on the built-in fuzz tone but get everything else fixed on it - we're ready finally to bail at seven bells... little rock is two hours away so we can just make it. whew.

I-40 west and once more across the mississippi, past earle - mario at the wheel (of course). I konk most the way. we get into little rock three minute after nine and get right to the back of sticky fingerz rock 'n' roll chicken shack as per tav's instructions. the soundman is name maestro and he pops the hatch for us and we load in. is there a bass amp here? yes BUT the speaker's blown so I'm going direct, he gets me a direct box. yeah, no speaker box w/us - that plan was cancelled by mario and also larry/francesco was into it... tav wanted to bring it in respect to me but I relented in order to make them happy - hell, sometimes francesco has to play direct (actually always except last night) so why shouldn't I be like him. we do a soundcheck w/all the gig-goers sitting there, I hate doing that to them - so does larry and I ask him to explain to the italian guys about why "green onions" is a great song to do first and IT can be the soundcheck - bring a little show biz for fuck's sake, damn.

there's no opening act tonight, tav has us start the gig and I am so glad. it's a quarter of ten now and damn if it ain't a work night - you gotta respect your audience, I believe. actually I can hear my bass through the monitors and stuff but fuck, I clam one change by going to the five too early - what?! I only do it once but hate myself for it - well, maybe that's a little strong but when I blow a change (small one) in the next tune, I really bear down. as the gig goes on I play better but the bass more and more disappears 'til it's like I'm miming it big time, oh well. this is a different kind of a character builder but hell if I'm gonna do some foot stomp or sugarbowl or even teapot over it, I'd rather man up and grow a pair, deal w/it. the little rock gig-goers come up forward and are really good to us. tav calls them "discerning music lovers" and I think they deserve it. my bass gets more tiny and more tiny 'til it's gone from larry's monitor - oh, he has hell from his throne collapsing so francesco offered his to him and uses larry's kick drum case. tav's guitar seems to go out - he says he blew a hundred bucks but one of the gig-goers spots an unconnected cord and that's the only prob, whew. larry all tour's been asking "read?" for every fucking tune and I always reply "I was born ready" and well, ain't a trip to hear tav start saying that - over the mic! alright. even w/the mime bass (I know it was muted for the encore 'til the last part cuz a gig-goer ran to the soundboard and had him unmute it, yeah that tune had another wrench thrown in cuz tav didn't have his glasses and couldn't read the words, I have that same prob and it's why I've been wearing glasses every gig), I think it was a good show - lots cuz of the gig-goers spirit, thank you thank you, good people here tonight.

I start meeting gig-goers before I even get off the stage - there's david from ten years ago when me and my secondmen (the pete and raul version) stayed w/him in conway, about thirty miles north of here, so good to see him again! I meet matthew, a friend of my buddy brother matthew (who runs the "fluke" fanzine), big hugs his way. earlier I got a prayer towel from the minutemen "co-conspirators" tour back in 1985 and find out his name is rod bryan and though he teaches now, he had a band called ho-hum and even had a record store and once ran for governor! his people are from schenectady where I spent a couple of years while my pop got schooled in nuke for nuke engines rooms in the navy, general electric was big in this town - actually it was in a nearby village called ballston spa that had "the site" - that's what my pop called it. rod knows all about this, what a trip... respect to him. oh yeah, that man david (the one in conway back ten years), he says there some watts still in earle! whoa. I spend a long time talking then at table chowing what they call a "wang chung" salad's that ain't too good (iceberg lettuce is the worst all wilted, right?) w/thick syrup records' travis - he brought me shaving cream, razors, a mouse, plug adapters and lots of music from his label - so kind of him, truly. tav joins us too, they got the arkansas connect along w/nathan from the gossip, it's a real good talk.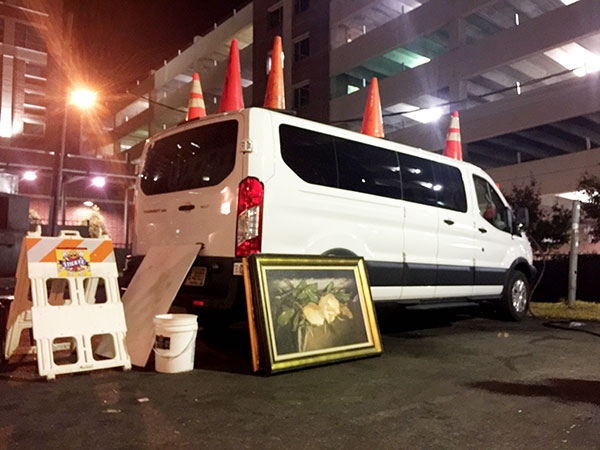 we go out to load up the boat and it's pretty much festooned w/everything that was out here in the alley: cones, a painting - even a hose! pretty artistic. we have to clear though, sorry. mario wheels us not to faraway to an older 'tel call "the legacy" and he told me there was much history, it being close to the capitol building and the powers that be. a funny thing is me and larry having to get rooms four times cuz each of the three before there was a good one was being big time renovated. last of the beam in this bottle I got in hot springs, I'll leave a little more than half. larry's having quit a bout w/the snores, like port lung at odds w/the starboard one. like I've said though, it don't bug me. I konk at two and a half w/out daring to do another soak, no more of those.






tuesday, october 20, 2015

- grand rapids, mi

pop at seven, fuck it but I just do. I use both pouches of the weak-ass coff they got here to get caff in me. I do pretty long soak in ok tub, joints kind of sore and swollen so I'm grateful - speaking of being grateful, good skies out the windows but this our last few hours in the south, soon we'll fly north for chi-town. the plan is eight and a half anchor-pull time cuz we gotta bring back the rental van. I hose off and right on time me and larry are at the boat... it's only a few minutes before we're joined by the others, I'm impressed - good work. there's some wind but it's still good day, so lucky this tour so far w/the climate and I'm most grateful. not too far to the bill and hillary clinton airport, mario drives us there and drops us off near a skycap - we use larry's advice about the skycap and I do guardiano while everyone but larry (he's w/me) takes the boat back to the rental people and damn if it good we came early cuz they gotta go find gas and fill the boat... stuff can always come up, right? I chow an "italian classic" sandwich which ain't too bad - gotta have something and at least there ain't any grease and there is oil/vinegar.

the gatelady is very kind to let me board early cuz of my fucked up knee. there's a first officer travelling w/us and he's talking w/our captain when I get to the plane's hatch (a southwest 737 again) and he says something about kidney stones - ouch. I asked about leafy vegetables cuz my secondmen organman pete said that's what gave it to him and our captain says they gave him a list of 'pert-near everything you can eat that will give you them (I guess it's about what kind of body chemistry you're born w/also) and he just figures he'll just ride it out every ten or twelve years and I'm thinking this man's got balls like churchbells cuz it had pete on the deck in fetal position. anyway, it's a sevetyfive minute flight to chicago's midway airport (so glad it wasn't o'hare!). the lady next to me says she hopes I get more good rest - fuck, I think I was sucking the paint off the bulkhead w/snoring - very embarrassing. a flight attendent shakes my hand in the aisle, she knows me as mike watt the bassman... very kind. our captain smiles as I thank him for the flight. oh man.

a quarter after one at the baggage area and damn if I don't see willy of banyan and mouthful fame. we both start crying when talk about brother steve... very heavy for us, a terrible blow losing him. he says maybe a banyan reunion w/nels and me in february 2016? if nels is there then so am I. we'll do "speedball" which is a brother steve tune he gave to our mouthful proj.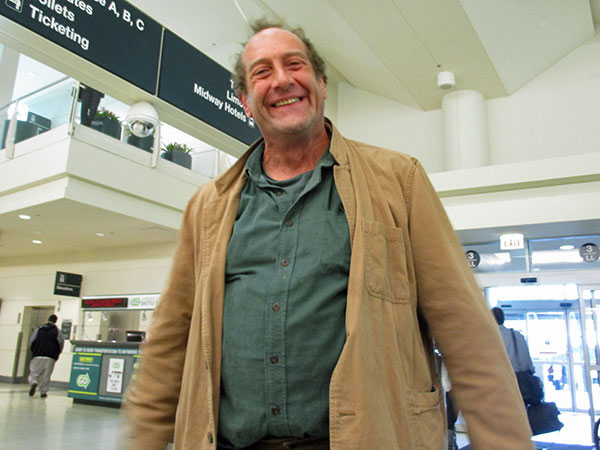 the van we rent for these three gigs is the same ford transit kind except the side hatch for us in the back is a one piece slider instead of a two piece barn doors. same color even. we head north on double-nickels (I-55), mario on the wheel 'til east on I-90/94, first time the italian guys see downtown chi-town and I point out what used to be called the sears tower. we roll into indiana (home of trumpetman willy) at four and a half - bye bye illinois, we'll see you thursday. the traffic is pretty fucking good, I'm into it. I have to lay into mario some about tailgating and driving dangerous, I tell him I'm not gonna put up w/it - I will not, I've been involved in too many wrecks (hell, one's enough in my book). I hope he ain't offended but I'm gonna fucking speak my mind on this. he tells me I can tell him to slow down. ok but it's the tailgating that really pisses me off. strange stuff cuz I really like mario. I talk to francesco and ask him if he's been in any wrecks, he says he has but luckily no one was hurt. I tell him I'm so glad no one was. we lose an hour just inside the next border five pm and we get into michigan, a half hour later we get our first rain of the tour, it ain't bad though. up north around lake michigan on the I-196 spur, us in the back talk about these great lake towns, how things were different cuz of transportation stuff - tav calls it "psycho-geography" and he's so right. a lot of what is cuz of geography and that maybe includes weather but for sure, people are people - you can't forget that.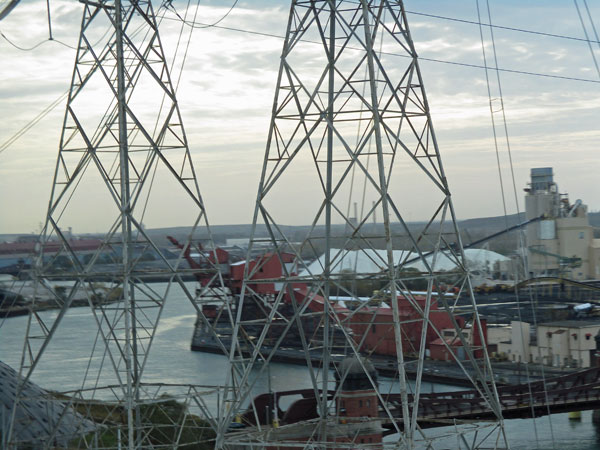 we get into grand rapids at six and a half and damn if a train comes and a motherfucker going the other way from us RUNS THE FUCKING GATE - what?! I look him right in the eye and say STUPID MOTHERFUCKER and I hope he could read my lips. anyway, this is kind of neighborhood part of town we're in and the pad's called the tip top deluxe bar & grill and everyone in the boat is trying to guess where do load in and I suggest what I do in this case - you send a man in to get the word from the folks that work there - damn, it ain't rocket science. a very cool man working here named denis says his brother danny has a bass amp for me, a 70s fender bassman 135 w/a big-ass 4x12 cab (trippy design), so kind of bassbrother danny, so kind. soundman cliff is cool people, larry suggest him getting a good organ sound from francesco and then we'll check /the "green onions" tune. the pad is full of people chowing and there's only a couple of mics.

tom from the openers the cheeztones suggest the "travelling man" burger for chow from the kitchen in the back - it's got an egg on it and damn if the yolk gets all over my starboard cuff, baka watt. I clean up w/some napkins and chimp diary at a table by the stage, a little kind of roundish one. the cheeztones tear it up, tom does real good. they get things lit for us but damn, we ain't going on right after, oh well...

ten on ten and mercy we can start - I'm just afraid on work nights it's hard for gig-goers, you know? they are beautiful gig-goers to work a gig for though but it's tough on tav w/the monitors situation. it becomes the subject of a lot of the night but still I think the band does real good, same w/tav cuz he ain't too down to dance, sing and play that guitar which is holding up good, so is the amp. happening. now it's raining but we're all sweating cuz there's some humidity. I'm thinking of brother steve so much here in his home town - I do the best bass solo I believe the whole tour, watching tav's dancing feet but inspired by brother steve. tom for the openers told me he met people who lived by him when he was a boy, they're very elderly now but they remembered him. tom's trying to collect all the singles brother steve played on since his teenage days - I don't mean to get on like this and forget the gig - what we do to really help tav is play softer on the stage, I think that helps. we don't do "whistle blower" but I understand why even though I love it much. the grand rapids gig-goers were beautiful and brought great spirit. it was a pleasure to work for them, tav and brother steve tonight. man, did larry play great - the whole band was together very nice and dynamic.

I get the good word from kind hearts, much kindness. big hugs for twin brothers dennis and danny - bassbrother danny for using his amp and dennis for making that happen. can't believe they're gonna do prac tonight at midnight, crimony! much respect. writerman brian bowe's brother's here and brings good words from him cuz he just moved to bellingham up in washington state. I wanna cry for brother steve w/all this good spirit from the people of his town, the sprinkling rain kind of hides some of it.

the ride to the 'tel takes some time but I don't notice too much cuz I'm spieling big time w/tav and larry, the italian guys are kind of lost... I scissor the spiel and help them, we find this "plaza hotel" pretty quick, right off the highway. can't believe it's only (for this tour) one in the morning. I konk like a switch has been flipped, immediately - maybe this time larry gets to hear some of my log sawing.






wednesday, october 21, 2015

- detroit, mi

pop at eight bells and do a big soak in the tub, my joints are loving me for this cuz ibuprofen is hard on the kidneys so I use that only when I gotta. larry won't re-plug the plugs he pulled to charge his stuff and even had to move the dresser... I explain to him we don't need the bad karma but he clams he's the "karma compensator" and we don't have to worry. ok. I already lost my watt button based on the watt throbblehead so I in place of that wear number six button from "the prisoner" on my black shirt. I actually got this last month in portmeirion in wales which is where the filmed lots of that show - my favorite tv show as a boy. I never knew it was in color 'til I got the dvds in the 90s cuz color televisions were big bucks when I lived in navy housing. I've got all seventeen episodes on my ipod and seen them a buttload of times. much respect for patrick mcgoohan, much! a lot of my worldview was shaped by his work w/that... remember, I was just a boy then so it was very "formative" and I'm so glad for that, thank you big time mr mcgoohan.

at the boat and waiting for tav, we observe three ladies stuffin' the shit out of their vehicle w/clothes - we're talking a buttload or more. I ask larry to watch out for laughing too much cuz we don't need the bad karma - yeah, that again. it's windy but there's sun and no rain so ok, thank you weather forces. our italian guys starting taking us to kalamazoo while I'm talking w/tav and larry - I realize the huge mistake coming up (fucking navigatori) and guide us towards I-94 east that goes straight towards detroit.

two pm just east of lansing we stop for gas... the station is deserted and all that was w/it, now blight. next exit's happening and while tav puts gas in the boat, I get half a tuna sandwich at the subway (first one of the tour) connected to this filling station and get half a tuna w/mustard, olives and tomato plus a small sack of chips to add crunch when I stuff the sandwich w/them. I also get a big hot pickle and francesco is disgusted cuz he says he hates pickles. scusi, francesco. I crunch the motherfucker down, I like it.

getting closer to where we want, we hit a major plug cuz of construction... wheelman mario gets squirrely but I tell him gaman ('patience' in jap) "cuz you can't hurry love, you just have to wait" someone great once said, right? gaman, maestro mario, gaman... we get free of the plug and soon we're on michigan 10 which goes right into the heart of d-town and the italian guys get to see canada for the first time across the river. they also get to see a statue of joe louis' fist, yeah. now the number we got for the pad is wrong but I was here w/my italian fratelli 'pert-near exactly a year ago - well, same building (it's called the majestic theatre) but on the other side of it... mario and francesco were so skeptical, no faith in the vecchio ('old man' in italian), 'pert-near in a panic but we drop anchor just after four w/larry sighting in at two o'clock. gaman, mario and francesco, gaman!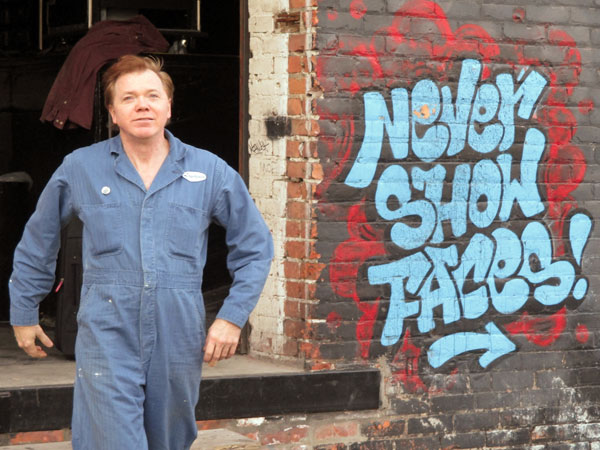 we're in a part of the building I ain't played before: the majestic cafe though I did chow here in here last year. padboss bryan (I worked for him last time, much respect to him) fixes it for me to get some chow, the cookerman recommends a turkey sandwich so I get that. tav has good luck and his guitar built-in fuzztone is fixed by mike at koontz guitar repair in nearby ferndale. larry's buddy adam (he's got a band called adult w/his lady nicola) comes by to get a bolt from larry so he can find a replacement (I recommend heat-tempered) for his throne. a nice man called ryan connects us w/a guitar repair shop and even brings it there. the soundlady arrives katelyn, just as I threw four pairs of chonies in the washing machine they got here. you can't just wash this suit, it's gotta be dry cleaned. tav's dance partner gina arrives and stomps a roach on the table in the dressing room while I'm chimping, whoa. she brought tav's gold pants that tore in brooklyn but he's gonna save if for tomorrow in chi-town.

joe and ken of reverend guitars come w/a bass for me to see. third time around now and there's things I show them what can get further down the road but it looks good and plays great, really happening. I don't get to hear it amplified - no soundcheck I tell soundlady katelyn who's setting up and prolly will check the guys but no bass amp yet however ryan said one's coming and sure enough, a sunn concert w/a 4x10 speaker box is brought over just after eight from a man who's very nice to me named rob. he tells me he just started a glam band and I tell him the first concert me and d. boon saw was t-rex.

we bring the gig right before ten. my old buddy bob teagan is filming the gig, so good to see him again - need to have a bob moment EVERY u.s. tour I do. the gig is real good, all those pages I was using for crutches w/the chords written on them that kept falling off the amp in grand rapids showed me I know most of these tunes now. I still need some for some but I'm getting better. tav tangos most righteously w/gina for "drop your mask" for a good bit, very happening. the fuzz in tav's guitar is real good, mike's work very successful, respect! gig-going detroiters here are most kind, some great dancing too from some, way up front - respect! the one bummer I have w/the gig is larry's kick drum being at an angle AWAY from me so when it comes to my solo in "jungle fever" it's hard to hear/feel the beat, aarrrrrggghhhh. I get emotional but get through it - I'm bummed a little on myself though cuz the last two gigs had the best ones I've ever done, especially last night's for brother steve. so glad we got to do the "whistle blower" tonight, so glad.

the gig-goers are most kind w/the good word. lots have seen me before - one great cat had us konk in the funeral home that was a music school not far from here for a while... damn, what's his name? damn me! anyway I tell him a made a rap about in a cuz song, there's even a video for it! I give him HUGE hugs and a kiss too, respect. I think we met him when he was a soundman at a pad called alvin's by wayne state... some very kind man has a picture of me w/the minutemen in this town on halloween 1985 at a pad called "graystone hall" in a mason suit I found in a thrift store the day before, crimony! he hands it to me, very kind, most kind. here's a digishot I took of that shot: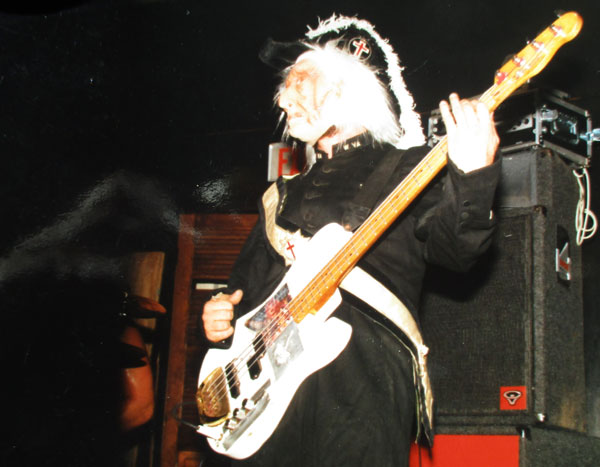 damn, thirty years ago... back in the back room the gigboss sarah is talking w/tav and talks about just working some hardcore gigs - I try to remember the first time minutemen played detroit, it was opening for black flag plus a local band and I can't recall there name, damn it. I remember the singer john for sure and his laughing hyenas band later. of course I remember now: negative approach but what an idiot I get trying to remember in front of people sometimes. damn.

mario wheels us to a "best western" 'tel in allen park after dropping gina off (she's from detroit) and we drop anchor at two... larry's staying w/his buddies adam and nicola - fuck, I'm so beat that I konk in the outfit on the deck, just like that... most tired-out watt.






thursday, october 22, 2015

- chicago, il

pop at nine and a half... alone. that's cuz larry konked w/adam and nicola near where we played. I am so pissed at myself - I fucking spaced the fucking wireless mouse AGAIN! the fucking hurt macpurse's trackpad is impossibly broke and so SO fucking frustrating. somehow I get by the grace of god the diary for grand rapids chimped and even uploaded to the hoot page but I must've socked the pillow here next to me a thousand times - better than a bulkhead but I gotta watch my health, know what I mean? stress and going off cuz of beatdowns on the spirit and the body.

noon's almost on me so abandon the cabin... damn if I can find the right corridor though and find some hatch out (any hatch!), damn if I ain't in the total aft of the 'tel and gotta hobble around to the other side. I find the guido guys there and also skies graying up and some wind blowing but no rain. I'm grateful for no hell weather and have a good time cracking jokes - their english is pretty good, francesco's better than mario's but still I say "respect" w/their talking and listening skills. they wanna learn more too, including pronunciation - mario's always asking about lyrics, their meaning and good one to say them. like w/my fratelli in il sogno del marinaio though, they say niagara falls like NEE-AH-GEHRA falls so this must be common in italy. we pull anchor forty of one, big surprise mario is on the rudder. oh, guess what I found in the boat where I sit (all tour I've been in the first bench behind the two front seat)? the fucking wireless mouse! here I called larry to have him search that majestic cafe dressing room for fucking nothing. I am a total cazzo.

west on I-90, we pass ypsilanti - that's where ig grew up! coming up right next is ann arbor - home of the stooges! fucking right on. larry tells tav about serving lots of the 90s playing for ig in solo mode. I tell tav about my pop's first trip to hong kong when he was young sailor in the navy. just after two tav says he's gotta get to the woods but this ain't mississippi so we wait a couple of exits and there's a gas station w/an attached subway so I again get a six inch tuna (like yesterday) but add pickles in stead of tomato slices to it. I also get this weird sack of potato chips for texture - these motherfuckers are "gyro flavored" - what? good thing I can't really taste them. three bells comes and we pass kalamazoo, that's where gibson used to make their guitars when they were happening. tav tells about college for him at fayetteville and doing a little bit of frat - said he had to "de-pledge" to get out! larry relates his one year of college in knoxville and all they wanted to do was make him a teacher so he quit. I have MUCH RESPECT for larry, he is balls out.

about to leave michigan, we get that hour back we lost day before yesterday. in indiana around what's now four we get gas at a speedway. I get one of those pickles like yesterday and again francesco is horrified. I ask him what is the main prob he has w/these and he says, "they're fucking green, man." we fuel up the boat. traff's been real good, even through steel factory toilet land gary in indiana where we hit the toll road to what they call the south side of chicago which is where the white sox play baseball, we pass the stadium and the plug starts to come on. what's lucky for us our offramp is right where it gets all parking lot, a block or so from chicago's chinatown is reggies which both the pad and neighborhood I've never played before. five and a half, we're half a hour early and you know I'm into that. this pad has a part called "music joint" and a part called "rock room" and we eventually find out it's the latter part we're working. the gigboss seth is very cool people as is soundman mike (he's actually done my sound before a couple times at the double door on milwaukee) - gotta give both respect and thanks also to incredibly kind rick from the openers hillbilly idle to be so nice as to let me use his brand new fender super bassman, three hundred tube watts going through a 6x10, crimony!

the guido guys go to find mario new shoes (old ones are just finished) and a barber shop so he can get his hair cut. meanwhile me and larry get chow in this pad's other part. we didn't realize it was good for twelve dollars so the rack of ribs larry gets along w/two beers costs him twentyfive dollars, damn. money-wise I owe nothing cuz I just got "cajun salad" but not more than twenty minutes later I gotta blow every bit of it out the out door - I know it was this cuz I saw lettuce parts in the wreckage and the tuna sandwich had none of that. "short stay" definitely. it was a clean blast though and totally empties my bowels which is prolly a good thing. you know what's a trip? we passed a "bob evans" crap dispensary on the way here back in michigan and damn if that didn't remind of the pad where "short stay" was coined - I had related the story to tav, about putting chicken noodle soup in my in door and then having to blow it out like in ten minutes, on my way out... I imagined those noodles hauling ass through my intestines guts on their way getting fuck out... what a trippy coincidence. oh well, better than getting sick. my cameraman friend joe who's from but has much video of me playing in so cal is here to document some of this and he captures tav using his electric shave to get the lame hair off the back of my neck. he gives me shaving cream too so I can razor my face up. joe's gonna film the first hour of the gig too... can't do all cuz he's taking care of his ma who's brain cancer. he wants to write a practical book on that subject, all he's had to go thorough the you know what establishment.

quarter of ten and it's our turn to play. the chicago gig-goers right off bring the happening spirit, respect to them. tonight I only use the cheat-sheets for a couple tunes though I clam totally the intro to "my mind was messed around at the time" near the end of our like a total cazzo, I wring my hands now, would done it then - I fuck up some of the toto tune tune too but though I hate that tune, I should get it the fuck together. we play like 135 minutes. I have a good time but I had some frustration... at the same time I have to make a break w/those goddamn crutch charts. so be it. this has nothing to do w/the solo which I ain't into that much except for emotional content. aarrrrgggghhhh. but overall I liked lots of the gig. I still gotta better w/the material.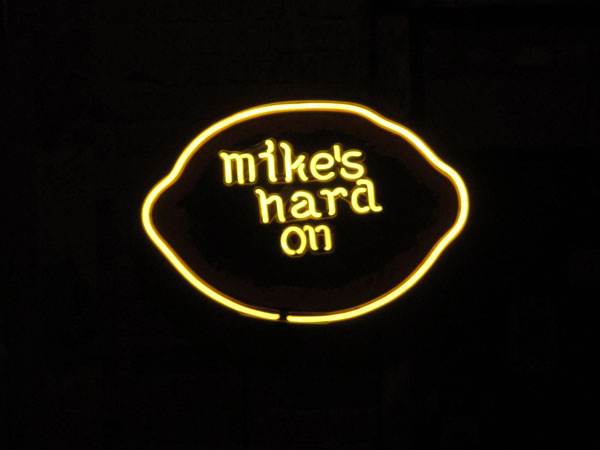 it's got me beat up though - I talk w/the gig-goers and I'm feeling it however, fuck it cuz I'm feeling the kindness from them too. the man from the decorator's union is here again, much respect for him. I sign posters, flyers, album, a couple of arms - one man says he likes reading the diaries. I get a bunch of comments about how glad people are to see me learning from tav. I like that a lot, that's real understanding, you know. thank you, chi-towners much!

I pack up quick and ask gigboss seth if I can buy a mexican beer - he says he's modelo in the can which is the way I dig it, real cold. some friends of tav's are downstairs, they're very nice. back upstairs is springa - ssd singer from old days in boston who's lived here for a long time but still talks like he was back there. of course he's got a ton of stories and he's delivering them. he's got some kind of gig or tour or something coming and I wish him safe seas. the 'tel ain't too far, real close and is called "chicago south loop hotel" w/me in man-alone mode again, ok. I'm so beat I konk again in my outfit. did I say I was conceived in this town? I was, my ma told me. sleepytown, next stop now though.






friday, october 23, 2015

- flagstaff, az

pop at nine but actually I popped at three first - in the fucking tub! I must've got out of the outfit and into the tub! it is a good long and deep one, maybe in some way that's what lured me in... but how? damn. I ain't too pruned-up so that's why I'm thinking I got the fuck at least a few hours ago. outside the window is gray, glad we're getting out of dodge cuz I think hard weather soon comes. I don't know why but I leave the 'tel freeballin' - no chonies... I always was like that since I came to cali from virginia 'til I was fortytwo, when that illness tried to kill me. after that: no more freeballin' for watt but today it's different and you would think I would have a reason? we leave for midway airport soon as the guido guys find a key that works cuz their girly bags are trapped inside. outside the 'tel there's nada but a trippy sculpture nearby - I'll wait for chow at the 'port.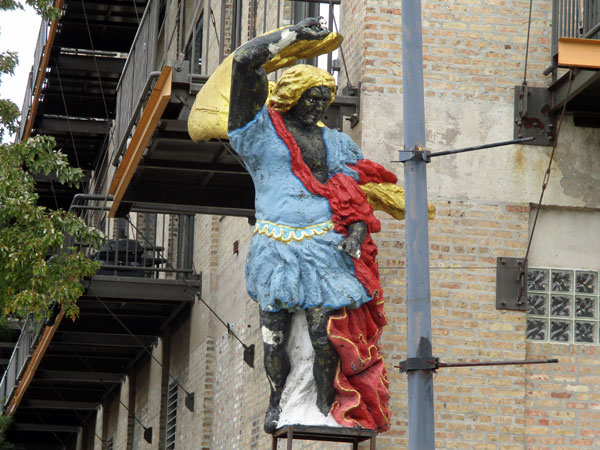 mario wheels us to midway, arriving at eleven and a half after a fortyfive slow go but it could've been worse. he gets out of the boat at the curb - he doesn't understand that airport police are very much not into that, cazzo! a traffic lady though is very kind, thank you. she can't believe how long it takes him and tav to return the van, she asks them if they got lost! security line is long too, good thing we left the 'tel FOUR hours ahead of our flight. at some chow pad near our gate w/the "taylor" in it's name. that's had made in front of me w/salami, capicola, provolone and roma tomatoes - I like it, especially from a 'port cuz it's fresh and feel healthy. our flight's at two and a half and they give me a preboard pass cuz of my fucked-up knee but I'm wrapped up in a spiel w/larry over this storm called patricia now has two mph winds, crimony! I get the bass in the overhead bin, whew. it's a three and a half hour flight but we gain two hours cuz we cross some timezones (arizona's w/pacific when it's not daylight savings time) and the touchdown a phoenix sky harbor is at four and a half. I'm thinking maybe it being friday this right into rush hour cuz we gotta go north from here to get to flagstaff where we're playing and that's got lots of phoenix 'burbage. what turns out to be two hour unexpected time from plane to rolling towards gig is van rental sitch - tav had to even switch companies cuz they big time lamed out on him. so glad me and larry got chow on the way from the gate to baggage at what's gotta be the worse chow pad name ever, "sir veza" (give me a fucking break) but the "sirnoran dog" I get is pretty ok w/beans on a dog w/bacon and and a big chili but anyway, this is the only chow 'til we get to flagstaff. I'm thinking ahead and guessing we'll have to play soon as we get there, no soundcheck so I'm chowing now. life throws you curveballs. mario arrives eventually in the same kind of ford transit 350 we've been using except it's back to side barn doors instead of a sliding one.

mario wheels us north on I-17 and there's less plug than I expected in the 'burbs and damn if we don't make to the hotel monte vista just after nine, on stage are openers from sedona call decker. - actually heard these guys on the radio doing spiel and playing live back home on one of our npr stations. I remember hearing their "patsy" on that show and when they play it tonight, it again trips me out but w/more dimension of me witnessing them perform. what a trippy coincidence but they are. singer/guitarman brandon really has a trippy aura, interesting. I like our first meeting right after they're done - really good cat... and then his bassman andrew most kindly offers me his markbass (like mine!) little mark 250 black line amp going through a 2x10 cab to use tonight to him, respect! what's a trip though is the italian panther burns guys are chow pizza the gigboss steve has provided but me and larry get to work getting ready to play - frustrating for watt about this issue so I'm gonna let it go here... it does not help band morale to start going off! I am a stunado.

soundman jason works w/us to get things set for playing but damn, hard for me to get on and off stage cuz of all the jam-up of where the guitar and the keyboard (oh, another last minute save from the good people in decker. - brother brandon let's francesco use his amp to make way for only vocals in the monitor), I'm standing on stage in my corner but it's only cuz I 'pert-near tripped and went down (you know a slip almost had me go down at the 'port while waiting on the curb? true), safer here even though I know I look stupid... a stickman w/a beat in his hand chris comes up and brings me a soda water cuz he said it looked like I needed it. I do admit it's the most tired gig I've done of the tour but I keep pushing. on the way up tav asked me to get more behind the beat so when we finally get the ball rolling (eleven bells), I try in every tune to do just that, keep a little behind w/out dragging the tune, interesting and I also think worth it. I'm learning. the stage has got keyboards and guitars kind of loud so it's hard to hear larry some but damn if he ain't playing like a motherfucker, just beautiful and inspiring. at seventytwo minutes in I let tav know we're seventytwo minutes in and we finish up w/one more - we gotta pull anchor early and tav wants to save his voice, makes sense. the flagstaff gig-goers were very supportive the whole show, much dancing up front and in the back and sides too, alright!

one of those dancing was my old friend deb. she's in sedona now but put many years into downtown chi-town where me and bands konked much. she had the greatest industrial building turned into a collective space w/artists. she's seen me w/lots of music ensembles and she really digs me in this one. I respect deb much. other gig-goers give me the good word as well, I should play here more, damn if I don't pass through here a buttload of times cuz of the I-40 (lots of old route 66 parts) connect w/so cal and the rest of the country east. one sad thing about tonight is the shindaggers were supposed to go on but didn't get to... I met their guitarman doug miyatake who's very cool people and it pains me to know they got scissored, damn.

the gigboss steve gives me and decker. brandon and basil hayden bourbon which is really very good whiskey for me. whoa. a cold mexican beer too, modelo especial. I talk w/deb some and wish her safe seas, then head for upstairs - yeah, the konk pad is in stumbling distance! I'm WAY into that, whew. four of us will share this chamber, too bunks... the cripple watt takes one of the lower and is out like that but I'm more than certain w/myself and three more compadres, we became "like a brass band" in fracesco's words. esattamente!






saturday, october 24, 2015

- tucson, az

pop at six and a half and head right for the hatch and the other hatch and outside, sun up and bright in total blue sky. it's homecoming (don't that sound like fucking high school or what?) for northern arizona university so you would not believe the clown action on the streets - even in the 'tel lobby bar there was drinking big time. I find a guy in a cowboy hat sling burritos and get one of those from him. we gotta pull anchor to try and get to tucson in time to get mario to do a overdub and then mix the two tunes we recorded in memphis. so glad for good weather. we're ten after eight pulling anchor which means ten minutes late but it ain't that bad minus any hell we might encounter enroute. we go south on I-17, mario at the wheel. it's tav this time to let him know tailgating ain't happening... I am very grateful to tav for that. we pass a sign for big bug creek, I'm dying to find out why it's called that - me and larry discuss it some. I know about bumble bee and let everyone know it's a ghost town I've always had a romantic notion about. as we come out from the mountains where there's no more trees - the italian guys see their first saguaros, I love these babies, beautiful and incredible... but don't get me wrong cuz I'm into firs too. we get gas once hit the northern 'burbs, $2.09 a gallon in happy valley. I get a bottle of aloe water that's got a wide mouth I can use for a piss bottle and just for francesco, another pickle, "big popa" is its name. into phoenix and near the airport we leave I-17 for I-10, at picacho we hit big time plug... fuck, it's from looky-loo shit, a lade went into the median on the other side! people are so fucking stupid, why do looky-loo you fucking bastard? you can cause an even bigger wreck causing that shit. assholes. twenty of noon we break free... fuck, we're gonna be late. at red rock (guitarman mario's last name in italiano: monterosso) and see a boneyard for old airliners (pinal airpark, trippy.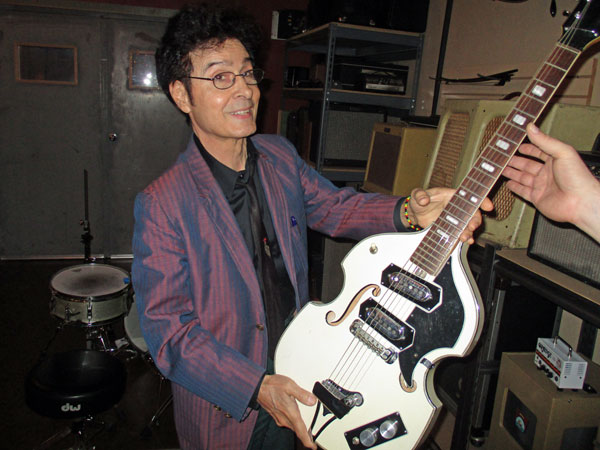 after experiencing the insane way the even and odd street numbers in downtown tucson on sixth avenue switch, we make it a half hour late, twelve and a half when we arrive at wavelab (only a block from the chicago store - yeah, that wack pad), engineerman chris helping us find the load door after more comedy on our part - you know, running stop signs - can't believe this shit. while mario does his acoustic guitar overdub on "me and my chauffeur blues" (he did one try but the track needs fixing by drummerman/producer larry who is most happening), I blow it out in the other room... damn, poisoned again. now I had good morning dump (d. boon always said good ones are dark brown floaters - no sinkers or any yellow involved) so I know it was either that breakfast burrito in flagstaff or that pickle in happy valley. fuck it, there's a chow pad across from the studio called "shot in the dark" and I get a blt to go and swallow some more psyllium husks, beautiful terrier dora keeping me much company, beautiful spirit in her and most kind. I chimp diary. we got 'til four to do this mix and I am keeping away in order not to muddy the waters. I blow it out again, big one. engineerman chris thinks best bet is the burrito cuz the vinegar he thinks in the pickle would kill any bugs. oh, found out about big bug creek - there was a town it's named for called big bug but it's been abandoned for years.

finish up at four and a half by five we're on our way to the hotel congress (yeah, the 'zona leg of the tour is olde-timey 'tels!) who's soundman for tonight by the way is the wavelab engineerman chirs, fucking respect! ain't that a trip? it's only a couple of blocks away but mario at the wheel makes it a mighty adventure. luckily I get out of the boat and can hobble into the venue. lots of neat stuff about this 'tel, lots of detail. larry says I should meet the gigboss here... he's kc and his ma graduated from san pedro high three years after me, whoa! he even says cabrillo beach right (I'll keep that secret here now), a young man w/genuine knowledge of my town! he's real cool people too. I love working w/cats like this, love it. for dinner he gets me a blackened chicken salad from the kitchen here. this chow is really good and tastes healthy - I feel very happening inside cuz of it and am very grateful... I've some bouts of "short stay" that luckily didn't develop into sickness but still were fucking lame. nothing like healthy chow, nothing like it. there was dressing w/garlic that was so fucking righteous. I haven't played this pad in tons of years - I remember we played behind the bar! much much different now. our soundman is wavelab engineerman chris - did I already chimp that?! anyway, tonight we got openers called the freezing hands releases and damn if they ain't nice enough to provide me w/a bass setup, ampeg b2r w/a 4x10 g-k cab - good for this job. I remember working this room a long time ago when we played behind the bar! mike from piaptk comes by to say hi, I just did a little bass thing for him, amazing stuff he does w/vinyl

kc gives me a little can of shaving cream and a razor, prolly via tav so I go shave in the head, no prob. the italian guys and him go to the 'tel to change into their outfits (watt is always in his, only the chonies get changed!) and I watch the openers, incredible drummerman - everyone happening musicians, good fun. brother matthew (of "fluke" fame) gives me carl woideck's "john coltrane companion" as I hobble to the side of the stage, a very kind man. they let us have the stage next... the nine fortyfive go time turns out to be later than that cuz the hatch is padlocked backstage and tav plus the italian guys couldn't get in. we get the gig going about ten - it's critical tonight cuz of the recording we're gonna do later. the gig goes good and the tucson gig-goers are most kind. the one thing that's really bunk is my bass solo tonight - it's gotta be the worse one of the tour and I am upset w/that, totally my fault - I don't what the fuck was wrong w/me but it was terrible and lame. I think it actually drove some gig-goers out, I shit thee not. one other thing kind of strange was our closer "my mind was messed up" - I wasn't sure of the arrangement or the even the feel... again, I blame myself.

we gotta get out of dodge and over to the wavelab studio soon as we can so larry doesn't break down his drums, just puts them in the boat. we can't bail yet 'til settlement's done so we're waiting w/tons of people for the dance thing and also it's university of arizona homecoming (like in flagstaff) so there's buttloads of all kinds of people in idiot mode - I can't believe how we got out of that chaos but we did, engineerstudioownerman craig waiting at his pad's open hatch. quick setup and we're read to record at one and a half am. I got the hofner china beatle bass going through a 70s fender silverface bassman 10 and a reddi direct box. I'm in a chair right by larry. we do three takes of "sway" - "the second one is IT!" says craig - I like his style and way of working - turns out he was in the hecklers in the old days, part of the same movement I joined! no wonder for the resonance, huh? much respect. I really dig chris too, he helped set up but he's I bet he's beat so craig does the part himself. we do "where the rio de rosa flows" from tav's first album which means much to me but damn at I tired and clam twice but they're easy fixes and craig has no prob getting the two fours where I fucked up and fives, baka watt. the take had a real good feel too I'm sure glad I didn't ruin it. feel is a hard thing to capture and the "groove can get rigor mortis" as james jamerson (a big bass hero for me) once put it and you beat the motherfucker to death w/take after take. ok, it's like three am when we leave for a 'tel called "the riverpark inn" w/me and larry sharing a cabin. we talk some about the recording, remarking what a special thing we got: a postcard from tucson. I konk way beat but happy.






monday, october 26, 2015

- las vegas, nv

yesterday I popped at eight and a half pretty sore, my body is a little beat but not sad beat cuz damn if I didn't get to record two more songs w/as a panther burns (or is it panther burn) tav falco, crimony!

we get to the the wavelab studio at ten bells, larry at they rudder - second time on tour. I'm checking out the incredible stuff in the studio, so many happening music things, holy cow! ownerman craig's got a mellotron, crimony! I could see the side of it under the blankie on it. whoa. larry knows all about these. he tells us amazing story about how he got it. only two hours to mix what we did last night so I wanna get out of his hair and get to work, didn't mean to bring on any windbag. cloudless sky w/tons of sun, I go to that "shot in the dark cafe" across the street and have a "leadbelly" burrito, keyboardman francesco joins me. he played so good last night. what I ordered was a kind of breakfast burrito but the tortilla they use is so thing, I gotta use a fork instead of man-handling it, dam n. I don't have my back wack 'puter sack so I don't have my hashi ('chopsticks' in jap) which I kind of bum on but it's pretty ok tasting. I don't think it's named after the bluesman though, too bad.

craig's on the mix, gotta be done by noon cuz chris has a session starting then but the band's who was booked ain't shown up so we get cut some slack that way, alright. it's one and a half when all the transfers get made - in the meantime chris spiels w/me about trippy things in nature, like symbiotic and parasitic "relationships" plus bird of paradise dances... he shows me this instrument, a marxophone: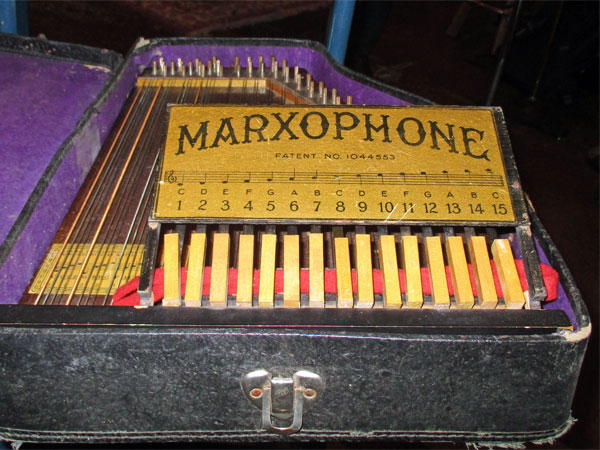 we gotta say bye to these two righteous cats, job fucking well done, MUCH respect from me! also, larry later told me he was trying to soak up and learn as much as he could from craig's power mixing/mojo injecting and I can dig that big time, this from larry who besides being stickman is also a producer in the boof! I bow deep to chris also. these cats are happening example that the world ain't total jive, proove it by doing what they do.



mario at the rudder, we go whence we came yesterday as far as phoenix, passing rock formations that look different going the other way, ain't that a trip. suburb/tracthome/mall land starts to manifest and we pull over at a circle-k for fuel and I get a non-tamale tamale (I find out after biting it) and a chilidog (even adding mustard doesn't help) - this is prolly the worse shit I've shoveled on tour besides the garbage that made me blow it out w/in minutes. baka watt. back on the road, the fucking navagatorio 'pert-near gets us lost again near the phoenix sky harbor airport - wants to put us in bagdad (not iraq one). I get us on track again w/getting the boat pointing on I-10 west again, directing mario north on az-303 and then us-60 northwest which then hits us-93, the road to kingman. it's a lot of open space but also some plots of track homes in patches now and then 'til wickenberg.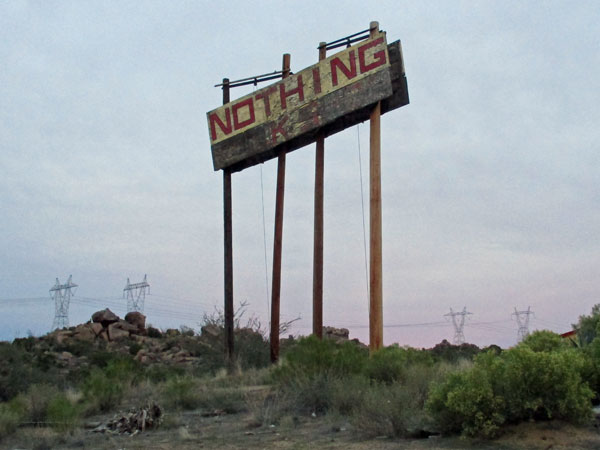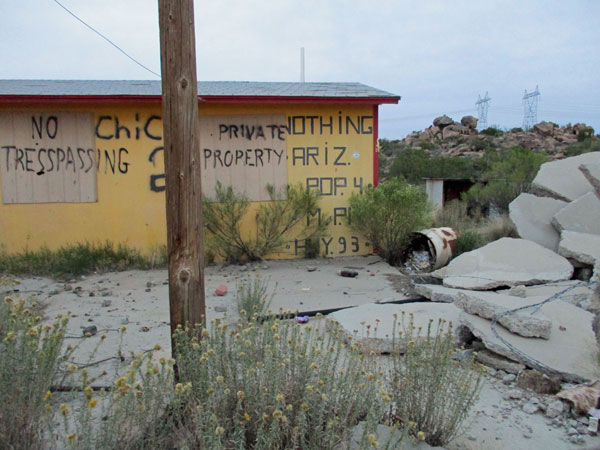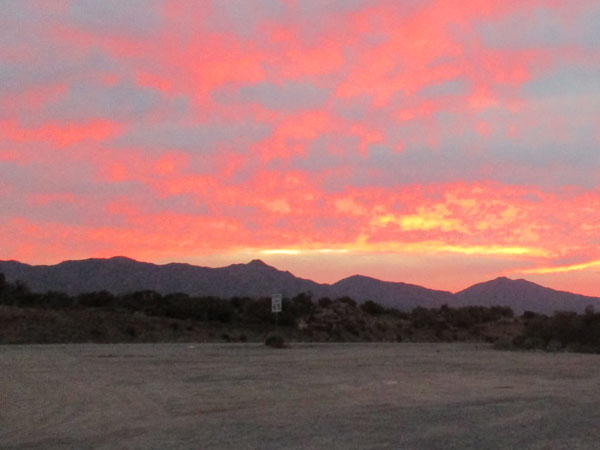 a quarter of six we come upon a ghost town called nothing - well someone had plans here, nothing left now but an abandoned gas station... it says "population 4" so maybe somebody tried to get something happening... there is a huge tower for leashes (cellular phones) and solar cells to power it that don't look that old at all. there's a righteous sunset we witness. I piss here to say that I did it. six fifteen we leave nothing behind.

I konk for the rest of the boat ride, that's how beat I am. I wake up in las vegas and help w/us getting to the "el cortez" which has got some interesting history and also we got two nights there as part of the deal to play tomorrow a block away at the beauty bar but you know what? it's only nine pm but so fucking what, I'm staying in the 405 cabin me and larry are sharing. there was some whiskey in the dressing room of somewhere - I got the bottle, I know that and use it - w/a beer larry brings me after foraging... that's how I spent the only day off of the tour. I fucking never left the padded chair, konked in my outfit in the chair and damn if I didn't wake up w/sore back, VERY LUCKY watt (I'm knocking on wood by rapping knuckle on skull).

gig day and I pop a little after one pm - can you believe that? never hardly happens w/watt but that's how beat I was. I get a bugsy siegel burger - yeah, this pad was the first "resort" in this town and quickly mr siegel, mr lansky and others got it happening and well... the burger has bacon and cheese w/grilled onions and lots of pickles I supplement w/mustard and I like it but thirteen fucking dollars? crimony. I go soak a long time in the tub. I am sore big time. I read that john coltrane brother matthew gave me in tucson, whoa, it's happening!

soundcheck is seven pm so me and larry do the one block it takes to get there by foot. we get there just as the pad boss is opening up. real nice decor, lots of sparkly vinyl. the people are very nice. soundman daniel has to chase down a monitor problem w/getting keyboards to larry but he solves that w/his buddy matt helping - oh, we're playing outside in the back lot they got and a man named chris from the openers, eliza battle lets me use his ampeg svt-350 w/a matching 4x10 cab, so very kind of him. I meet pictureman josh who's really nice, proud to be a part of the subjects of his lens. here's an example of what he caught at this show: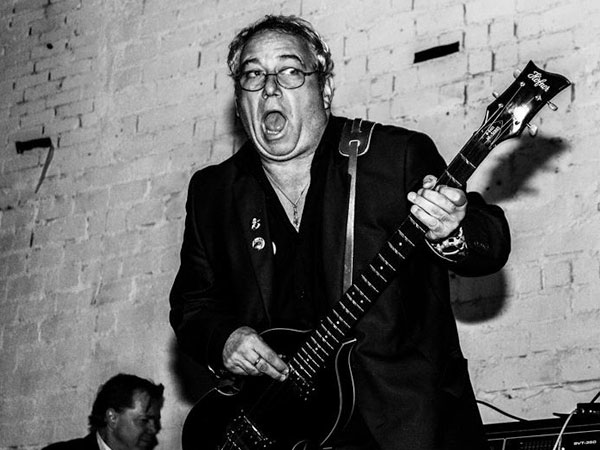 I go next door to a chow pad called "le thai noodle shop" (I think) and get thai meatball and beef soup that's really really good, love it - tons of scallions in it, so good. we're told we're on a ten fortyfive so I go konk on one of the sparkly vinyl couches next to one of the front windows. las vegas sidewalk walkers can get a view of the vecchio ('old man' in italian) konked and snoring in his suit w/the pointy shoes.

outside to the back w/watt five minutes before downbeat - am amazed tav's up there (it is a high stage) and waving us up, crimony! I'm into that, a little early even! actually a little too early cuz I ain't plugged in yet when larry starts us off - didn't even get to use the "snark" clip-on tuner craig at wavelab in tucson sold me - oh, I did that at soundcheck (fuck, what a soundcheck as far as taking forever, I 'pert-near keeled over) and things are ok even w/me coming in a few bars late. what's really happening though is tav dancing through the whole opener (instrumental, "green onions" cover) and I mean dancing up a storm, tons of moves and interpretations - even w/his back to the folks and his hands up against the brick wall we're playing in front of. I love it, truly. trying my hardest to getting in the most groovinist I can... tonight I made sure I could get right close w/larry cuz that was a super prob in tucson when I was way on the side and couldn't "feel" him like I wanna so I can have the confidence to swing that hofner china beatle bass. the dancing tav's bringing ain't just for part of the tune, it's the whole baby - what I'd give for someone capturing it on film, oh man. I look up at the sky and right over us it looks like the moon's full, whoa. the las vegas gig-goers respond w/some dancing and sending up good vibes, most kind. I use less and less of the fucking cheat sheets which I'm glad about but at the same time I clammed a little bit the ending of the memphis minnie tune and the "go on home" bridge - arrrggghhh, one day off and look at me - actually I had some little "doubt crisises" at time, can you believe that? it's a good gig and I'm so glad we finish up w/the whistle blower tune, tav hollering "revolution now!" at the end, fucking right on. oh yeah, I didn't do the best "jungle fever" bass solo but at least better than that shamer I dumped in tucson saturday.

most kind words from gig-goers, I get to meet some of larry's friends here but I figure I ain't got much gas left in the tank and better pull my own little anchor and get back to the 'tel. shit, I just make it - having to piss like a racehorse, maybe that soup was ready to leave the building, yes it was! I hose off and konk pretty quick, my body's obviously telling me something, something not so subtle: I'm beat. glad for tonight's gig though, well worth the work and the beating, well worth it. amen.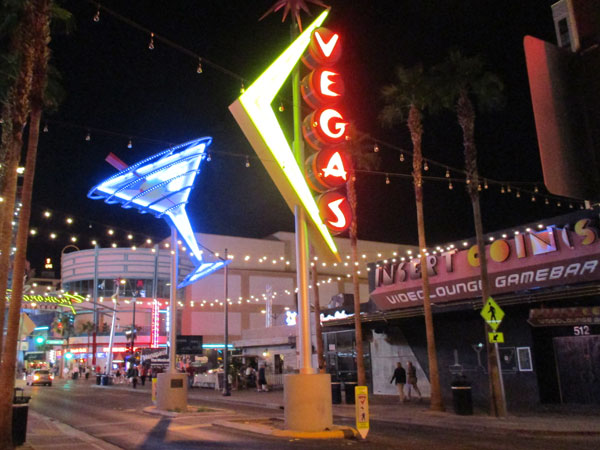 tuesday, october 27, 2015

- ballard, wa

pop at six and a half, don't know why but it wasn't late konk so maybe that's part of it. hose off (I know I did last night but fuck it, do it again), larry returns and we listen to first the leadbelly version and then the tav falco and panther burns version of "bourgeoise blues" cuz he knows nothing about that tune and tav said he'd like to record it w/us. in fact he wanted to do it last night but I told him no - a VERY difficult thing for me to do but I had to be honest cuz I was beat and we finished the gig up at twelve and a half but anyway, I'm trying to arrange to get us recording friday in pedro at casa hanzo before the gig in long beach.

leave for mccarran airport at eight and a half - yeah, the flight is for quarter of noon BUT... (that's supposed to be a HUGE but) now larry says his experience w/lots of stuff for check-in and potential to heavy stuff solution is to hand skycap a twenty and things happen most positive, the wheels being now greased. well, tav tries three one dollar bills and I trying to say there ain't a cause and effect involved but damn if all the girly sacks the panther burns use are over the fifty pound limit so stuff has to be switched around. larry gets his sack of coff beans and cowbells into his carry-on to get things right. tav has to take a screwdriver to the back wood panels of his and mario's amps off - it's quite a hassle, a big time hassle. what's amazing is no police come around regarding the boat being docked this whole time, mario unable to return it to the rental place w/out tav who himself is working like crazy to get the girly sacks right w/their weight so in that way we're lucky - to a point... just as things get shipshape, here's comes angry hombre who wants the boat moved NOW and not a second later, damn. we do dodge the bullet though, whew... airport drama. I won the lotto and got the "tsa pre" printed on my boarding pass, yatta! that means no shoes off, no getting 'puter or markbass amp (yeah, that's right - francesco asked me to trade the bass for the amp cuz it's a such a hassle at security) and way smaller line. I wonder how they select for that? seems I get it like maybe fifteen percent of the time... anyway, I'm way into it - thank you, tsa folks! I go to a "popeye's" and chow some fried chicken w/jalapeno's. I do this once every couple of months w/a "church's" in long beach just for the taste of something like that, pickled jalapeno's and fried chicken. in my opinion "church's" is much better either pad's chow ain't the healthiest and a big reason I keep that shovel pretty infrequent. we take off from yet another southwest airlines 737 ten of noon... the flight attendant is so kind to let me have a whole bin for the hofner china bass, respect! I get row nine - southwest has "cattle call" type of seating and I get pre-board access cuz of my fucked-up knee. larry gets bologna seat next to me. no time zone change, two hour twenty minute flight gets to sea-tac airport ten minutes early but something happens w/tav, he's lost. the plan was to have him go right for the rental vehicle part of the 'port which happens to be where the baggage stuff is but there's no sign or either him or mario so us three (me, larry and francesco) set up camp by some seats by the carousel our sacks arrived on... no, they ain't lost - they got the rental boat (yet another ford transit 350, tav says it's the same one that's getting shipped ahead on a flatbed) - it just took a buttload of time, like an hour and a half.... no, four minutes short of two hours!

north on I-5, we pass the boeing stuff, amazing complex - I see a 787 parked outside a hangar... trouble w/these, right? batteries catching fire or something. passing downtown seattle we head for ballard to the northwest. we drop anchor at five bells, I know where to put the boat cuz I've been the tractor tavern a bunch of times - in the back where there's a loading dock and a safe fenced in part for the boat - I believe all pads should be this righteous concerning such things.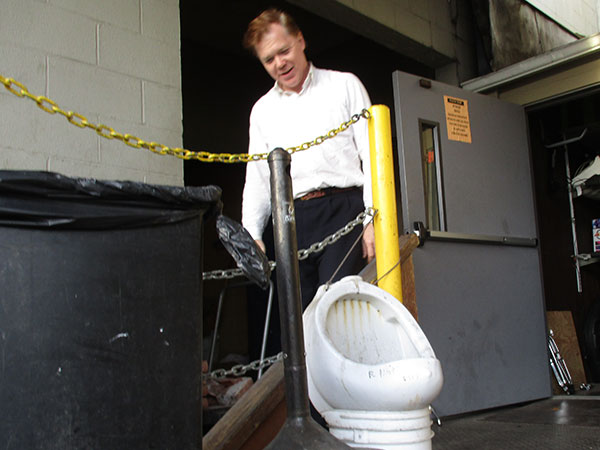 my old friend terry pearson is here on the knobs for us tonight, I first met him the first time minutemen play austin, at the continental club. he then rode on some fIREHOSE tours, he's a great cat and I love him much. we're playing w/locals deep creep and their bassman derek is most kind to let me use his sound city 150 bass amp going through a sunn cab w/two fifteens.

a couple doors down is a bar called "king's hardware" and I get a "five alarm burger" to go and bring it back to the venue to chow. I like it. not really even "one alarm" but still tastes good. two padbosses here, lee and david - very cool people and most kind to us, they give us a bottle of bulleit bourbon. the backstage is literally back of stage and we can hear deep creep pretty good when they go on at eight, I like them. I can wrestle some in the head, that "popeye's" has wrangled my guts up some, so I gotta do some wraslin' in the head - they got one right next to the backstage, smart thinking.

our turn to play, it's nine bells but no larry. I holler from the stage for him. I then yank his leash w/mine - he answers and says he's coming. it's gets right and we start the show, alright. the gig-goers here in ballard sure are kind to us and respond most positive and genuine. I'm trying to keep a little bit behind the beat like tav's asked me to, larry's playing really great - the whole band is clicking so it's a real good connect between us and between us and the gig-goers. we do one that's been scissored a lot, "sweet lotus blossom" and it goes over real good, I think this is one we should keep in the set, gives a different perspective on the panther burns. my bass solo for the night is pretty ok, not to get all self-important but after bottoming out in tucson, it's good to feel a little better about getting it more together. I blow some clams but huge train-wreckers and you know what? I think maybe this is the best gig of the tour - I'm not talking about just the bassman's bass playing but the enchilada: tav, the guitar/keys, the gig-goers and slamming stickman w/a beat in his hand... incredible how that happens when it does, total mindblow for me, truly. the "whistle blower" came through tonight w/unexpected drama part that worked real well, tav disappearing and then appearing - amazing and part of tripped-out shit getting connected. you know there was some preview spiel about this gig where someone said "sloppy rockabilly" and tav told me he responded w/this: "it ain't rockabilly, it's provocative honky tonk." 'nuf said.

I quick as my hobbled self can get stuff packed up and go and thank as many gig-goers as I can - lots of these cats are real nice and most kind w/bringing me the good word and about the group's work tonight also, folks saying they're real glad I did this tour or as I would say, get to do this tour. good people here in ballard tonight, thank you. I get a soda water w/ice in it from david at the bar - that's real good. work night, people gotta bail - fare thee well. my old friend sandy (who's got a great company called sin in linen) is here, she's seen me in all my bands and I always konk at her and steve's pad near squire park. me and my secondmen will see her when we open for x up here in december - she said drummerman jer better not piss in her flower vase again! I get to meet kat who booked this tour, she lives here but comes from chico, not far from red bluff which is where my pop grew up. I thank you kindly for all the work she did. there's some people from town here I don't know that well but have a good time talking stuff w/them.

we pull anchor around one and mario wheels us whence we came this afternoon to the sea-tac airport area and a 'tel called "clarion" which has got a room for both me and larry. I'm fucking beat and konk once again in a padded fucking chair. I can't remember doing so many two and half hour gigs but that ain't no excuse. good to get tired working bass though, you won't hear me bellyaching about that. larry says it was the best gig of the tour too, righteous.






wednesday, october 28, 2015

- portland, or

pop at six, why? don't know. gray sky out the window and I think it might've rained... I do big hot soak and then konk 'til nine. larry pops an hour later and plays me this cat he's gonna be working w/named luke elliot, a new jersey guy in norway.

we pull anchor twelve twenty, it's raining - the italian guys see the real northwest, yesterday was a taunt. a little after one we get off the I-5 at tacoma, macario really wants to chow so we pull of into strip-mall-landia but damn if me and larry don't find a righteous pho pad called "2nepho" (trippy how the name is similar to a band I really dig called 2ne1) while the other guys eat at a "lenny's" (not real name). man, did me and larry have a good chow - I had my pho bowl w/beef, tendon and veggies along w/the noodles and incredible broth including chilies and china hot oil.

again south on I-5, we hit a huge plug w/the traff it ain't that long of a delay though and soon we see the cause: a van on the side of the road that has burned to the ground. we pass olympia and the sun comes out, yes. it gets dark soon from cloud cover, about seventy miles from portland mario wants to stop to wash his face - that's what he says. I don't understand why I can't drive... anyway, we drop anchor at a rest stop - maybe it's to make sure we don't get to town too early, I don't know - I ask tav and he tells me not too worry cuz it's his last day squatting on the fucking rudder.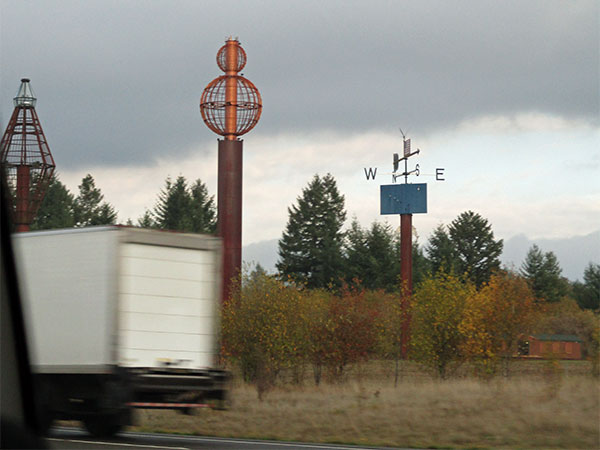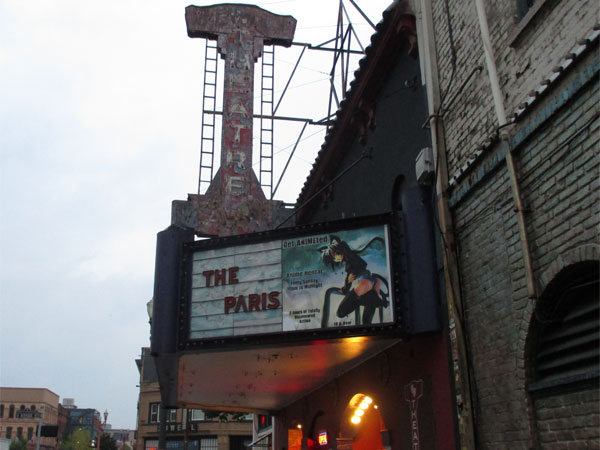 drop anchor at five twenty at the side hatch here at dante's - been many years since I've worked bass here. I recognize some parts - yeah, the hatch w/the whole cut in it where the peetz comes out - I think they're connected w/the club, pretty sure. I pass on the peetz though and go across the street to eat my only soosh of the tour, "su be sushi" and get a california roll and like that, it's less than the buy-out I get from gigboss justin, thank you! (maybe I get a slice of peetz later). there's a 1x15 swr cab here that soundman will say's I get to use - damn if I ain't gonna use for the second time this tour my markbass little mark tube amp (is it the second time?) - the cab ain't the best but maybe it's the pad. it use to be a burlesque place and I remember when the stage was half as big and actually the whole place be smaller - maybe some bulkheads got knocked out or something. I'm sure soundman will can get it happening for the folks - remember I get in for free, it's more about the people. tres from "voodoo donut" across the street (right near that soosh pad) brings over an incredible portrait of d. boon an artist named jackie sauriol did w/bottle caps - you gotta get back some to see him but it's beautiful. crimony. I can't bring it w/me but I'll be back for the x gigs next month in the boat w/pete and jer and will bring it back to pedro though.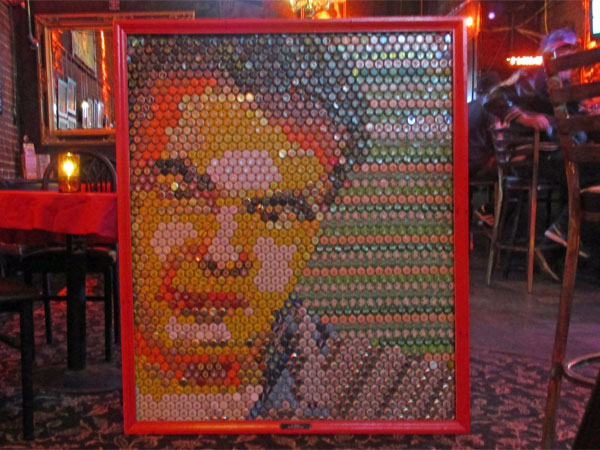 after soundcheck w/soundman will, I windbag w/two guys who come downstairs looking for tav, one named robert moss who's got a book called "descending memphis" and both are very nice to me. I got fucking earplugs in though and think I'm hollering at them the whole time, damn... so embarrassing, sorry. I meet the drummer/keyboard lady named cecilia in damn! who's from france and she told me some time ago she put on a tav falco gig in her land, whoa! I also meet the criminal guitars who are also sharing the stage w/us w/damn! and they're nice cats - I watch both their sets and dig it. actually, of the guitarmen in criminal guitars blows me away into real o-mind territory that I give him my email address and ask him to write me, his name is jacob - much respect!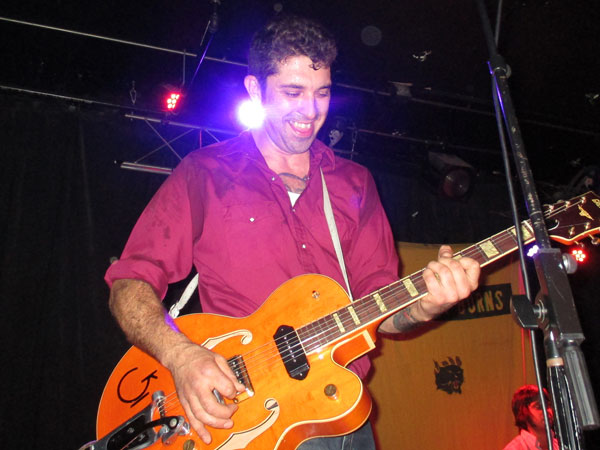 our turn ant it's 'pert-near eleven... aarrrggghhh cuz of my flying mission early tomorrow but I'll man up and grow a pair, stop bellyachin'. later tav will tell me he thought me and mario sounded tired and I can believe that though I was pushing w/out getting ahead the beat - I'm really trying to keep behind larry like tav asked me. we're being filmed (this man's filmed me a few times but damn if I don't space on his name - I'm so sorry) so I always get weird w/knowing that but playing here next to larry helps me forget all that - I have a good time w/him, especially when I can FEEL his kick drum. the portland gig-goers are most kind, really they are. guitarman jacob gets right up front, tres too.

gotta say I was inspired by the criminal guitars much, I tell their singerman danny that when we get done, I ask their guitarman jacob I wanna do something and he sugests "some soul" - fucking right on! I never go to the downstairs, I just meet w/gig-goers - eric from sightworks is here, him and bill host the watt from pedro show and I'm much grateful to them - BEAR HUG for eric from me. I talk w/this man aaron about his essays about jazz, he wants a "blurb" so I say I gotta read them first, can't wait - he's got one on visiting a pad ran by mr murakami, whoa, love that writerman, mr murakami and have read many of his books. there's a drummerman and bassman that talk w/me about rhythm section stuff, real good stuff. we're joined by other gig-goers, we gotta a spiel ensemble going, happening! these two cats from arkansas give some discs from mississippi csr - so very kind of them. the man w/the big beard who's flowed me always cigars is here w/out cigars but I still give him the big hug... I do much cigars these days anyway. lots of good word from the gig-goers, much and I am thankful big time. only one missing is richard meltzer but I'll write him about december, love that man.

tav gives me the pull anchor signal and I jump in the boat (well, first I get a slice of that peetz from that hole cut in the hatch), mario wheeling us to a "quality inn" near the airport - good thinking, tav. I'm in a room w/larry, setting the alarm and konking soon as I can cuz fuck, it's already two bells...






thursday, october 29, 2015

- echo park, ca

pop first at five bells cuz like an idiot, I set the alarm wrong - was supposed to be six and half, fuck. baka watt. poor larry had to hear the goddamn rooster sample crowing like a way too loud-ass and speaking loud-asses... after hosing off and into the goon suit, I leave a konked larry and wheel the mansack (traded francesco for the bajo) to the 'tel lobby to check in for the airport shuttle, the deskman tells me there's chow in the room behind him so I go get a plate of some strangely scrambled eggs (not soupy though which I dig) and veggie fake-sausage patty w/some cranberry juice and the only two other people here are in hollering mode "discussing" buttloads of bullshit nothing, damn. it's fucking hurting even so I shovel quick as I can and get the fuck out and stand by the shuttle van but two other samethings except maybe w/a little focus, the subject was hunting unload their vavoom shit w/no shame. only one gets on the shuttle w/me (well, there's the very kind driver) but is joined to make it for round three of the goddamn hollering beatdown (the "focus" here is the state of alaska and listing any and all relations, crimony!) I'm so fortunate to be roped into. it gets me to thinking about karma and maybe I do that kind of shit to people and so this is a lesson on the golden fucking rule, right? "have other do unto you what you've done unto them" or something like that.

I arrive at the southwest terminal of pdx w/an hour and a half to go and get both my boarding passes from a machine. one advantage of the mansack over the bajo is I can use it as a walker cuz of my fucked-up knee - it is never behind me, always in front. this trip the disadvantage is (and what francesco hated - I don't blame him) the markbass amp is in there and it's gotta be removed for inspection but I get that done w/the tsa people very kind to me. I'm also slow cuz of these fucking pointy shoes - they ain't lowtops and are fucking hard to get in and out of, I shit thee not. anyway, I clear that and look for a belt in the shops cuz damn if I didn't spit the back of these fucking pants and there's nothing to hold them except my fucking hand. I find one place that's got them but they're thirtyfive fucking bucks - fuck that. I go blow-out what's kind of hurting some in the turdsack, thank good for both psyllium and handicapped stalls w/a powerful flush. the desklady at my gate gives me pre-board passes for both my flights and says in sac-town (that's where I fly to first) the gate I'll come in through is close to the one I'll take to fly to lax and I don't need to do security again. this is very good news. it's drizzling rain out the window and there's even a deicing bucket truck but I think we're ok - one snag here and it's a cascade fuck wrecking compounding itself w/everything next thing dependent of the last. I'm in my favorite port aisle seat in row nine (it's cattle call on southwest but w/my pre-board that's a good thing) for the one hour only flight and I share the row w/a big man but he's by the port hole and we got nobody in the bologna seat, alright. I chimp diary 'til we land, our 737 (THE plane for this tour!) descending past the surrounding rice fields - that's right, we're in a four year drought now, crimony... and don't forget one almond takes about one gallon of water to grow but better than making the whole state a fucking either gentrified or tracthome bedroom community - keep farming a core cali industry, you fucking near-sighted short-term jive-ass greedsters! the sac-town southwest terminal I think is designed pretty good w/huge-ass windows to let in what? california fucking sun, that's what! I've reached the promise land - it ain't my pedro town but it is the state, the golden one I've picked as home. well, the navy picked it for my pop and us but I didn't have to stay when I had the means to bail... I love tour and visiting everyone's else's pads and lands but damn if I ain't most grateful when that bungie cord yanks me back to my pedro town... it's a town for watt he feels he belongs in. there's a chow pad here called "jack's urban eats" and they make me a tri tip sandwich fresh in front of me for ten bucks so I chow that w/some mustard and tobasco sauces, both from small packs. one last 737 ride for this tour, the captain asks if I need help when he sees me board and I explain my split-in-the-back pants sitch. he says he might have a safety pin but I am embarrassed big time and head for aisle nine seat c, w/his wise words about life doing that, piling up the hells sometimes echoing behind me. he is a kind man and is our helmsman. I always look for the epaulettes or sleeves w/the four bars cuz that's either him or her. it's an hour and a half ride in the air and again nobody in the bologna seat (the lady in the window seat keeps rearranging here hair and taking "selfies" w/her leash - is that "airplane mode" the flight attendants keep mentioning?) - I see good views from my aisle seat however of the getty center in the sepluveda pass the hollywood sign in the hollywood hills and get some snaps...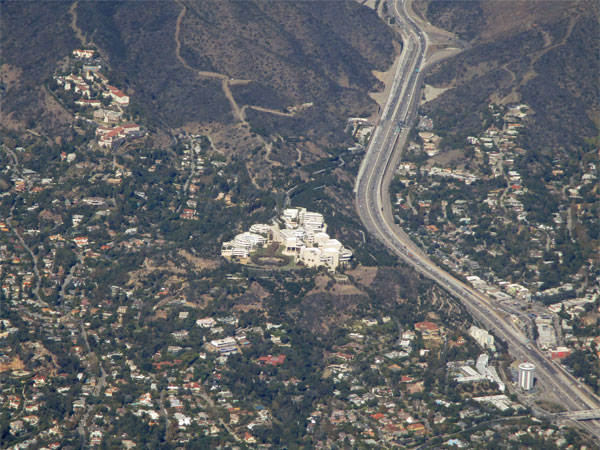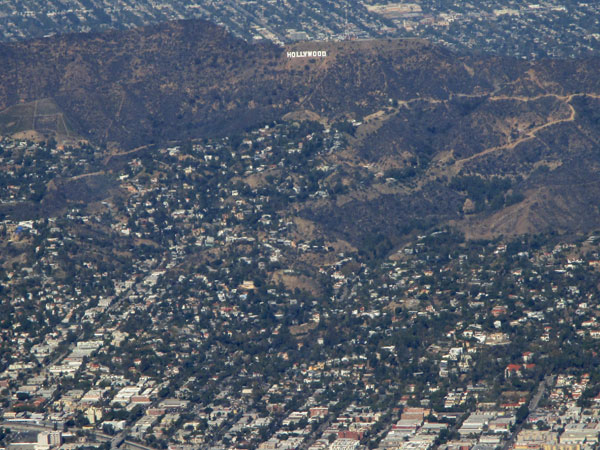 we land at one and my secondmen drummerman jerzo's there to pick me up at lax and get me to our pedro town... damn if my ma ain't made a plate of spaghetti w/her own homemade meatballs AND set up her sewing machine so damn if I don't get these suit pants fixed better than new by her. actually no fabric tore, it was just thread on the seam so best case of lame thing. I am very grateful for my ma coming to the rescue like she did and then w/the righteous chow on top of it, much respect. I hose off in my own shower. I throw the fouled chonies into the coin washer downstairs along w/those socks - I'm playing w/no socks under the pointy shoes tonight. I get up near lax and wait it out in fast crap lot 'til I get the call from larry that they're on the curb. twenty of five I get the call but like a fucking idiot I drive upstairs where departures (graphic has wheels up) are and am wondering where they are when larry enlightens me to how fucking stupid I am so I take the return route and get right - maybe five extra minutes for them but they five fucking watt's-an-total-stunado minutes that didn't have to be. I hang my head in shame. we begin what turns out to be a 105 minute hellride to echo park where the echoplex is the site of our first california gig of this tour - larry's guess was only fifteen minutes wrong.

one of the bands sharing the stage w/us tonight is ford madox ford and damn if the ain't got chip kinman of the dils and his son in the band. there's also chip's brother tony (a HUGE influence on me as a younger punk rocker) co-writing w/him but he ain't a preforming member. big hug for chip. the other band is gabriel hart & the fourth wall but I don't meet them, sorry. I do get to meet jimmy z who's a friend of our guitarman mario and is gonna blow harp on two tunes w/us tonight, a very nice cat. bg the gighelperman has two kinds of righteous hummus for us, one is w/chipotle and the other w/garlic - most tasty, crimony! after soundcheck w/soundman andrew and the monitor man who's from virginia but I fucking spaced and can't remember his name (so sorry). after that I go to the boat and do what I do w/my own bands mostly: konk on the bench seat, out cold.

I get rousted (by who?) w/hatch pounds and told we're on in five mutes - ok, I go right to the stage... and wait. only fifteen minutes though (only) so eleven now is the go time. larry starts starts the us off before I'm plugged in again but unlike las vegas, I join the band a little sooner than then but I think both times it seemed like it was supposed to be that way. whatever, I see my buddy dirk at the front of the stage, my side... I'm wearing his pointy shoes! we do the full-on two hour plus set, jimmy z tearing it up in "me and my chauffeur blues" and "make me know you're mind" - tears it up, much respect - wow! damn, I'm sorry for spacing but gina's here and tangos it up big time w/tav on "drop your mask" - a good long one w/much grace and poise. the gig-goers here sure are kind but it is a work night and damn if even I know it's time to konk so I don't blame for anyone bailing though they did miss "whistle blower" which by the way was a trippy version, having the lines scissored (for sure prolly an accident):


the whistle blower knows
it ain't a pretty thing
blowing the whistle
on the intelligence machine


ok, everyone (I'm not just talking a bout panther burns) has drank all the beer and whiskey... bookerlady liz though is most kind to give me a liter of bulliet bourbon which I take to pedro but not before dropping the rome guys at the chinatown "best western" - nope, halfway there I gotta turn around and get tav/gina - mario says "we do things too fast" and I 'pert-near shit myself. I get the boat back to the venue and w/get tav/gina - gina says it's like boarding a pirate ship. I get them to their chinatown 'tel and then larry over to his buddy luther's in los feliz and damn if it ain't four in the morning when I get to my pedro town but you know what? I got there and that's the main point. I hose off, have some of that bulliet and then konk on my own deck. fuck yeah.






friday, october 30, 2015

- long beach, ca

pop at eleven bells cuz that's how fucking beat I was from what was prolly a five in the morning konk. I'm lucky I still got my health. soon I gotta get up to chinatown (twentyfive miles north) to get tav and the italian guys and then get larry at luther's in los feliz so that means leave in a matter of moments. the traffic not as bad as yesterday but still thick (it's a friday) but I'm only six minutes late for the twelve and a half pickup, totally getting good luck w/a car pulling out from a meter w/like fortyeight minutes on it right out front the fucking 'tel. tav's here but the italian guys are on the metro (I've never been on that yet) from a hollywood safari and so I gotta wait 'pert-near an hour.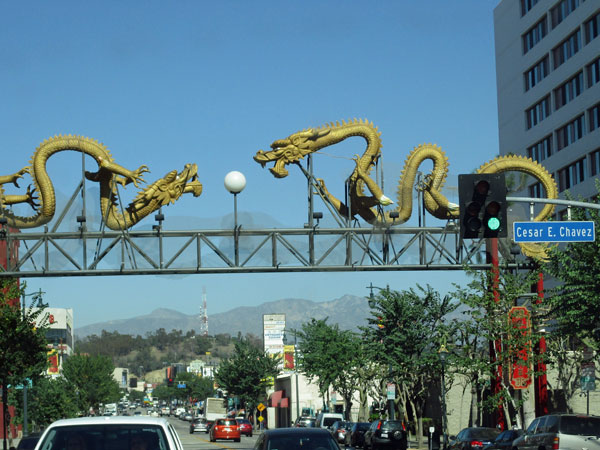 we have to say bye to gina, "bye gina" and the we make our way through silver lake over to los feliz to get larry at luther's - good to see him again (great cat and organman) but it's another half hour or so waiting in the boat... the plan was to record at "casa hanzo" in pedro (my secondman organman pete mazich's studio) but w/load-in being five pm in long beach and us finally pulling into pedro at three bells, it's no fucking way and the session is scissored - I call petezo and let him know, him laughing on the other end of the line and me saying back "I know, I know..."

what I do is take these guys to the place where me and d. boon started the minutemen (upstairs back apartment in pedro, 519 w 19th street - you go into the alley to see it), next is century motorcycles which I know tav has a thing for...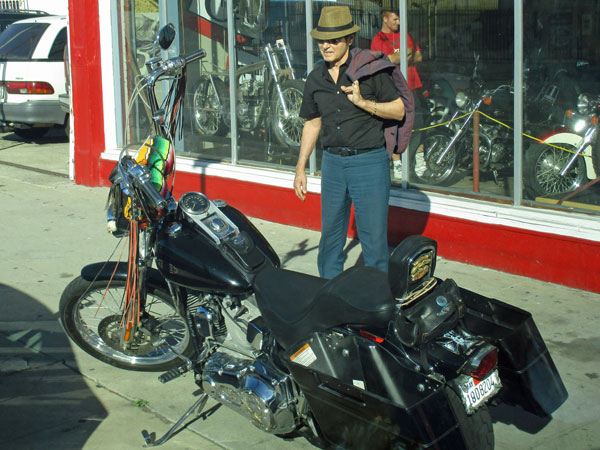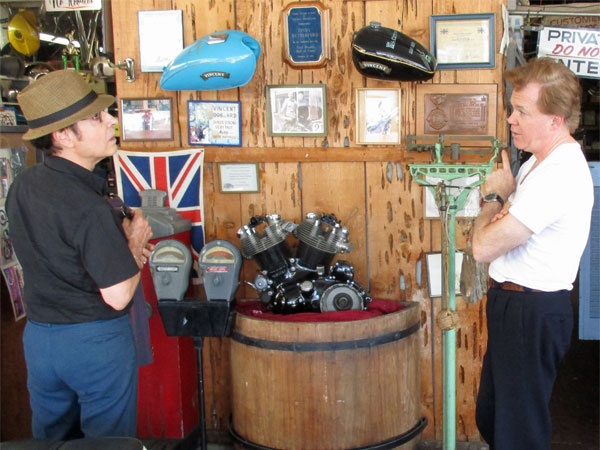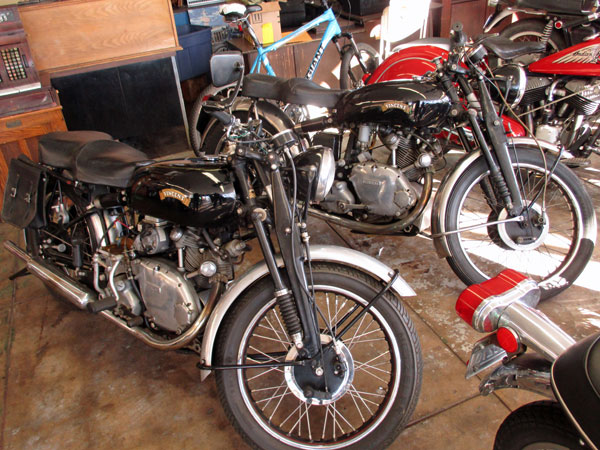 they got two vincents here, we need to all get into that and other happening stuff. tav checks it all out. then I get everyone in the boat and show them the bodega that used to be an iww hall (joe hill lived in our town a couple of years) and then to the main san pedro post office built in 1936 and fletcher martin's postal worker mural painted inside it,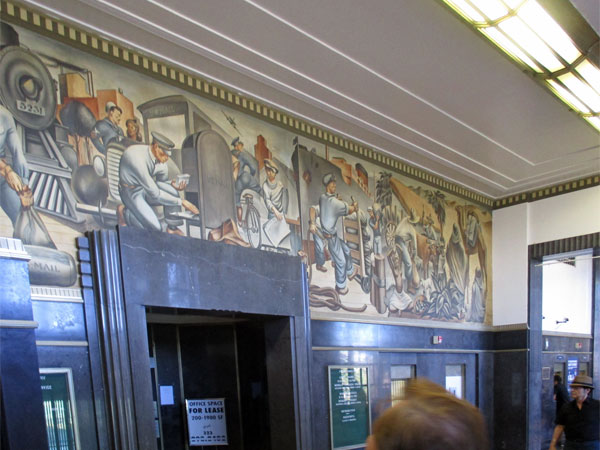 then to the san pedro fish market restaurant on the main channel to chow - I get some "squid and chips" and damn if a gull don't start chowing on some as I hobbled to get a napkin - some lady showed it off though so get some and it's good, deepfried calamari, french fries and coleslaw. the mariachis are taking a break but I still think it's good to show these guys some of where I live. we gotta move though cuz time's a wastin' - I show them pedro's first water fountain and then other worker mural from a few of years ago, slobodan dimitrov's "the longshore" - yeah, more than seventy years between those two worker's mural in a workers' town! I then show them my buddy dirk's guitar shop "guitar safari" and then where charles bukowski lived his last fourteen years, over on santa cruz where nearby there's a mexican chow called "the enchilada house" I really dig, it's been there maybe since at least when I was in high school. now it's time for us to get to the gig.

we're playing alex's bar in long beach and that only about ten miles east of here, we only gotta cross two bridges to do it, the vincent thomas and the gerald desmond (now being replaced) cuz terminal island is between us. I make sure I park the boat where we can get out quick. I found out the gig is clean (sold out) so I wanna be sure we can make a clean anchor pull when we wanna. the knobman is my old friend mike martt - damn! larry knows him cuz he lived in the tex and the horseheads hollywood pad for a while, we got ourselves here a little reunion! we can't check yet though cuz actually this ain't our gig and instead we're opening up for jello biafra & the guantanamo school of medicine and he's got larry from victim's family on bass (and blonde hair now) so we spiel a bunch in the back room... never been here though I've played the pad a bunch and dig much the jefe here, alex who comes by to say hi, he says we'll be on at a ten and a half. we check w/soundman mike and then I forage for chow - that burger place next door is now history, damn... a couple doors down though is "mink quan thai" and I get some won ton soup to go, bring it back to the pad's back room and let everyone know cuz I think they wanna shovel also, that pedro chow wearing off by now. the openers peter pan speedrock from holland play in the background, good blasts from them. I meet w/jello and tell him I'm so sorry I can't give him a pedro tour cuz he had asked cuz he's in these parts one extra day but that day I was supposed to be here is now gonna be in oakland cuz tav has a book event in oak-town monday. oh well, next time and he reminds me that it goes back to me and d. boon both promising him a tour back in the old days!

it's gonna have to be a quick changeover so I get my bass and wack back 'puter sack and wade into the crowd while snakearm is playing. there's brother matt - HUGE hugs for him... and also thalia who I did the li'l pit record w/plus other music stuff. laurie of cornelius proj also, checking out the pointy shoes dirk gave me - and dirk again, yes! jer too (secondmen drummerman) and his wife kel... craig ibarra also! lots of friends, so kind... they wanna see me w/tav, much respect. I wanna play good for all of them.

my amp was left up (oh yeah, starting w/yesterday I got my tc electronic "blacksmith" going through one of my 2x10 dna cabs since I'm in my boat) so I just gotta plug in but soundman mike says he needs time - 10:38 and we're ready, we gotta bring it before we get the hook. to make sure "whistle blower" gets played, we do it second which I think is great. some/many tunes scissored so we can fit in the space of time were allowed, the long beach gig-goers give good support if not kind of stunned but damn, more stunned would be ok too, I think in my opinion I say we planted seeds in them that will burst and grow maybe not so immediately but definitely down the road and maybe when they lest expect it. we end real strong w/a stomping "bangkok" that's the tightest we've done all tour.

the gig-goers are most kind to me, some helping (like tj) w/my amp and speaker box, others giving me the pat on the back, the grip on the arm, the shake of the hand, the rub on the shoulder, the hand on the heart and the fist in the air - much respect to all of them, truly. we get the boat loaded up, larry now w/cases for each drum instead of the matroska act he had to do toting just two and and a hardware valis. julie who used to give me rugs and now has a little girl and shows me a shot of her kodomo, beautiful. there's cats w/turbojugend jackets (turbo califas?) that come up to my window (I'm already behind the boat's wheel and strapped in) and talk w/me - I tell them of bringing happy thom to raymond's work place when it was on broadway and falcon here in this town - I'm HUGE happy thom fan. one more hug for thalia and I get to introduce jer to the band - then we're out, thank god.

we roll west through little cambodia and then down the long beach freeway a tiny bit... there's been tons of construction so I 'pert-near get us lost but francesco keen eye spots the right way and like the righteous navigatori he is, gets me right and it's twenty after midnight when I get everyone to the "vagabond inn" on gaffey and second - me, I'm konking at my pad which I do pretty quick as I hose off, get bedecked and blankied. crimony.






saturday, october 31, 2015

- sacramento, ca

pop at eight, hose off quick and get some coff down. we got just over four hundred miles to cover to get to sac-town for the gig there tonight and it's halloween, my favorite holiday - why? cuz it's the one day all year we admit we wear costumes. end of lecture.

I gas the boat up and get a carnitas burrito from "guanajuato meat market" on pacific avenue, there two bucks cheaper on wednesdays but it's worth the six and a half I'm spending here big time, love their carnitas, love it. it's pretty sunny out, I'm at the 'tel right at ten bells to gather everyone - I mean wait and wait to gather everyone... larry's a little flustered - hey, we just wanna beat the plug that has better odds of developing between us and the grapevine. last looks of pedro for tav and the italian guys (I know larry'll be back), tav says he likes my pedro town, says it has character and stuff that helped build the u.s. in a good way. I sure wish I could've shown him more. I'm hoping maybe there will be chance to do just that. meanwhile I take us north via the I-110 to the I-405 (francesco now know the interstate number system well) to the I-5... we see plenty of vehicles on the side of the road w/the hoods up on the grapevine, out of the race. too bad it's hazy in the san jacquine valley cuz that view when we come down the last hill into her is an intense one when it's clear. we do lots of spiel cuz like I might've mentioned earlier, tav don't like music forced on anyone - they can use headphones if they wanna hear. the way these guys are w/girly stops, cig puff, leash worship and dawdling I plan for just ONE fueling so just after two I decide this'll be it, I pull off at pinoche (pinoche!) road to gas the boat up and get some bubbly water. of course this turns into 'pert-near a hour dawdle. tav says it's an italian thing but I've seen tons of u.s. people do this. also, my last big u.s. tour (fall 2014) was w/two italian guys and they never dawdled once, I shit thee not. trippy how at this point the road gets really rough but larry handles it well - I gave him the rudder and chimped diary in the back, sitting right behind him w/the fucking seatbelt lashing me tight and unable to see or help but what I can do is chimp so I do that, to get caught up cuz all this wheelman stuff has put a dent in my work I need to do for that.

it's sacramento for the second time for me this tour (I flew here thursday on my way home, remember?) and the umpteenth time I work for gigboss brian mckenna, one of many times here at the blue lamp in the downtown - in fact he's waiting for us as larry docks us up twenty of six. aj's the soundman and as both him and the rest of the band set shit up, I hobble a couple of blocks to a chow pad called "spring ginger" and get some pho to go, bring it back to the boat and chow it down, I can dig it... keeps watt healthy.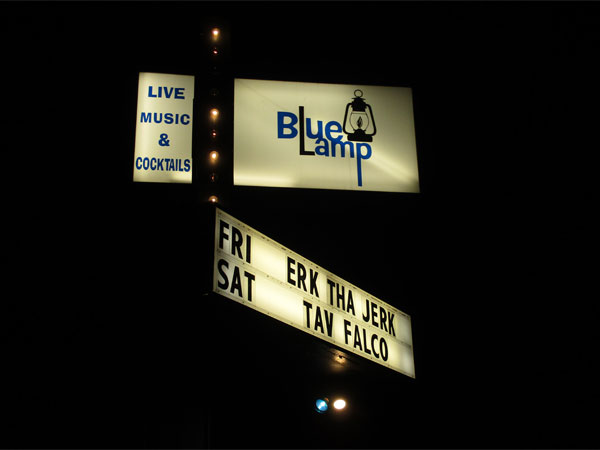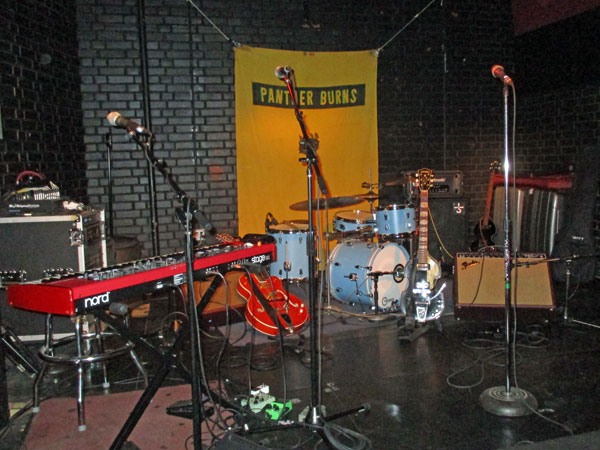 I wait for everyone to get done w/their recitals and whatever, thinking they're finished but when I get so-called "confirmation" I find it's a taunt cuz they all start wailing on it - I ask for five seconds but in fact it's not enough cuz I need three minutes five seconds to get my amp hooked up and plugged in. however, I don't need to play one note even, I have us all just start a tune and let soundman aj bring me to where it sounds good. solo bass check to me is really some misdirected thinking. tav backs me up on this but I was wrong about the time and larry was right. he shows me the big plastic knife he wants to be part of his halloween costume.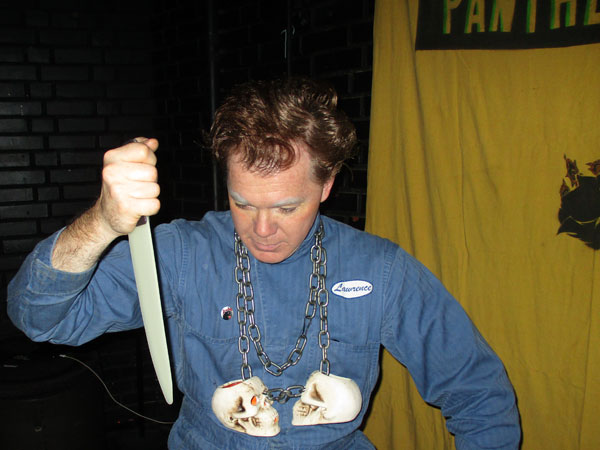 I'm lucky that my old buddy concepcion is bringing me a mask so I can preform tonight in a homage to fantomas, a cat tav turned me onto. last saturday of the tour tonight and I think about that... I usually end a tour on a saturday but this one ends on a sunday, hmm...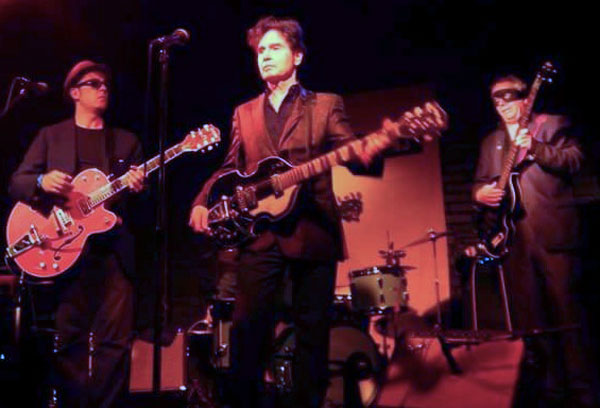 I get all caught up w/diary as ten comes around - no opening band (a dj instead, very nice man) so that's when we're on, I mean supposed to go on. I sit at a table w/the mask on and wait 'til maybe twenty minutes later when I hear francesco's first notes on the organ. I like the set. I like the fact the panther burns banner is up on the bulkhead behind us. the sac-town gig-goers are most kind, truly. I don't use the fucking cheat charts not once tonight, not once and I am proud to chimp that here now in my diary. larry's playing his ass off, he's got that big plastic knife - actually I found this "knife" on the deck in the boat and dumped cuz I didn't want a hombre shooting me if he saw me holding it - I went and fished it out of the trash when larry enlightened me to the fact it was part of his costume - he's wearing his work overalls instead of his suit tonight so that's part of his costume. mine is only the mask, I wonder how much of a dork (how much MORE of a dork) I look like? I did not go look in a mirror and see on purpose. fuck it, I just like dressing up for halloween, period. this has got to be the easiest costume I've even played in though, truth be told... you should try it w/a real fucking pumpkin on your head. it was just fate learning from tav who the protagonist of his "master of chaos" tune was.

we finish up and so much kindness from the sac-town gig-goers, truly. two cats help me off-stage, one of them getting my amp and speaker of and into the boat (thank you much, tom) and another man right after asking me to be a character in a animated cartoon he's doing. this man mike gives me this trippy story he's written and I also get a piar of socks from someone that's got anchors on them. like I said, everyone so kind and I am very grateful. concepcion, who's seen me w/every band I've been in since the minutemen (she knew d. boon in pedro when she worked at the free clinic there) was so into the gig she wants to come again tomorrow, crimony!

I'm glad tav got to meet gigboss brian and they have a good talk together, one reason I'm waiting and waiting to pull anchor but it's a good reason. finally we can pull anchor and I take everyone to the "red lion" 'tel not so very far away. I don't have to make the trip twice though cuz larry's forgotten one of his sacks in the dressing room. that's ok, anything for larry. I am fucking beat and sore though so a half hour hot soak is really there for me before konk, real good. happy halloween.






sunday, november 1, 2015

- san francisco, ca

pop at nine - what I think is nine cuz like a total stunado I forgot daylights savings time and we gained an hour - I drive around downtown sac-town to look at our cali capitol - it's got some echoes of our fed one in dc looking... my buddy concepcion let me and my missingmen do a tour of it a few years ago. I notice the jess unruh building its roof front on top "bring men to match my mountains" has carved in it, interesting... I find out later this from something sam walter foss wrote. the rest of that poem is strange.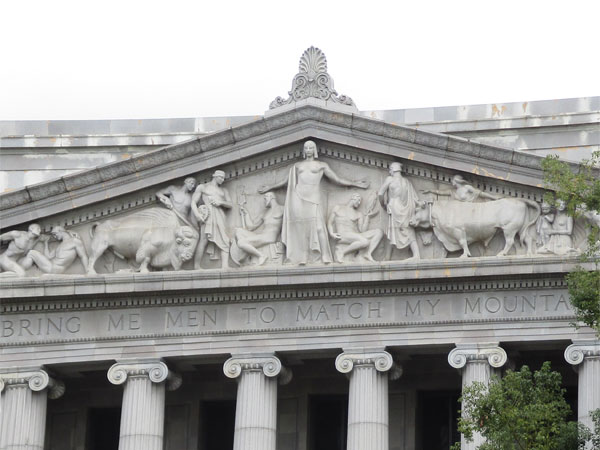 I get our people at the real ten am and rain is coming. we gas up and head for san francisco on I-80. larry was so right to get out of dodge when we did. there's lots of knots of plugs in the traff and also asshole fellow drivers to contend w/their insane risk taking and butch insecure behavior. we pass the town of dixon to find right next to the freeway (according to the signs) that the guinness book of world records has declared the corn maze here the biggest in the world, do tell. we don't stop for the look-see and will take them at their word. all that rain back in sac-town is gone now, we see a big-ass transport plane from travis airbase prolly on a training run. there's lots of clouds and kind of gray/humid but it ain't storm. we're all most grateful.

we cross the bay bridge (half of it on the brand new part, first time for me) and into the city (people here don't call it "frisco") and damn if the fucking navigatorio don't do right and puts on a very interesting route to the golden gate bridge. we go through north beach so yeah, there's "city lights" book store and broadway where the mabuhay was (first out of town gig for the minutemen) and then north beach stuff, so our italian friends can see some of what great contributions folks from italy brought to this city - I already learned them about the fishing and the agriculture. tav tells them about the bank of america coming out of the great fire here (originally bank of italy). I point out the cable cars this town's famous for, tav explains to our italian bandmates how they use cable to operate...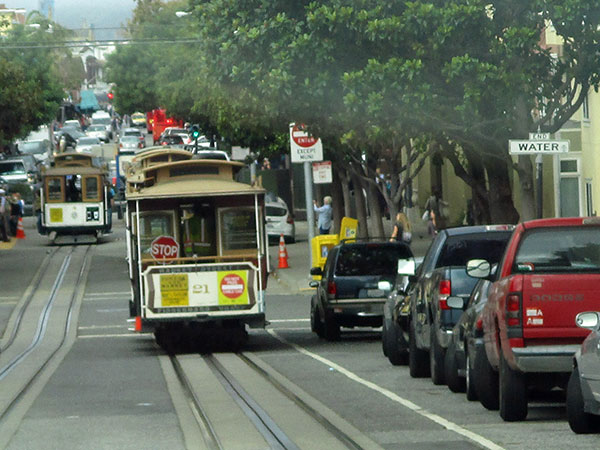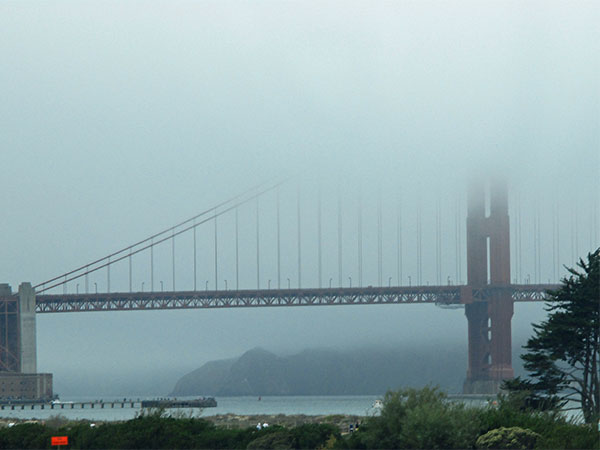 not much to see w/the bridge all fogged up like it is so I take us next to the filmore cuz besides the golden gate bridge, that's the other thing our guitarman mario wanted to see and fuck, we're on geary which is both the cross street and the way back to the other side of town which is where we're gonna play. I turn on to filmore (the street) for a loop around to let him get another shot when damn, there's a parking spot, crimony! sunday too so the meter means nothing, how lucky. I chow a pastrami dip sandwich that's pretty ok at a chow pad right where I dropped anchor called "prime dip" and chow it in the boat while the others (not larry though cuz already dropped his ass off near golden gate park so he could go to a shop and get his leash charged w/more minutes) get pictures at the filmore... a bicyclist almost plowed a jwalker - he hollers "heads up!" as whips past, the jwalker muttering "I got ya, I got ya..." crimony. I get us to the mission part of town at two and damn if there ain't another parking spot right near bricks and mortar which is where we're playing tonight, holy smoke! fucking lucky watt. I then chimp diary for the passenger's side so people don't think I'm gonna be leaving cuz fuck if I'm giving this spot up until the gig is fucking done and I gotta tote our italian guys to a 'tel by the airport. I chimp diary in the passenger seat so people don't think I'm getting ready to bail.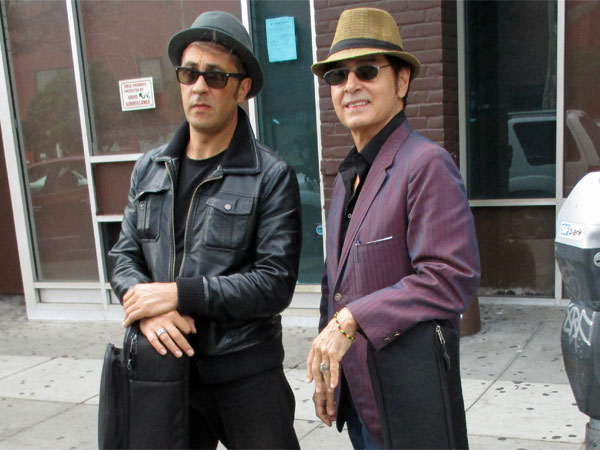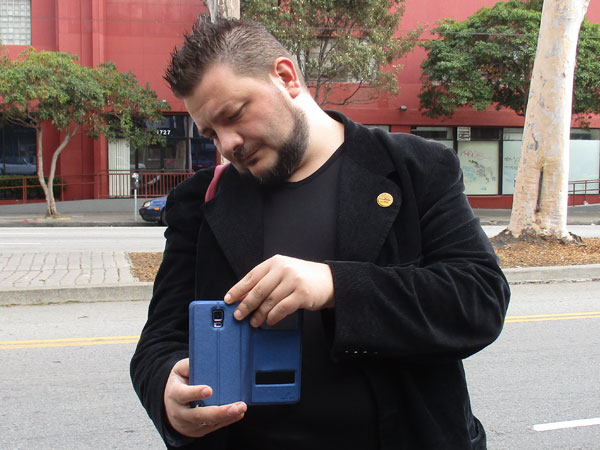 about four forty soundman daniel arrives, me and the men from rome get all the stuff loaded in minutes after soundman daniel pops the hatch. I check out the bill: guantanamo baywatch, the flytraps, cumstain and the she things - I think this part of an event called "total trash fest" or something... I wish I knew a little more about it and these bands - I think gigboss mark is from the east bay here, he tells me about jumping off this very stage here and breaking his tailbone, damn. I feel real bad about that and feel for him. he says he's still not the same. setting up for soundcheck, my old buddy richard fuckin' bonney who moved up here from pedro ten years ago arrives and it's BIG hugs for him, BIG ones. he's coming later tonight, he's got work now. he was a plumber in pedro (put the shitters in the getty museum) but now he's in the stage hand union local sixteen. I'll konk at his pad later. here's a trip: tav's never heard of vaginal davis and I let him how much respect vag has from me, incredible co-conspirator. yeah, trippy how we got onto that. soundcheck w/daniel goes good, I give him one note. what is kind of weird is w/four bands up before us, he wants me to leave my amp where it is - this is a shallow stage, I ask him how about on the side w/francesco's keyboard. I guess it's a difference of opinion but I empathize w/the opening acts and don't want them all crowded out. hell, my amps got wheels - it's easy as anything to move it. I hope soundman daniel doesn't take it personally cuz I didn't mean to, I like him.

next door at this bar w/what might be a silly name I get something they call a "sandos" - I've never heard of this word but it turns out to be a longer kind of hot dog for 'pert-near eleven dollars w/some onions and no-heat red chilies (pimento?)... man, pretty lame. luckily gigboss mark says I can get a couple of tacos from "pancho villa taqueria" that are really good. this dressing room upstairs is so sweaty I start stripping down 'til I'm in my chonies. it's a bunch of hours up here in the shvitz, crimony. even stripped down to only chonies, I'm still sweating my brains out but rapping larry, tav and the guys to keep my mind off the uncomfortableness of the sitch, sweat pouring down my face. I don't see or hear any of the opening bands, very lame but what can I do? I can sweat it out while laughing my head off about the swelter - incredible that it's raining and not so warm out. finally ten of midnight arrives and I get dress for the last gig of the tour, last time for this outfit...

I get to the hatch of the pad, the boat's right there but I notice the parking sign for street cleaning - it says midnight monday - fuck, I gotta move the boat NOW! luckily a few blocks away I am so lucky to find a place, it's a hobble in the rain to get back but worth it, whew. 12:03 when we hit, we play a one hour set cuz that's what we were asked to do, using the set from a few nights ago when we opened for jello in long beach. hell, I should list all the songs we played this tour, just for the record. now the first gig, the brooklyn one is prolly the only time we did all twentyfive of these but here they are:

"green onions"
"funnel of love"
"breakaway"
"about marie laveau"
"where the rio de rosa flows"
"sway"
"he'll have to go"
"drop your mask"
"make me know you're mine"
"garden of the medicis"
"secret rendezvous"
"sympathy for mata hari"
"the ballad of rue de la lune"
"lady from shanghai"
"go on home"
"master of chaos"
"whistle blower"
"jungle fever"
"bangkok"
"sweet lotus blossom"
"memphis ramble"
"gentleman in black"
"my mind was messed around"
"mala femmena"
"brazil"

stuff like "...mata hari" and "secret rendezvous" were only on a couple of gigs - "drop your mask" only when tav had tango partner gina but stuff like the first five were done every gig w/those starting off, only the two one hour gigs had the beginning different, for example: putting "whistle blower" second to make sure it got played and not scissored. the s.f. gig-goers are most kind and give us great focus, great way to end a tour. the final tune we do is "gentleman in black" which I think is very appropriate w/tav on his back on the deck doing his "twilight zone" part of his solo a couple of times, fucking right on. 1:03 when we end, damn ain't that a trip? exactly one hour. it's forever getting the boat loaded, crimony... in the rain too, damn it, c'mon guys! of course last gig nothing can go wrong cuz if we made it this far, right? I tell myself gaman ('patience' in jap) and wait it out. finally, I can get the italian guys to their 'tel by sfo so they can fly out later today - yeah, today - it's fucking past three am already! arrivederci, good italiano musicianmen, a great honor to serve w/you in tav falco's panther burns, a great honor. you guys both have good hearts - big hugs forever from me. ok, take the boat north back into the city...

by the time I find parking at richard fuckin' bonney's it's coming on five but I do find a place in front of the salvation army where I don't have to in the morning either feed a meter or switch street sides cuz of street cleaning, that's a relief cuz damn if I ain't the most beat ever...

it's 'pert-near noon when I pop on monday. I don't get into the gianni uomo suit, I don't put on the pointy shoes - I get into the mike watt outfit I brought up saturday from pedro: levis, flannel and chuck taylors - yes! three solid weeks I wore that suit and those shoes (I did change chonies regular) and damn if I ain't the happiest ever to be out of them and that. fuck, what a liberated feeling it is on me, big time liberated. soon it's time to go downtown... beautiful weather. I do a spiel w/incredible and humble sensei v. vale for re/search "the counter culture hour" (aka re/search tv) which is marian's tv show filmed at their pad which is 'pert-near across from the basque hotel (larry lived here at one time, he told me). such a great thing to talk w/this man I've admired for so long - a fucking pillar of the movement and a big reason I stayed involved, much respect to sensei vale! amazing wisdom from him here just recently...



after the spiel, it's over the bay bridge to the octopus literary salon in oakland to see tav read from his new picture book "an iconography of chance" which is a quite a trip he lays on us, he presents every one of the ninetynine shots w/what he's written supplemented w/from-the-hip spiel that makes for a major mindblow and a real good time, respect! real beat, I konk after getting back to richard's after some (?) whiskey.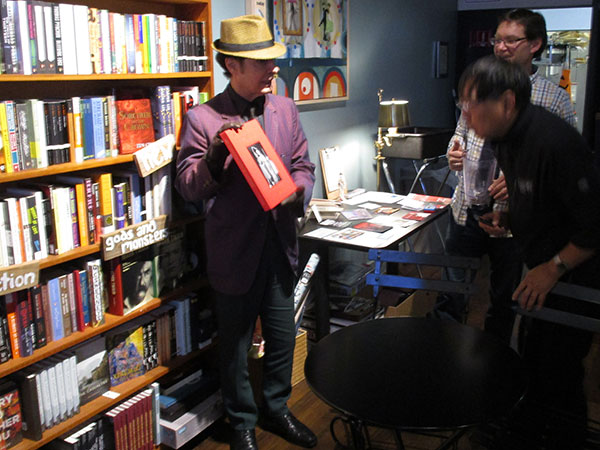 tuesday is drive day home, I get larry who stayed at v. vale and marian's in front of "city lights" at eleven, getting to check out some stuff like this here and nearby 'til he arrives: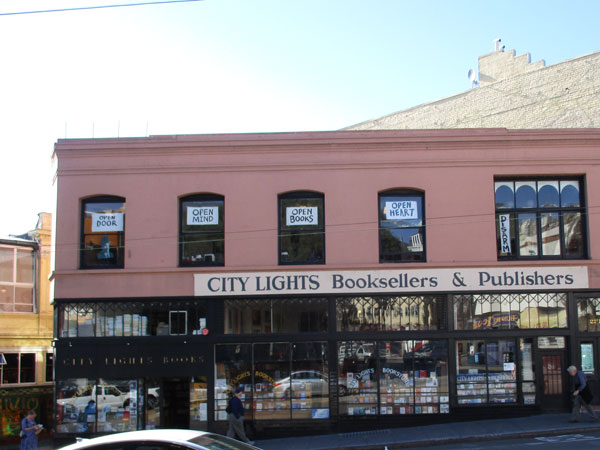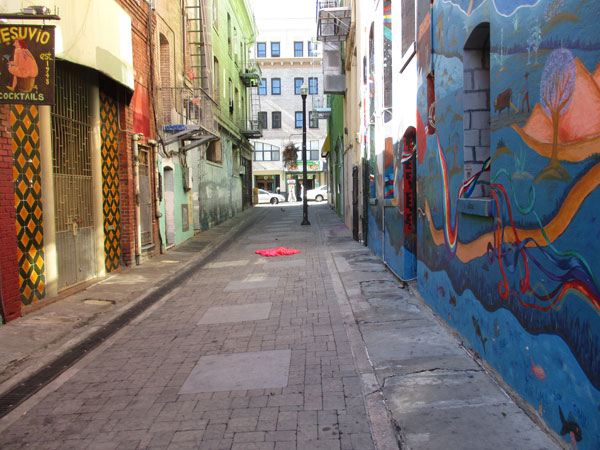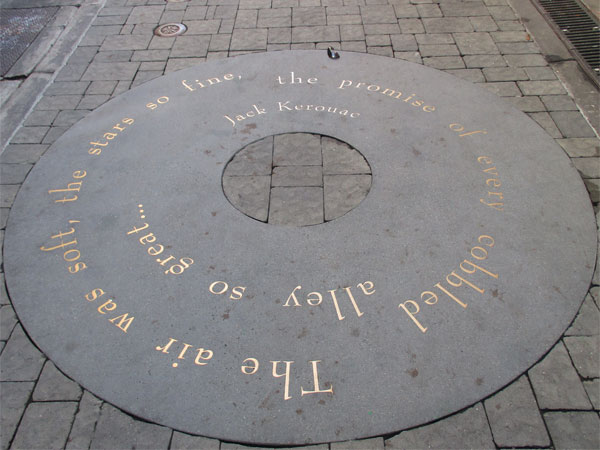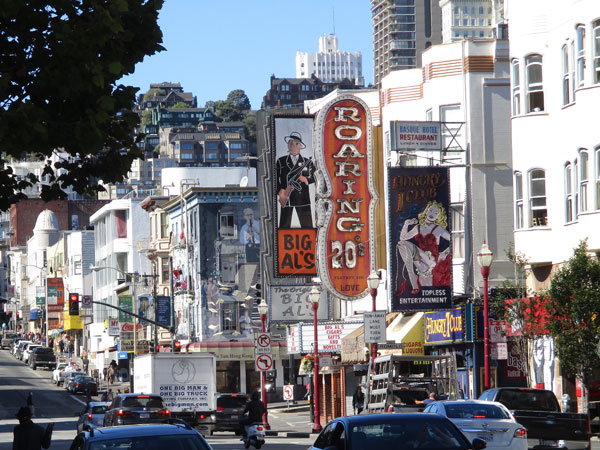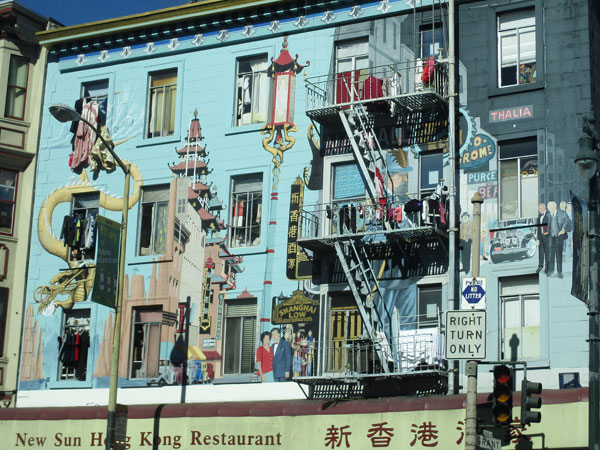 ok, across the east bay one more time to get tav in berkeley - he konked at the octopus bossman mike's pad and damn if I didn't miss a tour of fdr's "floating white house" (uss potomac) that mike took tav on, oh well. love hearing about it though. think about this tour too, what a whirlwind but also getting to play w/my hero tav falco - worth all and any hells involved... and don't let me forget to chimp here for everyone to see what a fucking good time I had getting to work rhythm section w/larry - the stickman w/the beat of life thumping from his hands.

many miles south on I-5, it's like four hundred twenty miles from my pedro town to the bay area. I give the wheel to larry around tracy, I ain't ate cuz I'm saving up appetite for ribs at the willow ranch chow pad in buttonwillow where I get a rack of bbq pork baby back ribs that is fucking real good. this is the best chow pad on the I-5, my opinion. the chow stop is also to let the fucking so cal traff calm some. I take the wheel back in burbank when we stop to get the boat fueled. the last pre-pay tav's gotta do this tour. I get him and larry to the rental car pad he likes by the airport (lax) around eight and it's close to nine when I finally drop anchor in my pedro town. hosed off, bedecked and blankied - this tour: fini!